I have tried many different websites and apps to find the best cheap flight deals over the past few years. Many of them are remarkably forgettable as they never seem to give a good deal. In fact many of them give anything but a good deal and instead provide ridiculously high flight price quotes, often combining different airline sectors with massive time delays between flights.
What is the best app for cheap flight deals? After trying many, the one I use the most, which I consider is the best app for cheap flight deals, is the completely FREE Skyscanner app.
One flight fare search I did recently, instead of giving me a direct 4 hour flight, offered me three separate sectors and a total beginning to end time of 27 hours! And for that convenient journey the fare was 4 times higher than a direct flight – what a bargain.
Then I found the most useful flight search app so far ….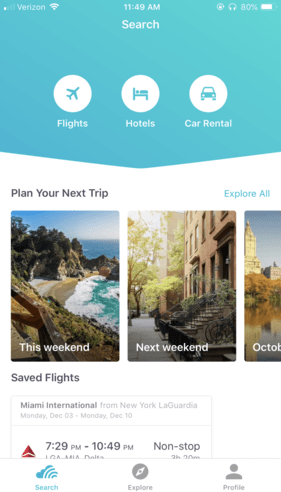 After trying many, the one I now use the most, which I consider is the best app for cheap flight deals, is the completely FREE Skyscanner app.
There are two versions of the app depending on what phone you use:
Download for iOS (Apple)
Download for Android
I find this app consistently gives me good deals and is also very easy to use. It can give great deals on both domestic and international flights, anywhere in the world.
Even if you choose to not actually book through the Skyscanner app, it is very worthwhile downloading as a tool to see which airlines fly the route you want to travel on so you cab check their websites direct.
Personally I think Skyscanner is the best flight search engine available.
As it is completely free you really have nothing to lose by giving it a try
Other benefits of the app
As well as using the app for checking flights it is also very good for getting great deals on hotels and also car rental. I recently booked a car for 30% less than I could find elsewhere.
The app has the following features:
You can see a chart to see the cheapest days or months to fly
You can set up an alert which will notify you if the price for the flight you are interested in change. This is a very useful feature.
The Search Everywhere feature is very useful if you know when you want to fly (as you have time off work perhaps) but don't know where to actually go. So, for example, you can enter your outward and return dates together with your departure airport and everywhere in the destination box. The app will then show you fares for all the flights that fall into that criteria. That way you can find a good deal and possible end up exploring somewhere you might not have chosen to visit.
You can easily access your recent searches from your phone, tablet & computer
Once you find a great flight deal you can easily share it with your friends & family
The Weekend Trips feature allows you to find cheap flights for last minute weekend getaways
Cheap Flight Deals – explore flight deals for domestic & international destinations
Flight Tracker – watch a flight so you can always easily find it later
Hotels & Car Rentals – now automatically synchronized with your flights
Flight Ratings – Easy system to ensure you are getting the perfect flight with color-coded ratings that cover price, number of stops & duration.
Travel Tips – Always know the cheapest flights, time difference, suggested airport arrival times, flight duration & more.
Downloads
Download the FREE Skyscanner app here:
Download Skyscanner App for iOS (Apple)
Download Skyscanner App for Android
You may like to read my article on My top 10 tips to get cheap flights
Also these articles:
Best zip lock bags for air travel
Should I wear compression socks on a long flight?