If you are an avid gamer and going on an extended vacation then you may well wish to take your Xbox, PS4, PS5 or another type of game console with you to pass some time while you are away.
But can you take an Xbox or other game consoles on a plane?
For the full rules and advice on packing game consoles read on.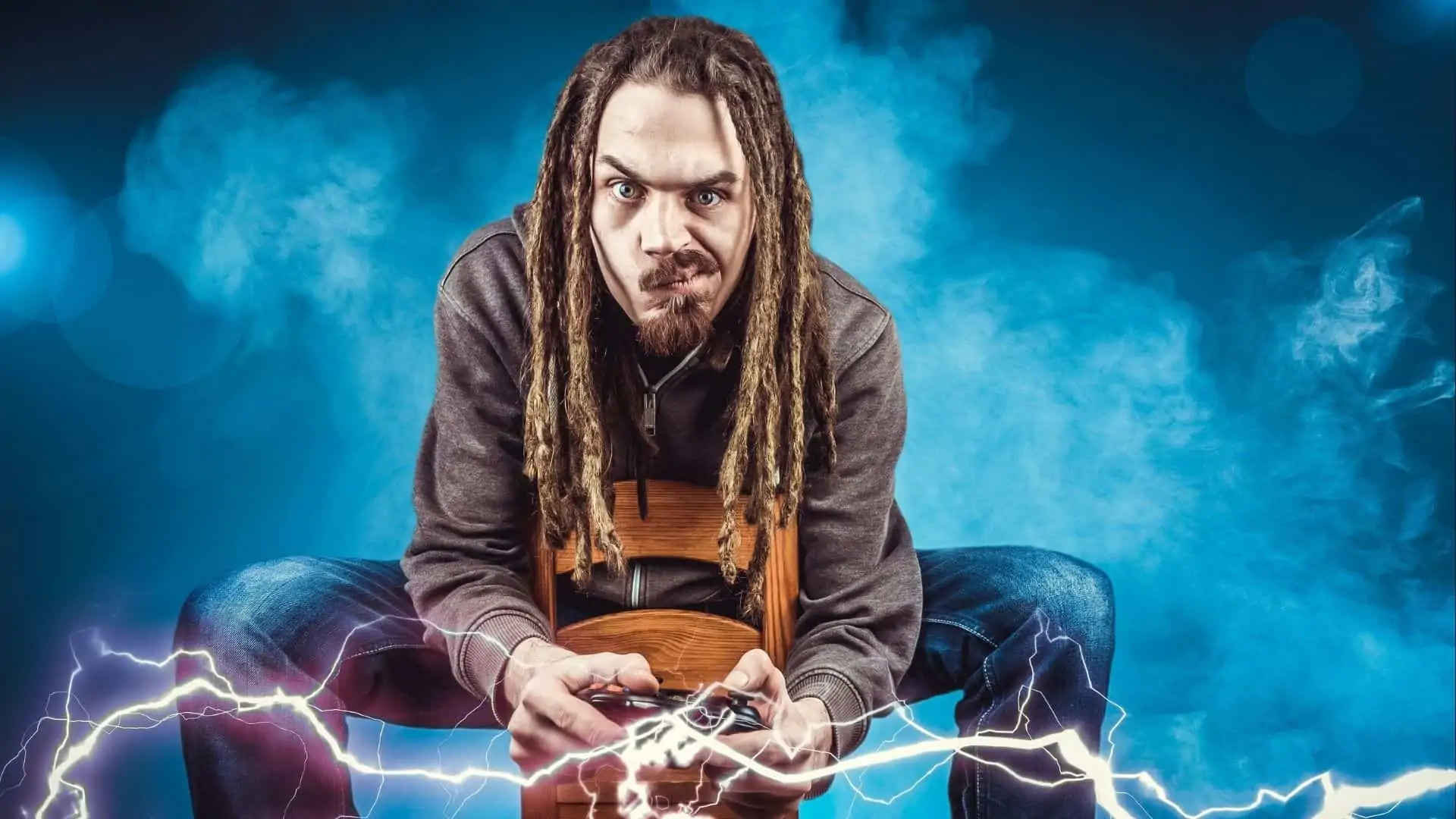 The Quick Answer: Can i bring my Xbox on a plane? The TSA state that Xboxes and other video game consoles are allowed on a plane in both a carry-on bag or in checked baggage. They must be removed from your carry-on bag and placed in a separate tray for screening at the security checkpoint.
Can you take an Xbox on a plane as carry-on?
You can take an Xbox, PS4 or PS5 or any other type of game console through the TSA security checkpoint in your carry-on bags.
The TSA security agents will require that you remove the Xbox from your carry-on bags to be placed in a separate bin for screening through the x-ray machine, just as you have to when taking a laptop and other electrical items through the airport security checkpoint.
Consequently, you should make sure that your Xbox game console is easily accessible when you arrive at the airport security checkpoint lines. If you have to unpack everything from your carry-on bag to get your Xbox out and place it in a separate bin to go through the x-ray machine, causing delays, your fellow passengers behind you won't be too impressed.
Many airports will have stores located in the departure area, after you pass through airport security, and you may be able to purchase a game console in one of these. Purchases made at the airport like this are normally allowed on board a plane in addition to your normal hand luggage allowance.
This is a mother asking the TSA, on behalf of her son, are you allowed to bring an Xbox on a plane: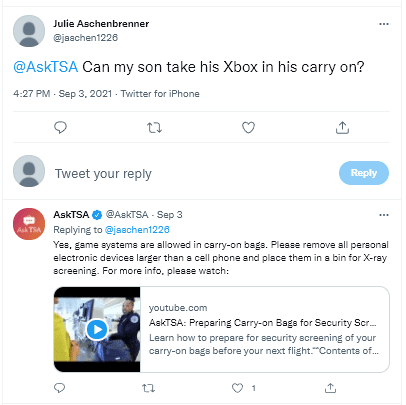 Can I take an Xbox on a plane in checked baggage?
You can pack your Xbox game console in checked baggage as there are no restrictions on these or any other type of game console.
Although you can pack your game consoles in your checked luggage it may be better to take it in your carry-on bag as you can ensure that it doesn't get damaged (or stolen).
Checked baggage can be subjected to some severe mistreatment by baggage handlers, or the automated luggage systems, that most airports have these days. So you should ensure that your Xbox, PS4/5 or other game console is very well packed in your suitcase.
This is an example of a passenger asking the TSA if he can carry his Xbox game console in his checked bags and their answer: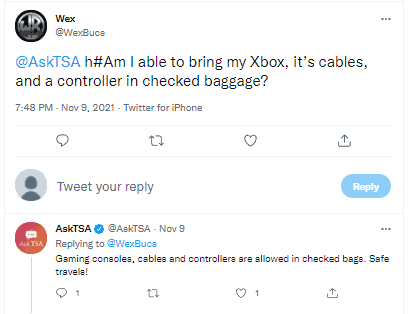 The same would apply to a PS4, PS5 console and games in a checked bag too.
Can you take a Nintendo Switch in carry on?
You can take a Nintendo Switch, Steam Deck, Backbone One – PlayStation Edition and any other handheld games console in your carry on bags. They are a great way to pass the time on a long flight.
You could even bring your Gameboy, if you still have one that works. My son loved his when he was a teeneager back in the 90s.
How to pack an Xbox
If at all possible you should pack your Xbox in its original packaging, although that may make it too bulky, particularly to fit in your hand luggage.
If that is not possible then wrapping it in some bulky clothing and packing it in the middle of your checked baggage would be a good idea to help protect it.
The best way would be to take the Xbox. Xbox One or PS4/PS5 on board with you as carry-on or a personal item in a specifically designed carrying case which will not only protect the game console itself but also a controller or two, leads and games.
USA Gear supply carrying cases for both Xbox and PS4/5 game consoles, such as the one above. Check them out on Amazon – Xbox carrying case – PS4 carrying case – PS5 carrying case. You can also buy a game console backpack that fits all types of game consoles.
All of these will meet most airlines' cabin bag dimensions and will fit in the overhead bin.
This is an example of a passenger asking the TSA about whether he needs to remove his Xbox from its original packaging for screening: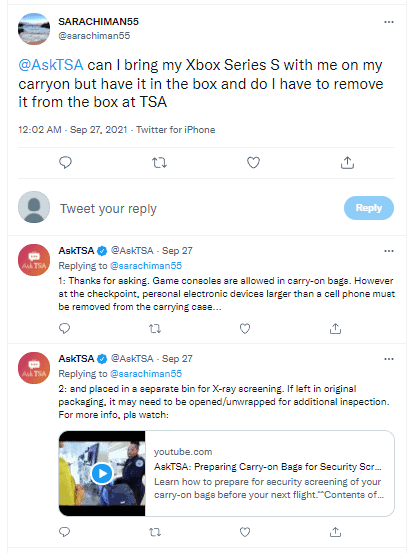 Taking an Xbox internationally
You can take an Xbox or other types of game console with you to play video games while you are away, as well as a video game, but there are three things to consider:
Customs
Depending on the country you are flying to you may be stopped by Customs who may have some restrictions on taking a game console into their country without paying duty on it.
In some countries where such luxury items are rare and expensive, they might be concerned that you may sell the console while you are there. Check the website of the embassy of the country before leaving.
It would be a good idea to take the original purchase receipt with you should you be stopped by US Customs on your return so that you can show that you purchased it in the US.
Voltage
One more thing you need to be aware of is that most US devices operate on 110 volts whereas in most other countries of the world, particularly in Europe, they use 220-240 volts.
Many devices these days are designed to operate on dual voltage so they will work anywhere. Although most Xboxes operate on dual voltages, and so do other consoles, you should check that yours does otherwise it could be damaged.
Electric outlets
Electrical outlets are not the same worldwide. US plugs will not fit in sockets in the UK, Europe, Asia, Australia and elsewhere.
You will need to purchase a travel adapter so you can use your Xbox and other devices when traveling overseas.
The most popular is the Ceptics World Travel Power Adapter – 3 USB Ports Wall Charger Type I C G A Outlets 110V 220V A/C – 5V D/C – EU Euro US UK. This will allow you to plug your devices into sockets overseas. It also has 3 USB sockets to charge phones, laptops, tablets etc without taking a different one for each.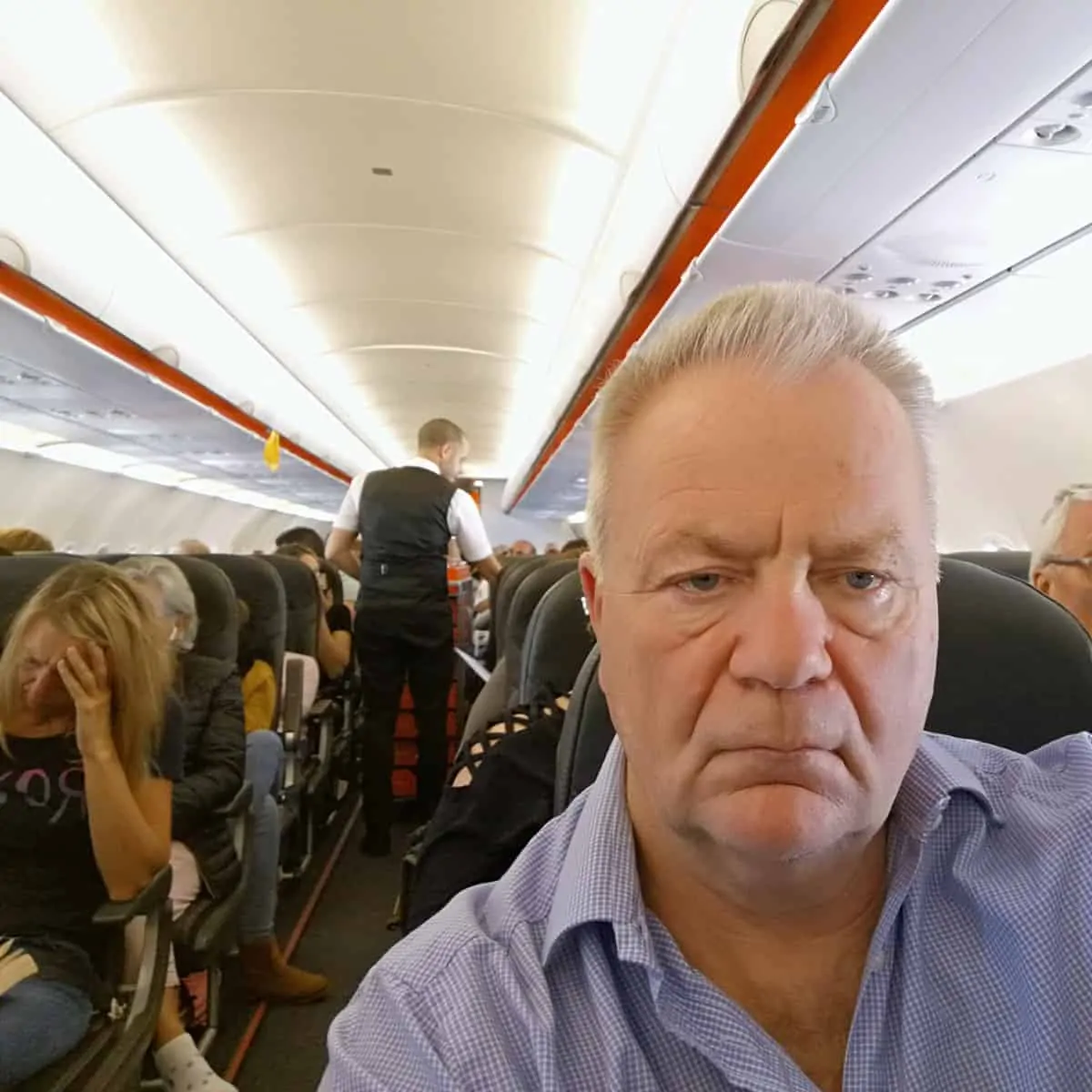 I have been traveling around the world by air since the early 70s and living overseas too. I worked for British Airways for a number of years and I am also a private pilot. About Me