When preparing for air travel, you've probably wondered about your luggage options, specifically carry-on bags. In this article, we'll dive into what exactly defines a carry-on bag, as well as its size limitations and usage in different airlines.
As you explore carry-on bags further, understanding their requirements and benefits will help ensure a smooth travel experience. From finding the right bag size to knowing what items to pack, you'll be well-equipped for your next flight.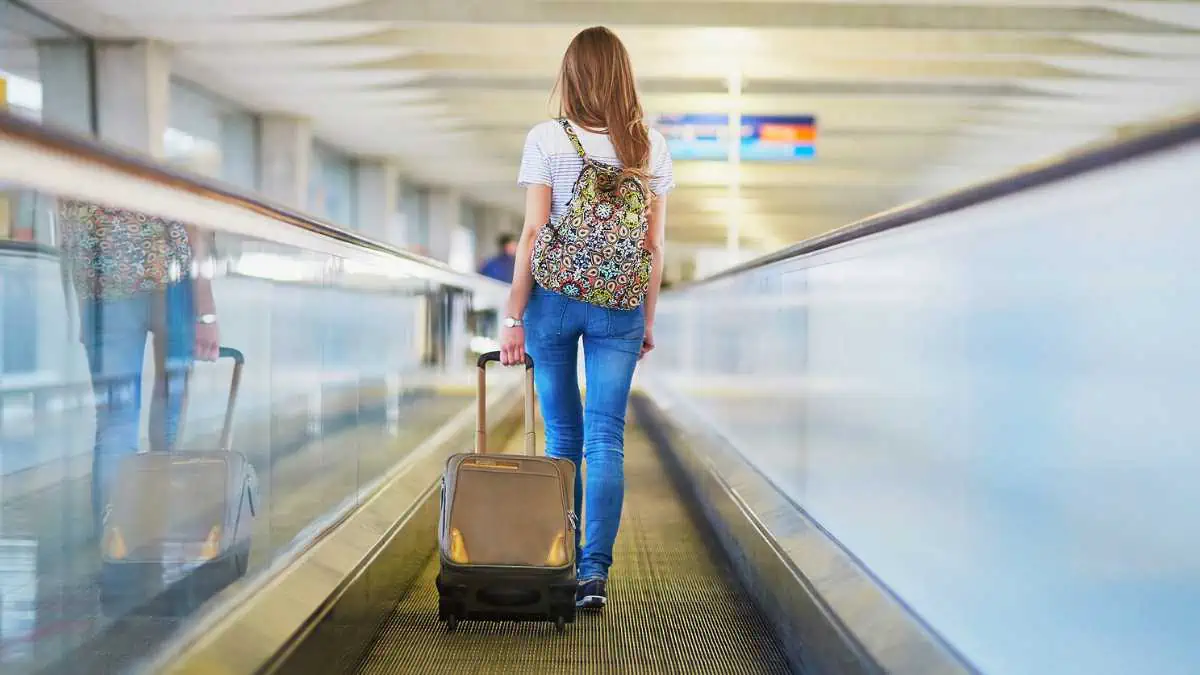 Defining Carry-On Bags
When you travel by plane, you're allowed to bring a certain kind of luggage into the cabin with you, which is called a carry-on bag. These bags are designed to fit within the overhead compartment or under the seat in front of you, so they need to adhere to specific size limitations set by the airlines.
Most airlines allow you to bring two bags on board: one main carry-on bag and one personal item. The main carry-on bag should not exceed the airline's size and weight restrictions, which usually include linear dimensions of around 45 inches or the sum of the bag's height, width, and depth.
Some common size limits for standard carry-on bags, which as you can see vary from airline to airline, include:
Air Canada: 21.5 x 15 x 9 inches
American Airlines: 22 x 14 x 9 inches
British Airways: 22 x 18 x 10 inches
Delta Airlines: 22 x 14 x 9 inches
Emirates: 21 x 14 x 7 inches
Frontier: 24 x 16 x 10 inches
Hawaiian Airlines: 22 x 14 x 9 inches
JetBlue: 22 x 14 x 9 inches
Singapore Airlines: Less than 45 inches when combining length, width, and height
Virgin Atlantic: 22 x 14 x 9 inches
As for personal items, these usually consist of smaller bags such as purses, laptop bags, or backpacks. They should be small enough to fit under the seat in front of you and typically have size restrictions like 15.5 x 15.5 x 6 inches or others specified by the airline.
You can also take a garment bag but this will normally count as you carry on bag.
It's important to remember that these dimensions are general guidelines, and individual airlines may have specific requirements. Be sure to check your airline's website or contact customer service if you're unsure about your carry-on bags or personal items meeting their size specifications.
Types of Carry On Bags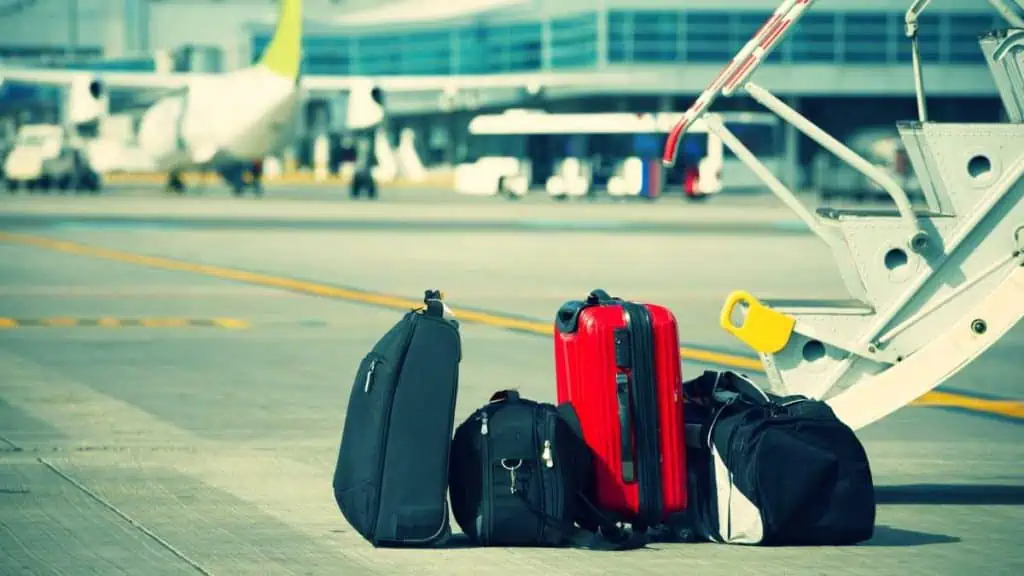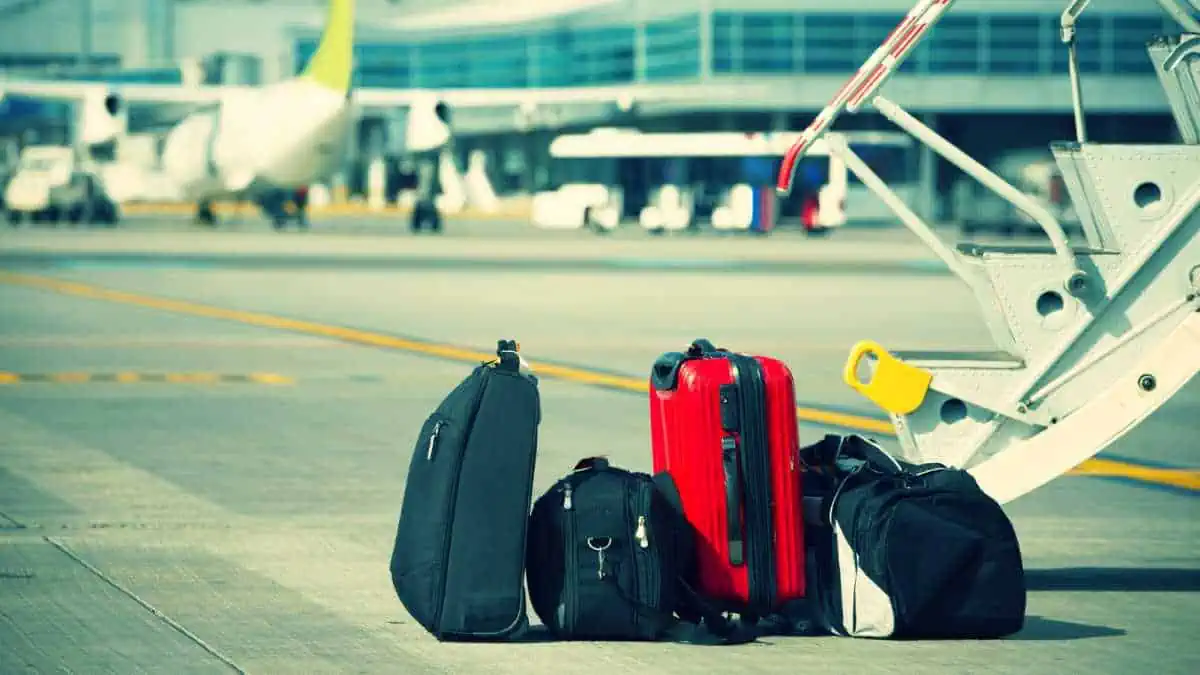 Backpacks
One popular option for carry-on luggage is the trusty backpack. Backpacks provide a hands-free experience and offer several compartments for organized storage. When choosing a backpack as your carry-on, ensure that it meets the size requirements specified by the airline. Some backpacks even come with laptop sleeves, making them a great choice for business travelers.
Duffel Bags
Duffel bags are another versatile option for carrying your essentials. These bags come in various sizes and offer more flexibility than hard-shell luggage, allowing you to squeeze them into tight spaces. Look for duffel bags with multiple compartments and sturdy straps, and remember to check your airline's size regulations before traveling.
Rolling Luggage
If you want to save your shoulders and back from heavy lifting, rolling luggage is a convenient solution. These bags come equipped with wheels and a telescoping handle, allowing you to glide through the airport with ease. Keep in mind that rolling luggage should not exceed 22 x 14 x 9 inches (or your airline's specific dimensions) for carry-on purposes. Popular options include Away The Daily Carry-On with Pocket and Monos Carry-On Plus.
Tote Bags
Tote bags can serve as an excellent option for an under-the-seat carry-on bag or personal item. These bags are typically lightweight and spacious, making them perfect for holding essentials like travel documents, snacks, and electronics. CALPAK Hue Mini is a popular tote bag choice for travelers. Remember that a tote bag should still adhere to your airline's size restrictions, so be sure to verify the dimensions before you fly.
Airline Restrictions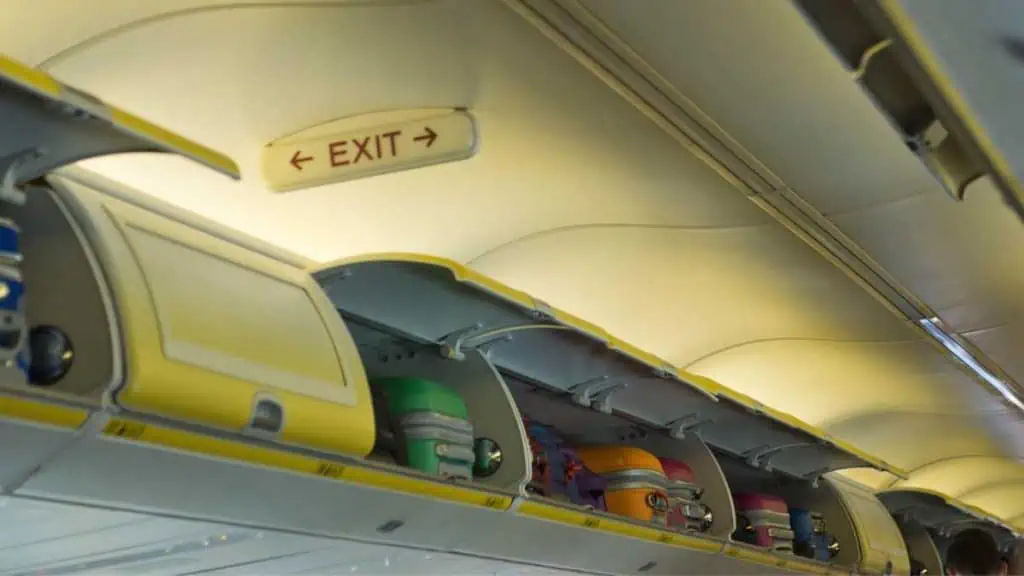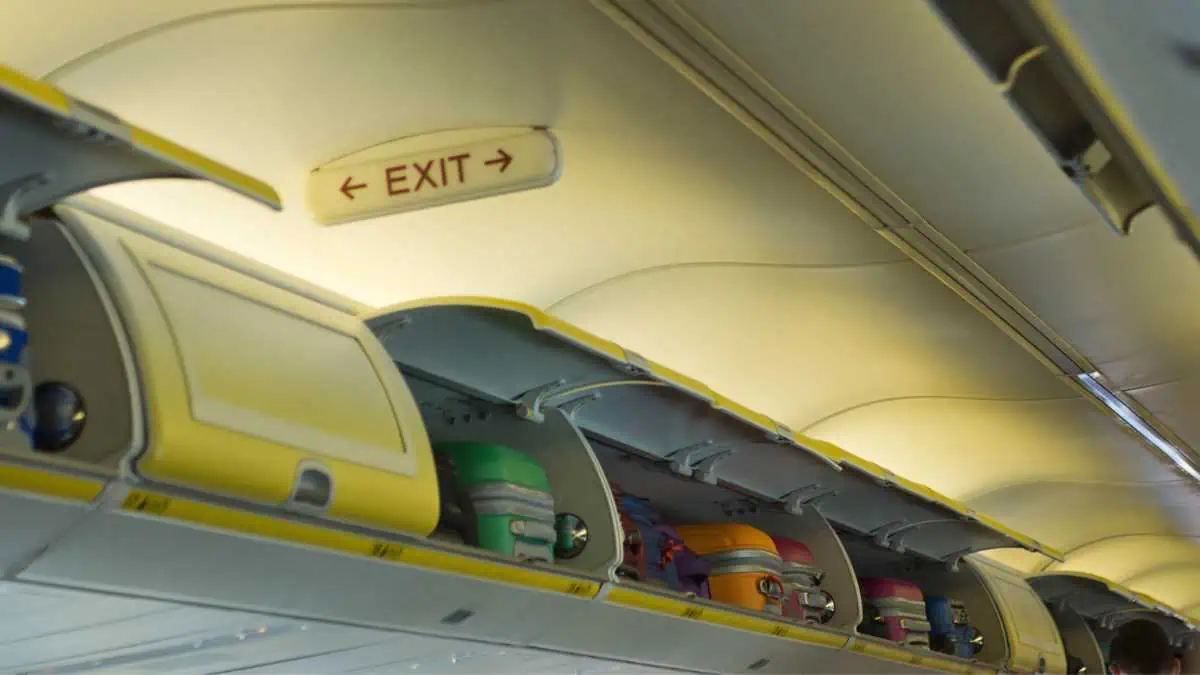 Size and Weight Limits
When packing your carry-on bag, it's important to be aware of size and weight limits imposed by airlines. Each airline has its own policies, but there are some general guidelines to follow:
Carry-on items are typically limited to dimensions of 22 inches long, 14 inches wide, and 9 inches high (including wheels and handles).
Personal items, such as purses, briefcases, and backpacks, should fit snugly under the seat in front of you.
For example, Southwest Airlines requires carry-on items stored in overhead compartments to be within 24 by 16 by 10 inches, while personal items stored under the seat should not exceed 16 1/4 by 13 1/2 by 8 inches.
Restricted Items
When packing your carry-on, it's important to pay attention to restricted items as well. These include any items that are not allowed in carry-on bags or in the cabin of the aircraft. Some common restrictions include:
Liquids, gels, and aerosols in containers larger than 3.4 ounces (100ml) must be placed in checked luggage.
Power banks and portable chargers are allowed in carry-on luggage but must have a rating of 100 watt hours (Wh) per battery or less.
As always, it's a good idea to check with your specific airline for their list of prohibited items and luggage size restrictions before your flight.
Packing Essentials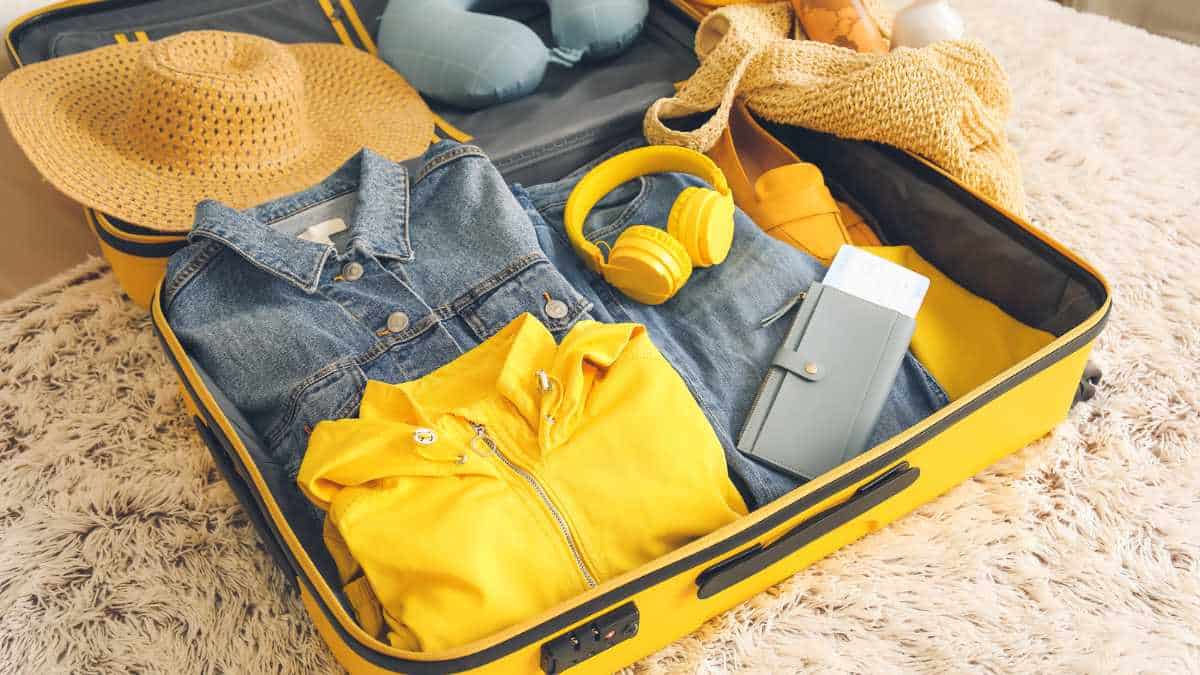 When it comes to organizing your carry-on bag, there are some essentials that you simply cannot go without. Let's break down these must-haves into four main categories: Travel Documents, Electronics, Personal Care Items, and Clothing.
Travel Documents
While traveling, always keep important documents handy and secure in your carry-on bag. These include:
Passport or national ID card
Visa documents, if applicable
Flight and accommodation confirmations
Travel insurance information
Emergency contact details
Electronics
Bring along a few essential gadgets to make your journey smoother and more enjoyable. Some top items to consider are:
Smartphone with charger and headphones
Laptop or tablet with charger, if needed
Universal travel adapter
Portable power bank
E-reader or physical book for leisurely reads
Personal Care Items
Maintain comfort and care for your well-being during travel by packing these personal care items:
Toiletries such as toothbrush, toothpaste, and floss in a clear, quart-sized bag
Liquids or gels less than 3.4 ounces (100ml) each
Tissues and/or antibacterial wipes
Hand sanitizer
Any necessary prescription medications
Clothing
Choose smart, compact items of clothing to have at hand for a fresh change, or in case of unforeseen delays:
Underwear and socks
Lightweight pajamas
A change of shirt and pants
Layered clothing for warmth, such as a light sweater or scarf
By selecting and packing these essentials, you can ensure a stress-free and comfortable travel experience while keeping your carry-on organized and within allowed restrictions.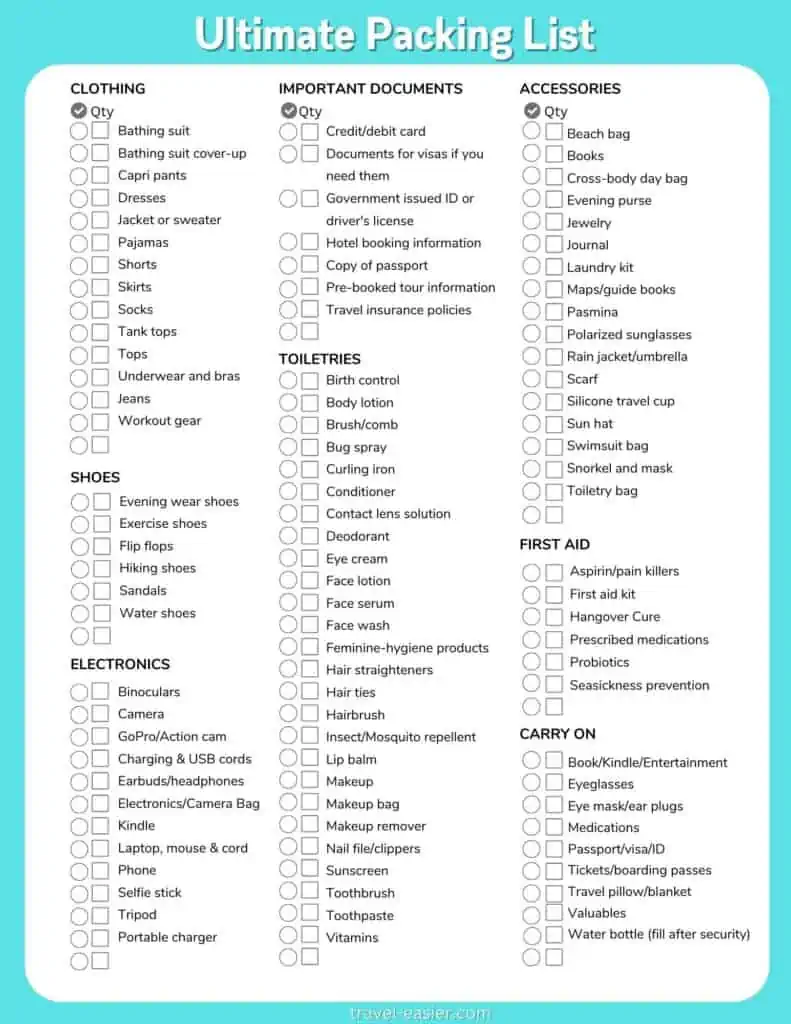 Selecting the Right Carry-On Bag
Finding the perfect carry-on bag is essential for a smooth travel experience. To help you make an informed decision, consider these key factors: durability, practicality, price, and quality.
Durability
When selecting your carry-on bag, consider the materials used in its construction. Look for durable fabrics like ballistic nylon or high-quality polyester, as well as sturdy zippers and reinforced handles. High-quality materials will help ensure that your bag withstands the wear and tear of frequent travel.
Practicality
You'll want a bag that is both functional and convenient. Make sure your carry-on meets airline size requirements, which are typically 22 x 14 x 9 inches. A lightweight bag with a spacious interior, plenty of pockets, and a multi-directional spinner wheel system can make navigating airports and packing a breeze.
Price
Carry-on bags are available at various price points, so it's important to find an option that suits your budget. Keep in mind that investing in a higher-priced, quality bag may save you money in the long run, as it will likely last longer and require fewer replacements.
Quality
Opt for a bag from a reputable brand with a history of producing reliable luggage. Pay attention to customer reviews and ratings, as these can provide valuable insights into a bag's durability, construction, and overall satisfaction among users.
With these factors in mind, you'll be well-equipped to find the ideal carry-on bag for your travel needs. Whether you opt for an under-the-seat option, a luxury designer carry-on, or an inexpensive yet reliable choice, make sure it satisfies your requirements in terms of durability, practicality, price, and quality.
Conclusion
As you plan your travels, it's crucial to understand the requirements and constraints of carry-on bags. Adhering to luggage size regulations and TSA rules will make your journey smoother, allowing you to focus on your destination instead of dealing with baggage issues.
Choosing the right carry-on bag for your specific needs involves considering factors such as capacity, maneuverability, durability, and design. Your bag should not only comply with airline standards, but also provide you with the space and organization needed to transport your essentials efficiently.
Remember, the maximum size for most airline carry-on bags is 45 linear inches, and it's always advisable to check your airline's specific restrictions. By staying informed and packing wisely, you'll be well-prepared for a hassle-free travel experience.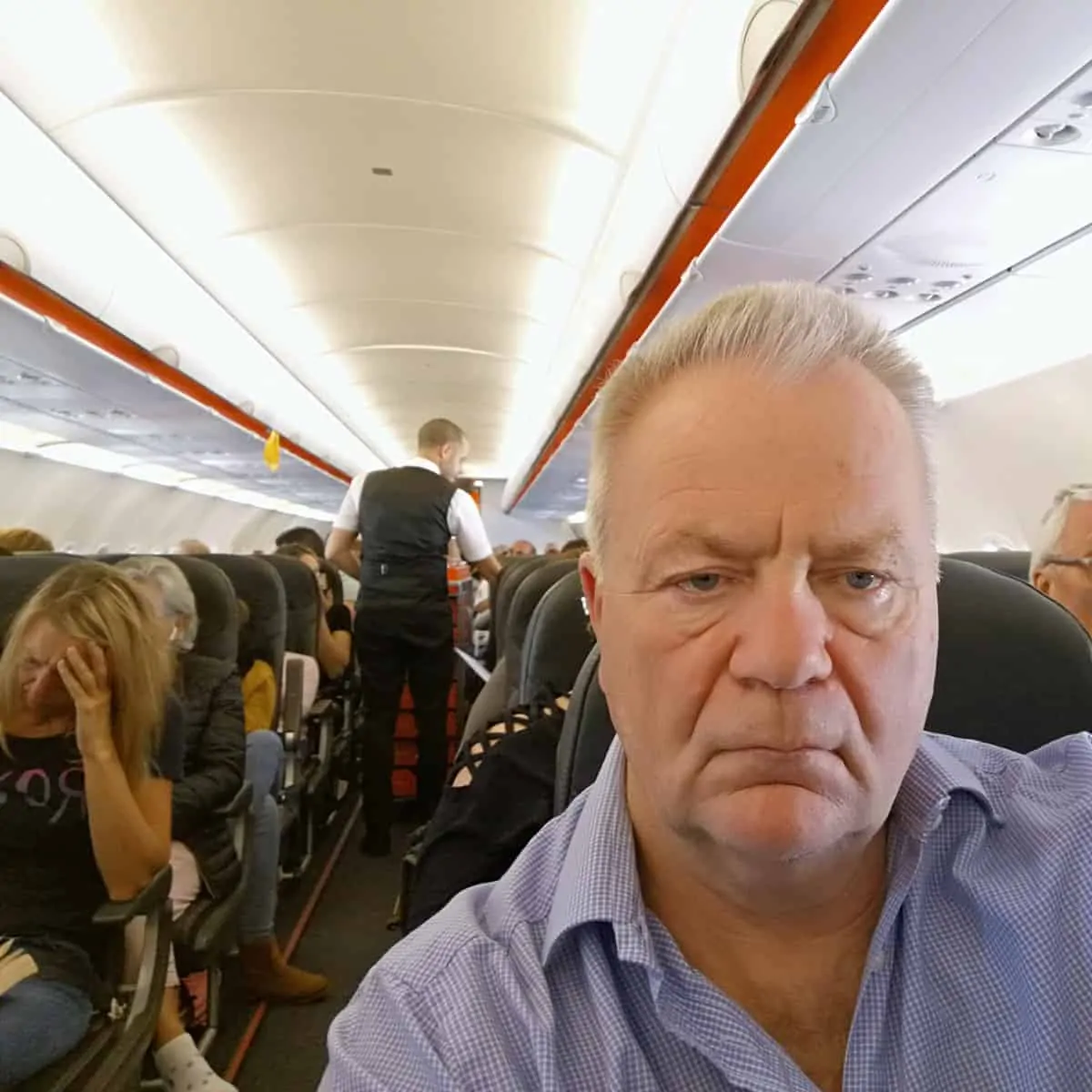 I have been traveling around the world by air since the early 70s and living overseas too. I worked for British Airways for a number of years and I am also a private pilot. About Me