There are many reasons why people may want to sleep overnight in an airport. These can include saving money on an airport hotel, catching an early flight which may necessitate getting to the airport by public transport the night before, flight delays or bad flight connections with an overnight layover.
But is it allowed, or even legal, to sleep overnight at the airport?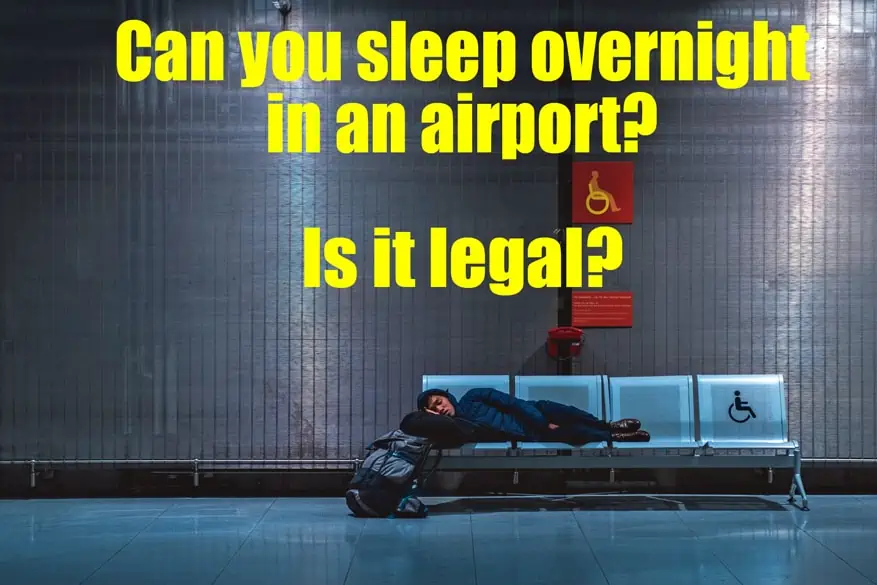 If it is your intention to attempt to sleep overnight at an airport then you should check out the policy on the airport's website and follow the tips below.
I know if I tried to sleep at an airport I wouldn't get a wink of sleep but then I find it hard to sleep in a bed. But I wish the very best of luck to you.
The Quick Answer: Can you stay overnight at an airport? In many places, you are allowed to sleep overnight in an airport in many situations and it is legal provided there are no local laws or airport rules which prohibit it.
Why people spend the night in an airport
To save money
The main reason why someone may sleep overnight in an airport is to save money. Many airport hotels, motels and Airbnb's close to an airport tend to be very costly.
Besides, if you have an early flight it may seem like a waste of money to pay for a hotel room that you may have to leave at say 4am.
Catching an early flight
Quite often if you have an early flight, you may need to check in before any public transport would be available to get you to the airport at the appropriate time. In these situations, people often catch a late train or bus to the airport with the intention to sleep overnight at the airport until it is time to check in.
Arriving on a very late flight
Another possibility could be when someone arrives late at night on a flight but there is no public transport to take them to their final destination until the morning. Sleeping at the airport may then be the only viable option.
Overnight layover
It is often much cheaper to buy a non-direct flight via one or more airports than direct flights. These can frequently mean one flight arrives at one of the airports late at night with the onward flight not until the next morning.
If this is the case hen you often end up having to sleep at the airport since there is insufficient time to leave the airport and sleep in a hotel room before having to be back at the airport to catch the onward flight.
Delays and cancellations
Another common reason for having little option but to sleep at the airport is when flights are delayed or even canceled due to bad weather, industrial action or even a security reason.
In these situations where it is unknown when you may actually get to fly the only possibility is generally to try and get whatever sleep you can in the airport building.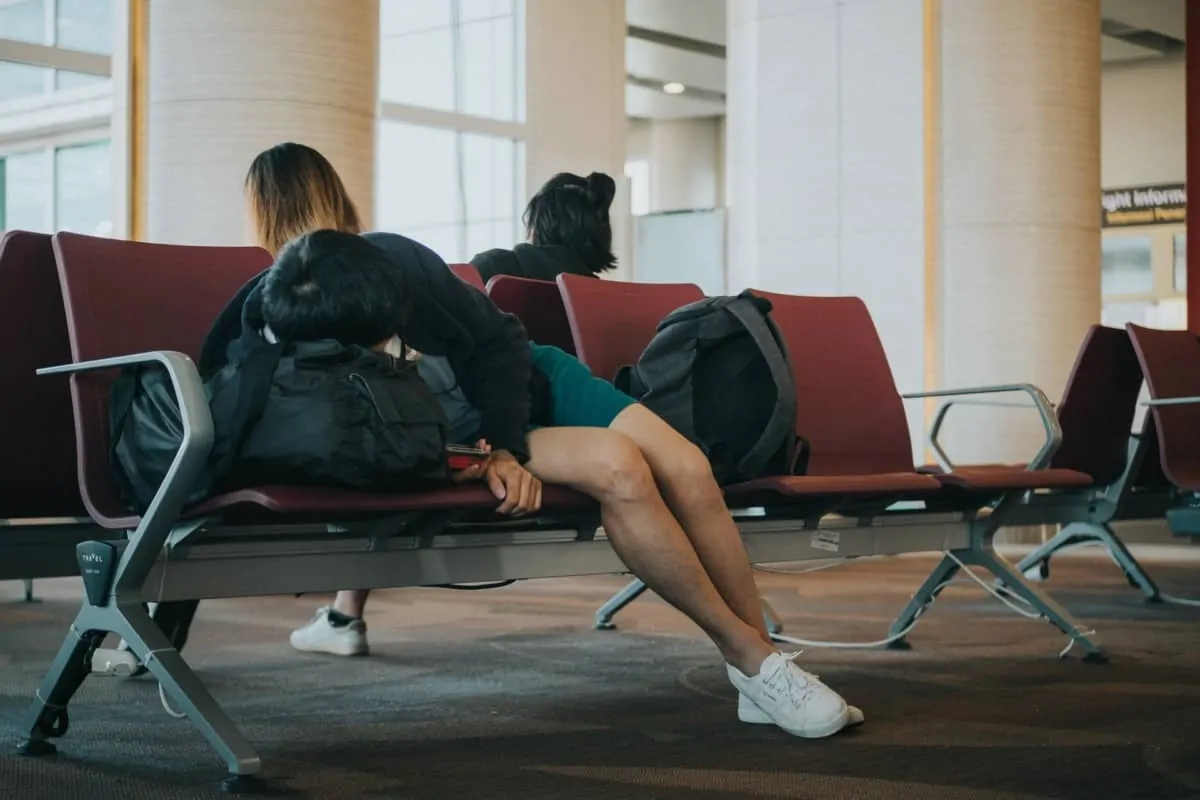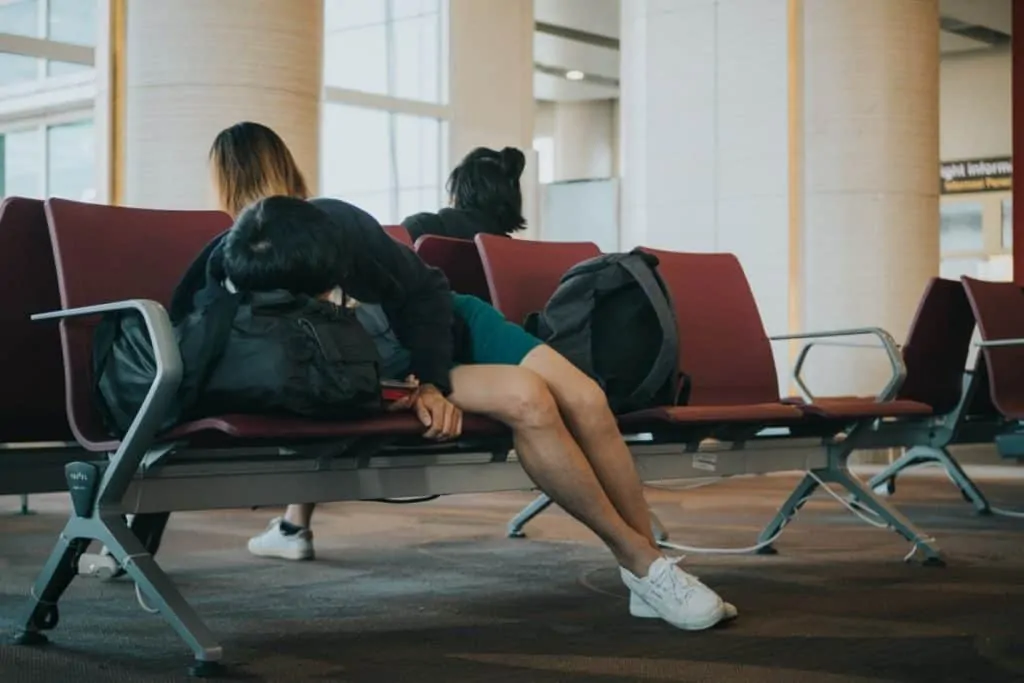 Is it legal to sleep in an airport?
Most airports understand that there are unforeseen circumstances that lead people to sleep at the airport, and for this reason, they generally allow people to get some shut-eye overnight. This applies to major airports such as JFK, Boston Logan, LA airport, San Francisco as well as many others.
However, some airports are not so welcoming to this idea. In 2018 London Stansted Airport in the UK, received criticism on social media for closing off their departure terminals to passengers at night between the hours of midnight and 2am.
Officials issued a statement saying that they were working on transforming the airport and hence needed to finish up the construction. They also stated that this was the best time for staff to clean as well as prepare for next-day flights.
Some users took to Twitter branding this move as "mean" and "silly." Though not illegal to sleep in the airport, the airport officials have the right to call the police in this case.
Due to a significant rise in homeless people sleeping in airports, port authorities have also made statements barring everyone except those with tickets from using the terminals after hours. Most homeless people prefer to sleep in airports because it's warm and secure and there are no restrictions on the amount of luggage you may bring in.
According to the port authorities from New York, Washington DC, and New Jersey, there had been several complaints regarding homeless people sleeping in airports. As a result, closing hours for people without valid flight tickets at LaGuardia airport in New York are between 11 pm and 4 am.
Ronald Reagan Washington National Airport, Washington, DC, decided to close off their terminals to all non-ticketed passengers from 11:30 pm to 4:30 am. The port authorities further stated that they would proceed to arrest any violators.
Where to sleep at an airport
Before choosing to sleep in an airport, you must realize there are two main areas you might wish to sleep in.
Landside – public area
The first area you may be able to sleep overnight in is known as landside, which is the area the public has access to as well as passengers. In other words it is the area of a terminal building with the check-in desks etc before you go through airport security into the departure area.
The biggest problem with this area is that it's open to everyone, even those who aren't taking a flight, for example, people seeing others off or just interested members of the public.
It is therefore generally a less safe place to try sleeping because it is effectively a public place. Some have described it as "the same thing as sleeping in a metro station." That is probably an exaggeration as there are normally security and police around, even at night, but even so, it isn't the ideal place to try and sleep.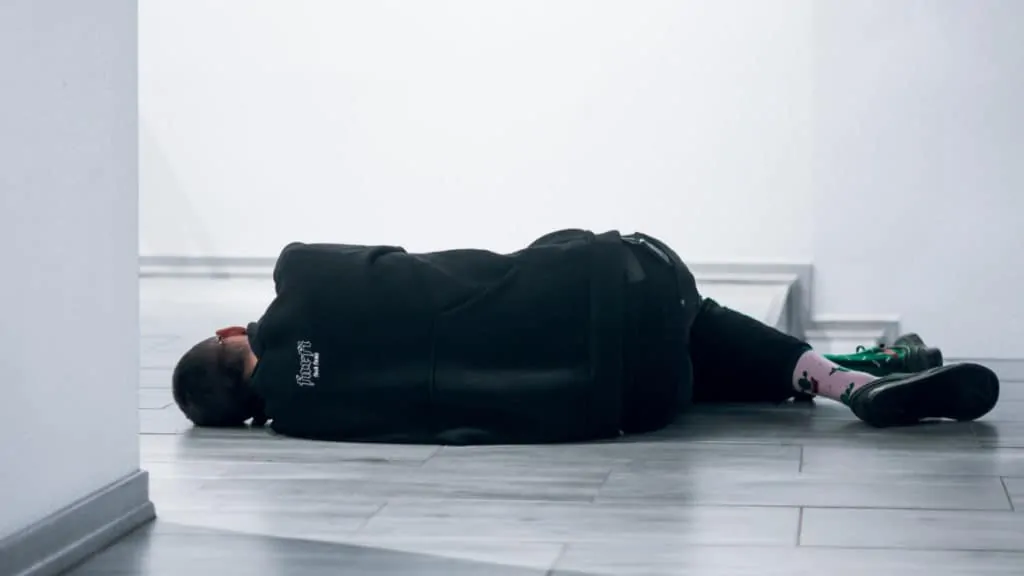 Ideally try and get through airport security and sleep in the departure lounge. Many airports won't allow you through until a certain time before your flight departs in which case you may be out of luck.
If you have no alternative but to try and sleep overnight in the landside part of the terminal then try looking around for a relatively cozy and secure place where you could sleep for the night. It might be a good idea to choose a place where others are doing the same and try to make a few friends rather than isolating yourself. As the saying goes, "There's safety in numbers."
Airside – passenger area
The best area you might be able to sleep overnight in is airside. This is the area after you pass through airport security; in other words the departure lounge. It is where you will find the restaurants, bars, shops, duty-free shops etc and it is only accessible to ticketed passengers.
You will definitely feel more secure in this area since only passengers will be there and there will be security there too.
As stated above you may not be able to access this area, even with a ticket for a flight in the morning, as many airports won't allow access until a certain number of hours before a flight. But some will allow you through by showing your boarding pass so it is definitely worth trying.
If you are in transit, on a layover between two flights you will normally be allowed to remain airside.
Some airport sleeping policies
Sleeping at Dallas Fort Worth (DFW) Airport
If you ever find yourself stuck at DFW airport at night, then the first thing to note is that it's perfectly legal to sleep here overnight. Here are some excellent tips to help make your stay less comfortable.
First, note that there are plenty of seats in the airport; however, the number varies for each terminal. Additionally, some terminals only have seats with armrests, which make it harder to stretch out. You, therefore, need to look for lounge areas because they often have comfy seats that you could push together to get a full-length 'bed.'
Terminals B to E all have lounge areas, and terminal D even has a space for yoga. Terminal C has footstools as well as sofas. Terminal D also has a theater area with viewing screens. Remember to carry warm clothes as some passengers have reported feeling cold. Don't forget to carry some sunglasses or eye covers because the lights are kept on throughout the night.
Unfortunately, if you are one of those light sleepers, then you will find that airport can be quite noisy. This is due to the frequent flight announcements as well as the cleaning crews. You should, therefore, invest in a good pair of noise-canceling headphones or earbuds.
According to most online reviews, the staff are friendly and helpful. The airports also have showers which you pay for before entry. As for food and drinks, all the 7-Eleven shops at the airside are open 24 hours. Overall, this airport is secure, and there haven't been reports by travelers of any violence or mugging.
Sleeping at Los Angeles (LAX) Airport
Just like at the Dallas airport, you are allowed to sleep overnight at this airport. Additionally, seats vary across terminals. According to most online reviews, the Tom Bradley International Terminal (TBIT) is the best terminal to sleep overnight because it's very spacious and has modern eateries as well.
Terminal 1 is inside the secure zone and also has a long couch. Terminals 4 and 7 offer the best privacy. Terminal 6 is also a great location that is carpeted and quieter. Due to air conditioning, the area is cold, so you may want to carry a microfleece travel blanket and put on warm clothing.
This is a busy airport so you should expect some noise throughout the night. Also, note that the airport is often under construction, so it's best to use some noise-cancelling headphones.
Finally, in case you are stuck at this airport due to mass cancellations, try and reach out to the airport staff as soon as possible and request access to sleeping cots.
Sleeping at New York (JFK) Airport
This is also another busy airport that allows people to sleep overnight. Unfortunately, this airport is known for its poor seating areas which are mostly cold metal benches. Due to the high number who sleep overnight, consider yourself lucky if you even get a seat at all.
It is best to carry a sleeping bag if you can or microfleece travel blanket, and a cushion if possible. Also, note that some security points are inaccessible at night and may only be open at dawn or when it's approximately three hours to your next flight.
If you manage to get to terminal 1 in time, you could try pushing the tables together in the food court area for a makeshift bed. Terminal two is carpeted just in case you miss out on those awful cold benches. Terminal 4 has decent chairs that allow you to stretch out. Terminal 7 is perhaps the one with the most tolerable seating. This terminal has high back chairs that are more comfortable than the rest.
Just like the other two airports mentioned earlier, the area is noisy, and lights are left on overnight so use your noise-canceling headphones and buy a sleep mask. Showers are available in the KAL and Air France Lounges. Most eateries such as McDonald's and the Central Diner are open 24/7.
Note that this airport often receives mass cancellations due to bad weather. It's best to bear this in mind even if you don't plan to sleep at the airport.
Sleeping at San Francisco (SFO) Airport
Passengers are allowed to sleep at this airport, and the International terminal has been praised for being the most comfortable among the four terminals. Unfortunately, most private areas don't have seats, but they have carpeted floors.
According to online reviews, terminals 2 and 3 have the best sleeping spots. Terminal 2 is reasonably quiet and has a few padded benches and couches. The furniture at Terminal 3 is suitable for creating a makeshift bed.
There's lots of movement, so expect the usual airport noise such as cancellations and other announcements. The terminals are also brightly lit, so make sure you buy a good sleep mask to keep out the light. This airport has shower facilities located at the International terminal that cost 25 dollars.
There have been reports of homeless people wandering, so you should expect to be woken up to show your ID and ticket. Other than that, the place is generally secure.
How long can you stay in an airport?
Well anyone who is a fan of Tom Hanks movies will remember his portrayal of Victor Navorski in the 2016 film, The Terminal. In the film, he played an Eastern European tourist who gets caught up in an international situation where he is both unable to actually enter the US and also unable to leave. He therefore spends 9 months living in the airside area of JFK airport.
That may seem a little far-fetched but actually, the film was based on a true story of Mehran Karimi Nasseri, an Iranian refugee who spent an incredible 18 years living in the departure lounge of Charles de Gaulle airport in Paris.
So in some circumstances, it would seem that there is no limit to how long can you stay in an airport!
Further information
Sleeping in an airport overnight is very common, and there is even a website entirely dedicated to giving travelers some useful tips on the best and worst airports to sleep in. This site, called Sleeping in Airports, also provides airport guides, activities to do in a layover as well as reviews from passengers.
Finally, although there are no laws barring people from sleeping in airports overnight, it's best to do your research to see if a particular airport is closed off for passengers during the period in which you may be traveling. Being prepared is crucial to avoid getting any unpleasant surprises.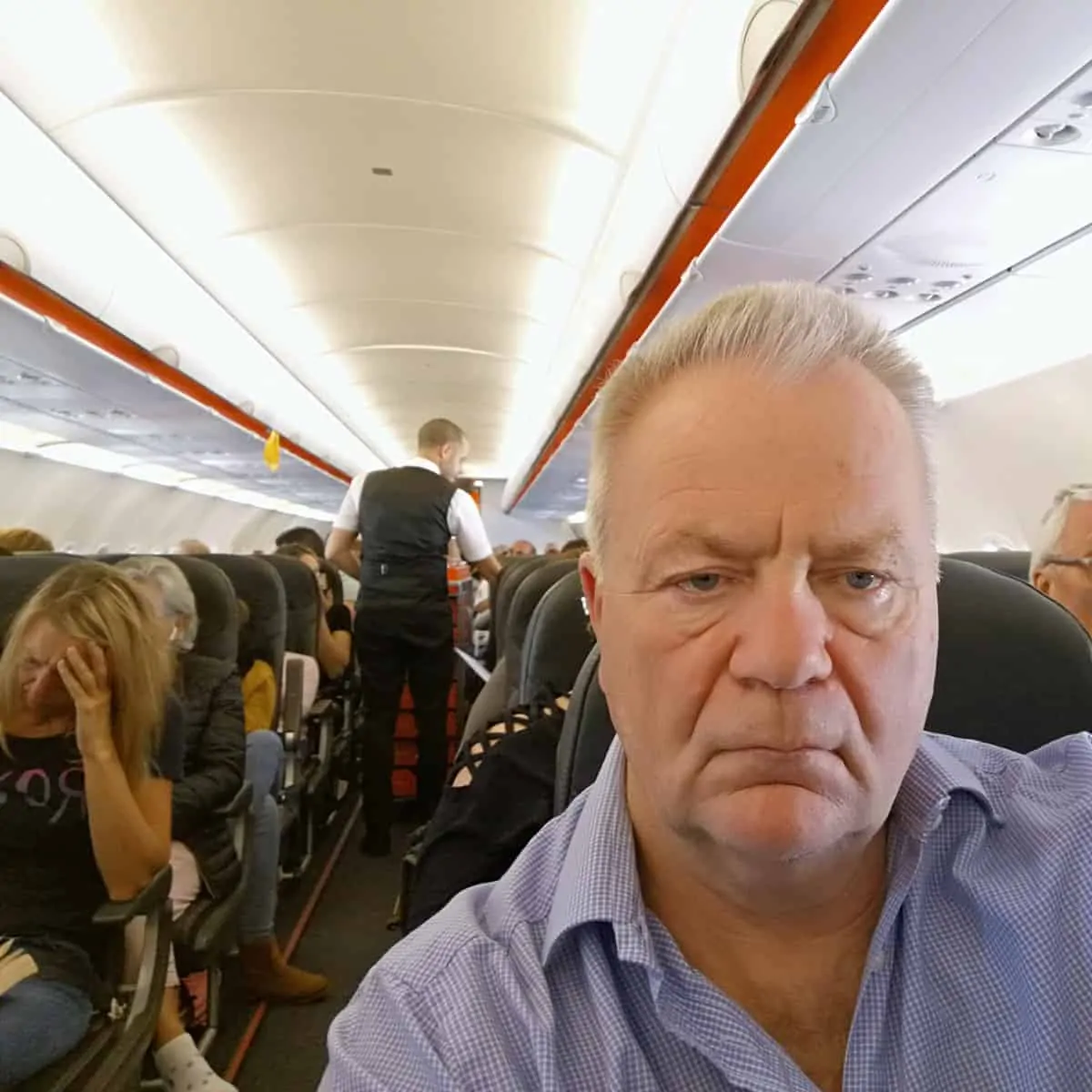 I have been traveling around the world by air since the early 70s and living overseas too. I worked for British Airways for a number of years and I am also a private pilot. About Me