Skateboarding has certainly stood the test of time and seems to be as popular now as it was when it was first invented and is now an Olympic sport. It is no surprise that skateboard enthusiasts might want to take their skateboard on a plane with them when they go on a trip.
Yes, according to the Transportation Security Administration (TSA), from an airport security point of view you can take skateboards on a flight in either your carry on or your checked baggage. You will need to check with your airline about any size or weight limitations they may impose.
We hope that this guide answers all your questions related to carrying a skateboard on a plane.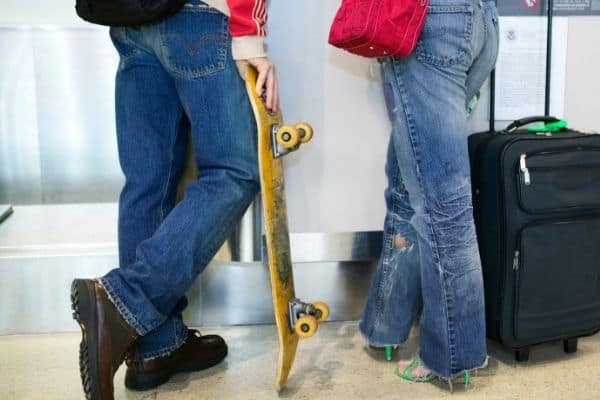 Can you take a skateboard through airport security?
The security standards of carrying sports equipment like skateboards are different in different countries. In the United States, you can easily take your skateboards through airport security without any hindrances.
Similarly, if you are traveling to a European country, there are no stringent rules related to the clearance of skateboards. However, you might encounter some problems in taking skateboards through security checks in France.
This is the TSAs ruling on taking a skateboard on a plane in either carry on or checked bags – TSA Skateboards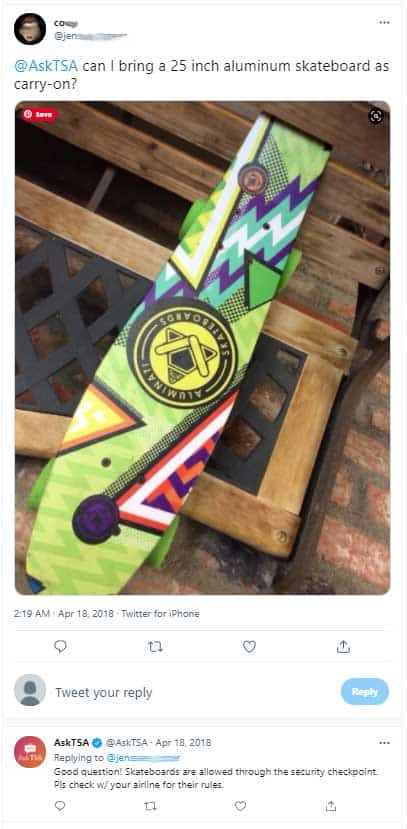 Can you take a skateboard in your carry on baggage?
Although the TSA has very few issues with skateboards being taken through airport security, the same cannot be said for airlines.
Some airlines are happy to accept skateboards on board as carry on baggage with few restrictions while others have a total ban.
You should contact your airline ahead of time to find out their policy regarding skateboards. You can also see the table further down this article for guidance.
Where permitted, skateboards should be kept under the seat in front with wheels facing upwards (so they cannot roll) or in the overhead bin.
Tip: Space in the overhead lockers is limited. Once they are full your carry on bags, including your skateboard, will have to go into the hold and run the risk of becoming damaged. So make sure you get on the aircraft early, even if that means you need to pay a little extra for priority boarding. Once your skateboard is in an overhead bin it can stay there.
Can you take a skateboard in your checked bag?
During my research, I didn't find any domestic airlines which will not permit skateboards (or longboards) to be carried as checked luggage. However, most airlines do restrict the size and weight of a particular piece of checked luggage.
While it is unlikely that you will fall foul of the weight restrictions you could potentially come up against the size restriction, particularly with a longboard. Check with your airline when booking to see if yours will be ok.
If you intend to check your skateboard in then you will need to make sure that it doesn't get damaged in transit. Airlines insist that when skateboards are checked in (if not going inside your suitcase) that they are in a suitable travel bag, otherwise they will not take any liability for damage.
The MACKAR Portable Skateboard Backpack will hold Standard Board and a Big Fish Board as well as safety equipment etc. It is available on Amazon.
Which airlines allow a skateboard in carry on and checked bag?
You will find that all airlines will allow you to take a skateboard in your checked bags. These should be packed securely in a skateboard bag and may be subject to additional baggage fees.
There are different rules for different airlines when it comes to bringing a skateboard in your carry on luggage. Southwest Airlines are generally considered to be the most skateboard friendly airline.
Below are some examples of skateboard luggage policies. You should check with your particular airline to find out their regulations.
| Airline | Carry On | Checked |
| --- | --- | --- |
| American Airlines | Although they state that carry on items shouldn't exceed 22 x 14 x 9 inches / 56 x 36 x 23 centimeters (including handles and wheels) it seems they will not allow skateboards as carry on. | Standard checked bag fees of your destination apply up to 50lbs/23kgs and 126in/320cm (length + width + height) and standard overweight fee applies from 51lbs/23kgs to 70lbs/32kgs. |
| Delta Airlines | Skateboards are allowed as carry-on baggage and standard carry-on items size restrictions apply. | Skateboards are allowed as checked baggage and standard baggage policies apply. They must be housed in a bag. |
| Southwest Airlines | Allowed. If the skateboard fits under the seat, it does not need to be in a bag or covered, but it does have to be stowed with the wheels up so that it doesn't roll. If stowed in an overhead bin, a skateboard must be stowed with the wheels up and needs to be in a bag or have the wheels covered (trash bag is acceptable) so as not to damage other articles. | Skateboards are allowed as checked baggage and standard baggage policies apply. They must be housed in a bag. |
| JetBlue | A skateboard or longboard can be taken as carry-on luggage, as long as it meets the size requirements. | A skateboard or longboard can be taken as a checked item, as long as it meets the size requirements. It will be accepted at the customer's own risk. |
| Alaska Airlines | It seems skateboards are not permitted as carry on luggage | We accept sports equipment items as checked baggage, provided each piece is properly packed in a soft- or hard-sided case designed specifically for the equipment. |
| Hawaiian Airlines | Skateboards do not appear to be permitted as carry on luggage. Check with the airline. | Skateboards will be accepted as checked baggage subject to the baggage conditions and fees. Will not accept any Board Item greater 115 inches (292 cm) in length. |
Skateboard baggage restrictions by airline
How to carry a skateboard on a backpack?
If you are planning to bring a skateboard as carry on attached to your backpack then this shouldn't be a problem provided the airline allows skateboards in the cabin (check with your airline).
Here is some good advice:
Here is the TSA's reply to someone asking about taking a skateboard on an airplane attached to a backpack: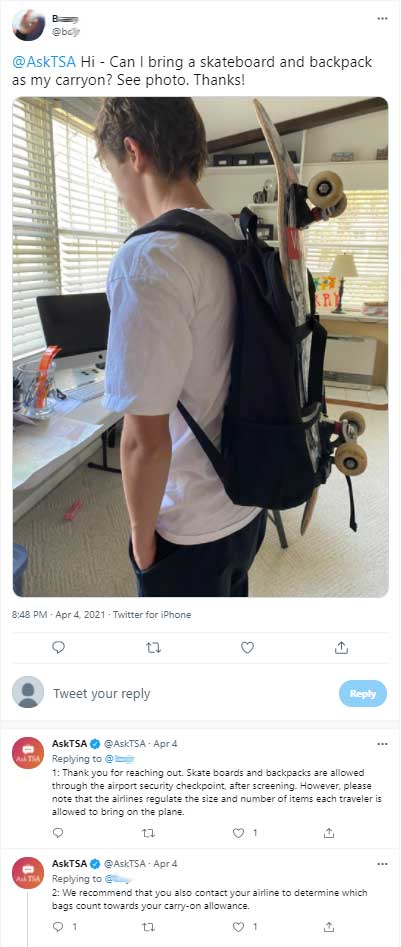 Can you bring electric skateboards on a plane?
Although electric skateboards are allowed through the security checkpoint, many airlines restrict them. You should contact your airline to see if they are allowed as either hand luggage or checked baggage.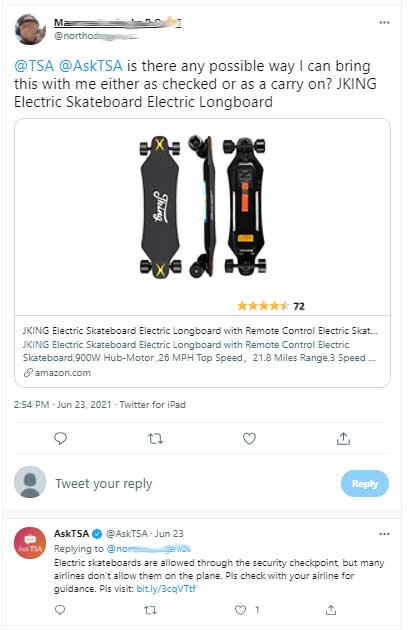 This is the link to the FAA regulations that they quote in the reply above – Pack Safe: Portable recreational vehicles powered by lithium ion batteries
Can you take a hoverboard on a plane?
The problem with hoverboards is their lithium batteries with many airlines not permitting them in either a carry on bag or checked bag (American Airlines for example). You should check with the airline ahead of time.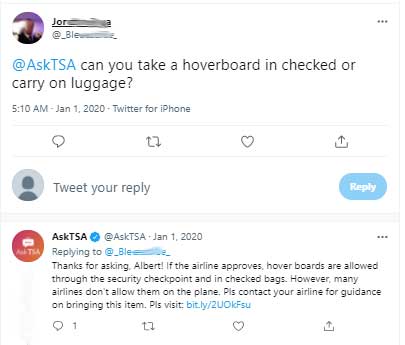 This is the link they quote above:
Baggage equipped with lithium batteries must be carried as carry-on baggage unless the batteries are removed from the baggage. Removed batteries must be carried in accordance with the provision for spare batteries. This restriction in checked baggage does not apply to baggage containing lithium metal batteries with a lithium content not exceeding 0.3 grams, or lithium ion batteries with a Watt-hour rating not exceeding 2.7 Wh.

FAA – Pack Safe
Baggage equipped with lithium batteries
You should also read the following FAA regulations – Pack Safe: Portable recreational vehicles powered by lithium ion batteries
Can you take skateboard trucks in carry on?
Skateboard trucks and other skating equipment are permitted through airport security and can be taken on board the aircraft in your carry on bag.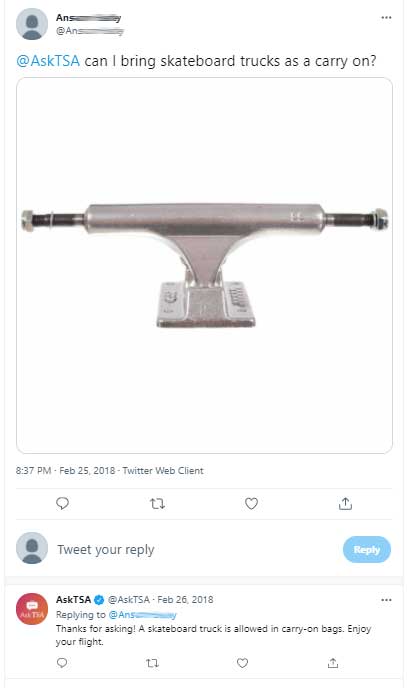 Conclusion
You can carry skateboards on the plane without any hassles or hindrances from most airlines. The best way to do that is by dismantling the parts of the skateboard.
You can easily carry a skateboard in your check-in luggage by following the specifications of the airline you are flying with. You can also take skateboards in your check-in bag, by either removing the wheels or disassembling them to fit perfectly into your travel bag. Taking skateboards in your checked bags can put a dent in your pocket as you might need to pay an extra fee for taking the board along with you.
FAQs
How to pack a skateboard on a flight?
The most effective way of packing skateboards for carrying on a plane is by dismantling them. You can carry the trucks in your backpack along with wheels. Invest in a good quality skateboard backpack for ease of carrying on a plane.
What is the cost of carrying a skateboard on a plane?
The cost of carrying skateboards as checked luggage is approximately $30. The additional cost might be different for different airlines so it is advisable to check the extra weight cost online before booking an airline.
Is a longboard allowed on a plane?
Yes, you can carry a longboard and additional safety gear like helmet, gloves and knee pads in your carry-on bag. You can also keep your extra wheels in the bag without any hassle and not pay any additional cost.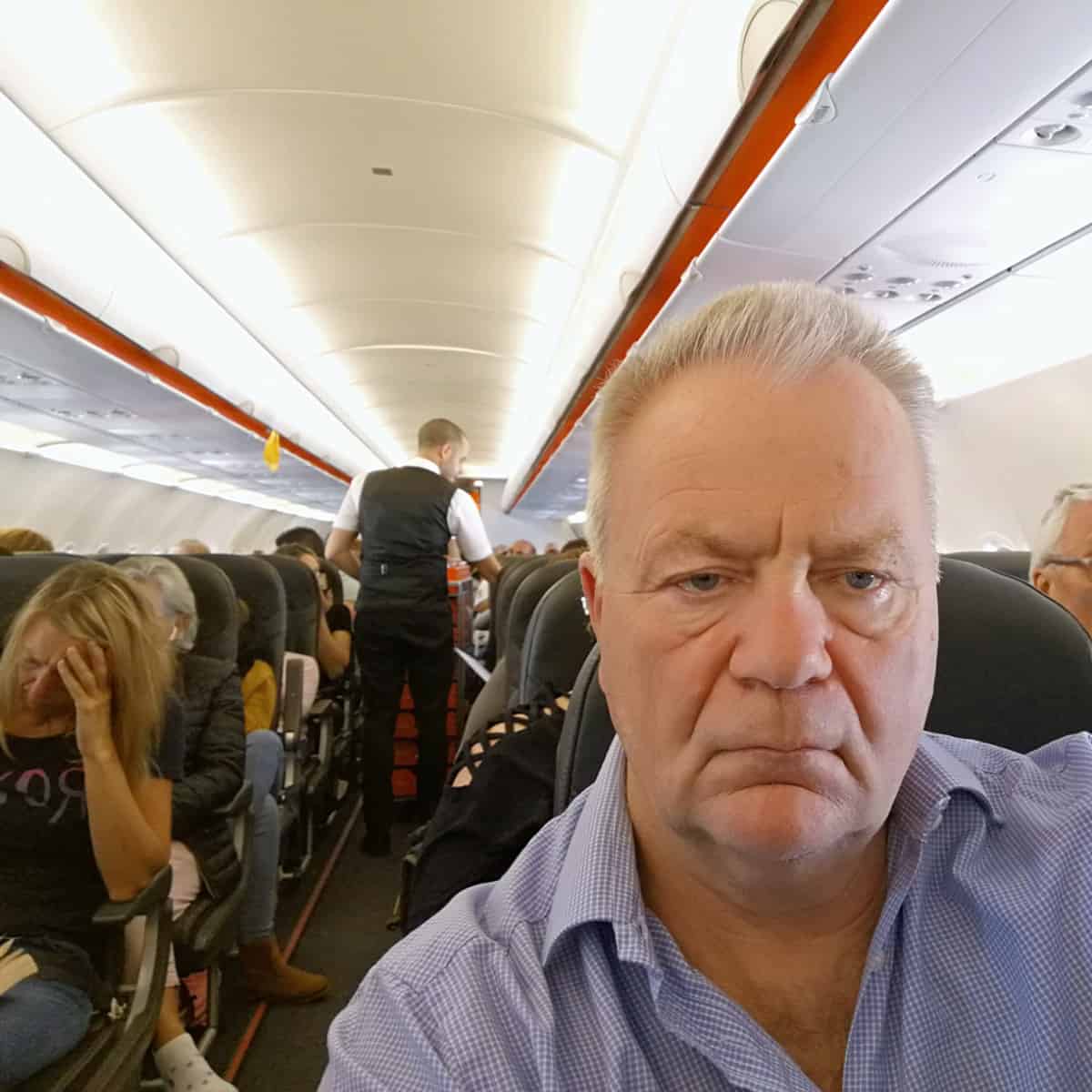 I have been traveling around the world by air since the early 70s and living overseas too. I worked for British Airways for a number of years and I am also a private pilot.