If you're planning to travel by plane, you may be wondering what snacks you can bring on board with you.
Granola bars are a convenient and healthy snack option, but can they be brought on a plane?
In this article, we will provide the rules and regulations around bringing granola bars through airport security and on a plane.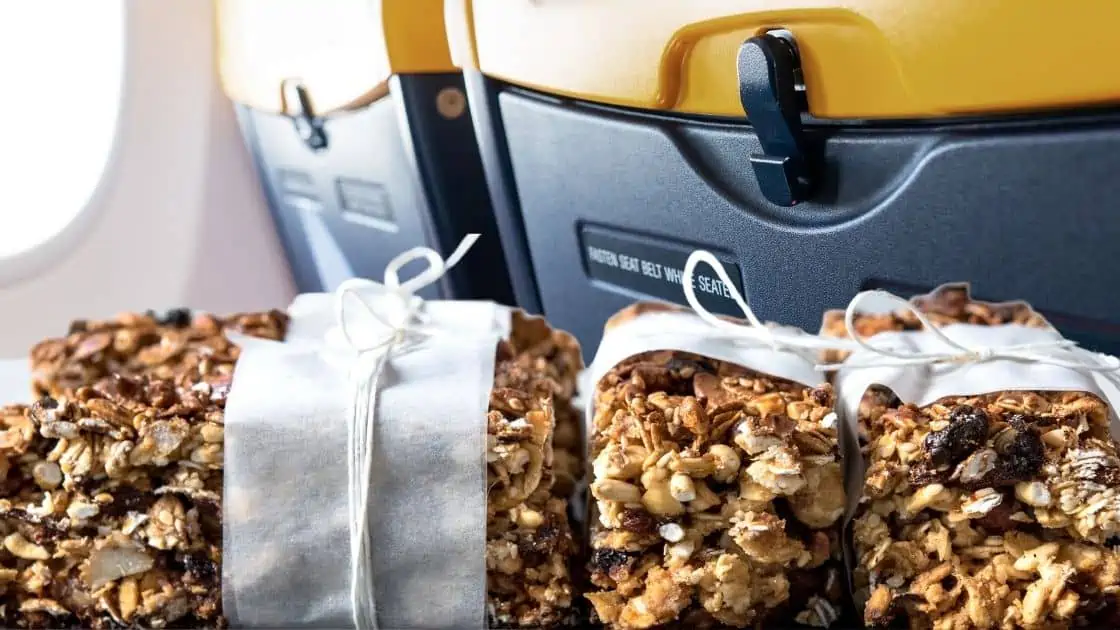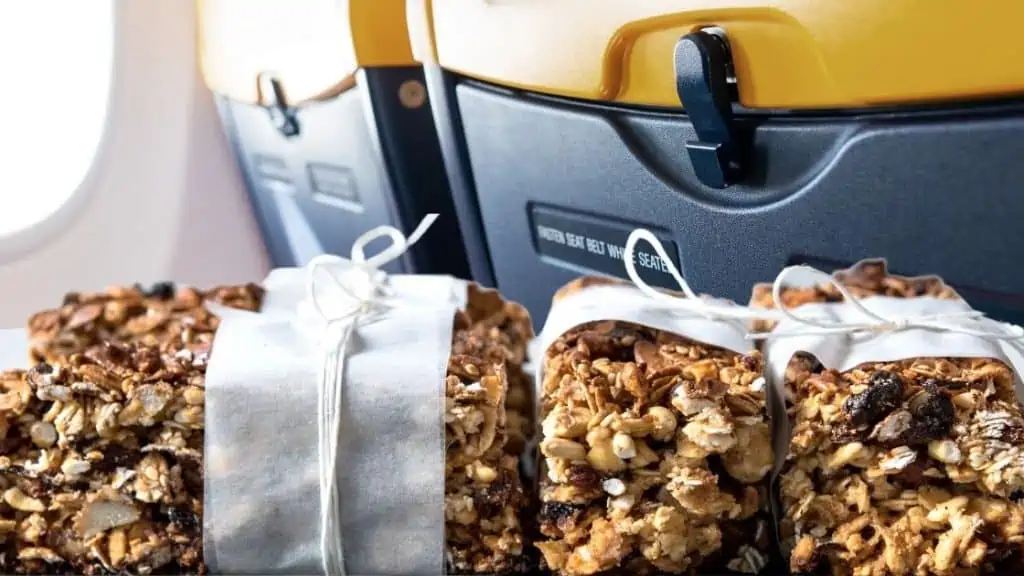 The Quick Answer: Can I bring granola bars on a plane? Yes, like other solid, dry snacks, you can bring as many granola bars as you want on a plane through airport security or in your checked luggage.
Can you take granola bars through airport security?
You can bring granola bars in your carry-on bag through airport security. And, since the TSA specifies no limit on the quantity of dry, solid snacks you can bring in your carry-on, you can bring as many granola bars as you want (keeping the hand luggage weight limits in mind).
You can get homemade granola bars and commercially packed ones through airport security.
If they aren't already pre-packaged, you'd have to wrap or place them in a resealable bag or an air-tight container.
Just as with other foods in carry-ons, you might have to take the granola bars out of your bag for the screening process. Although the chances of this are minimal, it helps to keep your carry-on bags organized and uncluttered for easier screening.
Can you pack granola bars in checked bags?
If you can get it through airport security in your carry-on bags, you can most definitely get granola bars in your checked luggage too. This applies to any flight that you'll be boarding within the US.
Similar to granola bars in your carry-on, you can bring as many as you want in your checked bags within the permissible weight limits. This means you could pack a whole load of them for snacking on your stay at your destination.
Can you take granola bars on an international flight?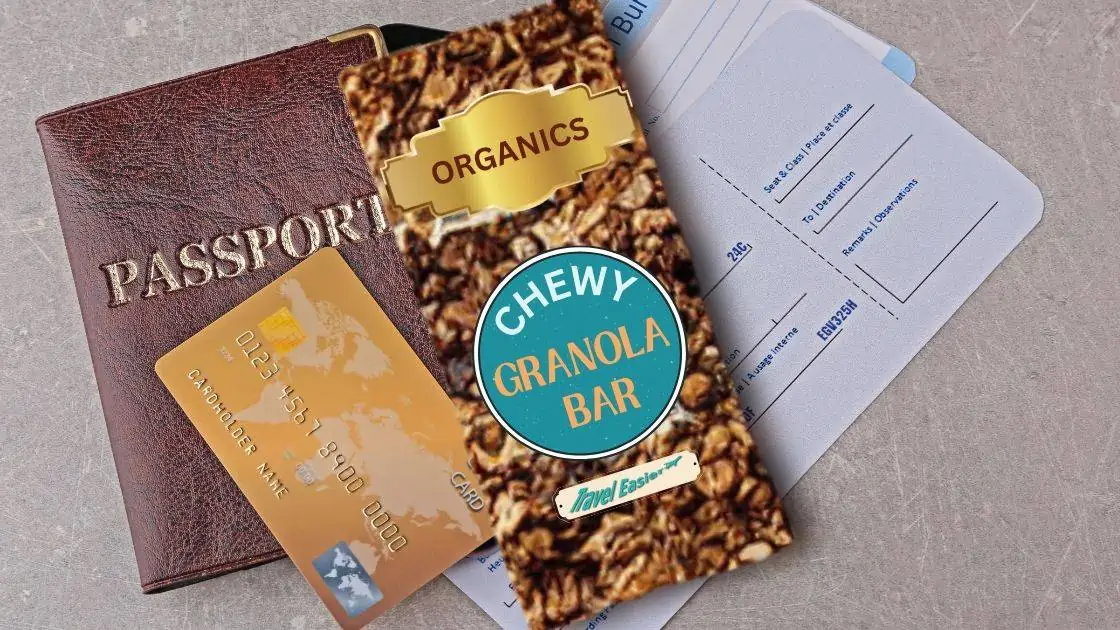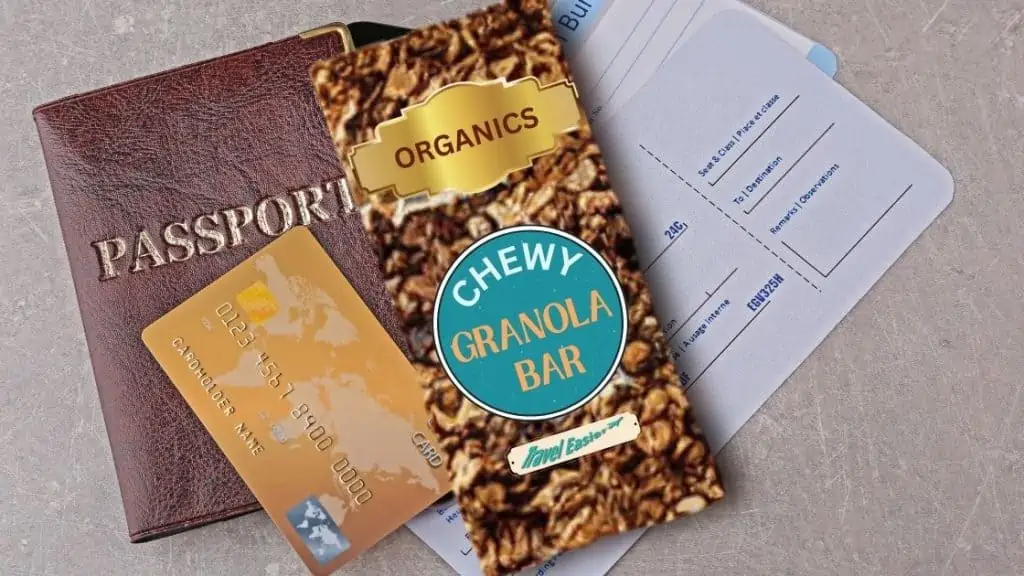 The TSA rules apply to passengers on any international flight departing from the USA or arriving from a foreign country and all domestic flights.
You can take granola bars in your carry-on and even checked luggage on international flights from the USA. If you're bringing only a few in your hand luggage to eat during your flight or time spent at the airport, it's absolutely fine.
However, while most foreign countries permit granola bars in your handbag, they may need to be unpacked and in their original packaging. If you're planning on carrying any food, including granola bars, to a foreign destination, check their rules for any restrictions before you pack.
Even if they are permitted you may have to declare them on your entry form. Failure to mention them could lead to a fine.
For instance, Mexico prohibits homemade food products, including homemade granola bars, into the country.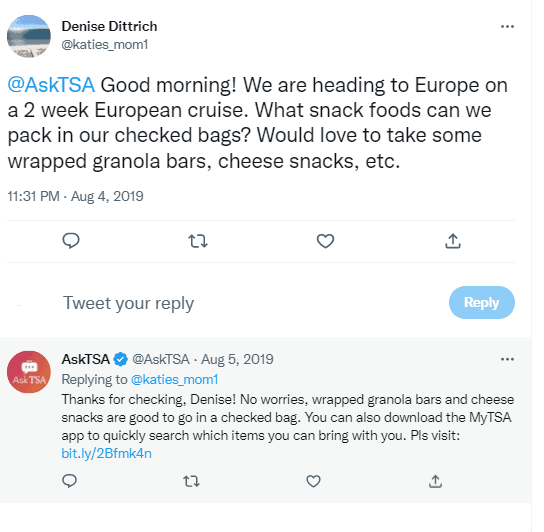 Can you bring granola bars into the US?
Generally, since TSA rules apply to all passengers arriving in the USA, you can bring granola bars on your flight to the USA from a foreign country.
Although they're usually allowed, it's good practice to declare any foods you bring along into the USA to the US Customs and Border Protection (CBP). The CBP often conducts random screenings at arrivals; failure to declare food items can attract heavy penalties.
Can you eat granola bars on a plane?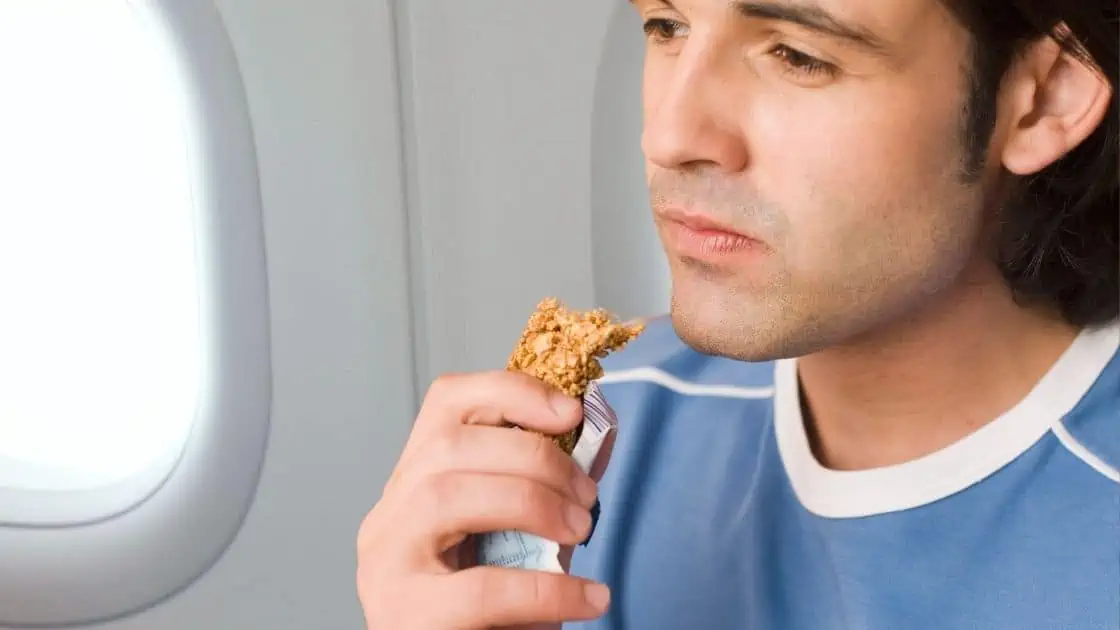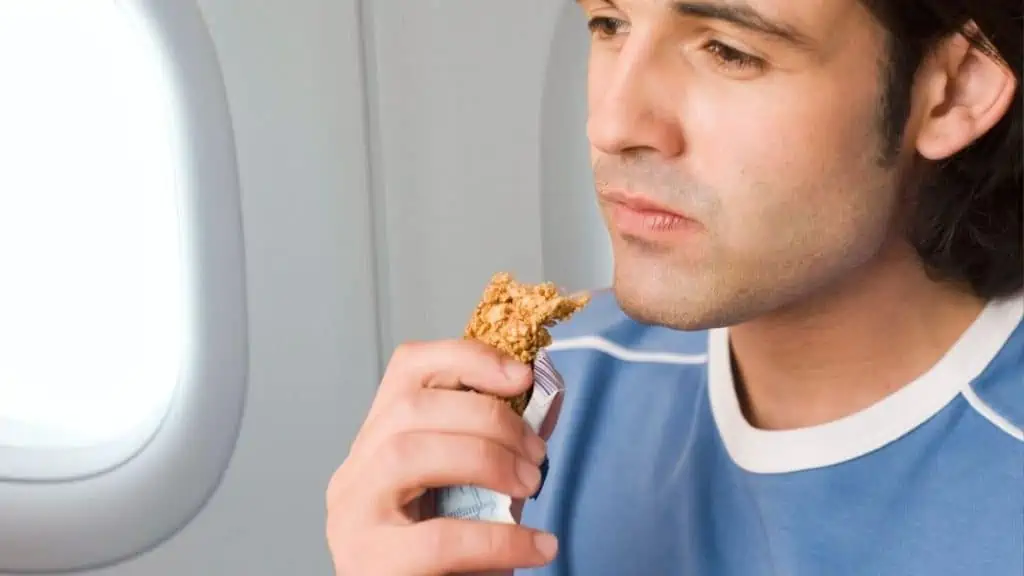 If you can get it through airport security, there's no reason why you can't eat granola bars on a plane. Let's face it, there would be little point in taking them if you couldn't eat them.
However, one thing to bear in mind, as your granola bar may contain nuts, there might be someone on the aircraft with a serious nut allergy.
If that is the case the crew will probably make an announcement before you take off telling you that such a person is on board and asking you not to open any food item that contains nuts.
This has happened a number of times when I have been on a flight – normally the only times I actually have some snacks with me that contain nuts.
Summary
Granola bars are healthier for your flight journey than most other processed snacks. Consider packing a few granola bars in your carry-on bag for longer flights; TSA permits them in both carry-on and checked luggage.
These make for a great airplane snack that doubles as a small meal.
Other Airport Security Articles
Thinking of taking some snacks with you for some in-flight munching? Here are some other food-related airport security articles on my site you can read: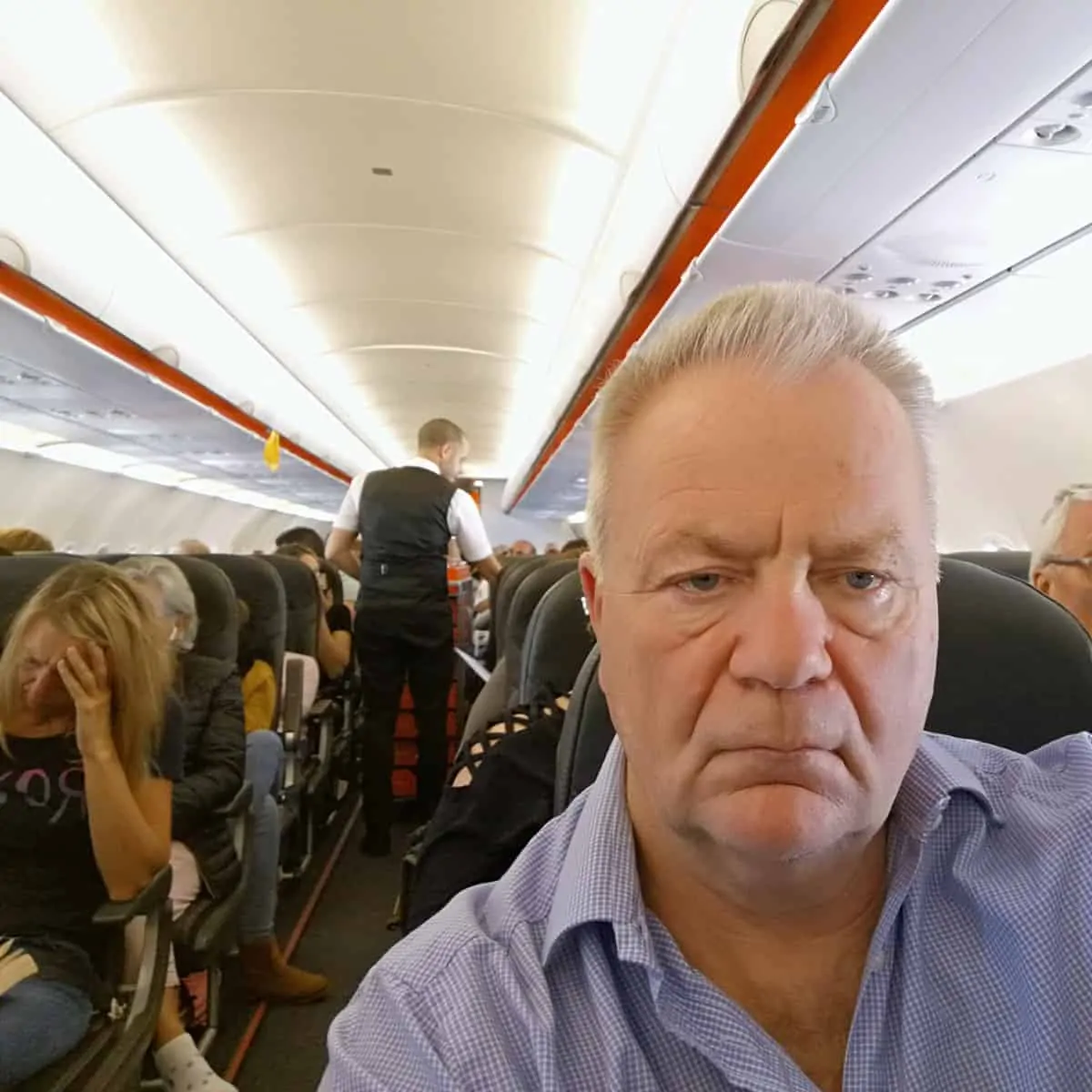 I have been traveling around the world by air since the early 70s and living overseas too. I worked for British Airways for a number of years and I am also a private pilot. About Me