You may have heard of Solgaard luggage, or you may not. For those who haven't, we are going to do a Solgaard luggage review so that you can discover this brand for yourself.
Whether you are familiar with them or not this is a company that doesn't stay still and is always innovating when it comes to travel and luggage.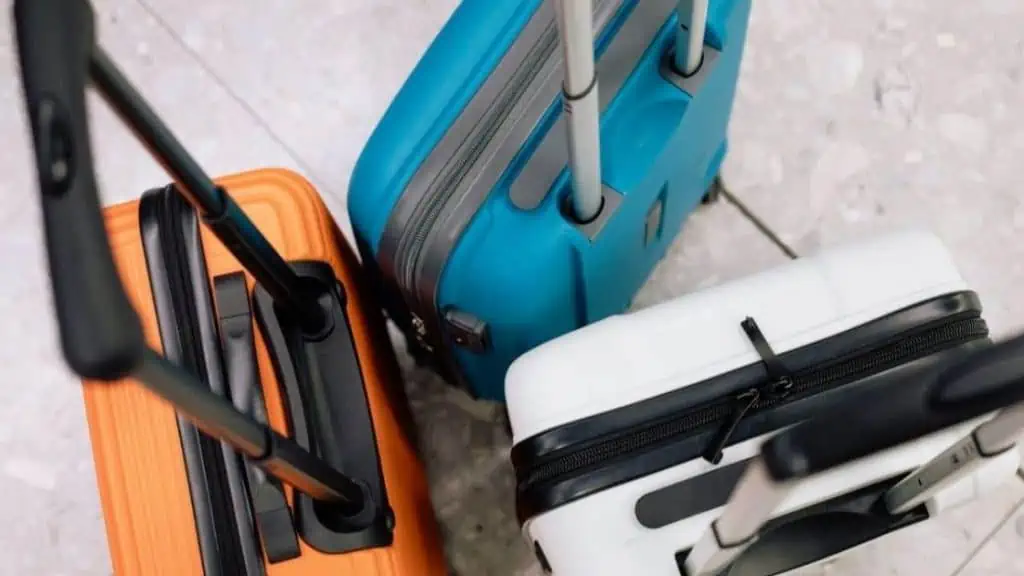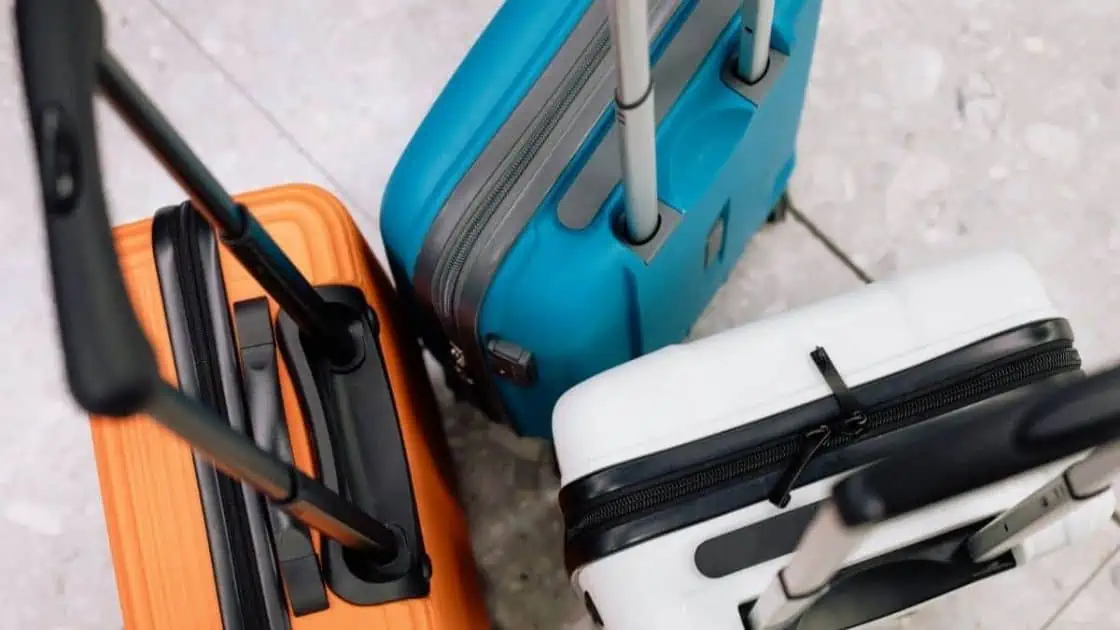 So let's take a look at Solgaard luggage and what they have to offer.
Story Of Solgaard
The Solgaard company was launched on Kickstarter with the backing of over 3,000 people.
When a friend of the company's founder Adrian Solgaard had his backpack stolen, he got together with some friends to discuss what features the perfect backpack would have.
High on the list of priorities was an anti-theft device which is now part of the Lifepack, designed by Solgaard.
It also features an innovative built-in solar charging bank which allows you to charge devices from your backpack.
Since then, Solgaard has produced a number of stylish and practical backpacks as well as some impressive and equally innovative pieces of luggage.
The Carry-On Closet luggage was the result of the founder Adrian Solgaard living on the road and finding it difficult to keep his belongings in any kind of order.
So he designed a patented six-shelf closet that fits inside a suitcase, acting as a compression cube.
This idea was recognized by Time magazine and awarded the Best Travel Invention of the year. The luggage also features a built-in USB charging port for on-the-go powering up for portable devices.
As well as being on a mission to provide stylish, practical and innovative luggage for global travelers Solgaard also uses plastic retrieved from the ocean in a lot of its manufacturing.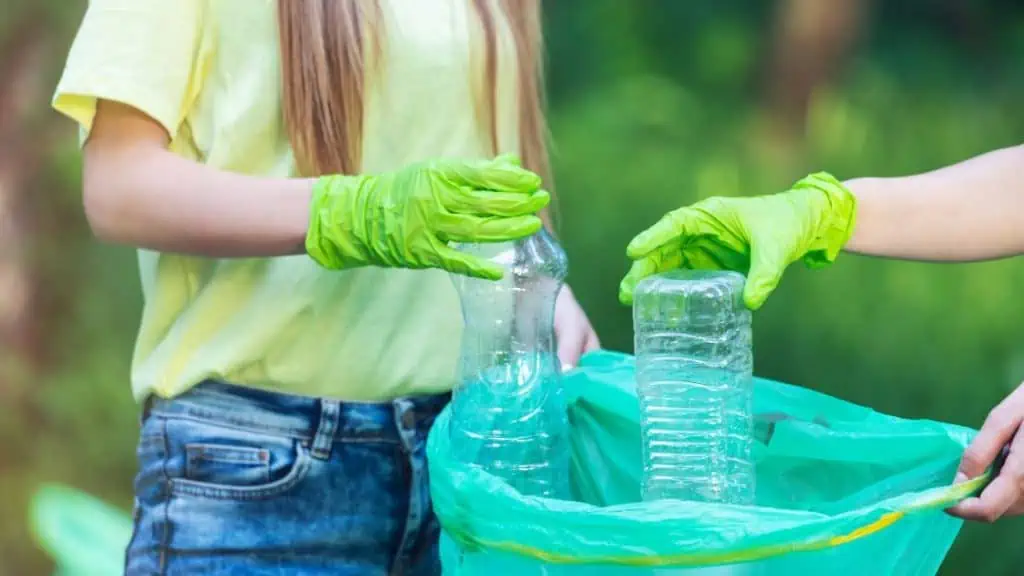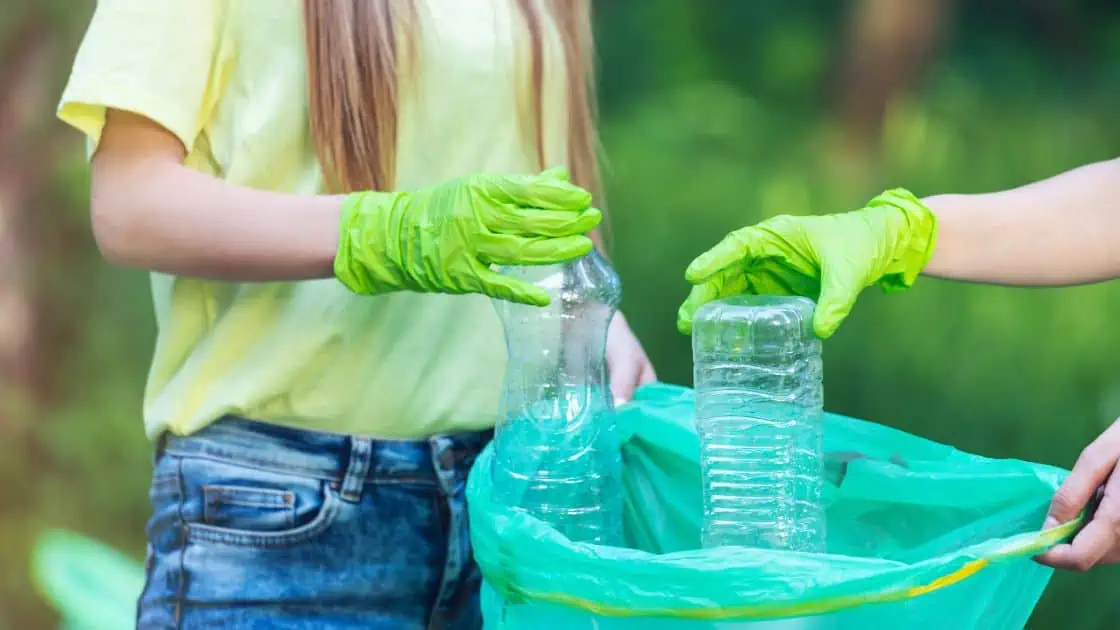 To date, the company has saved 40,994,708 plastic bottles from entering the ocean
Solgaard Collections
So what types of luggage does Solgaard make? Well, they are well known for the integral closet that they introduced as a patented system of organizing your belongings in your suitcase.
They also developed several varieties of backpacks with innovative features and designs. And now they are branching out into accessories like watches and speakers.
Suitcases
Solgaard produces the Carry-On Closet case in two sizes, the US at 22 inches high and the Euro at 20 inches high. Both feature the patented closet system of six shelves and zippered compartments.
The larger Check-In Closet suitcase is actually trunk shaped and 27 inches high. It is also deeper allowing for greater capacity for your checked-in luggage.
Backpacks
The backpacks designed and manufactured by Solgaard are led by the flagship Lifepack.
This is a solar-powered, anti-theft backpack that has been designed for a multitude of uses and applications.
In keeping with Solgaard's mission to prevent as much plastic from reaching the oceans as possible, their backpacks are made with recycled plastic bottles.
The material is aptly and cleverly called Shore-Tex.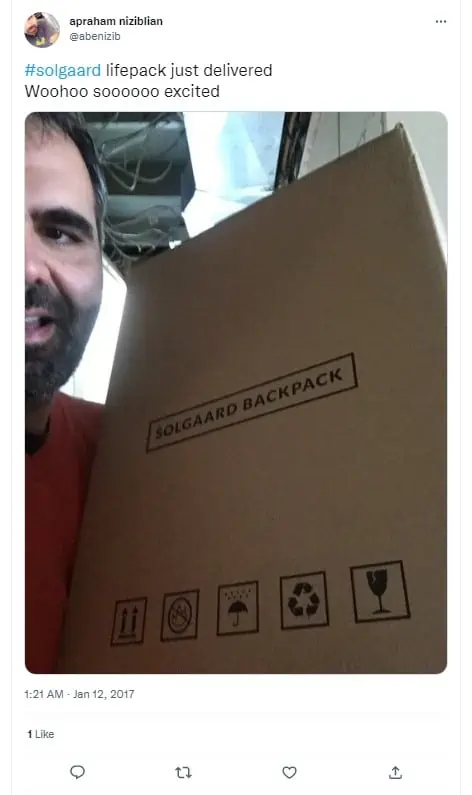 Accessories
Solgaard is now branching out into accessories. They produce a solar-powered charging unit that doubles as a Bluetooth speaker and power bank.
The company also produces several versions of a hexagonal wristwatch.
In keeping with their luggage origins they have designed a duffel bag and backpack which are both packable down to a smaller size.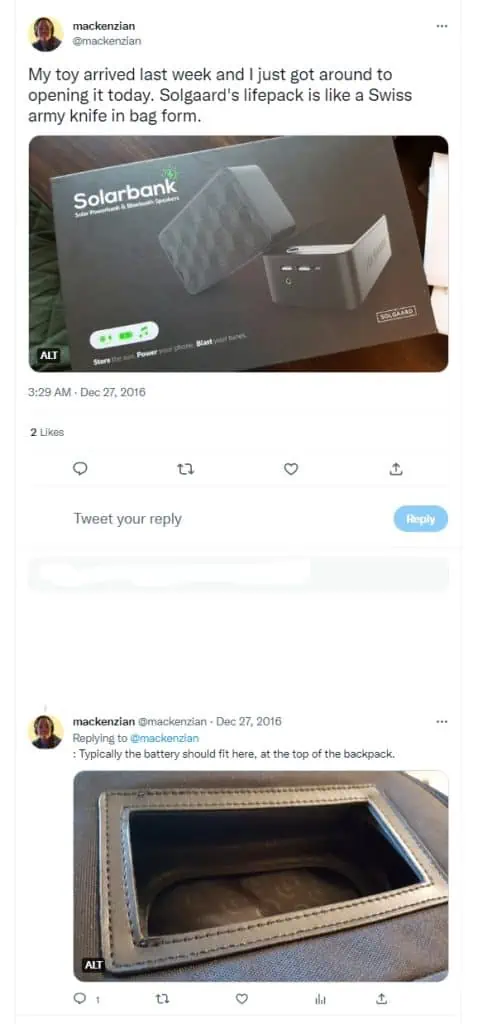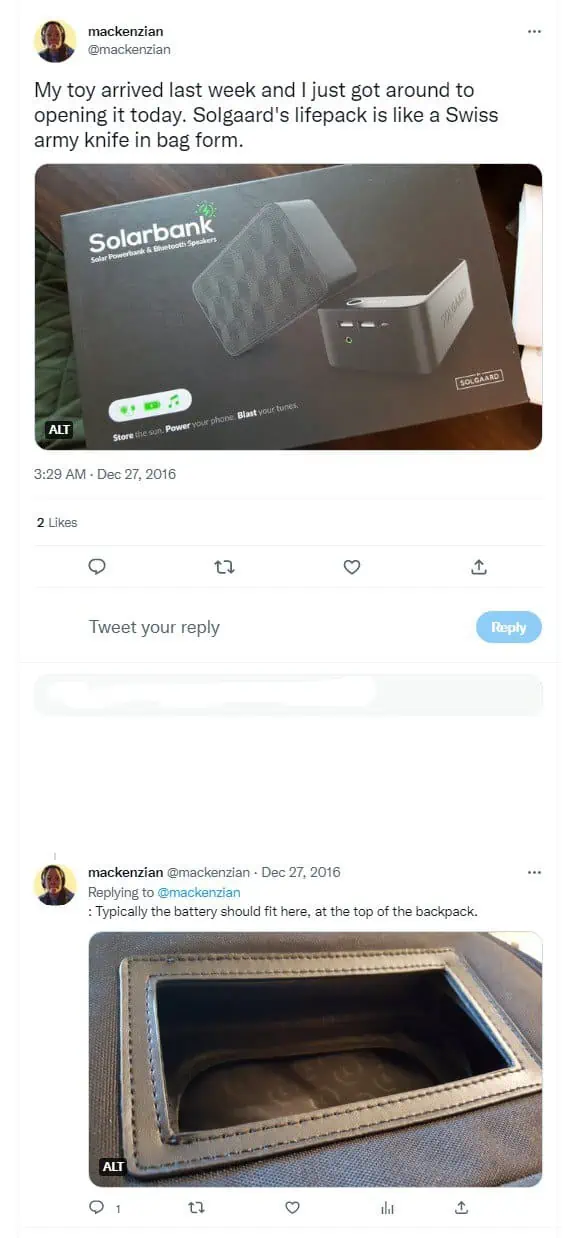 Product Reviews
So let's take a closer look at some of the luggage that Solgaard has designed and produced.
The Carry-On Closet suitcase is designed to keep your clothes, toiletries, shoes, etc… organized as you travel.
The patented six-shelf system allows you to hang the closet up, pack your clothes, zip them into place and then compress the whole thing into your suitcase.
When you get to your destination, simply remove the whole closet and hang it up on a rail.
Alternatively, the system has been designed to hang off the suitcase handle and be used from there or simply to allow you to unpack neatly.
The closet collapses down into the case, and you can then tighten it with the compression straps to reduce the amount of space that it takes up in the case.
It's recommended that you don't fill the compartments more than 70% to allow room for the case to close.
However, there are no zippers in this case and the closing mechanism is a one-pinch system.
With a slightly overstuffed case, you can sit on the lid and snap the mechanism shut to secure the contents.
The external material is 'unbreakable' and falls under the company's 10-year warranty.
The Carry-On Closet is available in two sizes, 20 inches, and 22 inches, and in six different colors.
It features a USB port that is easily accessible and can be used with a power bank, which can be purchased separately.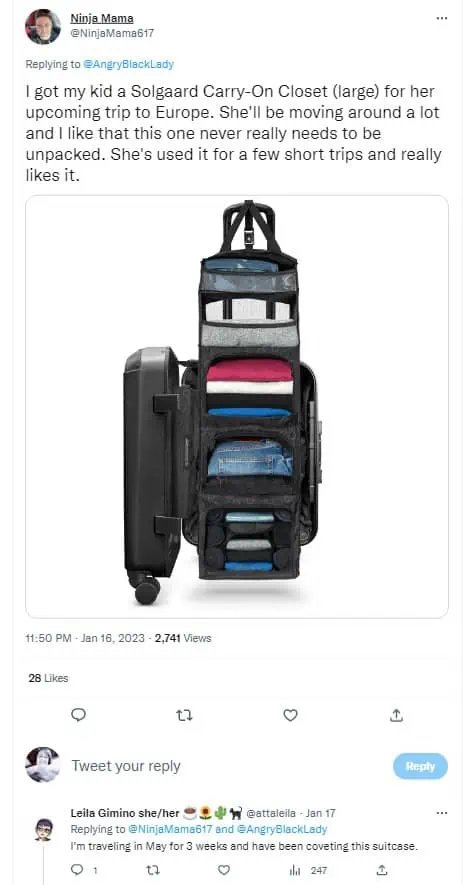 The Check-In Closet is not simply a larger version of the Carry-On Closet. It is similar and obviously larger at 27 inches high, but its shape is what makes it different.
Rather than the traditional rectangular shape of suitcases, the Check-In Closet is trunk shaped.
Its boxy dimensions of 27 inches x 15.5 inches x 14 inches are what give this piece of luggage its impressive stability. Not to mention its 91 liters of volume.
It has the same 360-degree frictionless wheels as its smaller counterparts but handles thick carpet, rough cobblestones, and uneven ground with the same ease.
The telescopic handle has a comfortable grip and two preset heights for comfort and maneuverability.
The polycarbonate shell is tough and claimed by the company to be unbreakable.
There is a TSA-approved locking mechanism that can be reset by toggling between the A and B switches inside the case.
Solgaard doesn't use zippers on their cases, preferring the one-pinch opening mechanism. This removes the problem of broken or jammed zippers and even allows for the case to be slightly overfilled.
Beware of going over your weight allowance, however.
There is no USB port in the Check-In Closet as batteries are not permitted on checked luggage.
For stability, when the case is open there is a locking mechanism which keeps both sides of the luggage at 90 degrees. This prevents the case from toppling over.
The Lifepack is Solgaard's flagship product. It is designed for life on the move with a solar power pack which is constantly charging as well as storage for all your life and work essentials.
The solar power bank or Juicebox can be swapped for the Solgaard Boombox.
This is not just a power bank and solar charging unit but a Bluetooth speaker too. Both sit in the solar pack window where they will be on constant charge when you are outside.
It takes four hours in sunlight for the power bank to fully charge your smartphone, two hours will bring it up to 50%.
Lifepack has a patented anti-theft design that allows you to lock the zipper on the backpack and also secure it to something solid via a coiled cable.
The front of the Lifepack is where you store your personal belongings, this is called the Life Zone.
Here you can keep your phone, wallet, or anything you need ready access to. There are four secret pockets for your passport, credit card, or travel documents.
In the back of the Lifepack is the Work Zone. This features deluxe padded laptop storage which protects it if the pack is dropped.
The pack will sit unsupported and has a water-resistant base. The material, both inside and out is Shore-Tex, which is made from upcycled plastic bottles.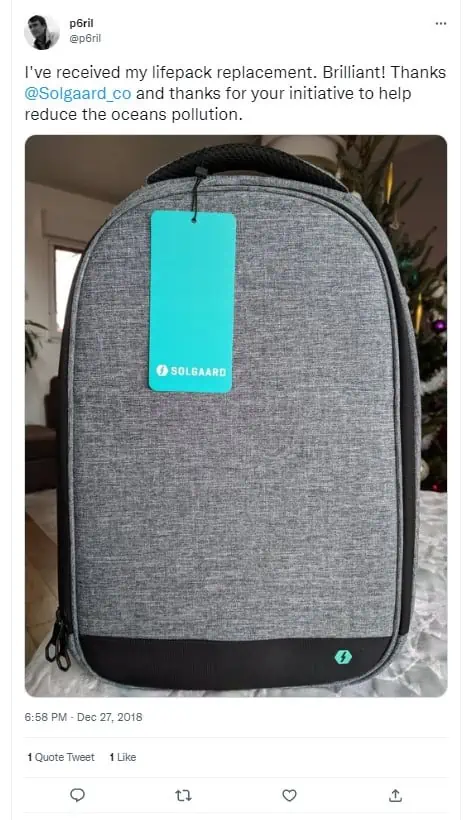 Verdict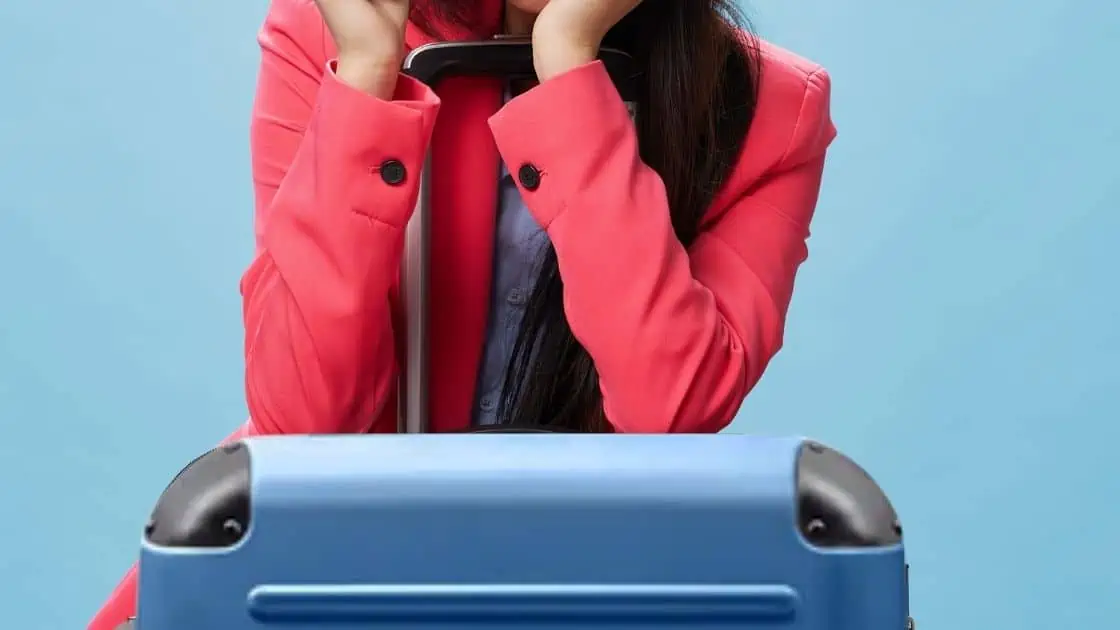 Solgaard has put a lot of thought into its products. They have a genuine passion for travel and want to make the experience of traveling as pleasant and relaxing as possible for their customers.
The design of their products is both practical and stylish. Using upcycled plastic bottles not only benefits the environment but puts this waste to good use.
Including solar-powered charging units in their backpacks is another environmentally friendly addition to their designs and allows users to keep devices charged while they travel.
Inspiration for their designs has come from real-life experiences which help them design luggage that is useful, practical as well as smart, and sleek to look at.
The collections do seem a little limited and there is not a great variety of products. Perhaps they will introduce more items in the future as travel gets back to normal.
Final Thoughts
The luggage that Solgaard has designed and manufactured has obviously filled a gap in the market.
Anti-theft devices and solar charging packs are a welcome addition to nomad workers, travelers or anyone who is frequently on the move.
Their innovative Carry-On Closet and Check-In Closet suitcases make packing and storage while traveling more convenient, compact, and organized.
Anything that makes travel less stressful and more enjoyable is going to be a winner.
Solgaard has designed luggage to help people enjoy their travels while simultaneously trying to cut down on plastic waste. Kudos to them!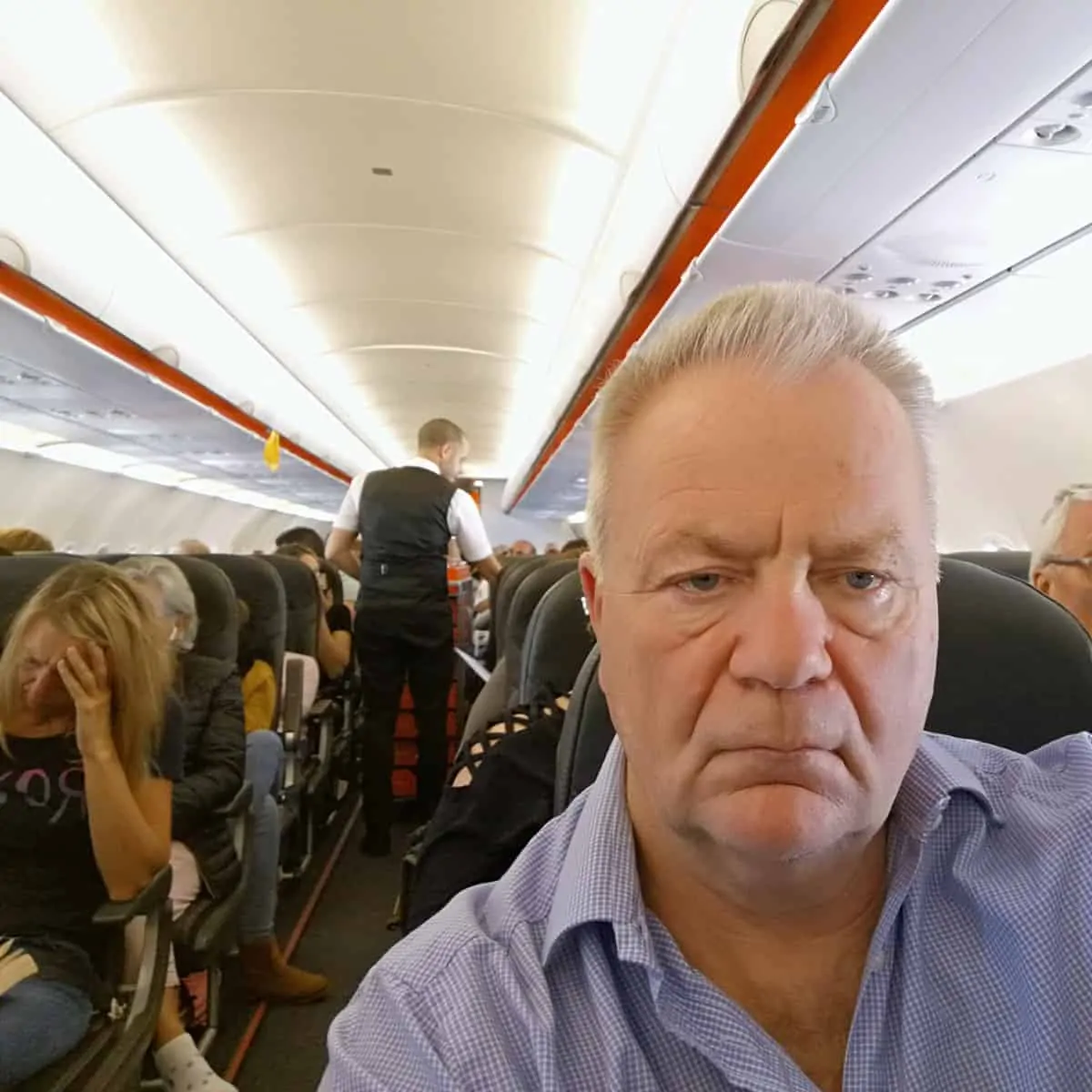 I have been traveling around the world by air since the early 70s and living overseas too. I worked for British Airways for a number of years and I am also a private pilot. About Me