One thing is for sure, in today's world most people cannot live without their electronic devices, be they smartphones, cell phones, tablets, laptops, iPods etc. So if you are traveling you will need a way of keeping them charged, in the air and at your destination.
But can you take phone/mobile chargers on a plane and, if so, where should you keep them?
The Quick Answer: You can take a phone charger in carry on. Either the type that plugs into a mains electricity supply or the type that contains a battery (a power pack or power bank) that charges the device directly. However power banks cannot go in checked luggage.
You will find the full details regarding whether you can bring a phone charger with you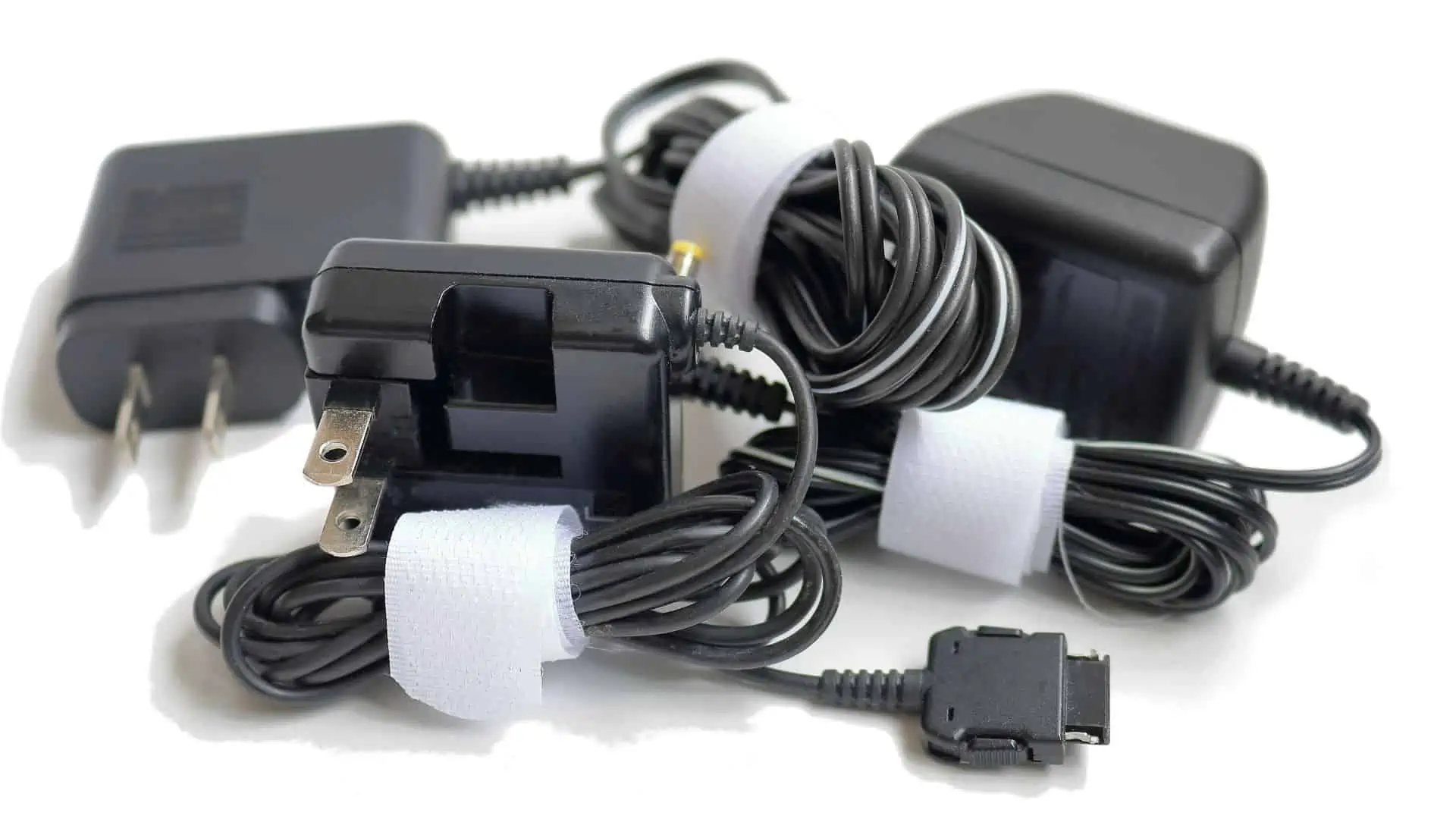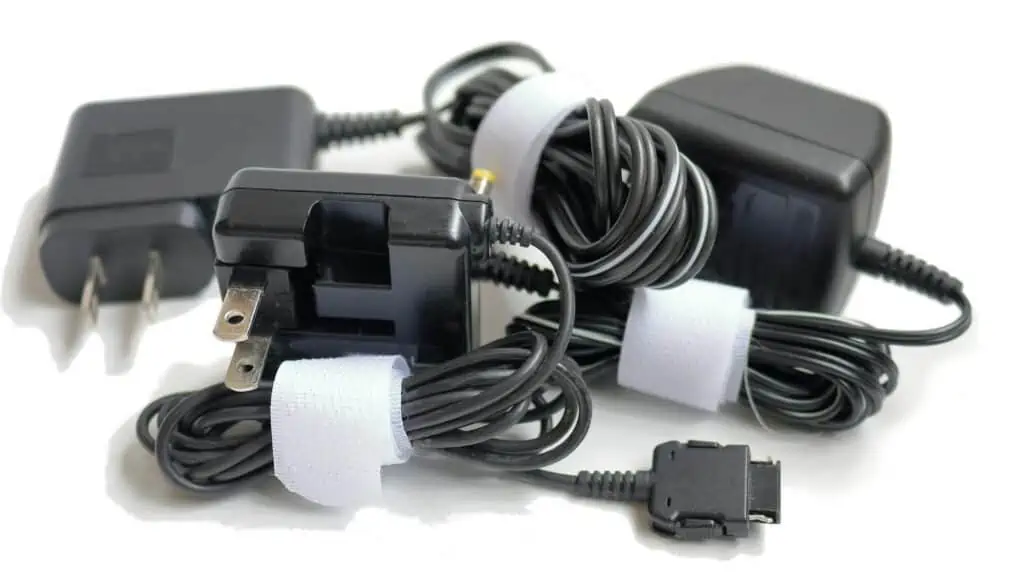 Can you take a phone charger through airport security?
Transportation Security Administration rules allow you to bring a phone charger in your hand luggage whatever type it is. Power banks that contain lithium batteries must be removed from your hand luggage and placed in a separate bin for screening through the x-ray machine.
Plug-in chargers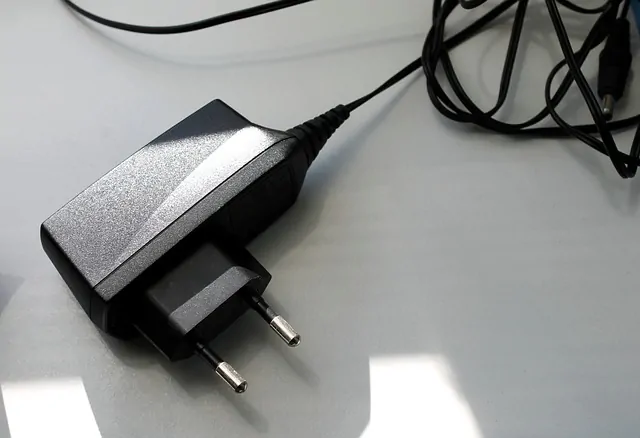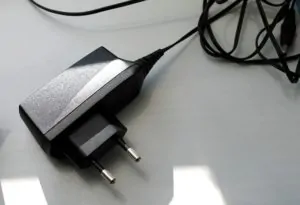 You can take plug-in regular phone chargers through the security checkpoint in hand luggage (and in your checked baggage) since they do not contain any form of battery.
Normally you will not be able to use them onboard as most aircraft do not have mains power sockets.
You will probably need your phone charger at your destination though.
Portable chargers/Power banks


Any device containing a battery, particularly a lithium ion battery, comes under scrutiny at airport security these days. I believe all portable chargers and power bank chargers currently available contain lithium-ion batteries.
With a few exceptions, you can take these in your carry on bag. The exception is any power banks larger than 100 watt hours. You can take two of these devices per passenger though.
Some airlines will allow up to 160 watt hours so check with your airline if yours are over 100 watt hours but under 160 watt hours.
Can I put phone charger in checked luggage?
It is very important to remember that you cannot put power banks in your checked luggage!
You cannot put any portable charger in checked bags and these count as spare batteries under the Federal Aviation Administration regulations. If you do your checked bags are likely to be opened by airport security officers (breaking in if necessary) and the battery pack confiscated.
This passenger contacted the TSA to say "I have forgotten to take my phone charger out of my hold luggage" and their response: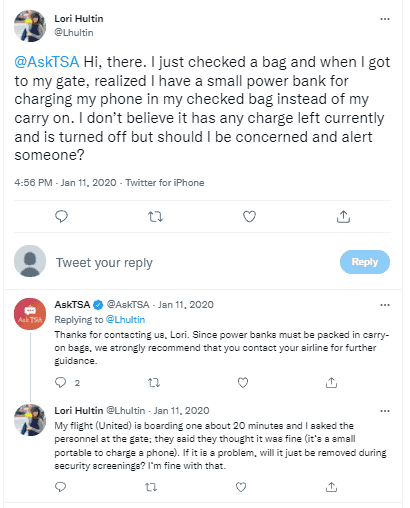 I have a separate article on flying with power banks – Is a power bank allowed on a plane?
The TSA has this useful article on taking chargers on a plane – Staying Charged on the Go
I have been using an Anker PowerCore+ 2680 for a while now which works with most devices, can charge an iPhone over 5 times, and is allowed in your carry on bag.
NOTE: You may be asked by security officials to switch your power bank on to show that it is actually a functioning power bank so make sure that it has some charge in it so you can do this. If you can't then it may be confiscated.
For full details of the regulations on what batteries you can and cannot take in checked baggage and carry on baggage read my post – Can you take lithium batteries on a plane?
You can always use the TSA's AskTSA service on Twitter if you are unsure as this passenger did below: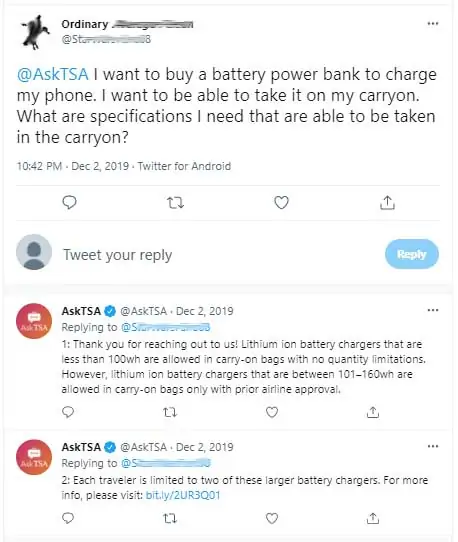 Can I charge a phone on a plane?
Although it is unlikely that there will be a mains power outlet to allow you to plug in a mobile charger, onboard the aircraft you can charge your phone using one of two methods:
Power banks
You can use a portable power bank containing lithium batteries to charge your phone
It can be removed from your hand luggage during the flight in order to charge your phone.
USB sockets
Make sure you take a USB charging lead with you that fits your devices as most airlines now have a USB port as part of the inflight entertainment system so you can charge devices in the air.
If you are on an airline without then you will need a power bank if your device dies mid-flight. See the advice on portable chargers and power bank chargers below.
Read my full article Can you charge your phone on a plane
Mains travel adapters
If you are traveling abroad then make sure you take a travel adapter with you for your plug in phone chargers or to charge up your power banks or other electronic devices. Mains sockets are different around the world so without one you may be stuck with a device you cannot use.
I never travel without my Ceptics World Travel Adapter since I bought it two years ago. It covers all possibilities and works with cell phones, iPhones, tablets, iPads, laptops & other devices anywhere in the world. As it has multiple USB ports I can charge more than one device at a time.
You should be aware that most travel adapters are not voltage converters. In the US the voltage is 110v but in many other parts of the world it is 220-240v.
You should check that the device you wish to plug in is capable of handling dual voltage (110-240v). Most new devices work with both. The exceptions are often hair dryers, curling irons and hair straighteners.
Other phone charger FAQs
Can you bring a phone charger cord on a plane in carry on bags?
Yes, you can take a phone charger cord or USB cable on a plane in both hand luggage and checked baggage without restriction.
Are cell phone chargers allowed in carry-on luggage?
You can take plug-in cell phone chargers in carry-on luggage without restrictions. If you want to take a portable phone charger containing a lithium battery it cannot be larger than 100 watt hours.
Can I carry my phone charger in my purse on a plane?
The rules for carrying phone chargers in a purse are the same as for carrying one in your carry on.
The complete guide to passing through airport security quickly
Should I lock my luggage when flying?
What items are not allowed in hand luggage
What is not allowed in checked baggage?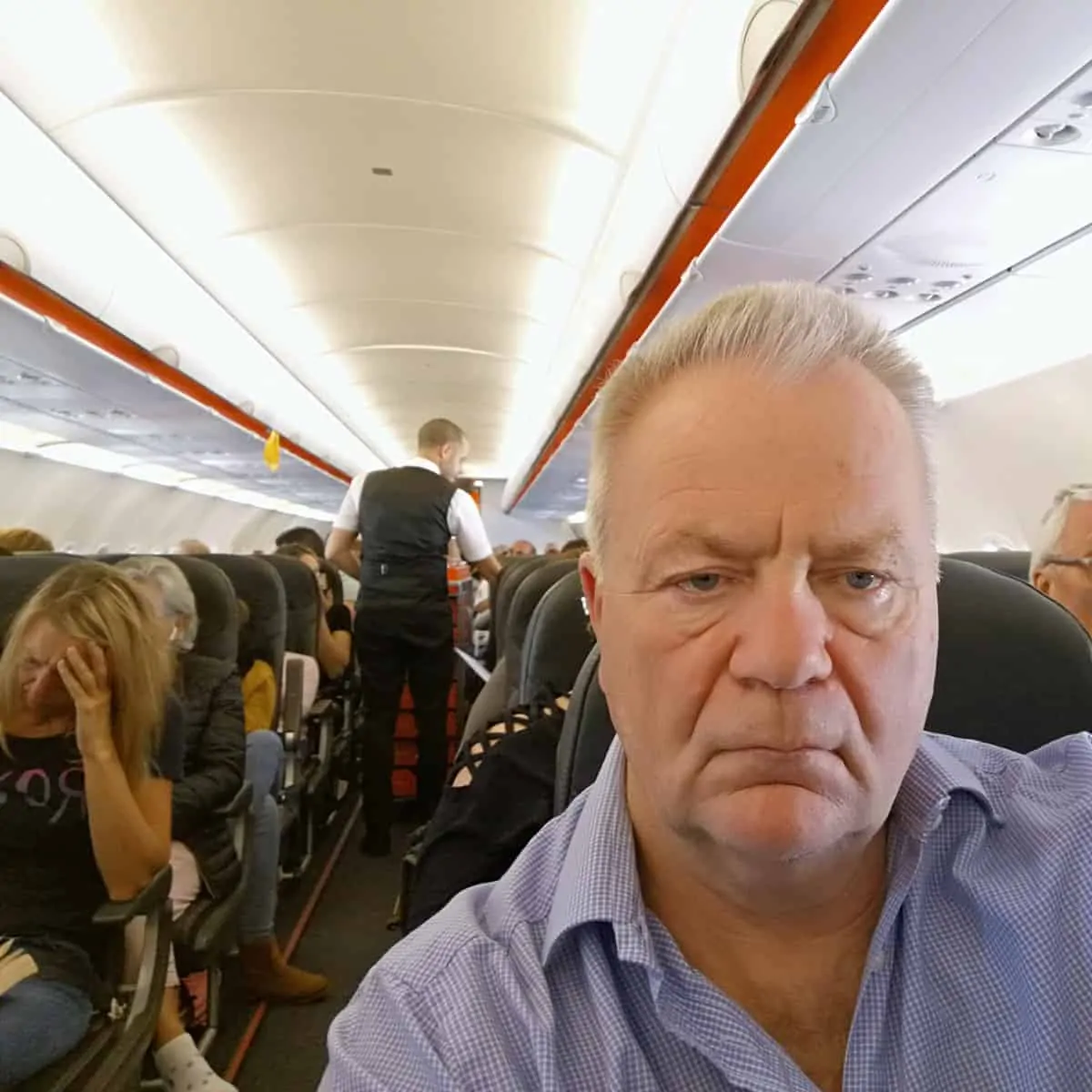 I have been traveling around the world by air since the early 70s and living overseas too. I worked for British Airways for a number of years and I am also a private pilot. About Me