There have been many products that have come onto the market designed to make flying, particularly in economy class, more comfortable. One of the newest of these is the inflatable leg rest for flights.
Between my wife and I, we have tried a few of these over the last few years. This includes inflatable, and the newer foot sling types and have certainly found them to make flying more comfortable. They also have the added health bonus of reducing the risk of contracting DVT.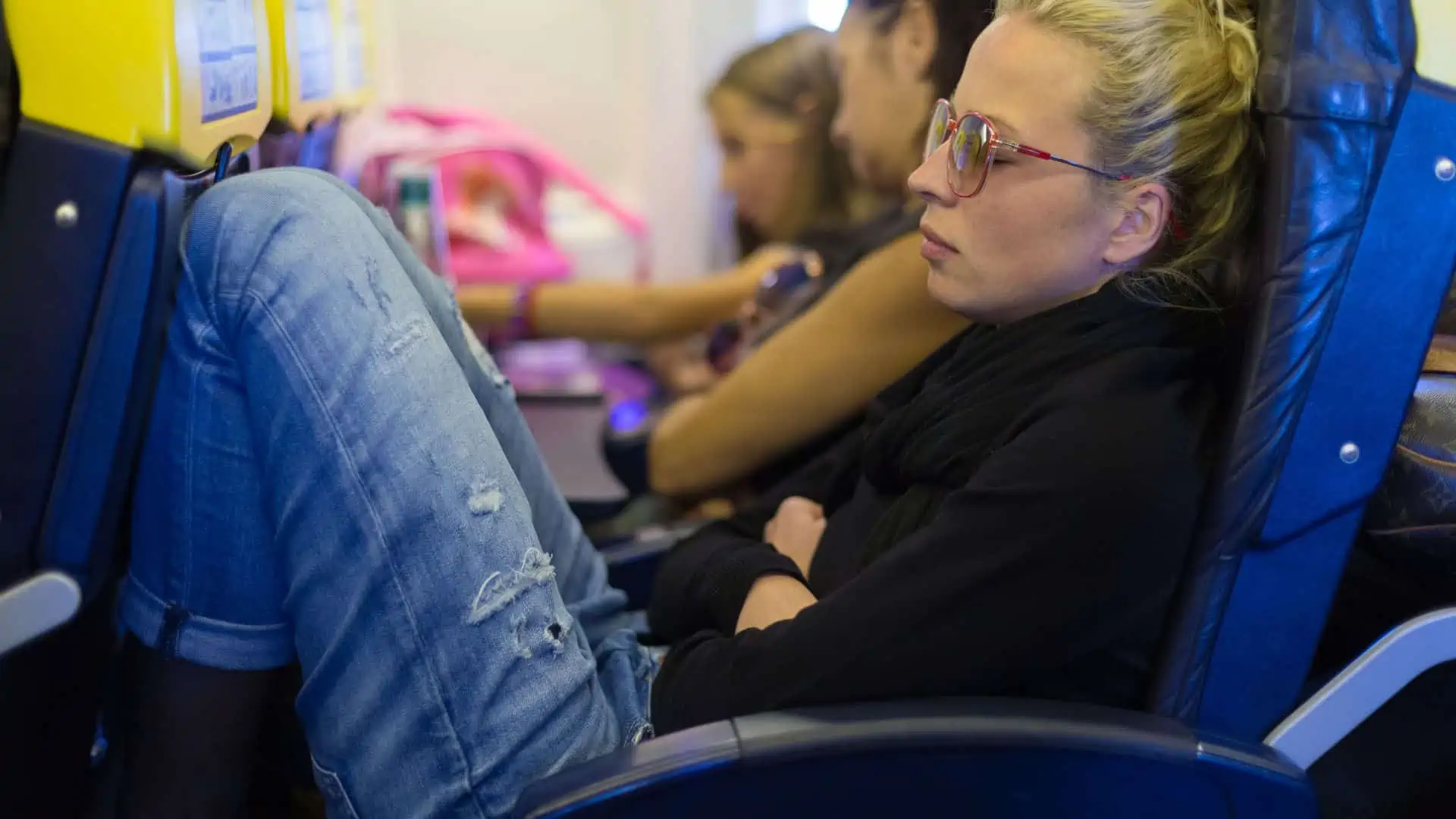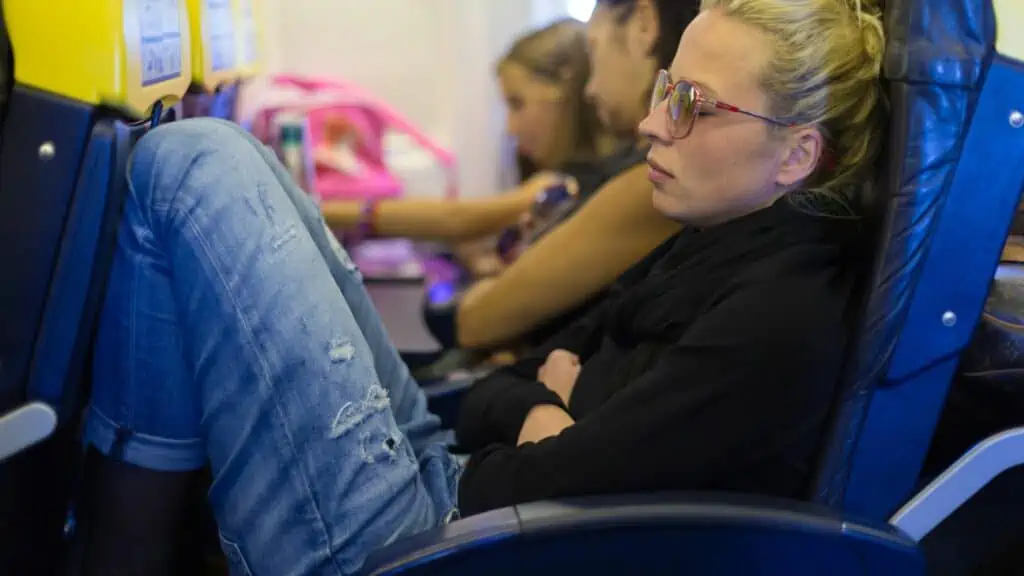 What are inflatable foot rests?
Inflatable footrests provide something to put your feet or legs on while sitting in an economy class seat rather than having them just sitting on the floor. Inflatable footrests come in a number of different designs but all are inflated once on board. They can then be deflated and stored in your hand luggage when no longer required (or prior to landing).
Some are a single fixed height, others are height adjustable and some come in two separate parts.
Top 3 inflatable foot rests for flights and alternatives
Although there are many different ones available, I think that the FlyPal version offers the most flexibility. It comes in two separate parts so you can opt to just use the small part as a low foot rest, use the larger part to raise your legs higher or use both together to be at the same height as your airplane seat – so a choice of three different heights.
They are also good if you are traveling with a companion. You can then share it and use one part each so you don't need to take two with you. Particularly useful for my wife and I (one tall and one short) as I use the small one and she uses the larger one.
It certainly won't turn your economy class seat into a first class seat but it will certainly help. It deflates very quickly so you can remove it and put it away when you are starting to descend.
You can read more about the FlyPal Inflatable Foot Rest and check the reviews and price on Amazon.
Alternatives – the Sleepy Ride Foot Rest
A foot hammock is a different concept from the inflatable leg rest for flights. It clips onto the bracket of your food tray on the back of the airplane seat in front. You can then put your feet on it, or put your legs further through it, enabling you to sit comfortably.
The height is adjustable to adapt to your particular leg length. They are particularly useful for tall people like me, with long legs, who cannot easily use a large inflatable device like the one above, as your feet/legs can still go under the seat in front so you are not cramped up.
It is also very light, weighing just 0.25lbs, so doesn't use up too much of your cabin bag allowance. You would not be able to use this if you were in a seat immediately behind a bulkhead as you would have no seat food tray in front of you to attach it to.
You can read more about the Sleepy Ride Foot Rest and check the reviews and price on Amazon.
STYDDI Small Inflatable Foot Rest
This is similar to the full size inflatable footrest but small enough to sit under the seat in front. This allows people of all heights and leg length to use it comfortably.
Personally, it is the device I use the most and have done for a number of years.
It is cheap, it packs up really small and is quick and easy to inflate and deflate.
It can certainly make your long flight more bearable.
You can also use it as a pillow for your head if you want to try and get some sleep, which is a bonus. But don't lend it to someone with smelly feet before you do!
You can read more about the STYDDI Travel Foot Rest and check the reviews and price on Amazon.
Are inflatable foot rests a good thing?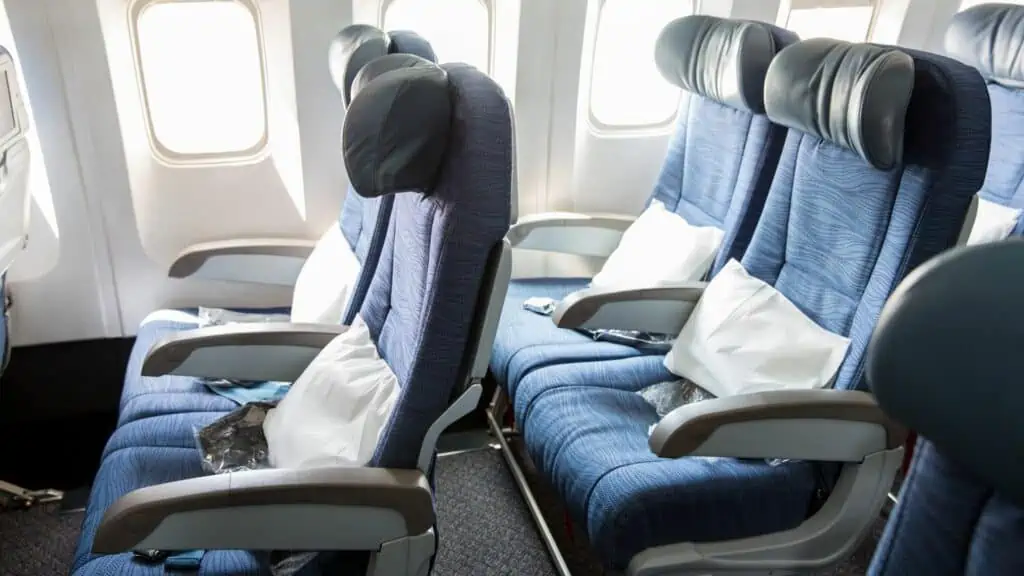 There is little that is worse than having to sit for hours on end in an uncomfortable aircraft seat. So anything that can make you more comfortable on a long flight has got to be a good thing.
Aircraft seats, well economy seats anyway, are not adjustable in any way other than being able to recline them a bit. You can't raise or lower them to suit whether you are tall or short and neither can you move them backward and forward to allow for long or short legs. They are built for "the average person" whatever they may be.
Some aircraft do have a foot rest built into the seat in front, although I seem to see them less and less lately – no doubt some kind of cost-saving exercise. When they are available they can help to make the seat fit you better, particularly if you are shorter or have short legs, and so help to make you more comfortable. Mind you, they are rather hard so can be uncomfortable when used for hours.
But as well as the increase in your comfort, using airplane footrests can also have health benefits by relieving some of the pressure on your legs.
Where built-in foot rests aren't available, or they are too hard, the alternative is to use an inflatable travel footrest or some other form of leg rest such as a leg hammock.
These are some of the advantages and disadvantages to help you decide whether to buy one.
Advantages of an inflatable footrest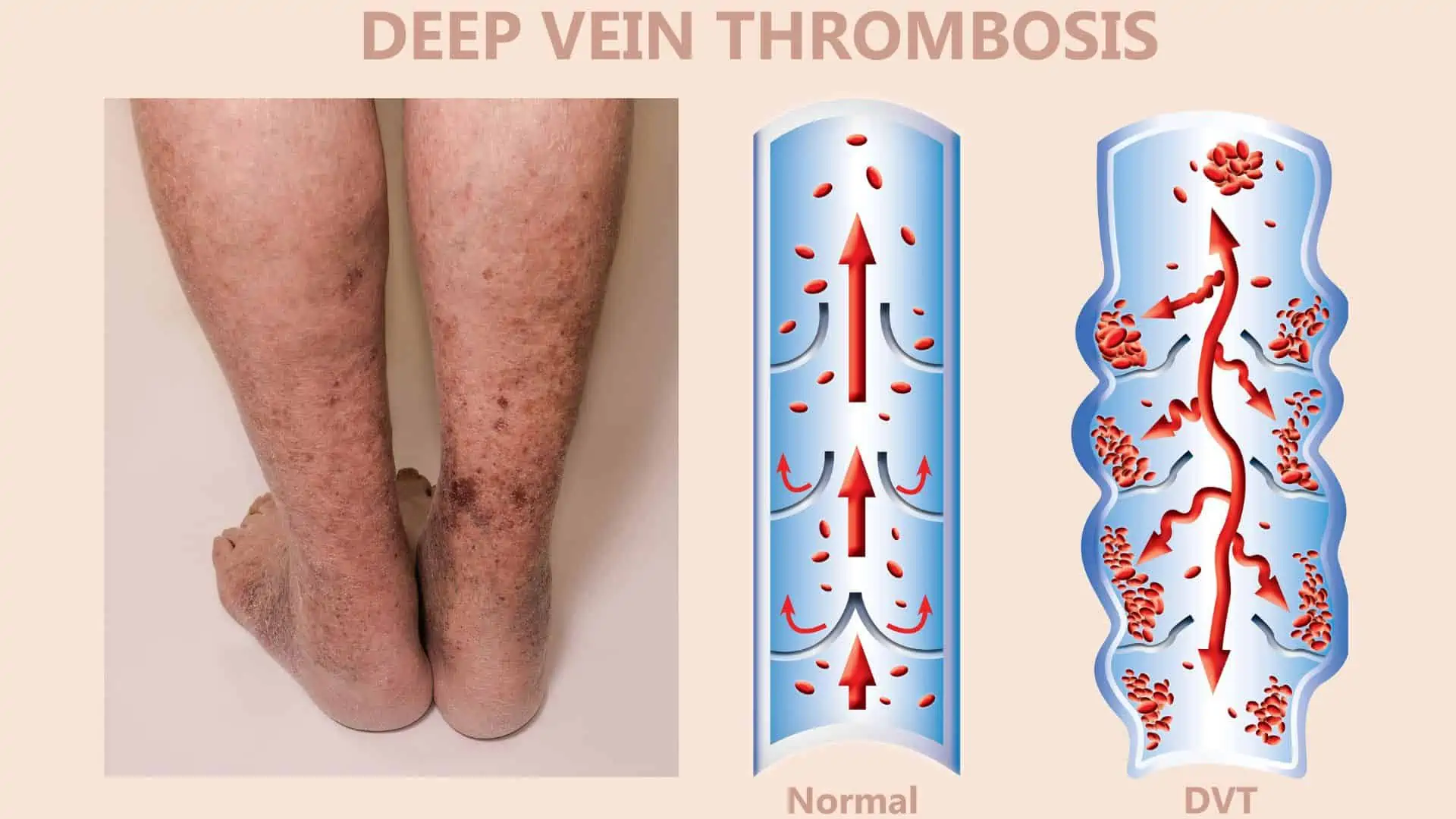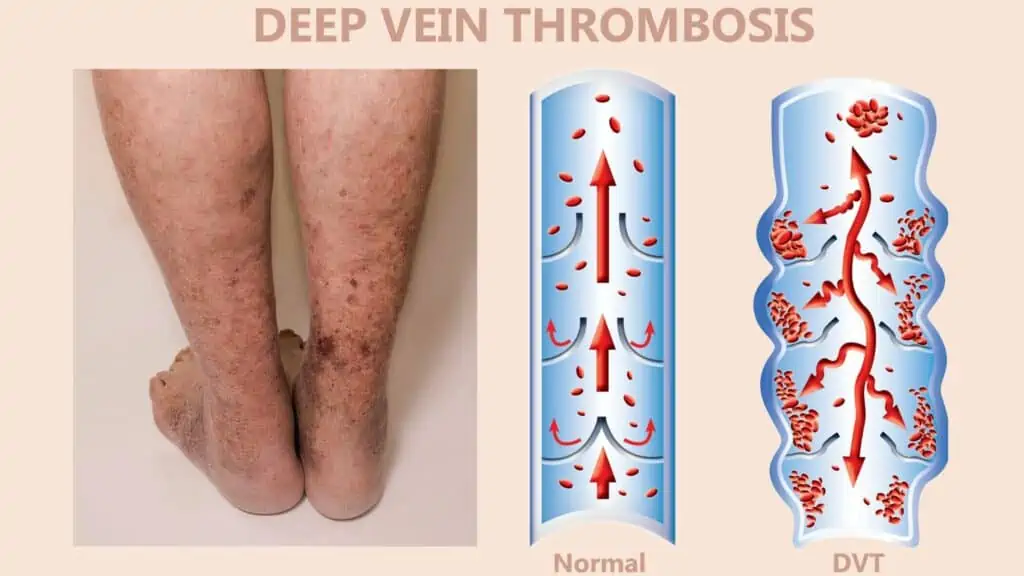 An inflatable footrest can help reduce the risk of DVT (Deep Vein Thrombosis). They do this by raising your legs and relieving the pressure that they experience during a long flight.
Research: Deep vein thrombosis and air travel
Of course, on long flights you should also consider wearing flight compression socks to reduce the risk of DVT, particularly if you may be prone to it by having a recent procedure, broken bone etc. These are the most popular on Amazon.
Obviously, as already stated, they can help make you more comfortable, which is an advantage in anyone's book.
If you should be traveling with a young child then they can effectively create a small toddler travel bed when combined with the seat so they can sleep properly. If your child sleeps then not only you will appreciate that but also your fellow passengers around you too.
Disadvantages of an inflatable footrest
The first has got to be that you obviously need to carry it in your cabin baggage. Although they do deflate and fold up fairly small, it is all extra bulk and weight.
If you are tall, like me, with particularly long legs, you certainly won't be able to use one of the types that inflate to the height of the seat as your knees will be bent double.
If you are in an aisle or middle seat and the person in the window seat wants to get out to go to the toilet or whatever then it is a pain trying to move it out of the way. So the best seat on a plane to use one is a window seat.
---
Are you looking for the best footrest for your next plane journey? Look no further! We have the perfect solution for you. Introducing the best inflatable footrest for plane travel. Designed specifically for the comfort of frequent flyers, this footrest is the ultimate accessory to elevate your travel experience.
Why settle for uncomfortable seating when you can have the best airplane foot rest? Our inflatable footrest for planes is meticulously crafted to provide optimal support and relaxation during long flights. Say goodbye to restless legs and hello to a comfortable journey.
When it comes to choosing the best footrest for a plane, an inflatable option tops the list. It combines portability, functionality, and comfort into one compact package. Inflate it in seconds, attach it to the seat in front of you, and enjoy the luxury of stretching your legs whenever you desire.
We understand the importance of finding the best airplane footrests that meet your specific needs. That's why our inflatable footrest for planes is adjustable, allowing you to customize the height according to your preference. Whether you're tall or short, this footrest ensures a perfect fit for you.
Experience the unparalleled comfort of the best airplane footrest by investing in our inflatable option. It provides excellent support for your legs, reduces swelling, and promotes better circulation during long flights. Don't let cramped seating ruin your travel experience; take control with our inflatable footrest for planes.
So, why wait? Upgrade your travel essentials with the best foot rest for plane journeys. Choose our inflatable footrest and experience the epitome of comfort and relaxation while flying. Say goodbye to uncomfortable flights and hello to blissful travel with our top-rated inflatable footrest for planes.
Further articles
Best gadgets to make flying more comfortable in 2019
How to sleep comfortably in Economy Class – My top tips
You may be interested in my thoughts on How air travel has changed in the last 40+ years – for the worst!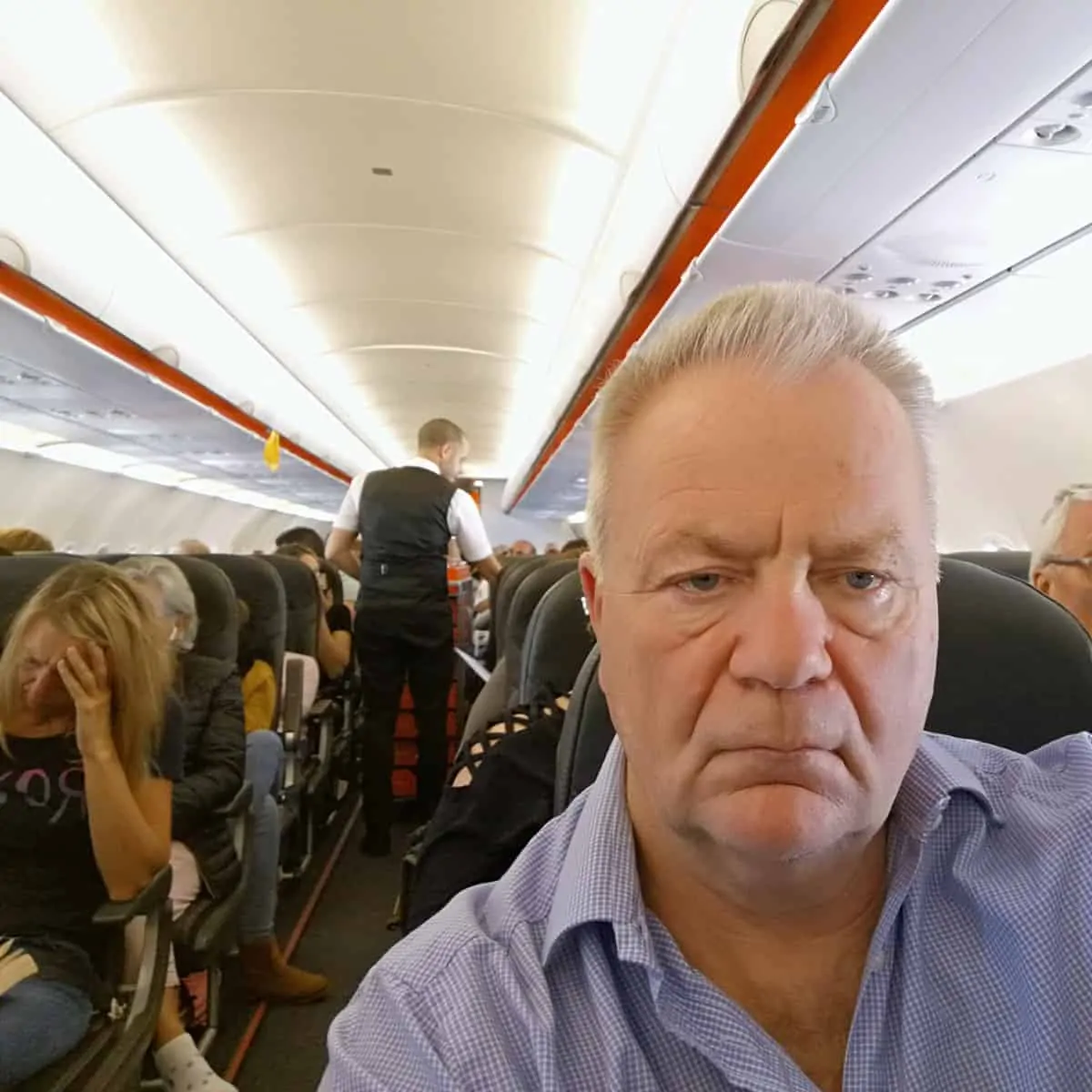 I have been traveling around the world by air since the early 70s and living overseas too. I worked for British Airways for a number of years and I am also a private pilot. About Me