If you're looking for a diaper bag that will keep your baby's items in your sight, make your life easier, and look stylish, check out these 6 best travel diaper bags that I found which will suit your needs for flying.
There are many different types of brands and styles that can be the most effective when specifically flying because it can be a stressful task.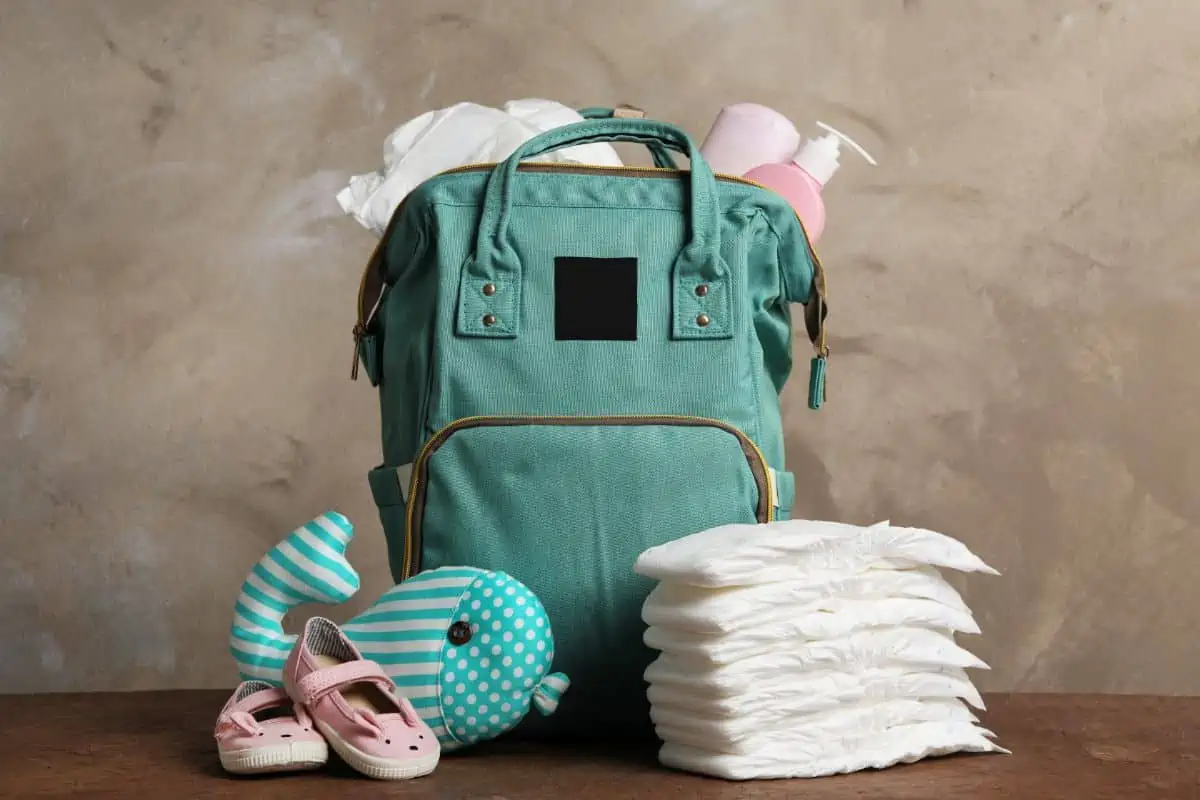 You want everything to be organized and well-packed so there are no issues on your journey. This article will be highlighting the best diaper bags for traveling!
6 best travel diaper bags
Below are my top choices. Have a rundown and then choose what you think suits you the best.
When you are looking for a travel bag for your baby's equipment, you are definitely looking for material features that will make your life much easier.
This type of bag helps you become more organized with items like diapers; having somewhere to keep them secure is important so you always know where they are.
People also tend to look for something which is high quality and also affordable for them.
Pros
Several different compartments in the bag. Therefore, you are able to separate certain items for your baby. It helps you always know where everything is and keep organized.
It is a very convenient bag because it has very wide pockets which make it easy to access the items.
There are insulated pockets that are perfect for keeping your baby's bottle at the right temp.
This has very durable material which means you could be using it for years instead of having to keep changing it constantly. Getting to know your bag over time will help with your organization.
It is comfortable to carry with padded straps. These types of bags can get very heavy when carrying all of your baby's essentials for travel.
Cons
With items like diapers, they can take up a lot of room in the bag and some people have found them a bit smaller than they needed for travel in particular.
Most people might think twice about the leather aspect but it is a completely vegan-made leather look, which is also waterproof material.
This tote bag has 14 separate compartments/pockets to keep your baby's things well organized.
There are insulated bottle compartments to help keep the bay's liquids cool. It even has a padded pocket to hold a 14-inch laptop.
Pros
The bag is multi-functional and can be used as a backpack or a handbag/shoulder bag.
It is very eco-friendly and produced with vegan morals.
An extensive amount of different pockets for diapers, bottles, and other items you need to pack for travel.
The stylish option won't just look like a diaper bag but also just something you'd wear all the time.
Durable material avoiding early breakages.
Cons
Some have reviewed this product as having a peculiar smell inside which could put many off.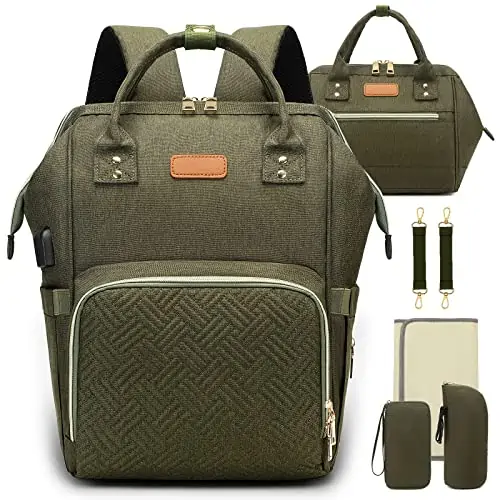 People absolutely love this brand because they include two bags, one larger backpack for packing heavier items, and one handbag which is smaller for lighter travel.
They have lots of features that are appealing such as USB connections, a stroller strap, and a changing pad.
Are you looking for something sturdy and eco-friendly because this will be ticking all of your boxes? It is easy and modern and perfect for any type of traveling.
Pros
Two different bags are included for lighter and longer travel.
Eco-friendly bag material.
They are both tear resistant and waterproof which is ideal for a baby bag because it will definitely have some spillages and go through wars at times.
Simple but stylish look and is not bulky or undesirable.
Pockets and space in the bag is thoughtful for what people really need in their diaper bags for what they need.
Cons
If you have more than one baby, this will not hold enough that you need.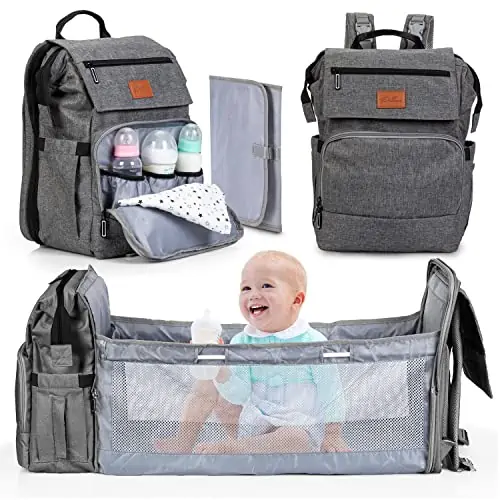 Are you looking for something extra with a diaper bag? This is something that will appeal to many parents because of the extra feature of a changing station that extends out of the bag.
This is not just multi-functional but is a 4-in-1! The changing station and portable crib are perfect for traveling and keeping your baby comfy and safe, somewhere they feel comfortable.
It has 16 functioning pockets which will be more than enough for everything you need when traveling.
Pros
4-in-1 function where your child has room in an extendable changing area and bassinet. 
16 functioning pockets to find places for everything you need.
Padding on your adjustable straps to make sure it is comfortable for you to carry around with you.
There are 3 insulated pockets which is a great addition to the bottles.
Built-in stroller straps make it much easier to attach and keep in place.
Cons
The changing space is a great idea but it is not as stable as it looks in the image from reviews.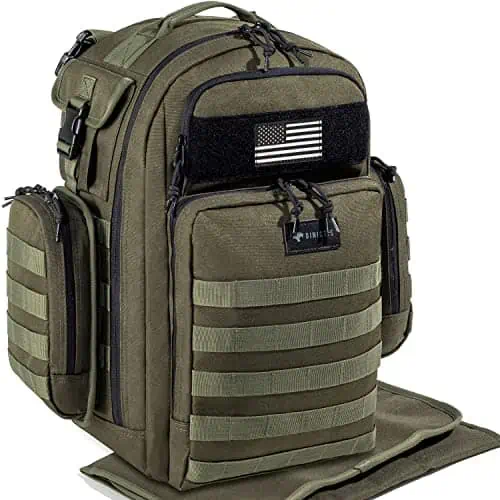 Some men who like doing all the heavy lifting or are single fathers might want their own style of diaper bag which is less feminine.
This bag is made especially for men but still has all of the essential features needed for a diaper bag.
It comes in a variety of different colors and even though it is a bit more expensive than others at $69.99, it really does the job.
You sometimes pay more for the higher quality model that includes everything that you need.
Pros
This is quite a large bag which means you are able to fit probably more than what you need. You never know if you need a bit more space for items on the trip.
It has heavy-duty nylon netting.
The zippers are sturdy to make sure it holds everything you need it to.
Includes a diaper pad with the bag.
Elastic chest strap for extra security and comfort.
Cons
You can only wash this bag by hand.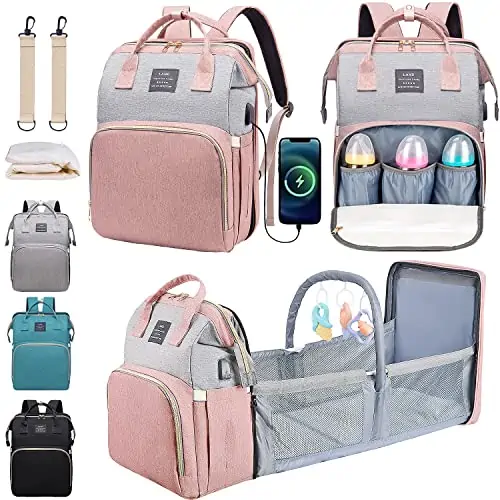 This is a 3 in 1 portable bassinet diaper bag and changing station.
It is a diaper bag with bassinet and changing station, but it also has toys that hang above it which will keep your baby occupied while you are busy and prevent any tears and crying.
Bags like these are made to essentially help the parents on their journeys because they can get quite stressful – especially if you have more than one child to look after. 
Pros
Very affordable
Unique style with mosquito net
Diaper bag with changing station and hanging toys 
Large capacity with many pockets
Variety of different colors to choose from.
Cons
They can arrive vacuum sealing and quite wrinkled.
Buyer's Guide
When you're buying a new diaper bag for your baby, you want to be thinking about all the different features which will benefit and suit you.
It is important to buy the right one because you will want to use it for several years until your child is more grown up.
You should want both durability and efficiency in terms of how comfortable it is for you to take around with you, and what the products offer as extras.
Most products will have certain features which will stick out to you and are very appealing, something you haven't seen before.
Major sites like Amazon have some of the best options for diaper bags and many other products because they give you a lot of information about what you will be receiving.
This also links to the reviews attached to the product. Therefore, you are able to see exactly what other people have said about the product and if it is suitable for you.
This article is also outlining all of the information from the site and has chosen 6 of the very best options for parents, including what is good and bad about them.
What you really need to be thinking about is the 5 main areas:
affordability
durability
suitability
sustainability
style
These 5 areas are important because it is how you will make your choice and what you will be looking for in a product.
You do not want to be missing any of these really for your perfect product. Therefore, following this will help you find exactly what you need.
1. Price
Affordability is a very important part of choosing a diaper bag because you want value for money.
Not all products that are extremely expensive are the best ones for you or even the highest quality in terms of features.
There are many bags that range from $30-$120 in some cases. It usually depends on the style and design more than the effectiveness of the bag.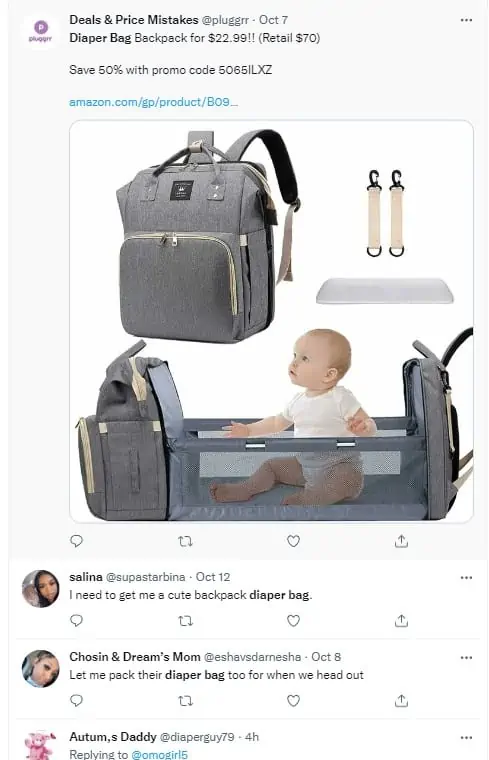 You also need to look at how much you are able to afford. People usually try to spend more than they can afford because they think it will be more durable.
However, there are several options around $40 that have many features and extras which are very appealing and are also eco-friendly which appeals to many parents.
A more affordable price means you can save more money for other things you might need instead.
2. Durability
You need your diaper bag to be durable because you will carry a lot of items around with you when you're traveling.
You do not want your bag to be ripping or breaking on the way as it would make it extremely uncomfortable to take around.
This is why you need to be looking at the pros of each in terms of what makes them durable.
The different types of materials used are very important and how they lock each section of the bags.
You need to be looking for bags that are not only waterproof but also tearproof. This will ensure that the durability and material of the bag stay strong.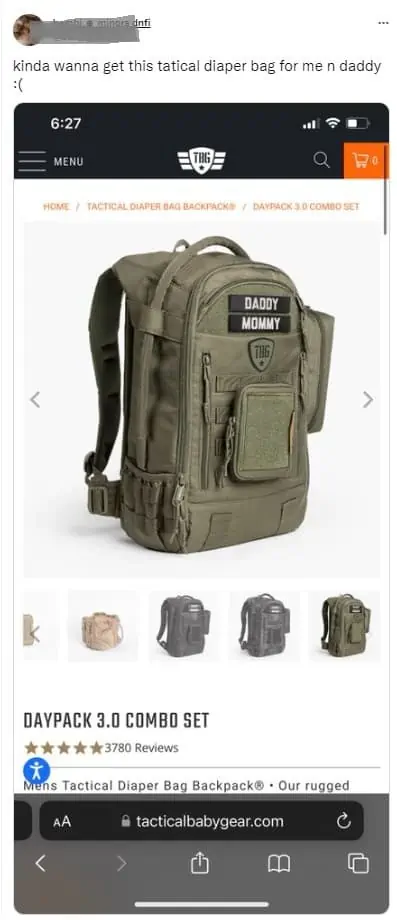 You do not want to be buying bags every couple of weeks because they keep breaking. You want something that you can take out confidently without worrying it will break or snap.
This is especially relevant when traveling because if you are flying, you cannot just go home and get another.
3. Style
It is very important for some people to have a bag which also suits them as they will be carrying it around quite a lot of the time.
Even though it is not the top priority on the list, it is also good to have a choice of color and style for your bags.
On many of the options above, they have different options of colors which are appealing for different genders too!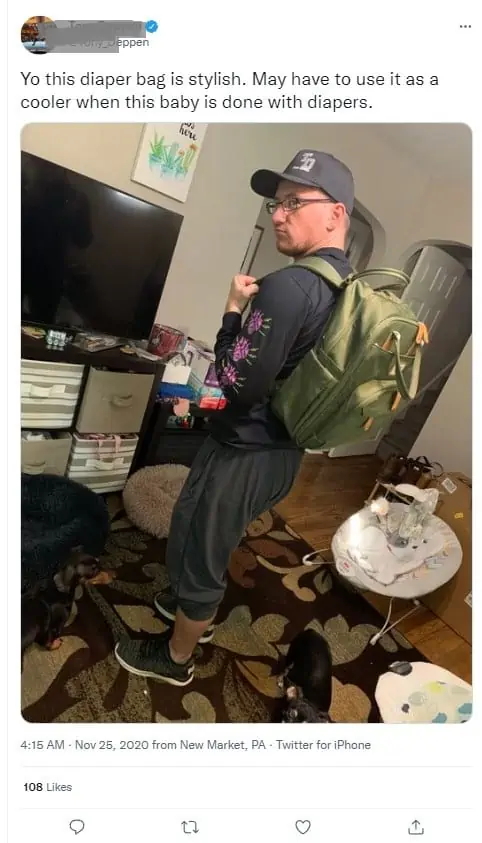 There is also the option of a male-orientated bag style specially made for men.
This is perfect for me who does not want to be walking around with extremely feminine bags. The style of the bag can also refer to the patterns and how you can wear them.
Several of the options above, have different ways you can wear the bags, either as a backpack or handbag.
It is a brilliant feature if you can change how you carry them because you might also have a stroller to push.
4. Suitability
You need to purchase a bag that is suitable for both of you as parents. This means looking at reviews of how comfortable it is and the different features such as extra padding.
You want the bag to suit both of you and have all the features you are likely to need. However, comfort is the most important part of your choice along with capacity.
What are you looking for in terms of comfort? Most people look for ones where you can hold it in different ways and can attach it to your stroller if needed.
The options above show you different types which perform these functions that are necessary for organization and efficiency.
5. Eco-friendly 
Eco-friendly products are made without the harmful chemicals and toxins used in the mainstream market.
The eco-friendly products are made from 100% natural and eco-friendly ingredients, with no artificial chemicals or animal testing.
The popularity of eco-friendly products has become huge across the world because we all need to do our bit to help the environment's safety.
Therefore, there are products above which are both vegan-made and are also eco-friendly.
Frequently Asked Question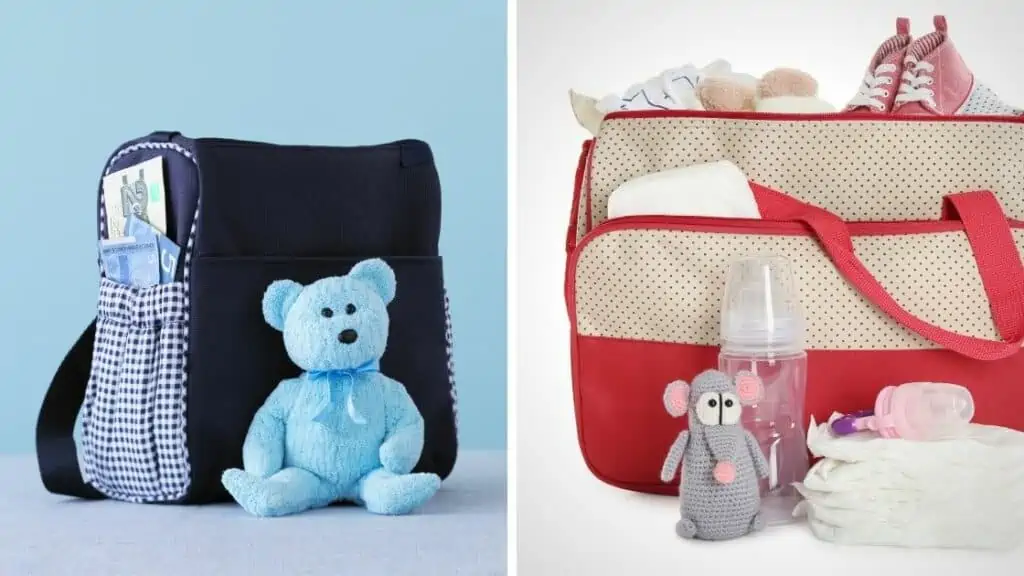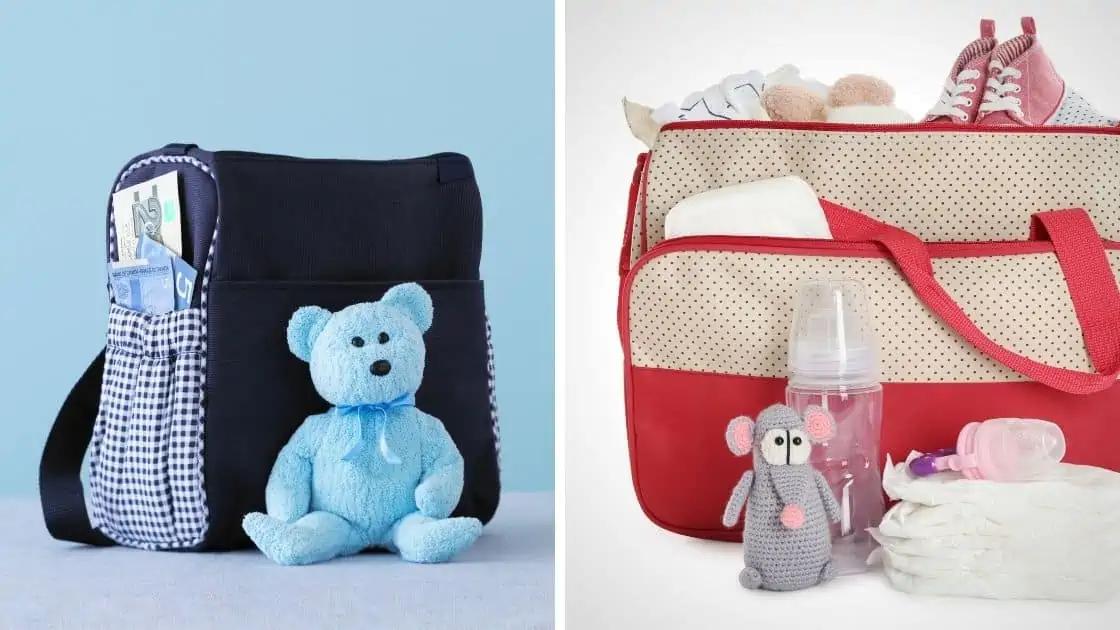 Is a backpack or diaper bag better?
There are many good reasons to consider using a backpack or a diaper bag as your main diaper bag.
However, which one is best for your needs really depends on what you need to lug around. A diaper bag is made for that specific purpose, for your child.
It has features which will make your life much easier and make you a lot more organized with what you need to bring.
Does a diaper bag count as a carry on?
If you're wondering if you can bring your diaper bag on a plane, you're in luck. It's perfectly legal to pack a diaper bag when you're traveling by air.
It is essential for parents to have their diaper bag on the plane so they can tend to their baby when they need to especially if it is a long flight.
Babies also need to be fed and watered more frequently than adults which is why they need more with them.
How big can a diaper bag be on a plane?
A diaper bag is a necessity while traveling with a baby. You need to know how big your bag can be before flying!
Dimensions should not exceed 18 x 14 x 8 inches (45 x 35 x 20 cm). Diaper bags (1 per child) should include everything they will need for traveling.
Conclusion
Overall, when choosing your diaper bag, you need to consider all of the options and variables which can benefit you.
When you're traveling, regardless of whether it is a short or long distance, you want everything to be stored well and safely.
You do not want to be worrying about a strap breaking or a lock not holding properly.
This guide has been created to help you find different options which will show you the best options on offer.
Amazon is one of the best places to get all of the information you need about a product and you can also view what other people are saying about it too!
Hopefully, this guide has shed some light on some of the newer offers that are available with different extras attached to the products.
For example, the extendable crib and changing area is a great idea and can be very practical for many people when out and about traveling.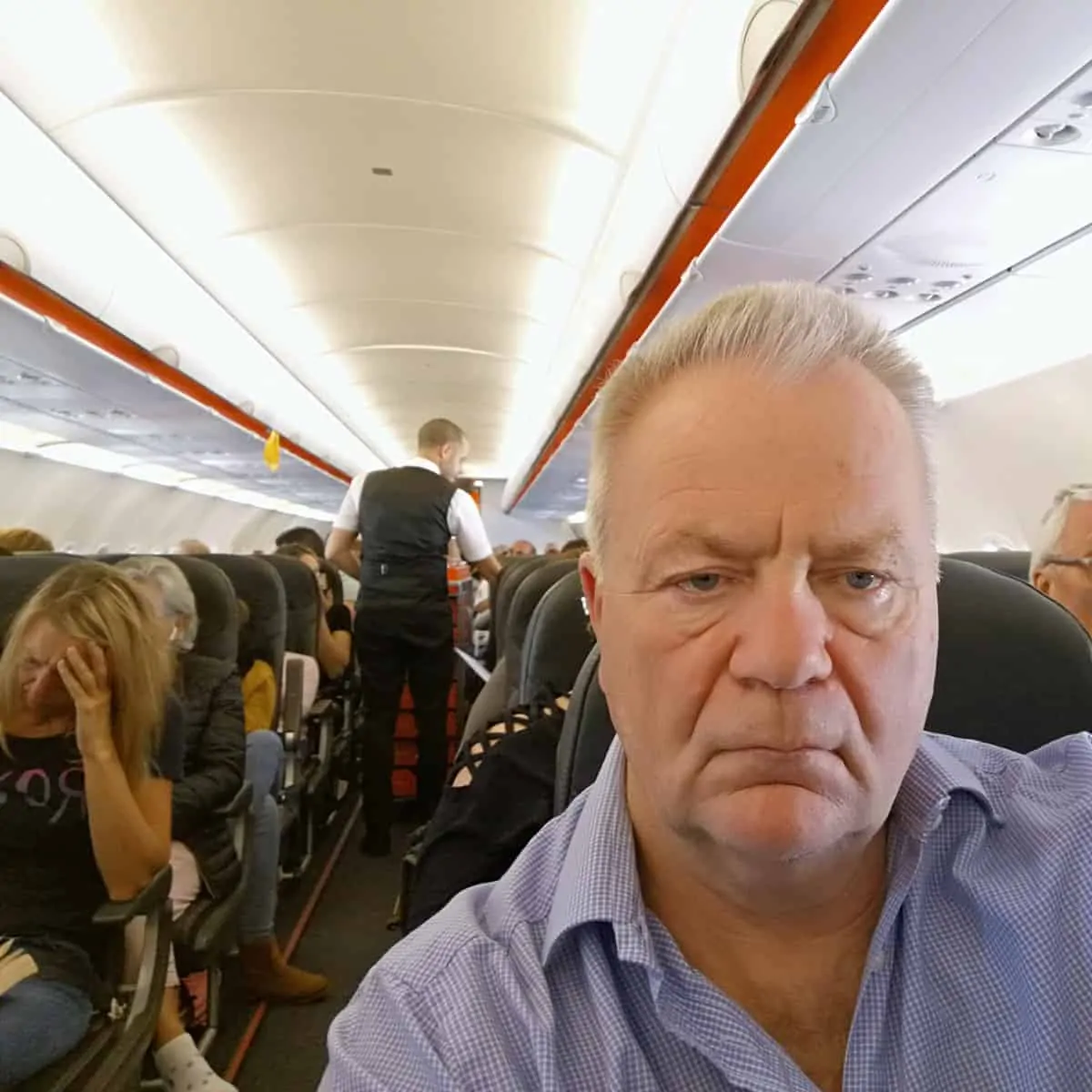 I have been traveling around the world by air since the early 70s and living overseas too. I worked for British Airways for a number of years and I am also a private pilot. About Me