I have flown on many long haul flights, and at 6ft 2in tall, with long legs, I have had to learn to either live with the discomfort or do something about it. I have learned to do the latter with the help of some gadgets to make flying more comfortable always in my carry on.
Unless you are wealthy or travel for a company that has a generous travel budget, you probably can't travel first class, or even business class. Unfortunately, this means that, particularly on long-haul flights, it is not likely to be a very comfortable experience.
How can you make the most of your limited space and be more comfortable when flying? Here are my recommended best airplane gadgets to help you to adapt your cramped, noisy environment and make it more comfortable and relaxing.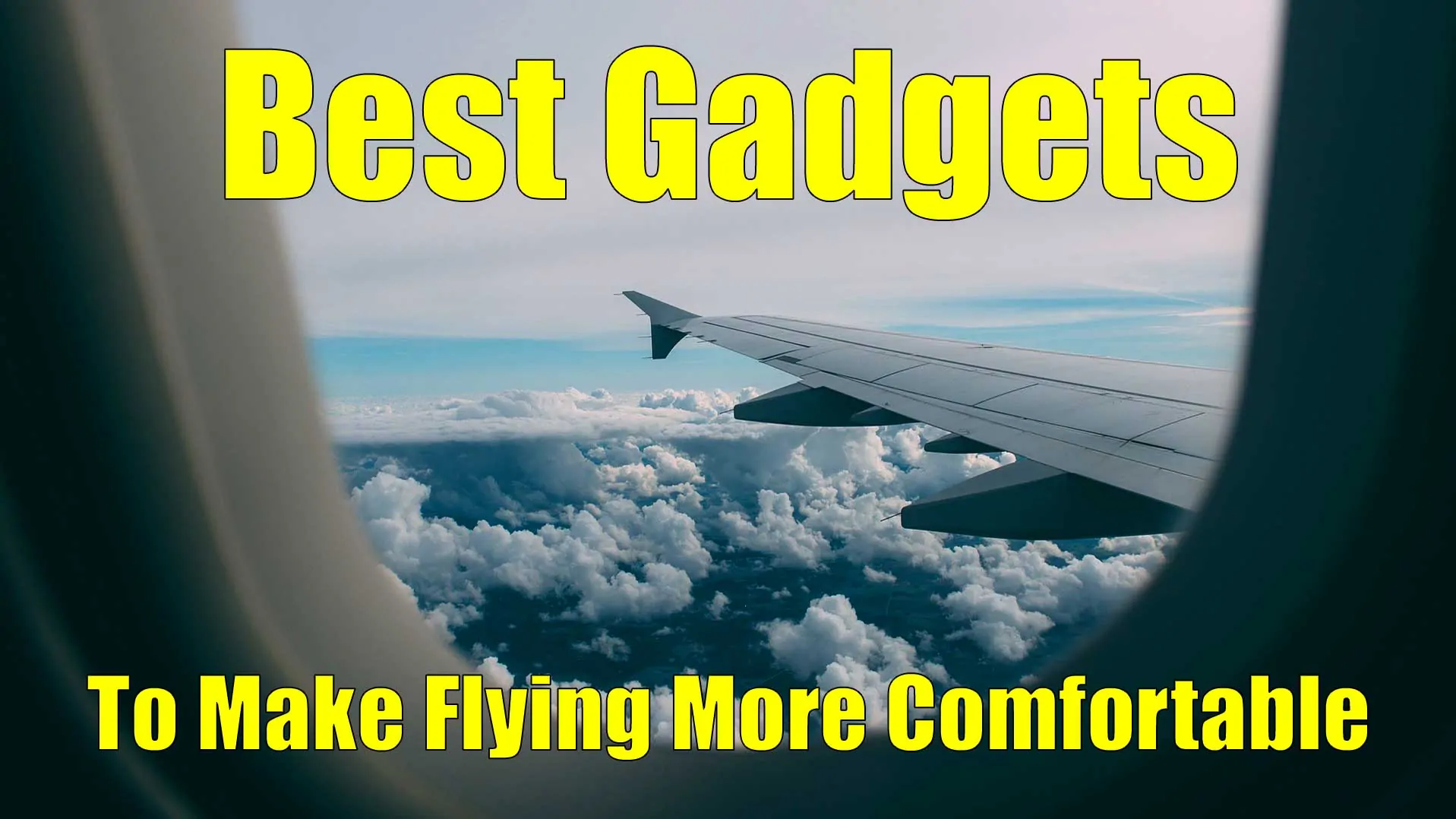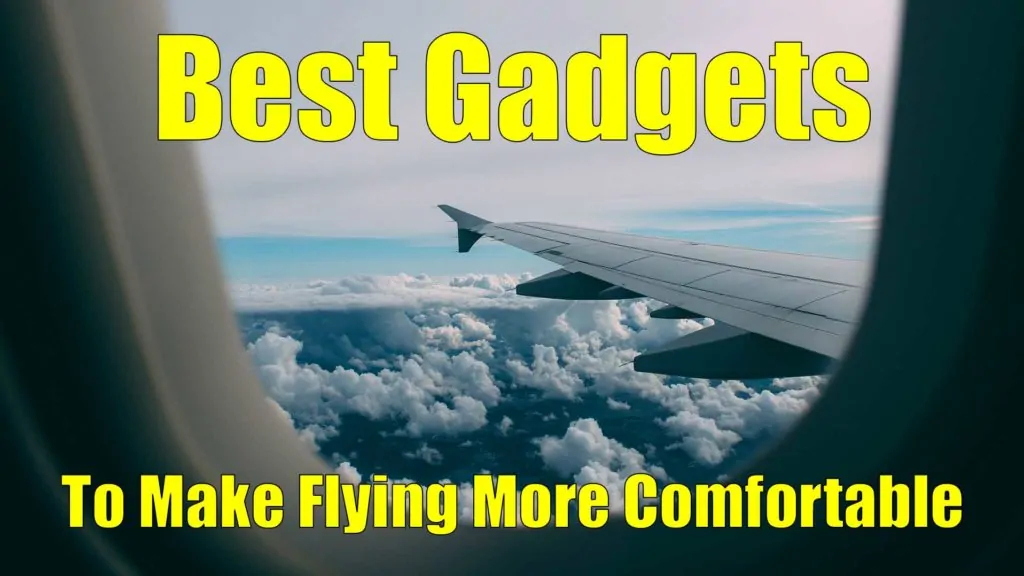 These are my wife and my personal best long haul flight accessories. We consider them our carry on essentials for long flights, and some of them even for short flights.
1. Noise Cancelling Headphones
I used to find the endless droning of the engines, the rush of the air past the fuselage and the hiss of the air conditioning on a long flight very draining and tiring.
Then I bought my first pair of noise cancelling bluetooth headphones and from then on I wouldn't fly without them. I consider them the most important of my long haul flight gadgets, not just for trying to sleep but for making the journey much more relaxing and less tiring.
Yes, I know that they are not exactly gadgets to make flying more comfortable, well not physically, but they certainly will make flying more mentally comfortable.
If you fly regularly then seriously consider buying a pair. Trust me – you won't regret it.
But make sure you buy the correct type. There are headphones which block out sounds and are therefore simply noise isolating. True noise cancelling headphones are "active" which means they electronically cancel out particular types of noise (such as engine noise and rushing air).
They can range in price from $35 to almost $1000, so quite a range. Some even have Alexa voice control – but who needs it? You get what you pay for to some extent but only up to a certain level I think.
I have been using a relatively cheap pair for the last few years after my expensive Sony headphones finally stopped working. I have to say that there is little to choose between them but then the current Sony noise cancelling headphones have probably advanced since I bought my old pair.
The ones I currently use are the Soundcore by Anker Life Q30 Hybrid Active Noise Cancelling Headphones. They are designed for air travel with a carry case and an aircraft in-flight entertainment adapter.
Check out my review of the Best Noise-Canceling Headphones For Airplanes
Noise Cancelling Ear Buds
You can also buy noise canceling ear buds but personally, I don't like having things in my ears (but I am unusual it seems).
They work in just the same way as noise-canceling headphones but are obviously less bulky and easier to carry.
If you are ok with having things in your ears (well most are, it is just me who is strange) then these TOZO NC9 Hybrid Active Noise Cancelling Wireless Earbuds are very popular on Amazon.
2. Pillows
Are travel pillows worth it? Well in my opinion, they are another one of the must have flight gadgets for a long flight. Without a good travel pillow it is almost impossible to get any useful sleep during a flight. That is unless you are like my father, who could have slept on a clothes line.
Getting some sleep not only helps make the flight go quicker but can certainly help to make you feel better and refreshed when you get to your destination.
There are a number of different types on the market. The one I have found to be the most comfortable for me is the BCOZZY Chin Supporting Travel Pillow but my wife prefers her J-Pillow Travel Pillow. Both we purchased on Amazon.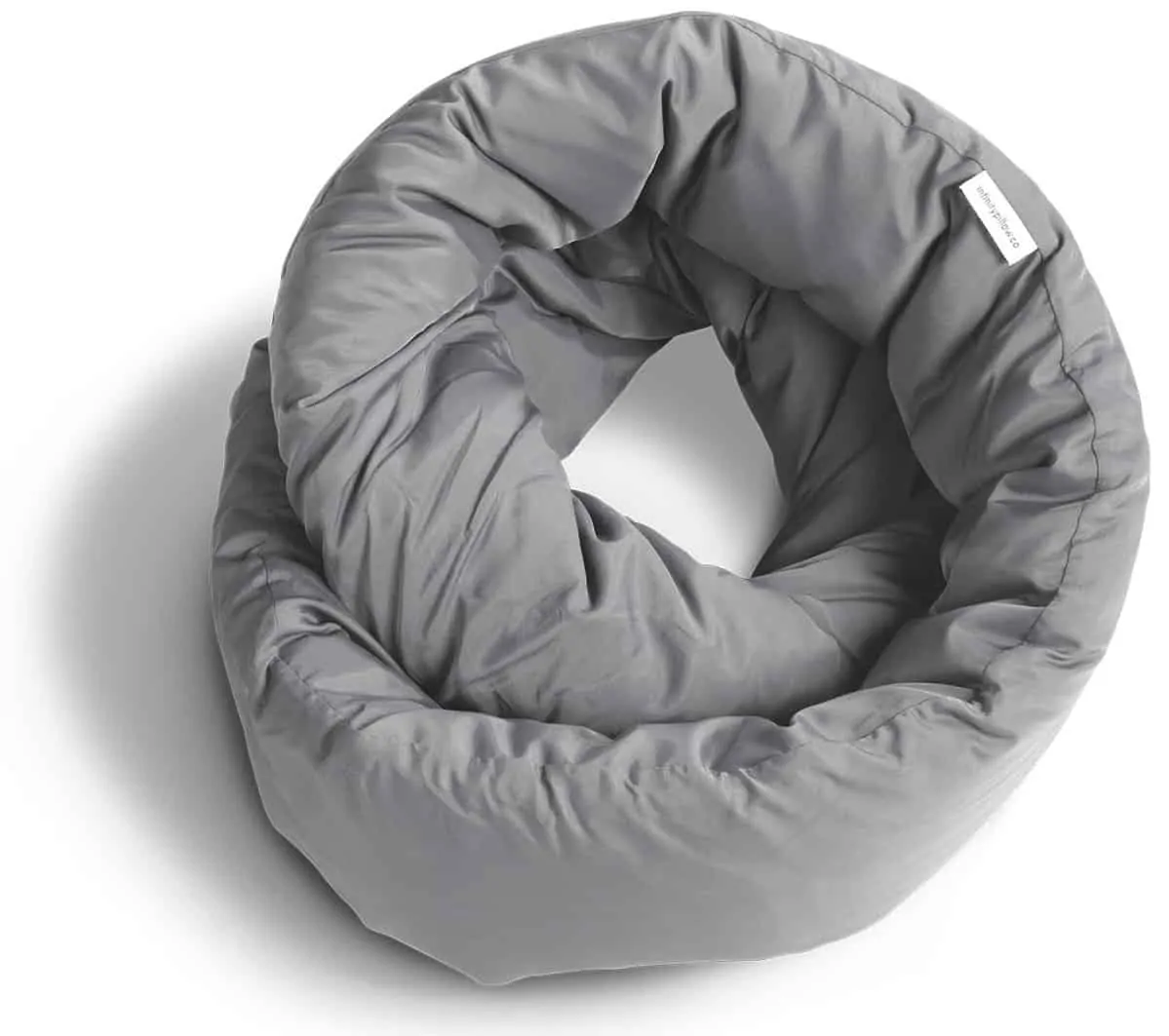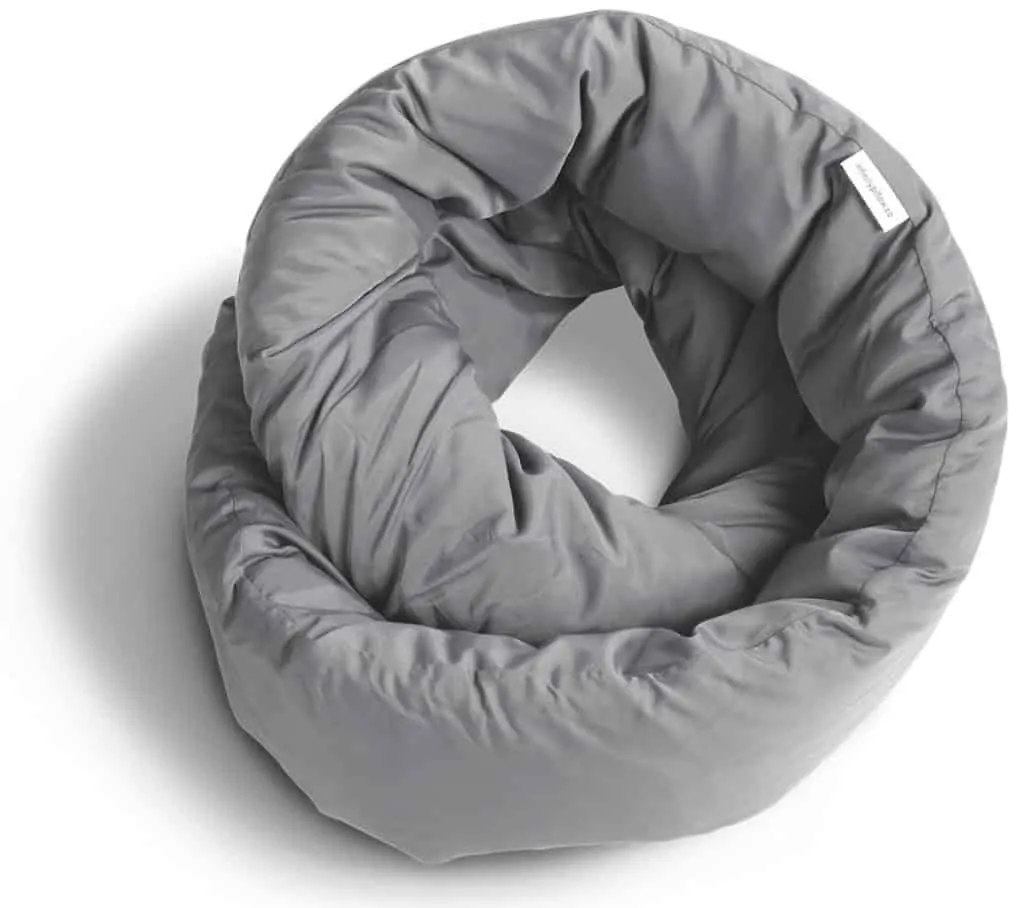 I have been recommended these Infinity pillows by a few friends who travel regularly which they say are very versatile as they can be used as a neck support, lumbar pillow, window pillow, desk pillow or even an eye mask. They even describe it as a noise-canceling pillow so I will be interested to test that out.
I will write a review after I take my next long haul flight. but you may wish to check them out in the meantime on the manufacturer's website where you can also purchase them direct. Infinity Travel Pillows.
3. Compression socks
These are something I always wear now on any flight over 4 hours and have for a few years. They were recommended by my surgeon after I had surgery on my arm and was flying to the Caribbean to go on a cruise not long afterward.
Physix Gear Compression Socks are my current favorites – available on Amazon.
4. Eye mask
If you have problems sleeping when it is light then eyes masks can be a good idea. I have tried one and they don't seem to help me.
I have included them here as my wife uses this one to great effect –  Dream Essentials Contoured Sleep Mask available on Amazon.
5. Blanket
If you manage to get to sleep you can quite often be woken up by feeling a little cold. So using a small, warm blanket can help.
Not all airlines supply blankets, or carry enough to go around if they do, so it is worth making sure by taking one with you such as the BlueHills Ultra Compact Travel Blanket available on Amazon.
6. Pressure reducing earplugs
If you have problems with the changes in air pressure when flying this can make you very uncomfortable. Fortunately, it isn't something I suffer from but I know a number of others who do. I have one friend who used to suffer for hours until he started using these.
Using earplugs that help to regulate air pressure changes can help alleviate the discomfort. They can also have the added advantage of reducing noise too. These are quite cheap so well worth trying – Flight Mate Ear Plugs on Amazon.
---
More flying articles
If you found this article on flight gadgets to make flying more comfortable useful you may wish to read some of my other articles:
How to sleep comfortably in Economy Class – My top tips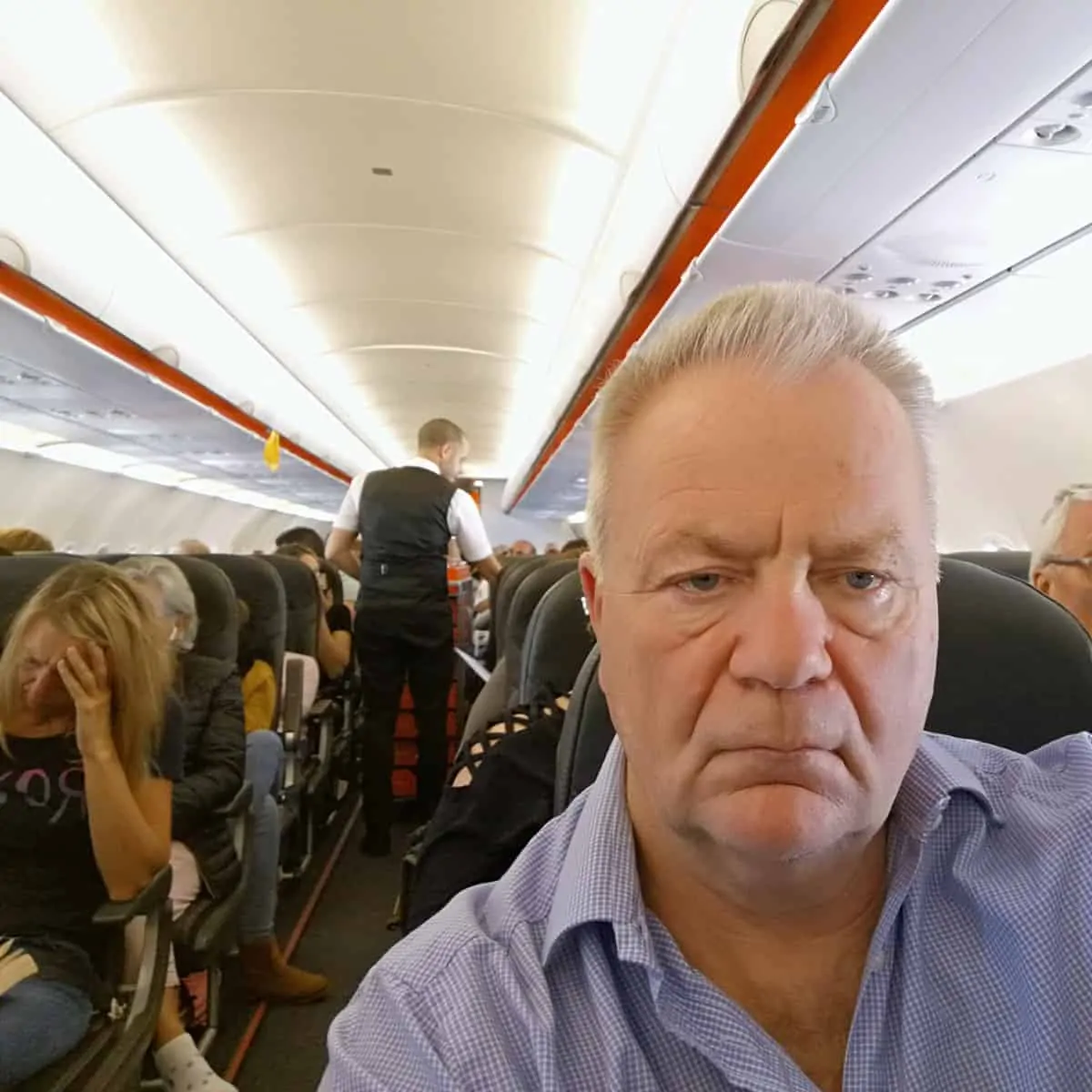 I have been traveling around the world by air since the early 70s and living overseas too. I worked for British Airways for a number of years and I am also a private pilot. About Me