For many people with reduced mobility a walking frame, also known as a Zimmer frame, Zimmer walking frame or just a walker, is an essential mobility aid.
So when traveling by air it is important to know the rules for taking your mobility device with you.
Many walking frames can be quite wide and difficult to store on board and certainly won't fit in an overhead compartment. Fortunately, some fold up making them easier to store.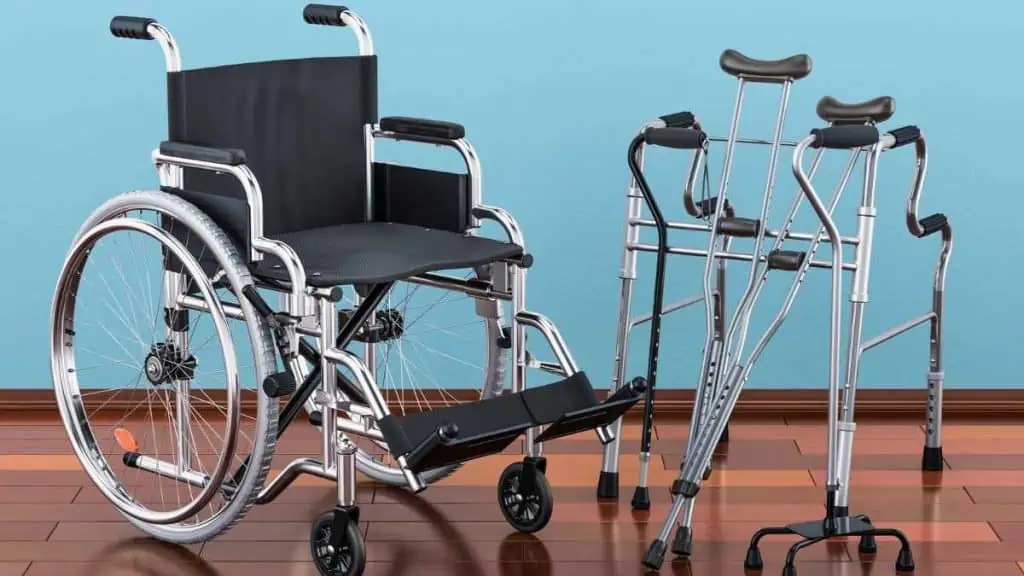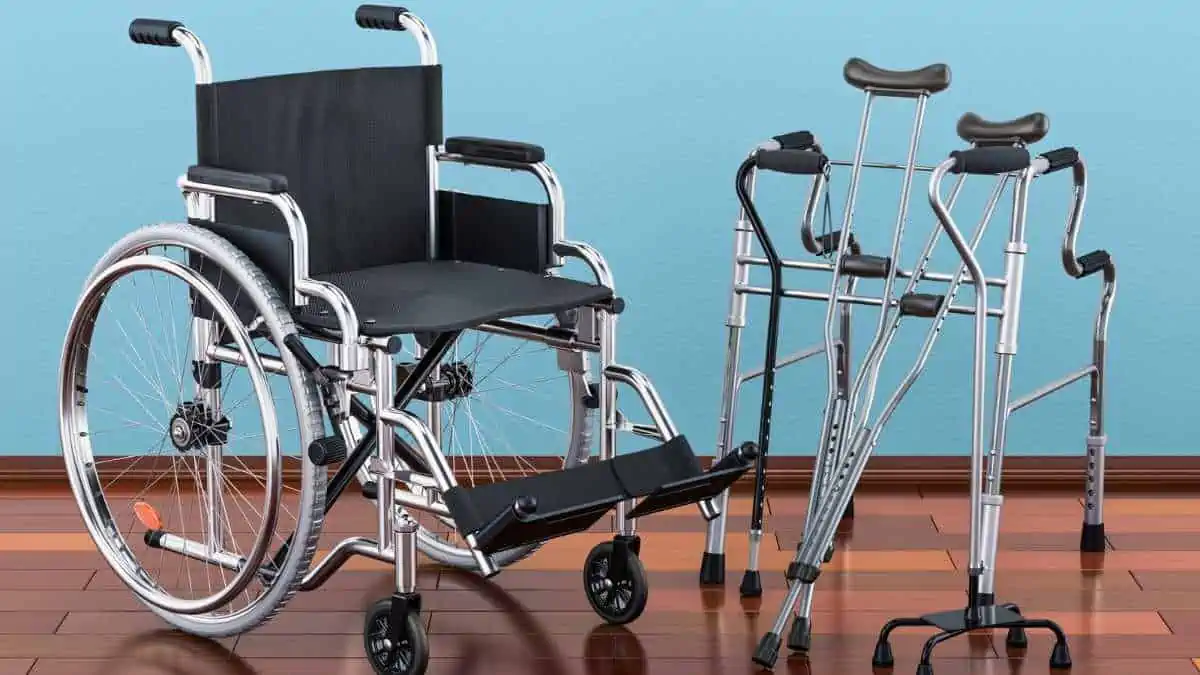 The Quick Answer: Can you take a walking frame on a plane? Zimmer frames/walkers can be taken through airport security and to the gate. Whether they can be taken in the cabin depends on the airline's policy, how large they are and whether there is sufficient storage on the plane.
Can you take a walking frame through airport security
There are no restrictions on taking a zimmer frame/walker through a security checkpoint at the airport.
However you may want to consider checking it in at check in as most assistive devices are carried free of charge and then ask for wheelchair assistance.
@AskTSA Service
The TSA offers a very good service on Twitter where you can ask a specific question about whether you can take something through the security checkpoint and they will respond quickly.
This is an example response to a passenger's question regarding carrying a zimmer frame: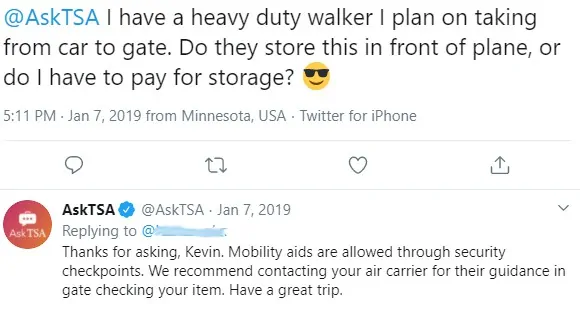 You may wish to consider buying a folding walker which should make traveling easier. These are some of the most popular available.
Other assistive devices and walking aids
Can you take a walking stick on a plane
There seems to be some confusion regarding these, perhaps there is a difference between a walking stick and a walking cane that I am not aware of or it seems it could depend whether you need one as a mobility aid to be able to walk or just like to have one with you (perhaps for hiking).
See the following two replies from AskTSA: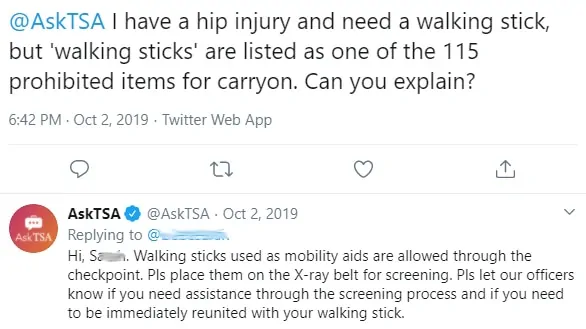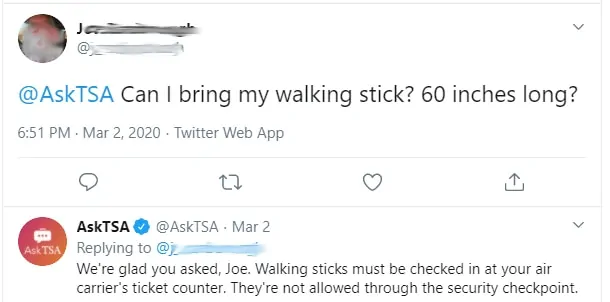 With the reply above it is obviously not just that it is 5 feet long as you can see from this reply below: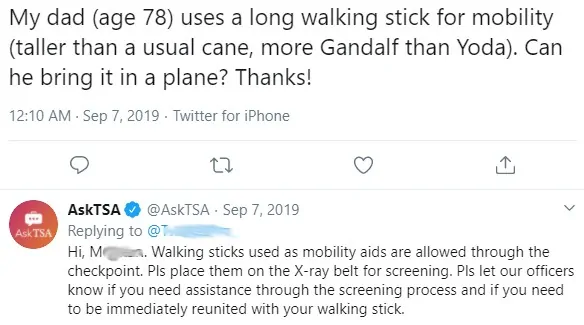 So both normal and folding walking sticks must be packed in checked bags and cannot be taken through airport security and onto a plane UNLESS you require it to walk with.
Wheelchair
A manual wheelchair, and its accessories (such as a transfer board), are allowed through airport security. If there is no room for your wheelchair in your airline's cabin then it will be taken at the boarding gate and gate checked by the gate agent and put into the aircraft's hold.
It would then be taken out of the hold by the gate agent at your final destination and should be just outside the aircraft's door when you disembark, along with children's strollers etc.
I suggest you contact your airline prior to flying to find out their policy.
Wheelchairs do seem to cause problems at security checkpoints it seems as there are many complaints from people on the AskTSA Twitter page regarding their treatment when using a wheelchair.
Electric wheelchairs and mobility scooters
You can take these mobility devices through the security checkpoint but you are unlikely to be able to take them into the cabin with you as there would be nowhere to store them.
There could be an issue with battery-powered wheelchairs due to their lithium batteries as the Federal Aviation Administration has some strict rules on flying with lithium batteries.
Contact your airline to find out their policy.
TSA video advice
Can you take a walking frame on board?
One thing that many people who need to take a wheelchair, zimmer frame or other mobility aid with them that has to go into the hold is whether they will be charged for this. In almost all cases it will be carried free of charge.
The US Department of Transportation advice on taking wheelchairs and other mobility aids on a plane – Wheelchairs and Other Assistive Devices
A few airline's policies on taking mobility devices on board with you:
Conclusion
You should have no problems taking a zimmer frame or walker with you when traveling. Just make sure you contact Have a good and stress-free flight.
The complete guide to passing through airport security quickly
Can you take medication on a plane?
Can you go through airport security with metal implants?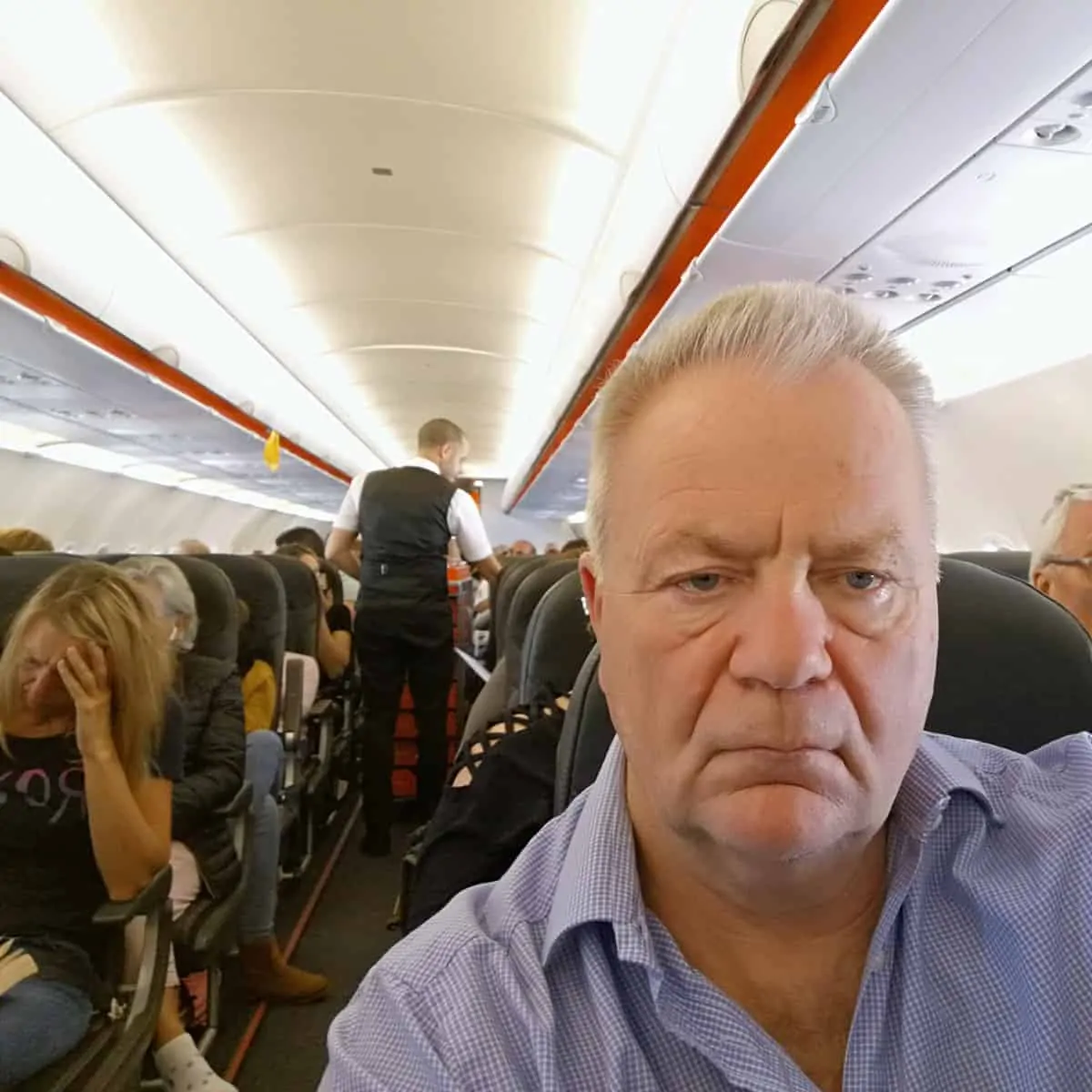 I have been traveling around the world by air since the early 70s and living overseas too. I worked for British Airways for a number of years and I am also a private pilot. About Me