Many smokers prefer to use leaf tobacco and roll their own cigarettes using rolling papers, rather than buy manufactured cigarettes.
So naturally they will want to do the same while traveling so need to know whether they can rolling papers with them.
You will not be able to actually use them to make up a cigarette and smoke it while flying of course, or, at most airports, before you board the flight, but at least you will once you leave the airport at the end of your journey.
Can you take rolling papers through airport security
There are no restrictions on taking rolling papers through a security checkpoint at the airport. They can be left in your carry on when the bag goes through the x-ray machine so you do not need to remove them and place them in a tray.
Since they are so small and light there is really no restriction on the quantity you can take through airport security either – although even the most prolific chain smoker is hardly likely to need a carry-on bag full.
@AskTSA Service
The TSA offer a very good service on Twitter where you can ask a specific question about whether you can take something through the security checkpoint and they will respond quickly. You can access the service here – AskTSA
These are a few of their responses to passengers questions regarding carrying rolling papers: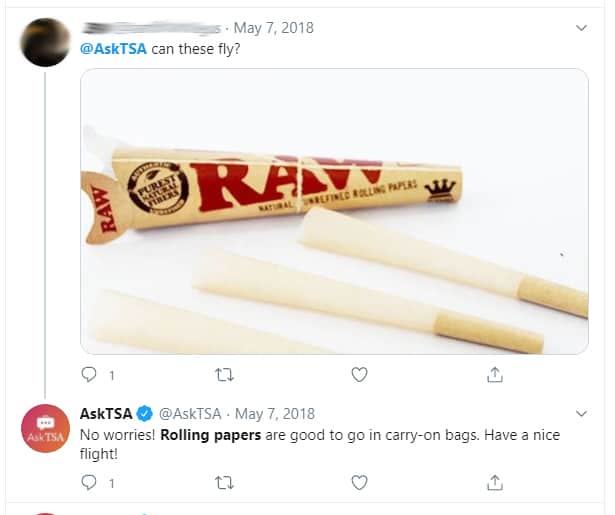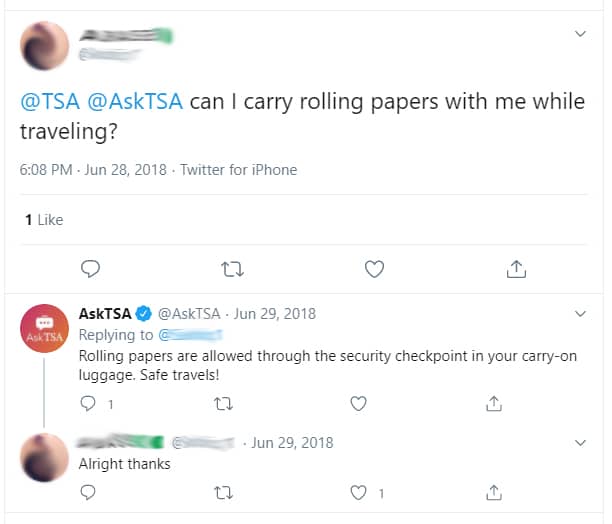 Can you take rolling papers in your carry on?
You are allowed to pack rolling papers in your carry on bag and take them on to the aircraft with you. You can also carry them in your pocket too of course.
Can you take rolling papers in your checked bags?
As with many things, even items which are potentially contentious from an airport security point of view, you can certainly put your rolling papers in your checked bag or bags if you are taking any.
Can you take rolling tobacco on a plane?
You are permitted to take rolling tobacco, also known as loose tobacco or even shag in some places, with you on a plane in both your carry on and your checked bag.
If you are traveling internationally you will need to check the customs limitations for the country you are traveling to to find out how much you can take into the country. As an example, if you are flying into the UK from the US, then you can take into the country a maximum of 250gm of rolling tobacco.
You can bring matches (one box of safety matches) or just one lighter on a plane with certain restrictions so check out the link to find out more.
You can also bring cigarettes with you on a plane. If you are traveling abroad though you will have to check customs regulations for the country you are traveling to.
Juul can be taken on a plane too although, like cigarettes you cannot actually smoke on board (I say thankfully as a life long non-smoker who remembers the days when smoking was permitted during a flight and it wasn't pleasant). Read my full article Can you vape on a plane'?
Conclusion
The good news for those that roll their own cigarettes is that you can bring rolling papers through airport security and take them on a plane with you in your carry on. They can also be packed in your checked bags too.
You should have no problems taking rolling papers/cigarette papers with you when traveling.
Although there should be no need to say this, TSA figures suggest that perhaps it is worth stating – do not be tempted to take any illegal smoking substances with you when traveling. This not only applies when flying within the USA but also to other countries. That is particularly true of some countries, many in the far east, where you may find yourself in very serious trouble should you have even a small amount with you.
Related articles
If you are flying out of an airport in the UK or Ireland then my full guide on which UK airports you can smoke at may be useful to you.
The complete guide to passing through airport security quickly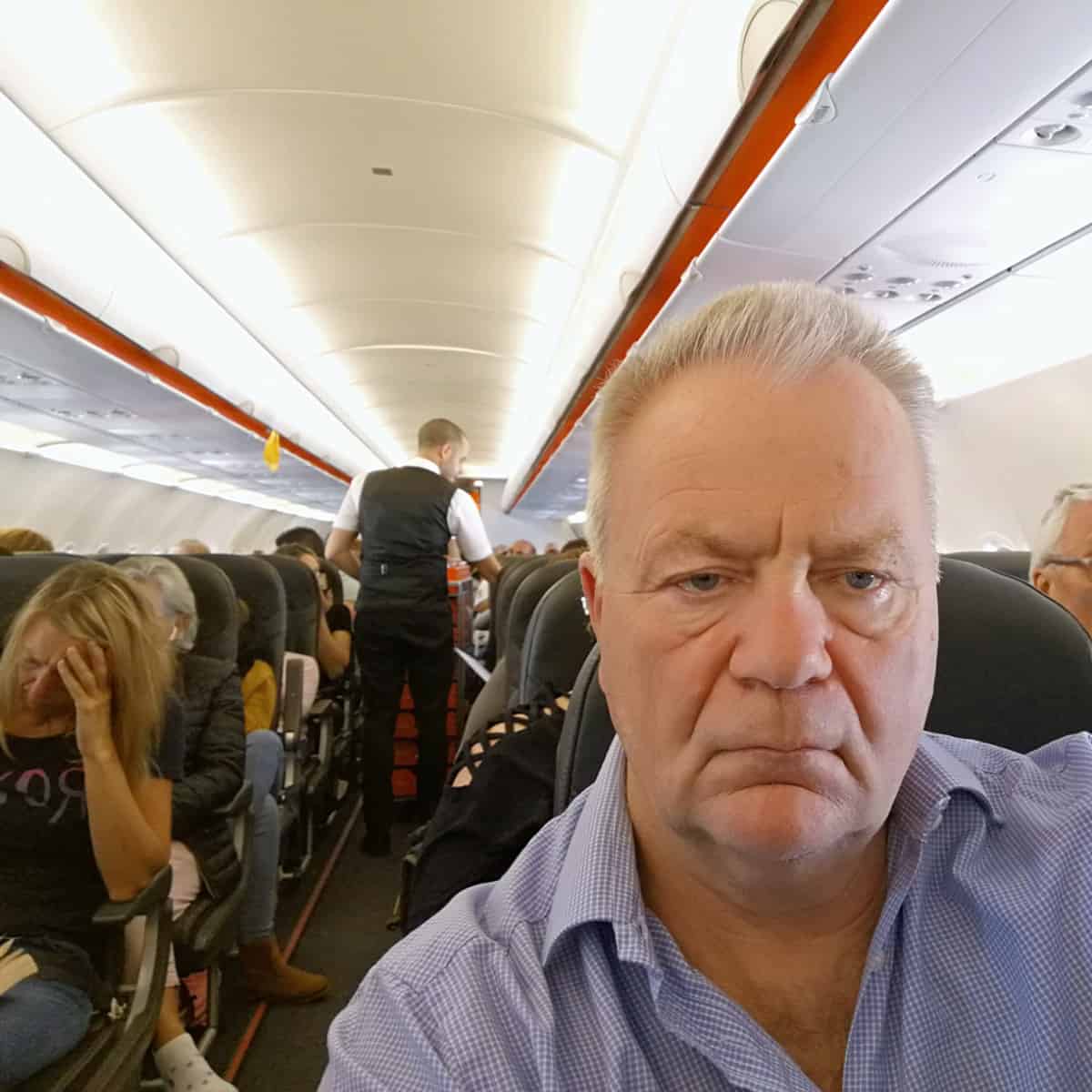 I have been traveling around the world by air since the early 70s and living overseas too. I worked for British Airways for a number of years and I am also a private pilot.