Flying with a baby means packing up everything, including the kitchen sink for many families. New moms sometimes overpack, but that means that they rarely run out of things. If you intend to fly with your child, you need to understand what can and cannot be brought on flights and what may be provided for you.
When flying with a baby, you can take anything that you may need for the comfort or health of the baby while at the airport and on the plane. This includes baby toys, water for formula, breast milk, food, and diapers at the very least.
With the newest restrictions on sizes and amounts of things, it often gets confusing for parents planning to travel with small children.
TSA has restrictions on the amounts of liquids that may be brought on board the plane, but fortunately, there are some exceptions for parents. It is imperative that you understand these restrictions so you know which things can be brought over and above what is normally allowed in that rule. Bringing extra supplies is often warranted, but do not make packing cumbersome or difficult for you by bringing too much.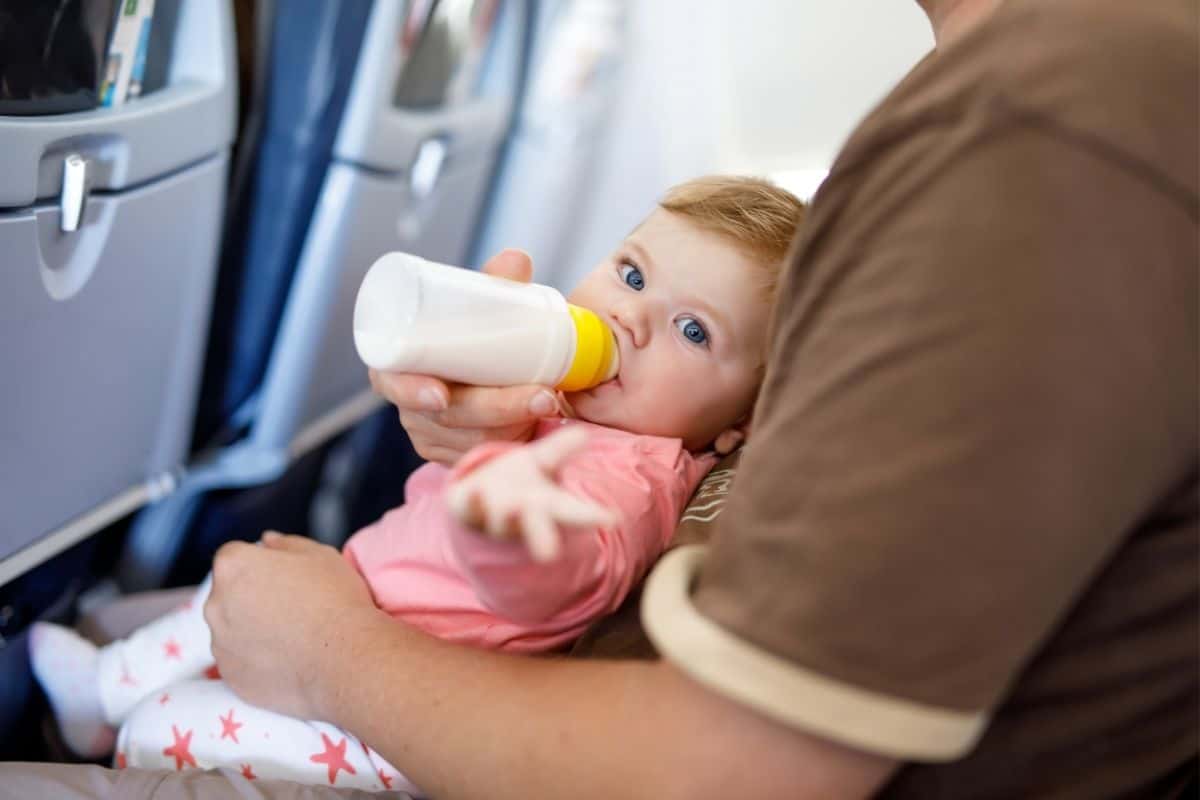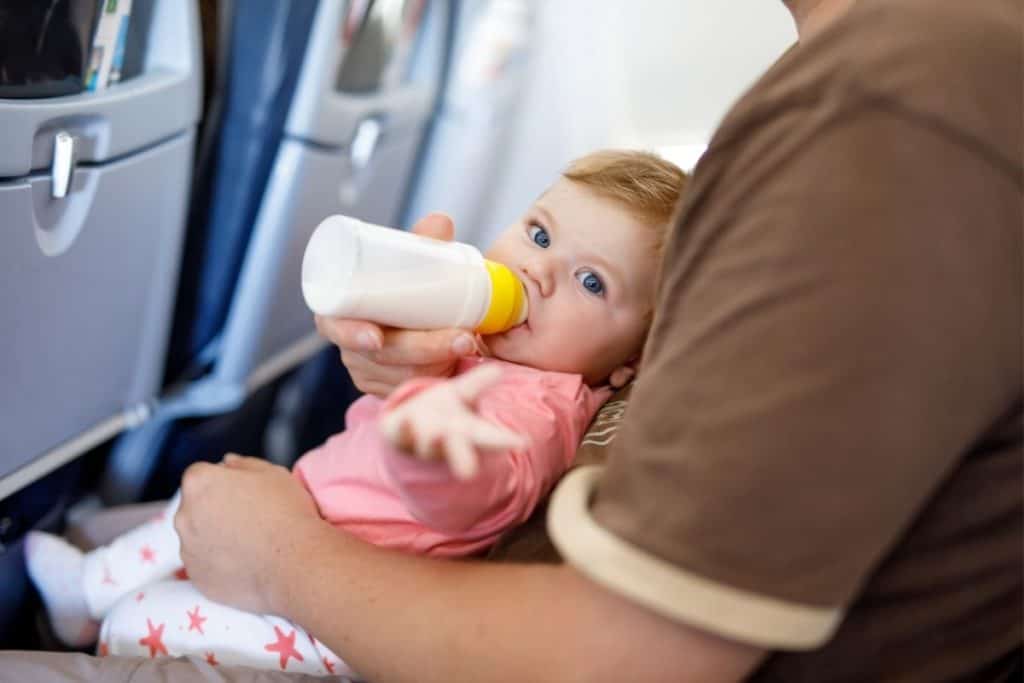 What can you bring on a plane for a baby?
There are many things allowed on the plane, so there is no short answer to this question. First, make a list of the things you need each day with your child. You will probably find most of those things listed in the next few paragraphs. If you are not sure about something, contact TSA or your airline. There may be slightly different rules for each, but you will get the most accurate information from the authorities.
The same things you may bring as an adult may be packed for a child. The 3-1-1 rule still applies for the most part. The exception to this rule is the infant formula, breast milk, baby food and sterilized water to make up formula. Children's items still need to be checked, and their bags and electronics will still be examined. Their favorite toy will need to be X-rayed.
This is a reply to a passenger who asked the TSA Twitter service about taking baby food in carry on: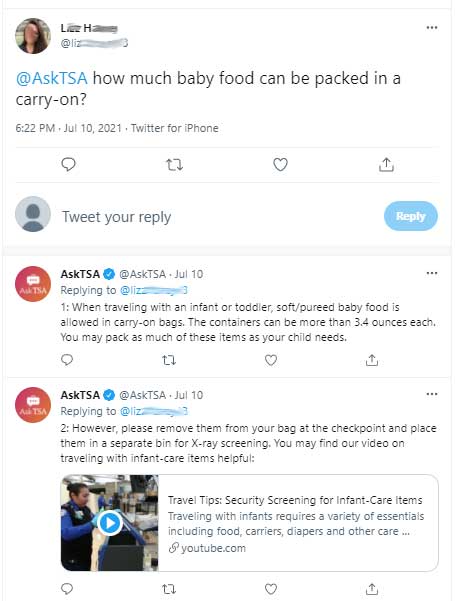 TSA agents still want to make sure that you are carrying foods and not something else, so you may be asked to remove them from the bag when going through security checkpoints.
Some websites indicate that juice is not allowed, but the TSA website specifically lists juice for infants and toddlers as an exception to the 3-1-1 rule. Freezer packs or gel packs used to keep formula cold can also be brought onto flights.
Breast milk and freezer packs do not require an infant to be present. Breastfeeding mothers traveling alone may pump and store their milk during the flight. Gel teethers are also allowed.
Each ticketed passenger may bring a carry-on, and parents may bring one additional personal bag. One suggestion is purchasing a seat for the infant if possible.
While the infant can stay on your lap, it is safer for you to allow your infant to be strapped into the seat. Having a separate seat also allows you more room to store things under the seat if necessary.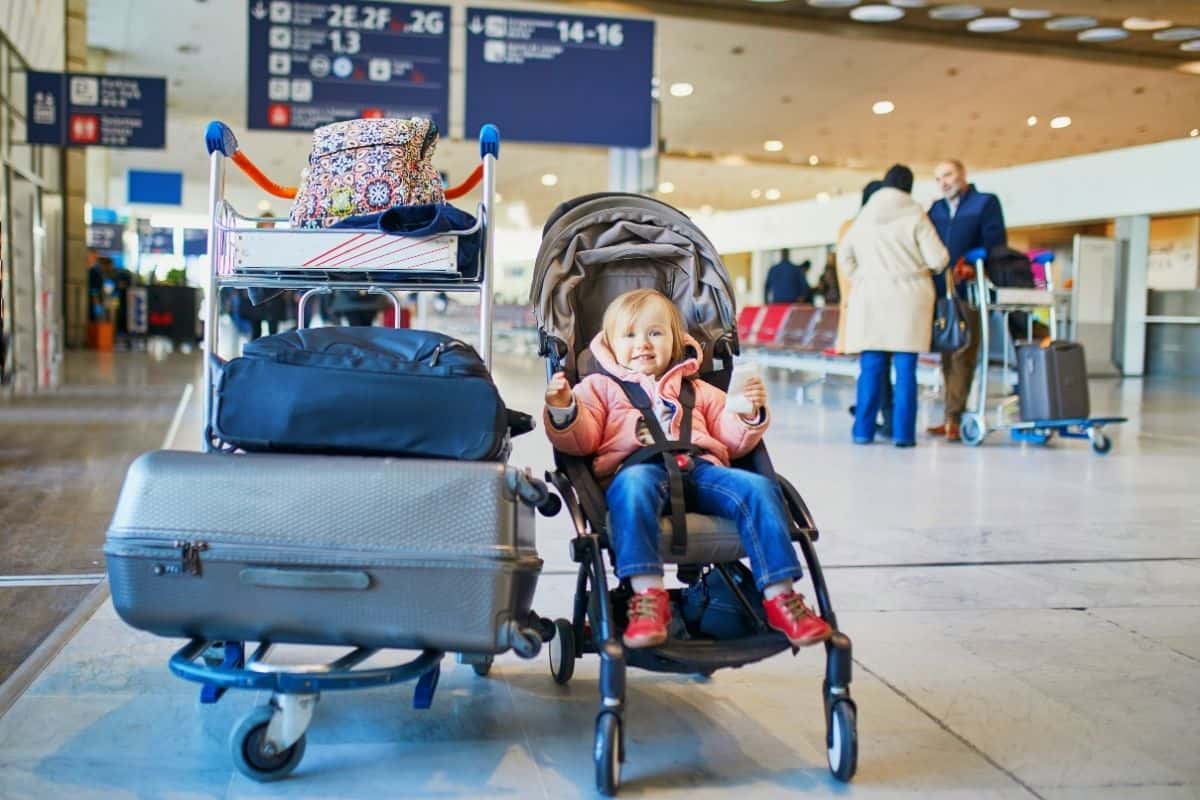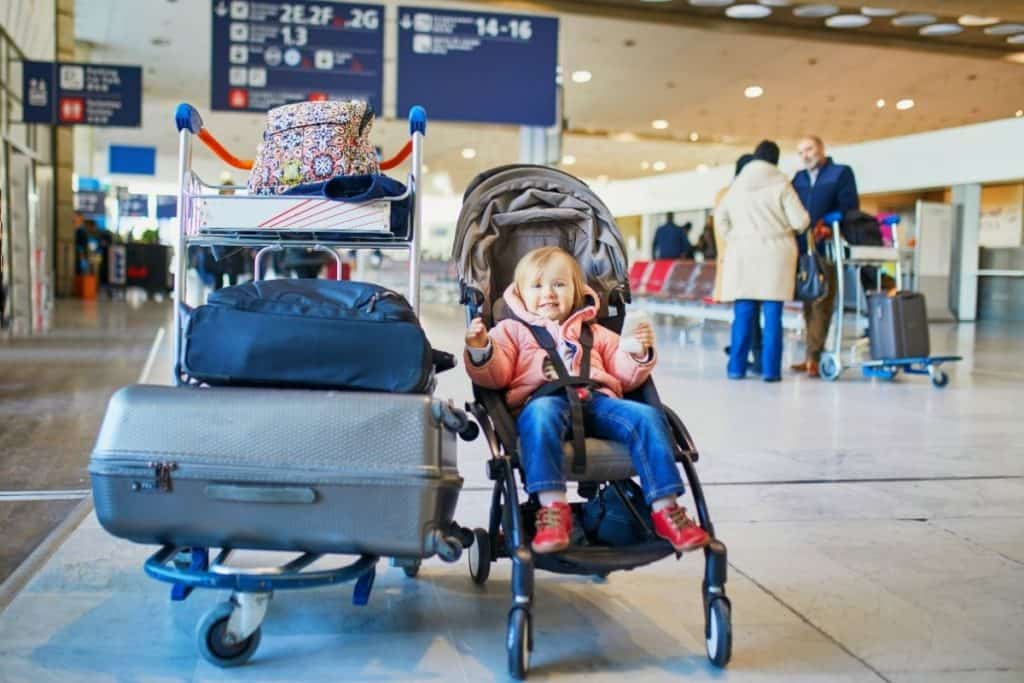 Strollers, car seats, and large gear may need to be checked, depending on the airline's rules, but infant carriers are generally exceptions to this rule.
Babies can be kept in their carriers except for during the security check. At that point, they must be held or walk through the checkpoint if possible. If they are too young to walk, they must be held and go through the checkpoint with a parent. They will not be taken from their parent.
TSA has no specific limitations on toys, as long as they meet other guidelines. Electronics would need to follow the same rules as other electronics, as there is no children's rule that is separate. The TSA website also has lists of things that are and are not allowed in carry-on and checked bags. Some things may not be allowed in a carry-on but are allowed in your checked bag.
Another thing for parents to note is liquid medication is not necessarily held to the 3-1-1 rule. For instance, nebulizer medications and other liquid suspensions are not required to be under three ounces. However, you need to notify them if you have accessories.
Things like syringes may be treated differently if they are associated with medication than they would be if they are not.
Toys, personal items, and comfort items are allowed to be brought through security, but they may be considered carry-on or personal items. Whenever possible, carry these things in your bag until you reach your seat on your flight. Replace the item in your bag when you disembark from the plane.
Ability aids are allowed to be brought on the plane. Many parents may not realize it, but children often have equipment such as CPAPs, BiPAPs, Nebulizers, walkers, and other equipment needed for mobility or sleeping. Bring those with you onboard. Do not check these items.
If your luggage is lost, this could be more than an inconvenience. TSA will likely make you open your cases to check them, but they are perfectly allowable. Portable Oxygen Concentrators may be the exception. Check with your airline before bringing yours.
Wheelchairs may be used as well. You do not have to get an airport wheelchair. Notifying the airline and TSA ahead of time will make this process easier. The person in the wheelchair will be able to remain in the chair during the check.
Can you take bottled water on a plane?
Do airlines have the same rules as TSA?
Airlines are not allowed to be more lenient than the TSA, but they can be more restrictive. Check with your chosen airline before traveling to make sure that you can bring all of the things that you plan to bring.
For example, TSA will allow you to bring your stroller through the checkpoint. They will x-ray it, but it is certainly permissible. However, most airlines will require that it be gate-checked. This means that you leave it at the gate upon boarding, and when you disembark, it will be waiting for you at your destination.
The exception is that anything which you cannot take through the security checkpoint with you, but which is sold in stores after security in the departures area, can be taken on board generally.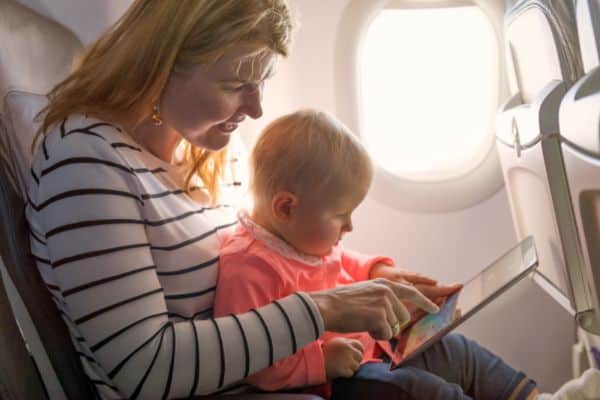 What do I need to bring on board the flight?
The short answer to this question is whatever you need. However, if this is your first time flying with your child, you may not know what that is. Here is a quick list of things that you may want to bring on board when flying with a young child.
Clothes
Babies will inevitably have accidents, throw up, drip their food, or do something to soil the clothing that they are wearing. Bringing an extra change of clothes or two may be beneficial. Even several extra tee shirts may be a good idea. Bring clothing that can be layered as well. Even if your destination is tropical, your plane may be cold. Bring extra layers to keep your baby comfortable.
Food
Bring plenty of food, formula, breast milk, juice, or whatever your child will need. As a matter of fact, bring extra. You never know when you will be delayed, or your baby will be extra hungry. It is often advisable to feed your baby at take-off and landing if possible. This will help the popping in your baby's ears. If you are an experienced flyer, you may have used gum for the same reason.
Extra bottles
Unless you have prepacked everything into bottles, you will want a clean bottle or two. You can do a quick rinse in a bathroom from time to time, but there is not always time for that. Bring an extra.
Bibs or something to protect clothing
Spills happen. Turbulence causes spills to happen, and these are things we cannot control. What you can control is whether or not you are prepared.
Entertainment – child and baby toys
Bring new entertainment for the flight. If your child can open new toys on the flight it may distract them a little longer. For infants bring smaller toys that easily strap to the baby carrier or fit in your carry-on bag. Baby books and videos can help too, but if you aren't planning to pay for WiFi, make sure they can be downloaded before the flight.
Diapers
Of course, if you are flying with a baby, you will need diapers, and it is rather unlikely you will not think to take them. However, even if your toddler is potty trained, a change of clothes and a pull-up might not be a bad idea. If this is their first flight, they may get overwhelmed and not pay attention to their body signals. Airplane bathrooms can be a little intimidating for them as well.
Wipes
Even if you have teenagers, wipes are often a good idea. For infants and toddlers, especially wipes can be a cure-all for sinkless clean-up. They can be used in a pinch in many situations. Pack a brand-new pack when leaving for the airport!
Diaper Creams
You never know when your child will need diaper cream. Be sure that you have a tube with you. It may be subject to the 3-1-1 rule, so pack accordingly.
Extra clothes for mom and dad
Accidents happen and when flying with a young child the chances of anything from orange juice to baby food or even vomit ending up on your clothes is quite likely. It it does happen then an extra shirt etc in the bag can be a lifesaver.
Dirty Bags
No, this is not a bag that is dirty, what we mean is the disposable diaper bags. These often come in bags or dispensers that can be clipped onto your diaper bag. If your baby has a soiled diaper and you cannot immediately throw it out, you may want to store it in one of these. Likewise, wet or damp clothing may be placed in one so that the liquid doesn't spread.
Healthcare kit
Consider bringing clippers, pain reliever, and other medical supplies that babies often need. You may even want to bring a nose sucker of your choice. If you suddenly need those things you cannot just pop into a store when you are in the air..
Carrier or car seat
Carriers and car seats are the best way for young children to fly. Make sure that the car seat is rated for aircraft use, and you will be permitted to strap your child into their seat. See my post on flying with car seats.
Documentation
Depending on your destination, your baby may need documentation to fly. This could be medical documentation of his or her clearance or a passport. Find out what your infant will need before arriving at the airport.
Entertainment for mom and dad
Our Next Adventure suggests bringing reading material and a pen for mom or dad. If your child does sleep, you will probably want to entertain yourself. Flights would be quite dull otherwise.
Finally – Patience!
This may be the most difficult thing to bring onboard the plane. Flying can be challenging for adults without children. Flying with a child (or two) can really stretch your patience so do whatever you can to remain calm in any situation on board. Ignore the dirty looks from other passengers if your child makes some noise.
What can I do to make the flight smoother?
Do your research. Find out what your destination requires and what your airline allows. TSA regulations are easy to find, but if you are traveling internationally or you are traveling to particular destinations, find out what you need to do and bring.
Leave early. Traveling with children is not going to be seamless. They are going to walk slowly, their stroller won't buckle, the infant will want to breastfeed as soon as you arrive at the airport, or a million little things will take more time than you thought. Give yourself extra time. This will also keep you calmer.
Pack with a purpose. You do not need to bring every snack your child has ever liked. Bring a few. Do not bring 17 wardrobe changes. Two simple changes of clothes should suffice. Bring extra plain tees too, but only one or two.
Relax. The more uptight you are, the more difficult the process will become. You can do this. It will not be perfect, but most things are not. Don't worry about the stares, side-eyes, and negative Nancies. Just do what you need to do.
Are there risks to flying with children?
There are risks flying for anyone of course, life is never risk free, but when it comes to children many parents worry more.
Young children sometimes have underdeveloped immune systems but that does not mean that flying will be detrimental to their health. Airplanes have some of the cleanest air available. They often use the most advanced technology for cleansing the air for their passengers.
However, if a person sitting near you has a cold, the aircraft's filter system won't help you much so do the best you can to maintain your distance and take the same precautions you normally would. Do not let strangers hold or touch your baby. Keep your family safe the way you would outside the airplane.
Is there anything else I need to know?
Trust your instincts. You know what you need for your baby. If you are not sure if it is allowed, look it up, call the airline, or ask someone in a position of authority. Take the things that you need for your baby, but do not overpack. You will do well, traveling. It is not easy to travel with infants, but it can be done.
Also read
Does a 3 year old need a plane ticket?
Does a 2 year old need a plane ticket?
FAQs
Can I bring water for baby formula on a plane
You can take water for your baby on a plane to drink or to use to make up formula. Although you cannot take bottles containing more than 3.4 ounces of water for yourself, the TSA make an exception when flying with a baby. It doesn't need to go in your liquids bag.
Can you take ready made baby formula on plane?
You can take ready made up baby formula for your baby on a plane. Although you cannot take bottles containing more than 3.4 ounces of liquid for yourself, the TSA make an exception when flying with a baby. It doesn't need to go in your liquids bag.
Can I bring breast milk on a plane
You can take expelled breast milk for your baby on a plane. Although you cannot take bottles containing more than 3.4 ounces of liquid for yourself, the TSA make an exception when flying with a baby. It doesn't need to go in your liquids bag.
Can you take homemade baby food on an airplane?
You can take homemade baby food for your baby on a plane. You should inform the security officer that you have it as it may need separate screening.
Is a diaper bag considered a carry-on?
If you are flying with a baby you can take a diaper bag on board with you in addition to your carry on bag and your allowed additional personal item.
Can I wear my baby through airport security?
The TSA will allow you to wear your baby in a baby harness when you pass through the metal detector at airport security. You may be asked to undergo additional screening, particularly if you set off the alarm.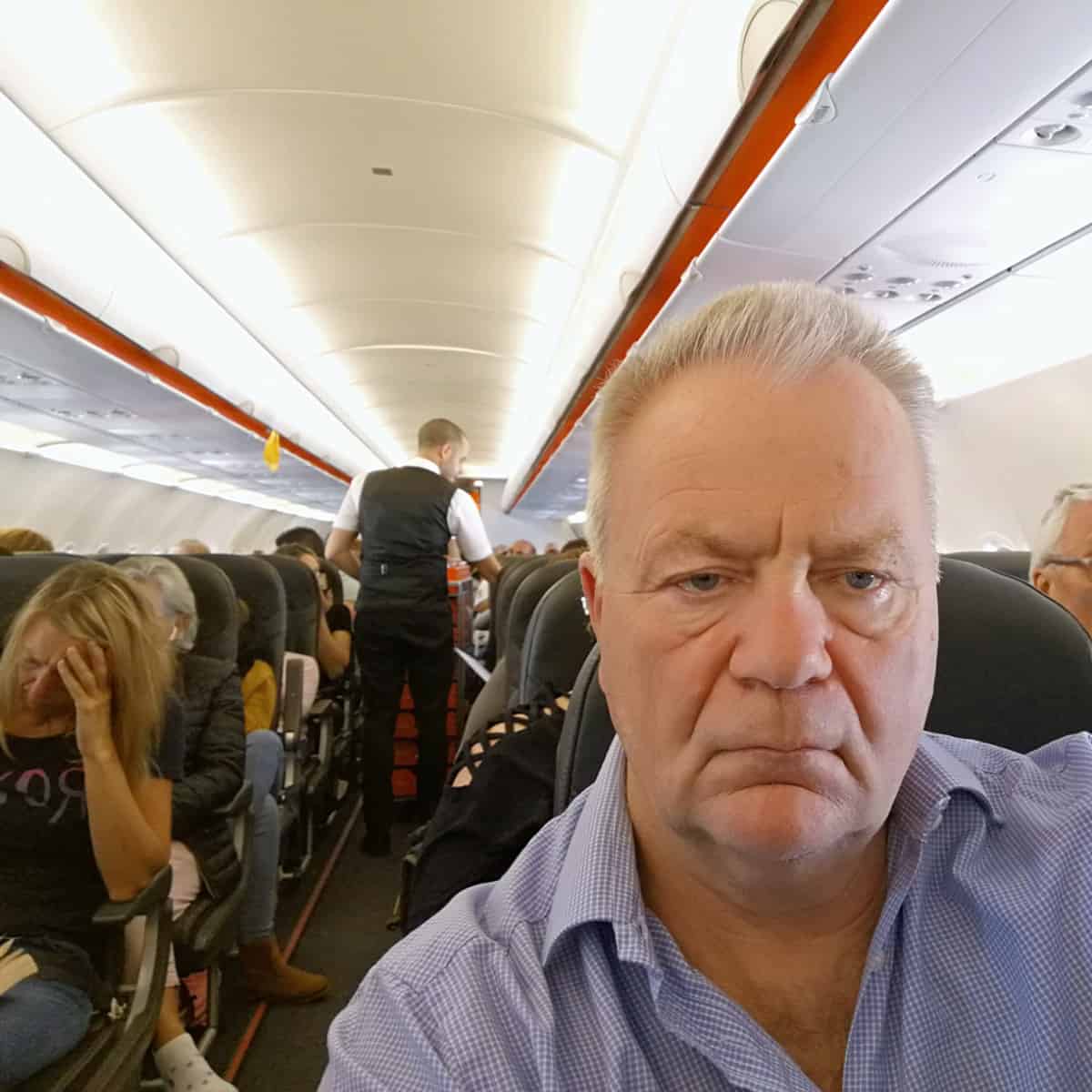 I have been traveling around the world by air since the early 70s and living overseas too. I worked for British Airways for a number of years and I am also a private pilot.