When children travel alone on Delta Air Lines, the safety and comfort of the unaccompanied minors are of utmost importance.
Delta has a dedicated program to assist young passengers traveling without an adult, ensuring peace of mind for both the children and their guardians.
With a focus on escort services, special amenities, and tailored care, Delta's unaccompanied minor program is designed for children aged 5 to 14 years.
This introduction discusses the key aspects of this service, ensuring you have the essential information for a smooth experience.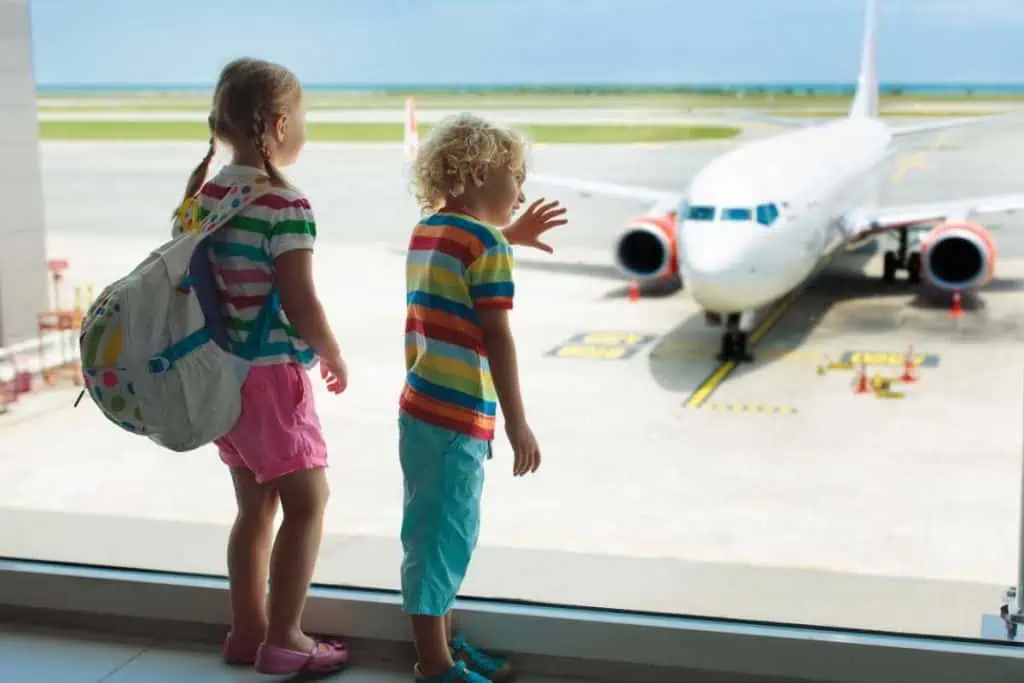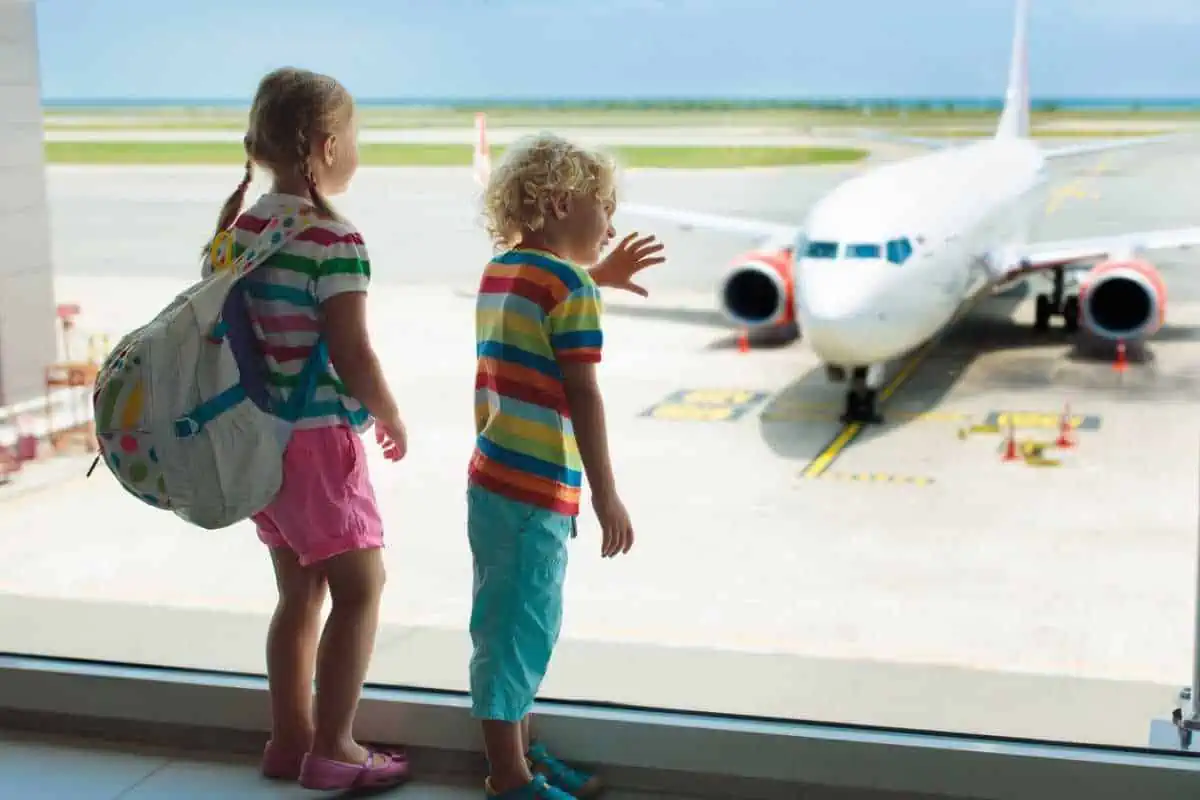 Unaccompanied Minors Program on Delta Airlines
Delta Airlines offers a comprehensive Unaccompanied Minor Program to ensure the safety and comfort of children traveling alone. This program is designed for children between the ages of 5 to 14 who are not accompanied by an adult aged 18 or older.
The Unaccompanied Minor service includes several useful features to make the journey more enjoyable and secure for the child.
One such feature is a trackable wristband, ensuring Delta personnel can always locate the young traveler.
Additionally, the child will have access to the Sky Zone lounge where available, which is specifically designed for kids to relax and have fun while waiting for their flights.
Throughout the travel day, a Delta personnel escort will accompany the child to provide assistance and supervision as needed.
Delta charges a $150 fee each way for the Unaccompanied Minor service. This fee covers up to four children traveling together, making it more cost-effective for families with multiple children needing this service.
The program is available for travel within the United States and international travel on both nonstop and connecting flights.
It is important to note that children aged 15-17 are permitted to travel as standard passengers without the need for the unaccompanied minor service, as long as they can present a valid ID to security personnel.
Eligibility and Age Requirements
Unaccompanied minor services are provided by Delta for children between the ages of 5 and 14. For this age group, enrollment in the unaccompanied minor program is mandatory.
For teenagers between the ages of 15 and 17, the unaccompanied minor program is optional. Parents can choose to enroll their children in the program if they prefer additional assistance and supervision during the trip.
It is important to note that children 4 years old and younger are not permitted to travel alone on Delta flights and should be accompanied by an adult passenger aged 18 years or older.
Special amenities and employee escorts are provided to unaccompanied minors to ensure a reliable and comfortable trip. These services are designed to keep the child safe and well-taken care of during their travel experience with Delta (Source).
Booking and Check-In Process
In this section, we will go through the process of booking flights for unaccompanied minors with Delta and the necessary steps during the in-person check-in.
Online Booking
Booking a flight for an unaccompanied minor with Delta cannot be done through the standard online booking process. To determine eligibility and book a reservation for an unaccompanied minor, you must contact Delta's Reservations department at 800-325-8847.
This dedicated phone line will ensure that the minor's travel is permitted and correctly documented. During the booking process, the adult making the reservation will provide a 4-digit PIN configuration that will be required for making any changes to the itinerary.
In-Person Check-In
Once the reservation has been made, unaccompanied minors must complete the check-in process in person at the airport. The adult accompanying the minor should arrive at the airport well in advance to allow sufficient time for the check-in and to complete all required documentation.
During the check-in process, Delta staff will verify the minor's age, confirm the identity of the adult who will be picking the minor up at the destination, and ensure that all required documents are in order. Parents or guardians should make sure the minor has a copy of their identification, travel itinerary, and contact information for both the drop-off and pick-up adults.
After successful check-in, the unaccompanied minor may be escorted by Delta staff to the gate or by a parent/guardian if they have requested a security pass. A Delta staff member will take the minor on board the plane early and be introduced to the flight crew. This is to ensure a smooth transition for the minor during the entirety of their travel experience.
Drop-Off and Pick-Up Procedures
When it comes to unaccompanied minors flying with Delta Air Lines, there are certain procedures and guidelines that must be followed to ensure a smooth and safe journey for the child.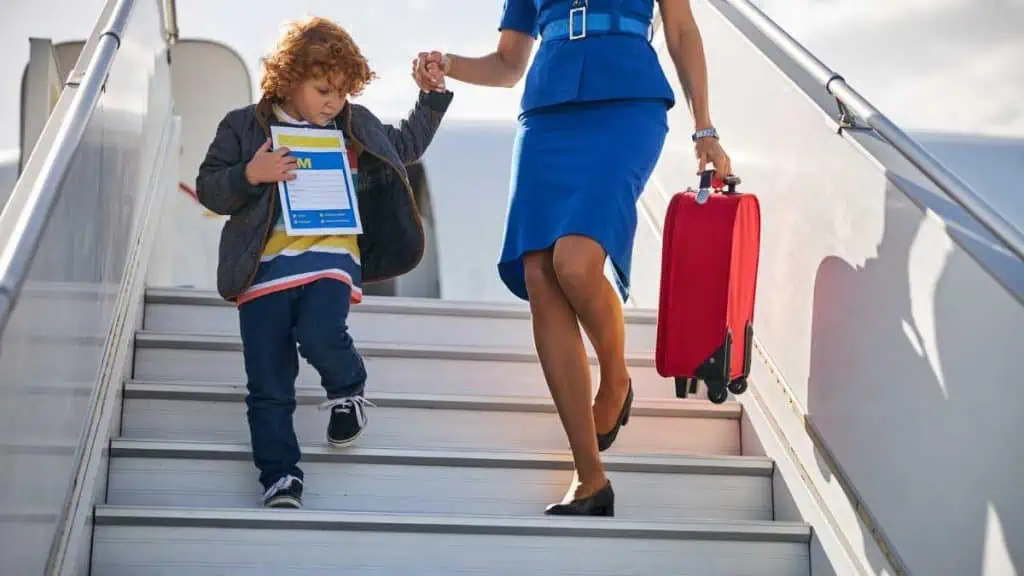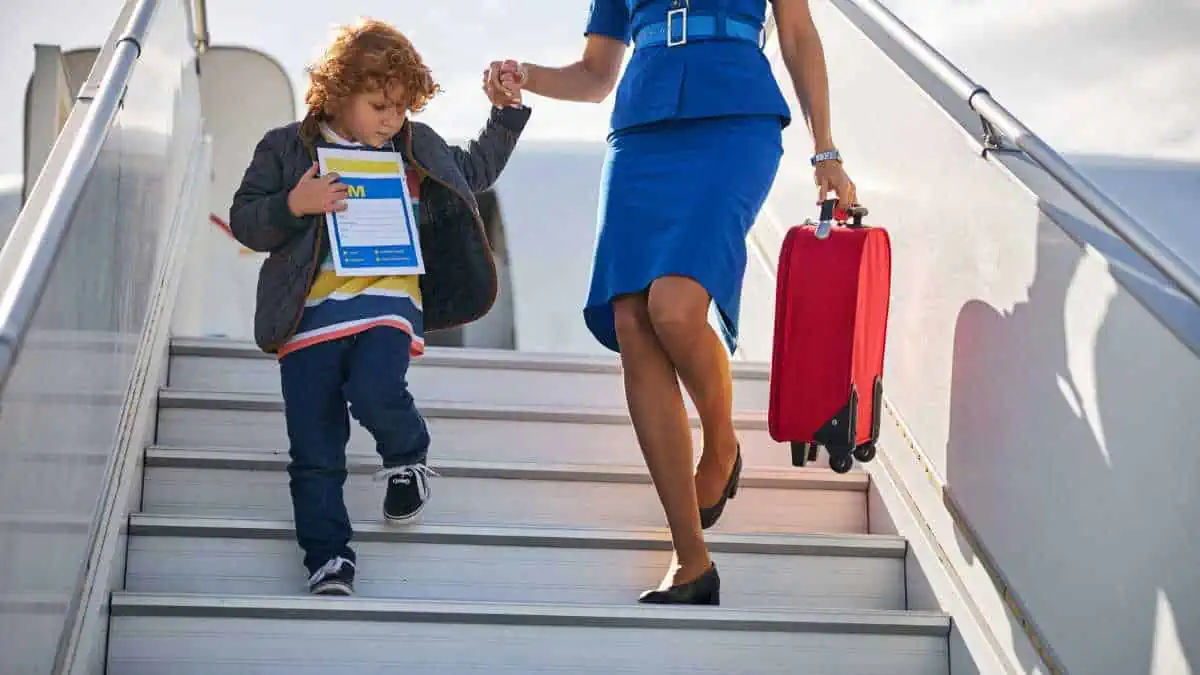 Airport Security Process
For unaccompanied minors, an adult (18 years old or older) must accompany the child through the check-in process. This includes helping the child obtain their boarding pass and baggage tags, and guiding them through the security checkpoints.
After clearing security, the adult can then accompany the child to the gate to help them board their flight. Before departure, the adult will need to provide their contact information to Delta staff so they can be informed of any flight updates or changes.
I asked Delta about this as I wasn't sure how a non-passenger could go through airport security to the gate with the minor without a boarding card. This was Delta's reply:
"Parents or guardians not travelling with the minor can accompany the minor to the departure gate. You can do so with the gate pass that you can request at the airport upon checking in with the minor. The same goes for picking up the minor from the airport, the person can request for the pass at the airport to meet the minor at the arrival gate."
It seems that this is optional and that a Delta agent will accompany the minor through security in some circumstances – although most parents will want to accompany them as far as possible.
Meeting Points
Delta staff will escort the child through the arrivals process, including baggage claim and customs clearance if applicable, before handing the child over to the designated adult. That is unless the designated adult has requested a security pass to meet the minor at the gate (see quote above).
Upon arrival at their destination, the unaccompanied minor will be met by a designated adult. This person must present a valid photo ID and be listed as an approved contact on the child's reservation. It is important to confirm and coordinate the pick-up location with the airline and the designated adult to ensure a seamless and stress-free experience for the child.
By following these drop-off and pick-up procedures, parents and guardians can trust that their unaccompanied minors will be well-cared for and safe throughout their Delta Air Lines journey.
Fees and Additional Charges
Delta Airlines charges a fee for their Unaccompanied Minor Program, which ensures the safety and comfort of children traveling alone. This fee varies based on the travel destination and is in addition to the standard ticket fare.
For travel within the United States and internationally, Delta charges a fee of $150 USD/CAD/EUR each way for unaccompanied minors. This fee covers up to 4 children traveling together.
Some additional services may be included in the Unaccompanied Minor Program fee:
Constant supervision by Delta personnel during layovers and connections
Entertainment options for the child during the flight, such as movies and games
Snacks and meals, depending on the duration of the flight
Bear in mind that parents or guardians must provide proper documentation and identification for unaccompanied minors. Failure to do so may result in additional fees or delay in the child's travel plans.
Finally, it's essential to review Delta's age restrictions for unaccompanied minors to ensure compliance with their policies.
Services and Amenities
Supervision and Care
Delta's Unaccompanied Minor Program ensures that children traveling alone receive special attention and supervision from the moment they check in until they reach their final destination.
Delta staff assists with flight connections and ensures that the child is delivered to the designated adult upon arrival.
In-Flight Entertainment
Delta offers a variety of in-flight entertainment options for unaccompanied minors during their journey. Some facilities include toys, video games, and books, making the flight experience enjoyable and engaging for the child.
Delta also offers a wide selection of age-appropriate movies, TV shows, and music channels through its seatback entertainment systems.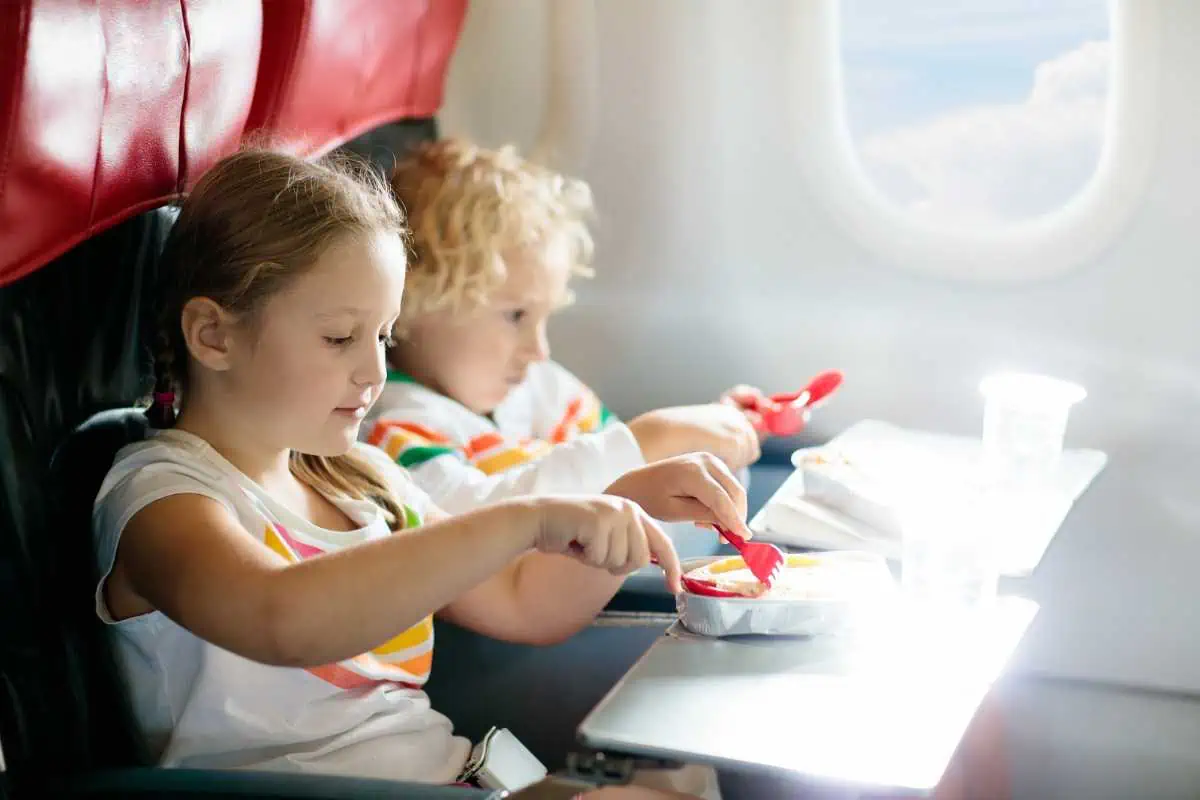 Meals
Kids traveling alone on Delta flights can enjoy complimentary meals and snacks, depending on the duration of the flight.
Meals are served in kid-friendly packaging and include a variety of nutritious and tasty options, catering to different dietary requirements and preferences.
Important Tips and Guidelines
When booking a flight for an unaccompanied minor with Delta Air Lines, there are several key tips and guidelines to ensure a smooth and safe journey for your child.
First, make sure your child is mentally and emotionally prepared to travel alone. Each child is different, and their readiness to fly solo can vary.
Delta's Unaccompanied Minor program is designed for children aged 5 to 14 years. Children aged 4 or younger must be accompanied by an adult 18 years or older.
During the check-in process, an adult (18 years or older) must accompany the minor and pick them up at their destination.
Children traveling as unaccompanied minors receive barcoded wristbands to track their journey. Parents or guardians can escort the child to the gate area through security.
Some airports feature Delta Sky Zone, a kids-only lounge with video games, snacks, and a secure area for unaccompanied minors to hang out between flights. These can be found at Atlanta, Cincinnati, Detroit, New York (JFK), Los Angeles, Memphis, Minneapolis, Salt Lake City and Seattle airports.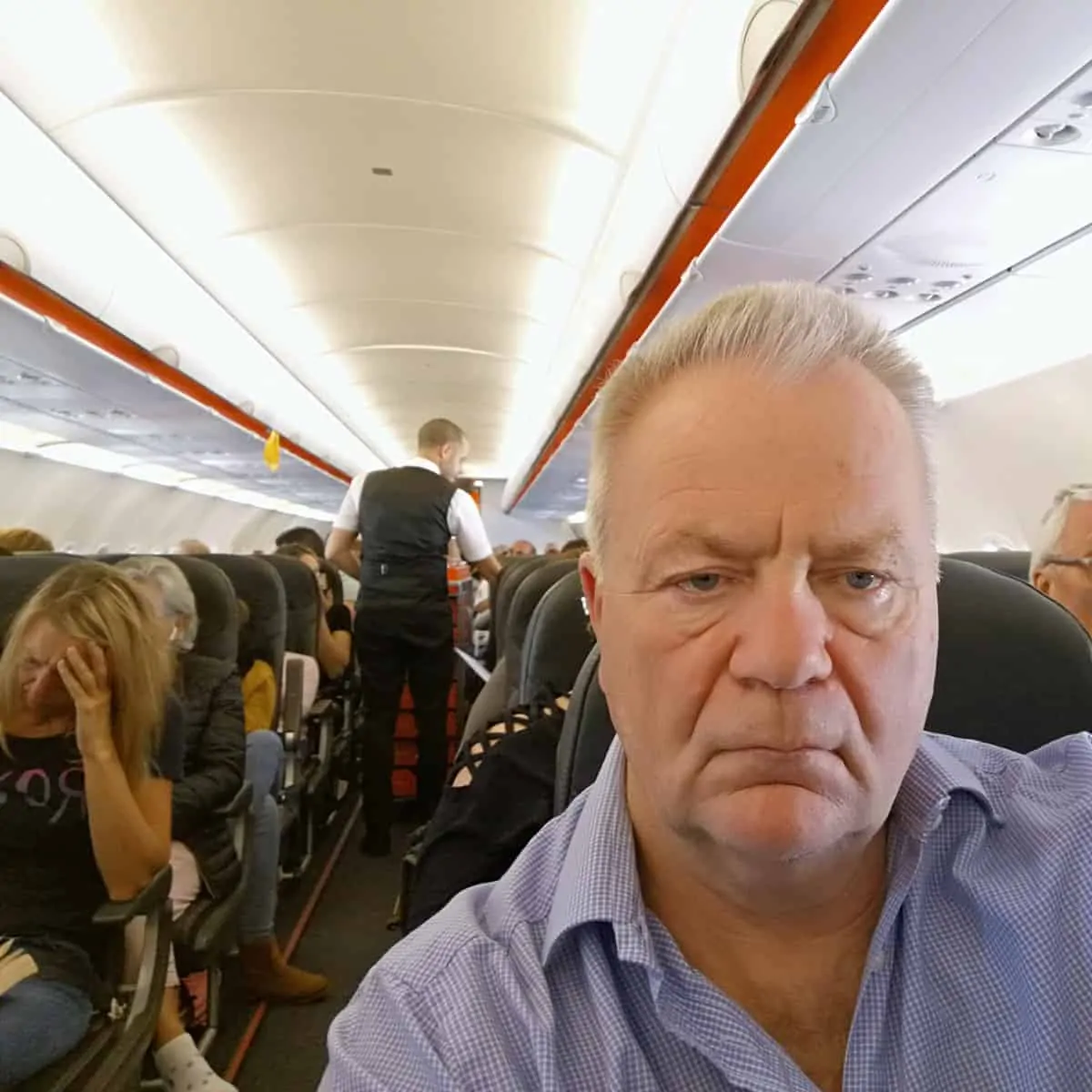 I have been traveling around the world by air since the early 70s and living overseas too. I worked for British Airways for a number of years and I am also a private pilot. About Me