Having your liquids properly presented at airport security in a TSA approved quart size bag will not only make your passage through security quicker but will also help those passengers behind you in the line.
A TSA approved quart size bag for air travel is intended to hold any liquids you might be carrying in your carry on luggage. The bag must be no larger than one quart in volume (1 litre in Europe) and must be clear (see-through) and resealable. Quart sized bags are an essential item as they are required by airport security worldwide.
There is little that is more frustrating than being in a hurry to catch a flight, only to be stuck behind some idiot in the security line who has toiletries in their carry on bag that are all over the place rather than being all in one easy to inspect clear plastic bag. Don't be that person!
Important: Only one of these liquids bags is permitted per passenger in carry on.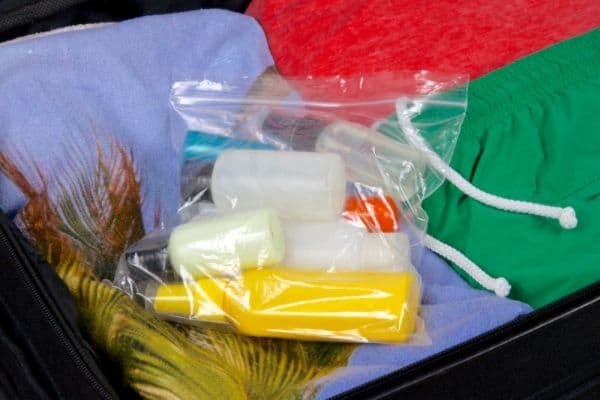 What is the purpose of zip lock bags for air travel?
They are designed to allow airport security staff to easily see what liquids you are carrying in your hand luggage without having to go through all of the items in your bag to find them.
This was one of the security features that was added after 9-11, even though liquids actually had nothing to do with that.
However, the added advantage is that, should one of the bottles of liquids leak, it will not go over the other contents of your carry on bag, which can happen when they are all separate.
You can read more about the liquids rules in this article – The Rules for Carrying Liquids on a Plane. TSA 3-1-1 liquids rule.
How big is a quart size bag?
The description "quart size" is rather odd to be honest because how can anyone tell what the maximum capacity of a quart sized bag for liquids actually is?
If it is just a flat bag, such as a resealable sandwich bag, then it doesn't really have a depth but a more rigid plastic bag such as those recommended below do, so they are at least easier to try and calculate the volume.
A quart is the equivalent of 57.75 cubic inches.
The TSA state do not actually specify what a quart size bag dimensions should be. They do state that a liquids bag should be no larger than 9 inches by 6 inches but that really only applies to a flat sandwich type bag as in theory that would be 54 cubic inches (0.935 of a quart).
A more rigid bag that was say 2 inches deep could only be 7 inches wide by 4 inches high to keep below 1 quart volume.
The passenger below asked the TSA on their #AskTSA Twitter service about their liquids bag which was 9.5 inches by 5.25 inches. The TSA advised that it was an acceptable size!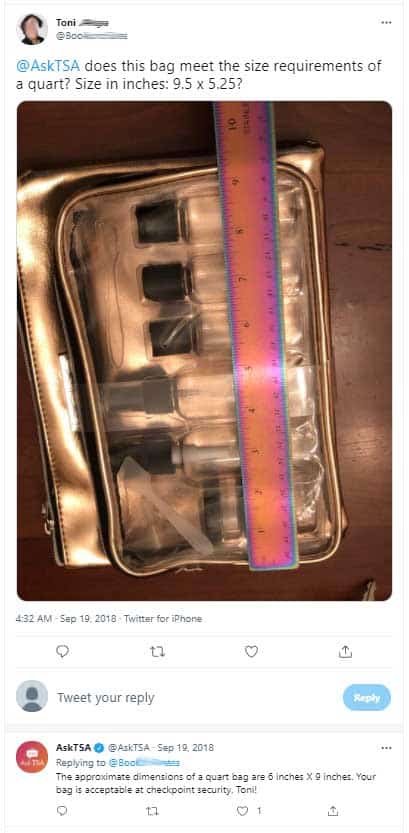 What should you put in the bag?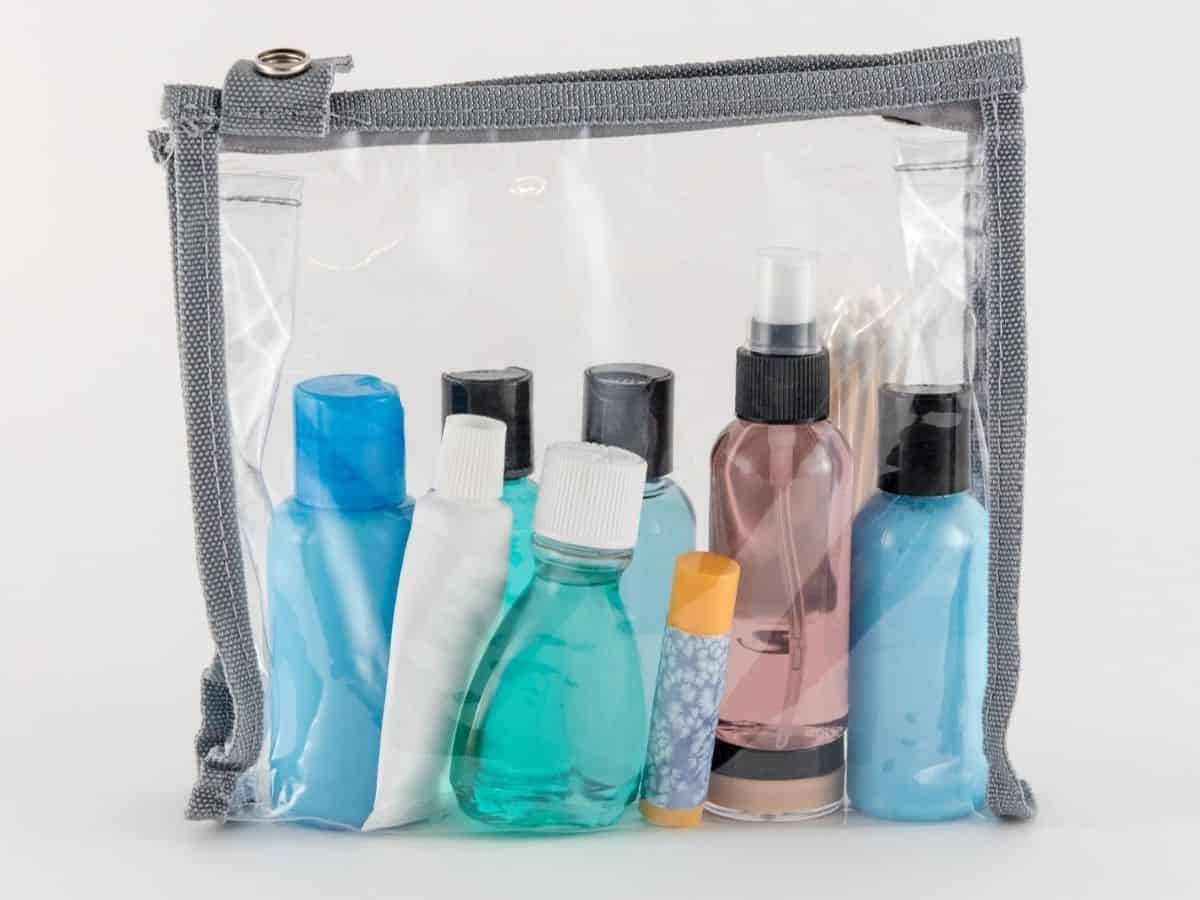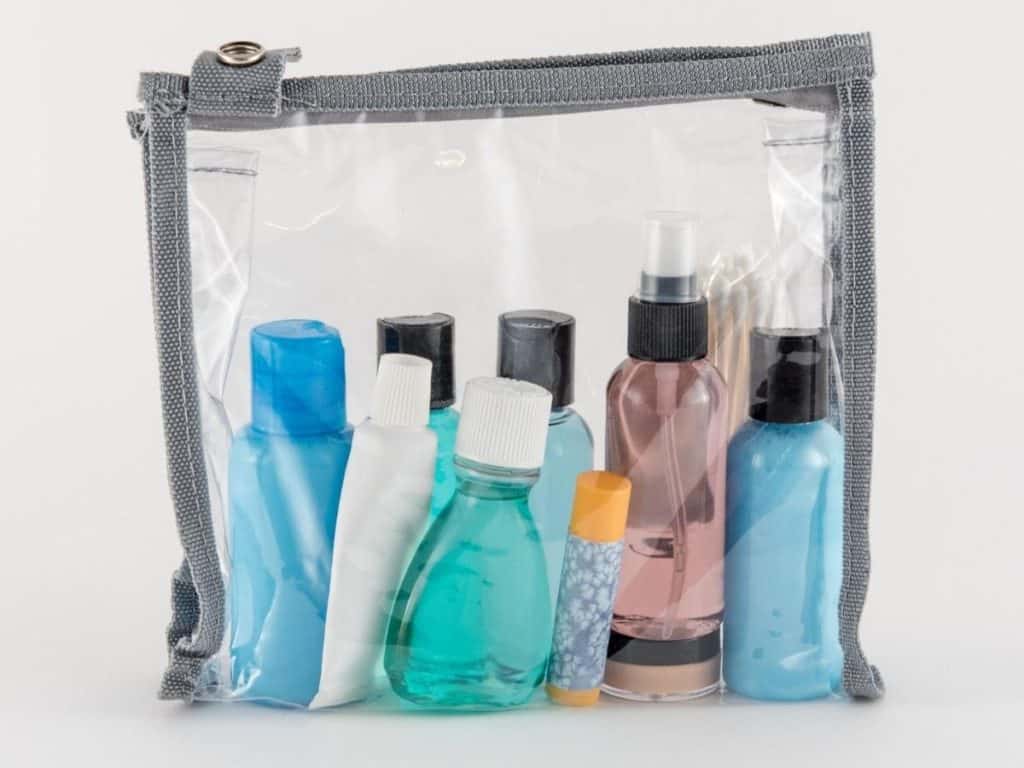 Firstly, no liquid, nor any of the items listed below, should be larger than 3.4 ounces (100ml). That is the size of the container not the amount of liquid in it. So for example you can't take a 200ml bottle with 100ml of liquid in it.
This includes the following:
all drinks, including water
sprays, which includes shaving foam, hairspray and deodorants
cosmetics and toiletries, including creams, lotions, sun lotions, oils, perfumes, mascara and lip gloss
pastes, including toothpaste
gels, which includes shaving gel, hair gel and shower gel
contact lens solutions
all liquid or even semi-liquid foods, which includes soup, honey, syrups, preserves in liquid etc
any other solutions and items that have a similar consistency to the above
Are there any exceptions?
There are a few exceptions to this liquid size restriction. You may take liquid containers larger than 100ml through airport security if they are:
Essential medication
You can take your prescribed liquid medication in your carry on without putting it into the quart size bag with your other liquids. Ideally you should have a letter from your doctor or similar medical professional to show you need it but this probably won't be required, particularly if you are flying within the US.
Flying with babies or young children
You can take a number of things that are liquids or considered liquids for security purposes if you are traveling with a baby. These include:
made up baby formula
expressed mother's milk
bottled/sterilized water to make baby formula or give to the baby as water
juice
baby food in jars
baby lotion
diaper rash cream
You must have the baby with you in order to qualify for this exception, which may sound obvious but it just means that you can't carry it for someone at your destination. It is only for use on the flight and until you get to your ultimate destination.
Although these do not have to fit into the quart size resealable plastic bag, it is probably a good idea to keep them in a separate sealed bag anyway in case of any spillage of course.
Which quart size bag to choose?
Well obviously there are a number of different types to choose from when looking for a quart size liquids bag.
You can use a zip lock freezer bag to carry your liquids in to go through airport security. Liquids can therefore spill more easily as they are floppy and thin so will not stand upright.
For a number of years now I have used a more rigid quart size bag for airlines. These are designed specifically to carry your liquids when flying.
Personally I only choose those that are stated as being approved by the TSA, CAA, IATA etc as that could save you having problems somewhere down the line. The line at airport security that is! At the end of the day it is always the security agent that has the last word.
These are all TSA approved quart size bags:
Actually that is a little untruthful. The TSA do not actually endorse or approve any quart size liquid bags but the description of them being a TSA approved clear bag is generally accepted as their dimensions are checked to be equal to or less than 1 quart.
You will not have a problem taking any of these through airport security with your liquids in them.
EzPacking Clear TSA Approved 3-1-1 Travel Toiletry Bag
TSA APPROVED BAG – Large Airline Travel 1-quart clear plastic bag case for men and women. Due to it being a zipper bag it is more durable than inferior zip-top bags.

IDEAL – You won't have to worry about getting through airport security checks with the EzPacking 1-quart clear PVC pouch and you'll be able to carry on your favorite toiletries in their purchased containers or set.

VERSATILE – You can conveniently carry liquids, shampoo, liquid soap, lotion, perfume, cosmetics, cologne, medicine or pills of your choosing. This bag is the perfect size for small storage when traveling.

EASY TO CLEAN – A large opening makes it easy to pack, wash and clean EzPacking vinyl 1-quart rectangular bags. Bag measures a tidy 7.2 x 5.5 x 2.5 Inches.

LIFETIME WARRANTY: Your satisfaction is 100% guaranteed! Should you have any issues with our travel bag, just let us know and receive a prompt replacement or refund.
Check the price of EzPacking Travel Toiletry bag on Amazon
---
Squeezable Travel Bottles Containers TSA Approved with Clear Quartz Size Bag
Stylish Design: TSA carry on 3-1-1 approved clear high quality easy to clean bag

Clear Toiletry Bag Size: 1 Quart, TSA Approved, Durable and fits a lot in a small bag. Complete with an upgraded zipper

4*2 oz refillable plastic squeeze bottles, 1*2oz mini spray bottles, 2*0.33 ounce cream jars and one tablespoon, pipette and a funnel.
Check the price of the Clear Travel Toiletry Bag with accessories on Amazon
---
TSA approved bag with TSA approved refillable bottles
LEAK PROOF AIRLINE TRAVEL BOTTLES. The silicone travel bottles are soft. They expand and contract with the pressure changes, therefore, they won't end up blowing out or cracking the lid.

PORTABLE LANYARD. You can hang the silicone travel bottles with lanyard on the shower head and easily access the individual bottles of shampoo, conditioner, and body wash as needed

.

EASY TO SQUEEZE OUT. The top unscrews to allow you to fill the silicone travel bottles. The screw on lid and dispensing hole provide a strong seal. They still dispense the liquid easily when you press the soft sides.

EASILY IDENTIFY CONTENTS. The silicone travel bottles have a ring that is pre-labeled which means you do not need to write on the silicone toiletry bottles to show what is inside. You can easily change what you store inside.

Traveling bottles are not suitable for Hair Serums, Alcohols, Salicylic Acid, Hydrogen Peroxide, and Caustic, Corrosive or Flammable products

.
Check the price of the Dreamshow toiletry bag and bottles on Amazon
---
FAQs
Does deodorant have to go in the quart size bag?
Almost all deodorants are classed as being liquids (aerosols, roll-on, gel etc) so will have to be no larger than 3.4 fluid ounces (100 milliliters) and go in the quart size bag. Solid "stick" deodorant is not considered a liquid so can stay in your carry on bag.
How many quart size bags can I carry on?
Each passenger can take only one quart size bag containing liquids through the airport security checkpoint.
What is a quart size bag for airport security?
To pass through airport security, all liquids must be packed in a single clear plastic resealable bag, that has a volume of no larger than one quart. The liquids containing in it must be no larger than 3.4 fluid ounces (100 milliliters).
How strict is TSA with quart size bags?
TSA Security agents do not appear to try to work out the volume of a liquids bag to see if it falls within the TSA 311 bag size rules, so as long as you are close to 1 quart you should be ok.
Is a quart size bag a sandwich bag?
Resealable sandwich bags can be used to put your liquids in to go through the airport security checkpoint. Most sandwich bags will fall within the TSA quart size bag dimensions.
What are the dimensions of a quart size bag?
The TSA quart size bag dimensions just specify that it should be no larger than 9 inches by 6 inches. There is no mention of depth.
Other travel product articles:
Best inflatable leg rest for flights
Should I wear compression socks on a long flight?
Best gadgets to make flying more comfortable in 2019