Being able to listen to music on a plane during a long flight is a great way to pass the time.
I have listened to classical music as well as my other favorite music while flying for many years, on an mp3 player some years ago and via my cellphone more recently.
Can you listen to music on a plane using Spotify or some other streaming service?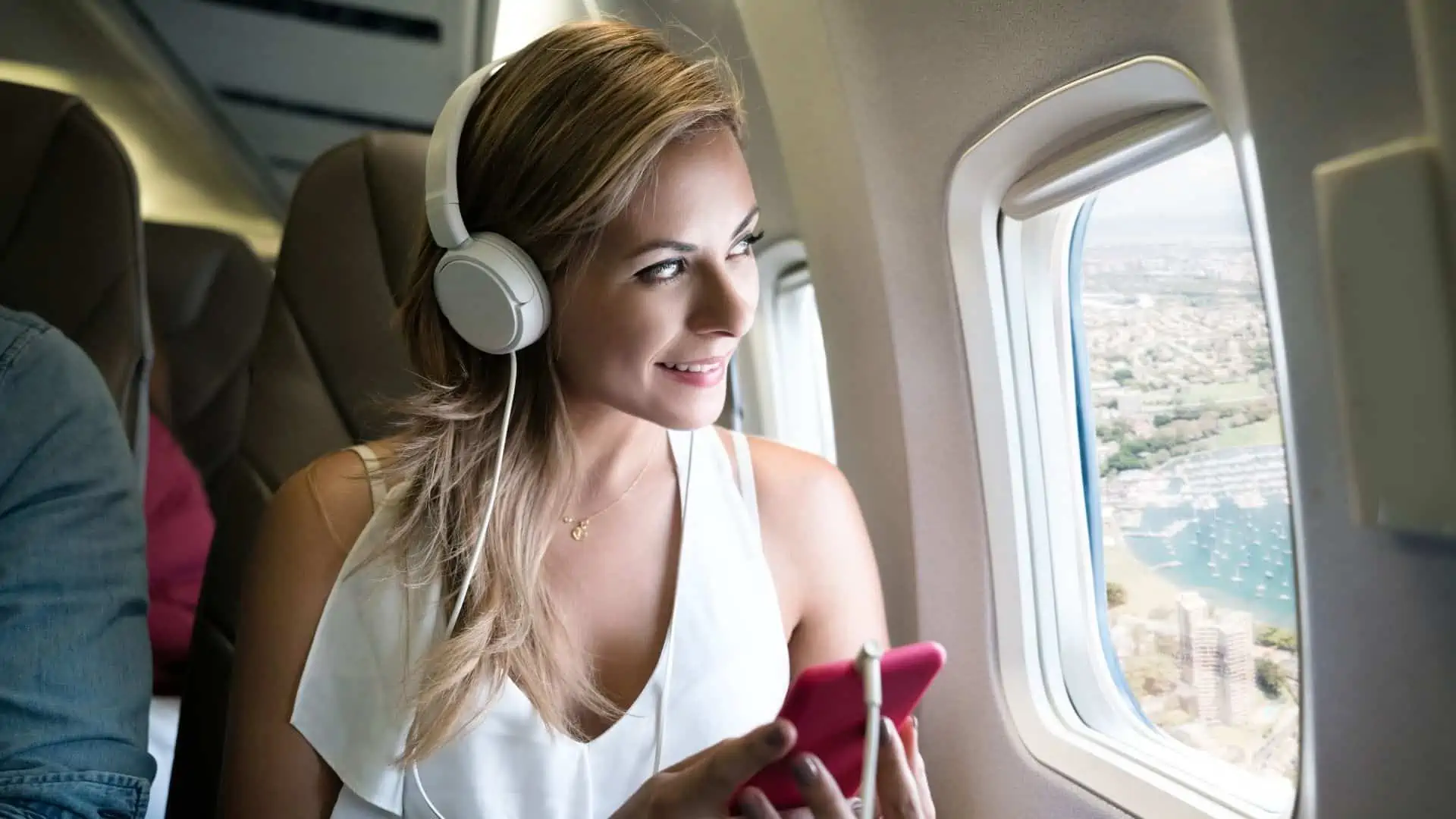 The Quick Answer: Listening to music on a plane is permitted by all air safety agencies including the Federal Aviation Administration. You can listen to downloaded music on a phone or mp3 device or online via Spotify, Apple Music and other music streaming services if your airline has wi-fi.
How to listen to music on a plane
Although wi-fi is becoming more commonly available on many airlines (using ViaSat satellite wi-fi), it is often not free and it can be expensive to make a wi-fi purchase onboard. Without wi-fi internet access you will not be able to stream music and listen to your favorite songs.
However, you can listen to music that you have previously downloaded onto your android and ios devices eg. mobile phones, iPhones or other mobile devices such as an mp3 player or iPod.
How can I listen to music on a plane without wifi?
If you know that your flight will not have internet access you can use, or you are unsure, then downloading music to your mobile phone or another electronic device prior to your flight for offline listening is the safest way to go.
You could use an mp3 or mp4 player or even go very old school and use a portable cd player or even a Sony Walkman cassette tape player (if anyone remembers those).
What music apps work in airplane mode?
All music streaming apps will work in airplane mode if you have access to inflight w-fi that has an internet connection that is fast enough to stream music.
If you do not have internet access then if you haven't previously downloaded the music you have a problem as you can only listen to music offline with those download songs you already have. Spotify Premium will allow you to download and play music in offline mode. (See below).
You can also use Soundcloud, Pandora, Youtube music, Deezer music player, Google Play Music, Apple Music and Amazon Music app if you download music ahead of time. These all require premium memberships. (See 7 Best Offline Music Apps That Need No WiFi 2022)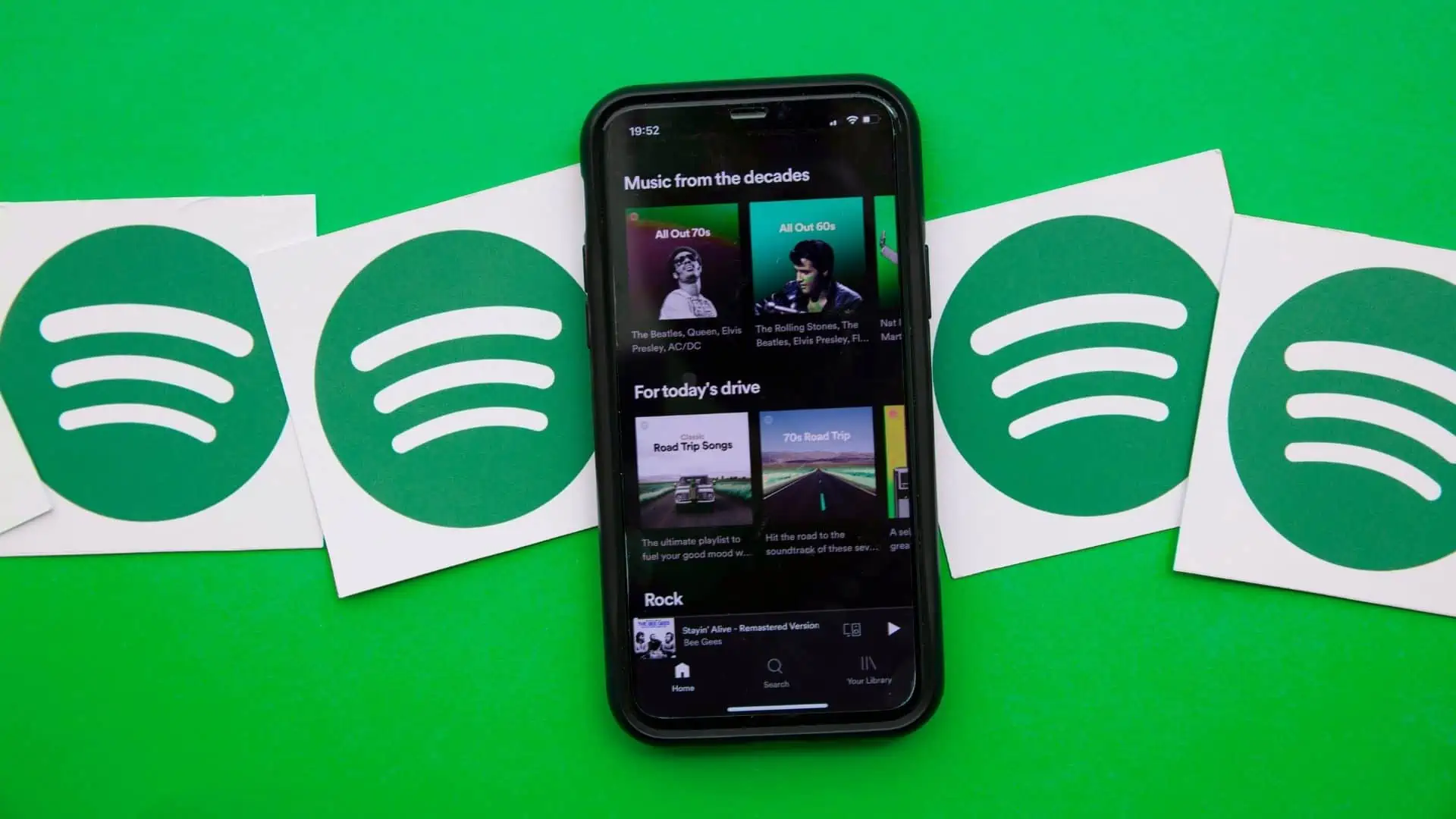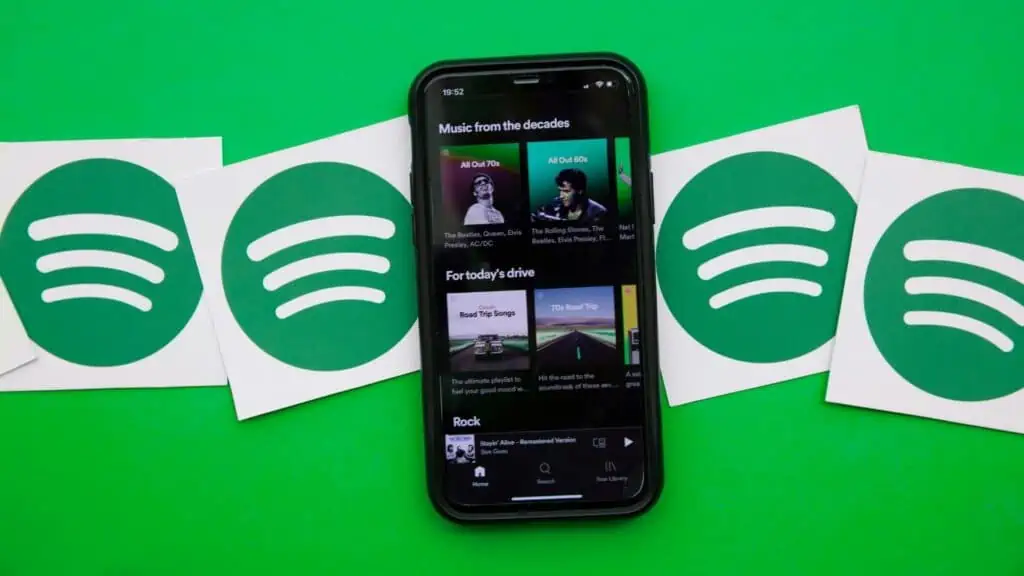 Can you listen to Spotify on a plane?
How to listen to Spotify Premium on a plane offline
To play Spotify music with no internet connection you must download the music ahead of time. You cannot do this with Spotify free
Spotify has instructions on how to download and play Spotify music when you are offline (on a plane for example).
You cannot download individual songs/tracks so you have to select them in the Spotify catalog and then put them in a playlist. Then you can download the playlist to listen to.
Instructions about downloading using the Spotify App here on Spotify Support but I reproduce them here:
If there is wi-fi available on your flight, and the internet connection is fast enough to stream Spotify music then you should have no problem using Spotify free.
You will only be able to download Spotify songs and listen to downloaded songs if you have Spotify Premium in Spotify offline mode. You can download podcasts using Spotify free though.
Can you listen to apple music on a plane?
Does Apple music work on airplane mode? You can listen to Apple Music if you have access to the aircraft's wifi system as normal, provided you switch wifi on (see How to switch wifi on in airplane mode below).
Can I listen to apple music on a plane without wifi? If you do not have access to wifi on a plane then you can only listen to any Apple Music that you have previously downloaded onto your phone.
Can you listen to music on airplane mode?
Whichever music apps you prefer you can listen to music when in airplane mode. This applies to either using online to stream or music you have downloaded.
Many people seem to think that once you hit the airplane mode button on a mobile phone/cellphone then all communication with the outside world is now switched off. While that is true when you first switch to airplane mode that doesn't mean that you cannot switch some of the communication settings back on and for it to still be in that mode.
The main reason we have to switch on airplane mode before take-off is to switch off the cellphone capabilities of the phone which, they say, can interfere with the aircraft's systems.
Airplane mode turns off all communications when in this mode primarily because until recently wi-fi wasn't available on aircraft and so there was no reason for it to be on.
You will also need to enable Bluetooth if you want to listen to music through your Bluetooth headphones or Airpods.
How to switch wifi on in airplane mode
How to listen to music on airplane mode by switching on wifi. How to do this may vary from phone to phone but the principle will be the same on all phones. The following are examples on a Huawei Android phone and an iPhone.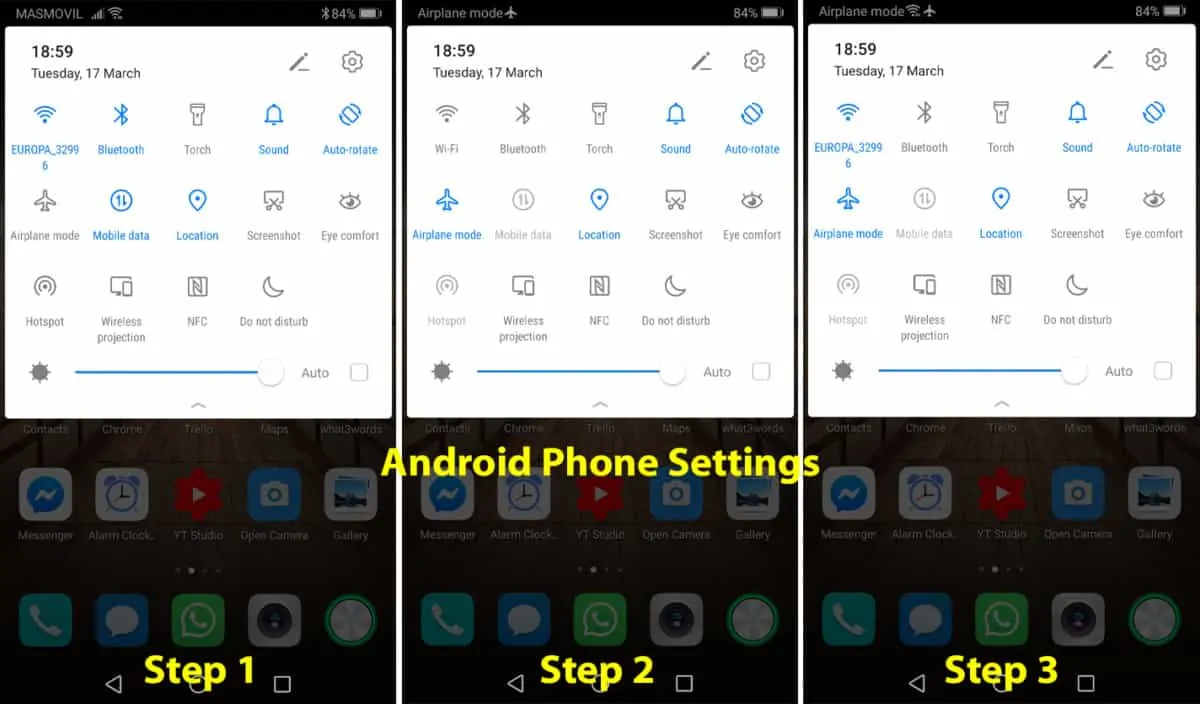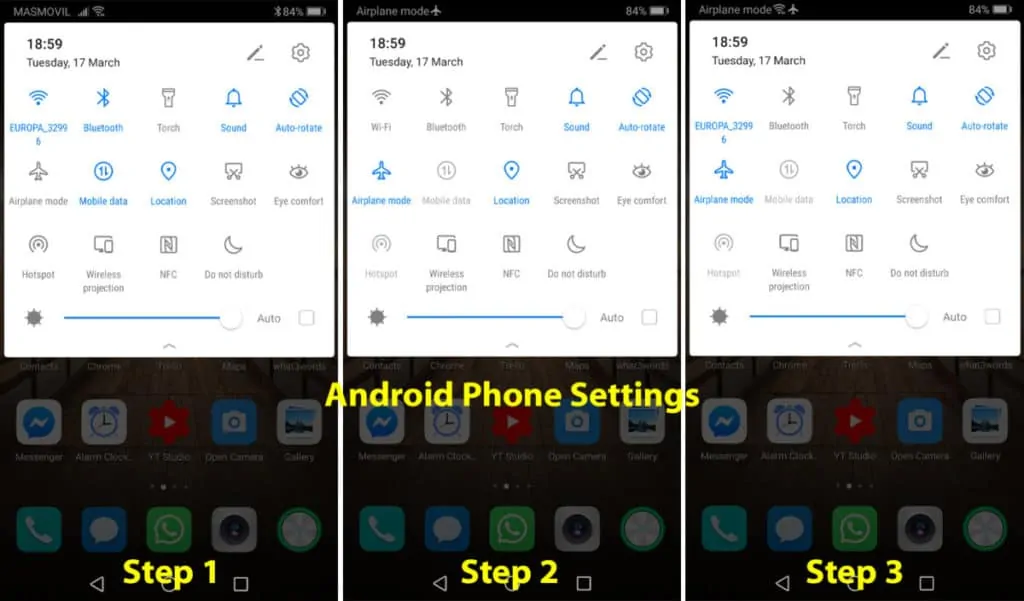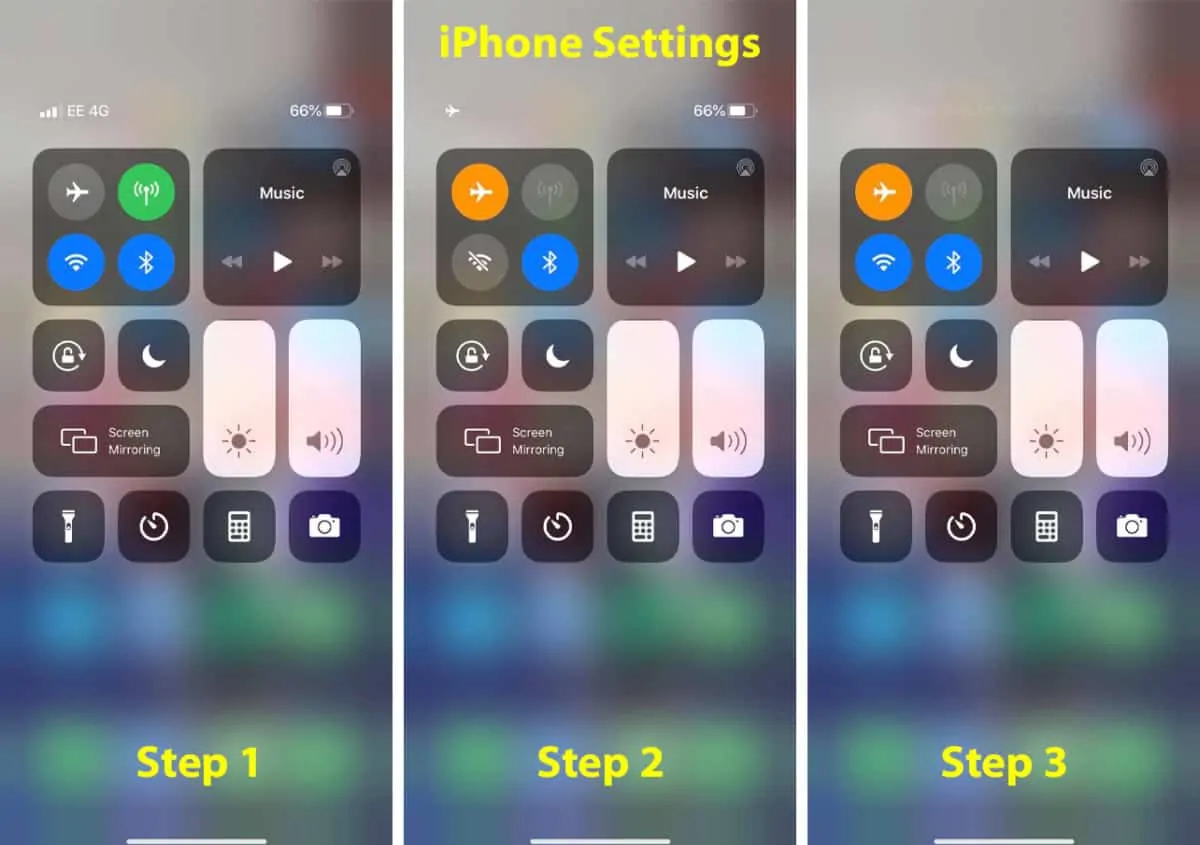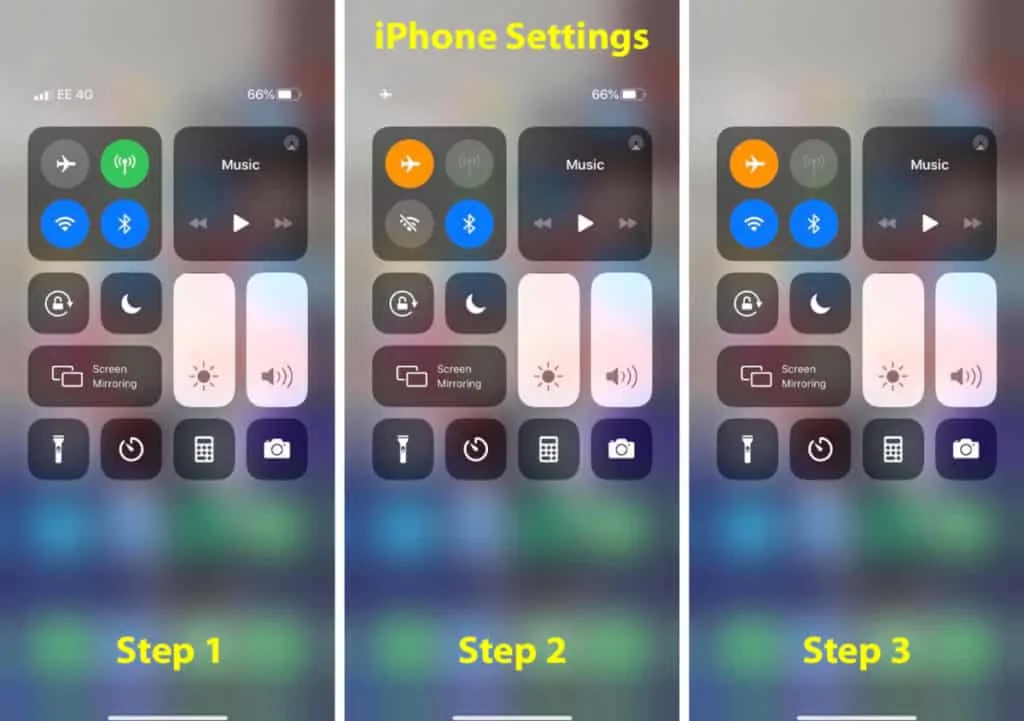 Step 1
This is the normal quick settings menu, which I access by swiping down from the top of my home screen (twice to open it fully) on my Android cellphone. As you can see wifi (the first icon) is on and Airplane Mode is switched off.
Step 2
Turn on Airplane mode by selecting it and you can see that not only have the cellphone functions been switched off but also so has wifi been too.
Step 3
By clicking on the wi-fi icon it is now switched back on but the phone remains in Airplane Mode. The phone can now be used to access the wifi if it is available and access your Whatsapp messages if desired.
How to connect to wifi on a plane
Each airline will have a slightly different way of using their wifi connection to their onboard wi-fi. The following are British Airways' instructions on how to connect and pay for their wi-fi (called .air) as an example:
If you are traveling on a Wi-Fi enabled aircraft your crew will advise you once on board.
Once cruising above 10,000ft enable 'flight mode' on your device. Please decide which device you would like to use for the duration, as you will be unable to switch the connection between devices.
Go to Wi-Fi settings on your device and join the 'BAWi-Fi' network.
Open your web browser and the .air homepage will open automatically. If not, please type shop.ba.com into your web browser to register or log in.
Select and purchase the Wi-Fi package that's right for you. (You can choose different time periods and speed packages)
If the airline you are flying with has wifi then you will find instructions on wifi connectivity on their website, on a card in front of your seat or in their inflight magazine. If not, you can just ask a member of the cabin crew.
Can you listen to the radio on a plane?
You can listen to a radio station on a plane via an app (such as LiveXLive – formerly Slacker Radio) if you have an internet connection on your flight.
In theory, you may be able to pick up FM radio stations but the reception is likely to be very poor and, as you will be traveling so fast, you will probably only be within range of radio stations for a very short while.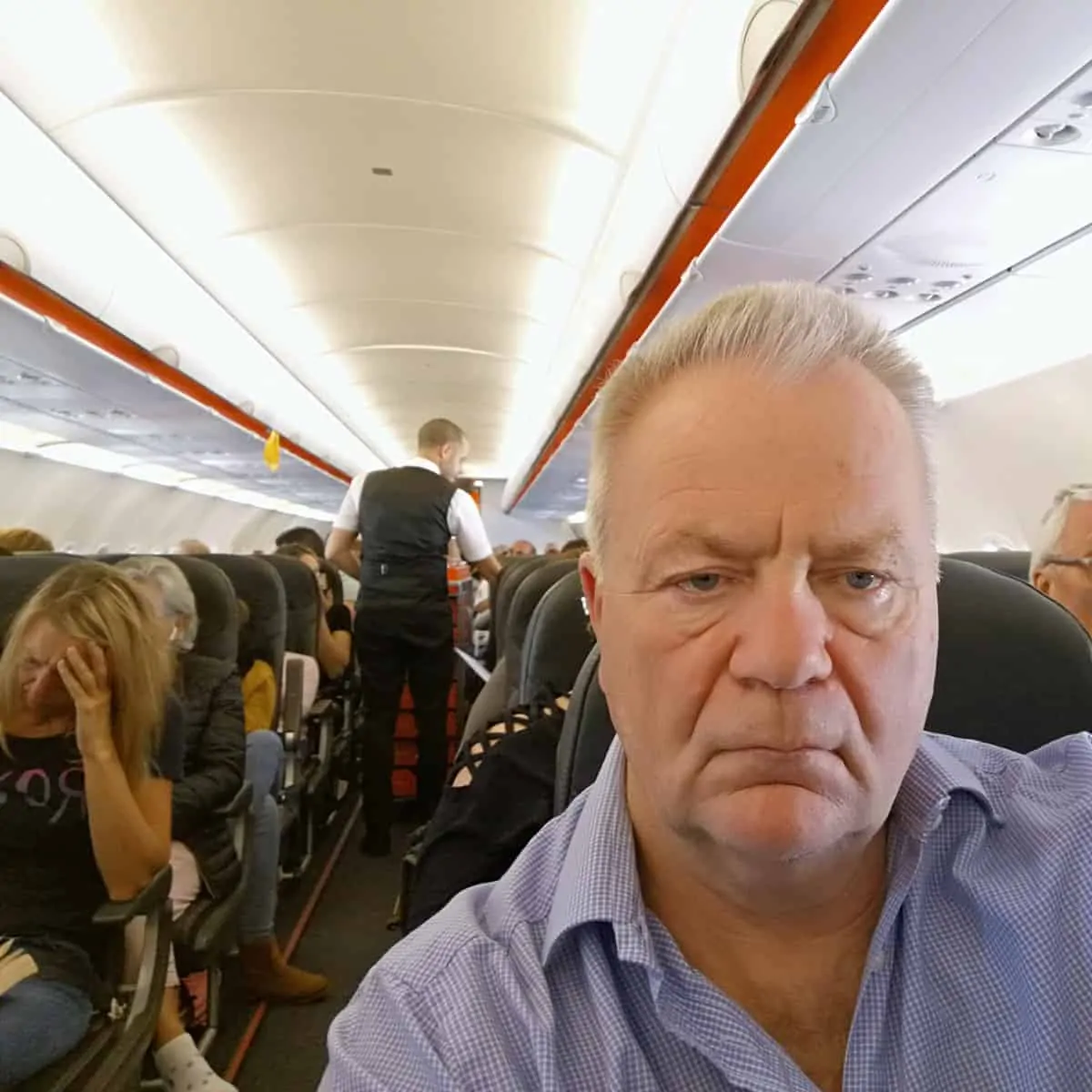 I have been traveling around the world by air since the early 70s and living overseas too. I worked for British Airways for a number of years and I am also a private pilot. About Me