Using your own headphones on a plane, rather than the cheap ones that airlines give out, can make a big difference, particularly on a long flight. But can you use them, particularly if they are Bluetooth headphones rather than wired headphones?
The official policy of most airlines is that you can use Bluetooth headphones and other short-range Bluetooth devices, during the flight but not during taxiing, take-off or landing.
Of course, although you may want to use your headphones for airplane movies and other things on the in-flight entertainment system, you can also use them with your own devices to listen to music, play games and other ways of passing the time.
The difference between wireless and Bluetooth headphones
Both types of headphone do not connect to a device using any form of cord or wire and both use radio waves to transmit the signal. However, wireless systems have a longer range (up to 100 feet) while Bluetooth systems are less powerful so only have a shorter range of up to 30 feet.
How to connect your headphones to the airline entertainment system
Why do many aircraft entertainment systems use two pins?
Although some newer airliners now have a standard headphone socket for plugging in a set of headphones to listen to the in-flight entertainment, many still have the older two pin socket arrangement.
This is probably because in the early days of in-flight entertainment it was actually a piped system, not electronic, with each channel being piped individually through two separate sockets. This two pin mentality seems to have stuck with airlines but may still exist to try and stop passengers from stealing the free headphones they hand out as they are of no use outside an aircraft.
How to use Bluetooth headphones on a plane
You can use Bluetooth headphones on a plane with the aircraft entertainment system however the entertainment system does not deliver the sound via Bluetooth. Therefore you need to plug an adapter into the seat socket that then sends the signal via Bluetooth to your headphones so they can pair with it and pick up the sound signal.
If your Bluetooth headphones do not come with an airline in-flight entertainment adapter then you can buy one separately.
The most popular of the devices currently available is the Taotronics Bluetooth 5.0 transmitter/Receiver. This device can pair two headphones at once so ideal if traveling with a companion and you both want to listen to the same thing.
They come with the standard 3.5mm audio adapter, which is becoming more common on aircraft. I suggest you also buy one of the older style 2 pin aircraft adapter in case that is the type the aircraft you fly on. They only cost a few dollars – here.
How to use wired headphones on a plane
As many aircraft still use the 2 pin system, you will probably need an adapter to use your own headphones on a plane. Many good quality headphones come with an aircraft adapter, so you just need to take that with you.
If you don't have one, or have lost it, then you can buy one cheaply here.
So to use the in-flight entertainment system just plug in the two pin adapter to the socket in your seat and then plug your headphones into that.
Can you use AirPods on a plane?
Yes, you can use Apple Airpods safely in flight to listen to music on your iPhone, iPod or iPad (in airplane mode), play games, watch downloaded movies etc.
The one thing you will no be able to do is use them with the in-flight entertainment system as they only operate on Bluetooth so do not come with a plug adapter.
There is an airline headphone adapter best buy called an Airfly. You can purchase one and it will allow you to listen to the in-flight entertainment system on your Airpods. Airfly does this by being plugged into the in-flight system and then you connect your Airpods to it via Bluetooth. Purchase Airfly on Amazon.
Can I take wired headphones on a plane?
Any form of wired headphone can be taken on board in your hand luggage (or in your checked luggage but they are not much use to you there).
In order to use then with the in-flight entertainment system you may need to have an adapter to plug into the socket by your seat, as many in-flight systems use a two pin socket (which is a relic from the past really). These two pin adapters can be bought incredibly cheaply on Amazon.
Can you use noise cancelling headphones on a plane?
Yes you certainly can use noise cancelling headphones on a plane and I would definitely recommend investing in a pair for a long flight if you don't have any. They are my number one item on my list to take with me when flying on long flights as they can help make the flight less tiring.
There are two types of noise cancelling headphones – active and non active. Active noise cancelling headphones use electronics to actually cancel out certain noises whereas non active are just basically insulated headphones which block out noise (a bit like ear defenders for building work). Personally I would only invest in active types of noise cancelling headphones.
Noise cancelling headphones
They can range in price from as little as $35 to almost $1000 so there is quite a range. You get what you pay for to some extent but only up to a certain level I think.
The ones I currently use are the Paww WaveSound 3 Bluetooth Headphones. I am really impressed with them as they work really well yet cost less than $100. They are designed for air travel with a carry case and an aircraft in flight entertainment adapter.
If you feel like treating yourself then you can check out one of the best – Sony Wireless Noise Cancelling Headphones.
Noise cancelling earbuds
As well as noise cancelling headphones you can also buy noise cancelling earbuds. Personally I don't like having things sticking in my ears. I am not sure why, I just don't.
If you are ok with it then these TaoTronics Active Noise Cancelling Earbuds are very popular on Amazon.
Airplane mode on devices
What is airplane mode?
Basically airplane mode disables a device's cellphone capabilities so that it cannot make or receive phone calls, texts or use the phone's data. When you put a phone in airplane mode it also normally switches off the Bluetooth and wifi capabilities of the device.
With the Bluetooth switched off then it would not be possible to use your Bluetooth headphones or earbuds.
Can you use Bluetooth headphones on airplane mode?
Fortunately, on most Android and Apple iPhones you can go to your settings and switch the Bluetooth back on with the phone still in airplane mode.
The images below are from my Huawei phone: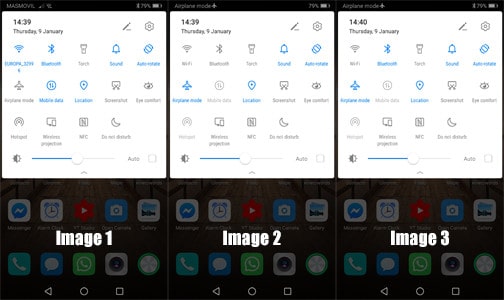 Image 1 – Phone in normal mode with wifi and Bluetooth on
Image 2 – Phone in standard airplane mode (no wifi or Bluetooth)
Image 3 – Phone in airplane mode but with Bluetooth switched back on
Airlines Bluetooth headphone policies
British Airways
"Bluetooth devices, e.g. wireless keyboards or headphones, can be used during the flight but must be switched off for taxi, take-off and landing."
Virgin Atlantic
"Bluetooth headphones can be used with your own devices during the flight, you'll just need to switch them off during take off and landing. And if you are using your headphones, make sure you still listen to the safety briefing before take off."
AlaskaAir
"The following electronic items are considered small portable electronic devices (PEDs). They are permitted onboard our aircraft.
Noise-cancelling/reduction headsets*
Short-range Bluetooth accessories (eg wireless mouse/keyboard) *
* Due to foreign government regulations, small electronic devices and short-range Bluetooth accessories (e.g., wireless mouse/keyboard) are prohibited from use below 10,000 feet, and must be turned off and stowed on descent into and on takeoff from Mexico.
United Airlines (on Twitter)
"Yes, you can use your Bluetooth headphones on our flight."
Sources
The FAA rules regarding the use of Bluetooth devices on aircraft which came into force in 2013 – Portable Electronic Devices