Using your own headphones on a plane, rather than the cheap ones that airlines give out, can make a big difference, particularly on a long flight. But can you use them, particularly if they are Bluetooth headphones rather than wired headphones?
The official policy of most airlines is that you can use Bluetooth headphones and other short-range Bluetooth devices during the flight but not during taxiing, take-off and landing. Many airlines are now introducing Bluetooth connectivity for their inflight entertainment systems so passengers can use their Bluetooth headphones and earbuds wirelessly.
Of course, although you may want to use your headphones for airplane movies and other things on the inflight entertainment systems, you can also use them with your own wireless devices to listen to music, play games and other ways of passing the time.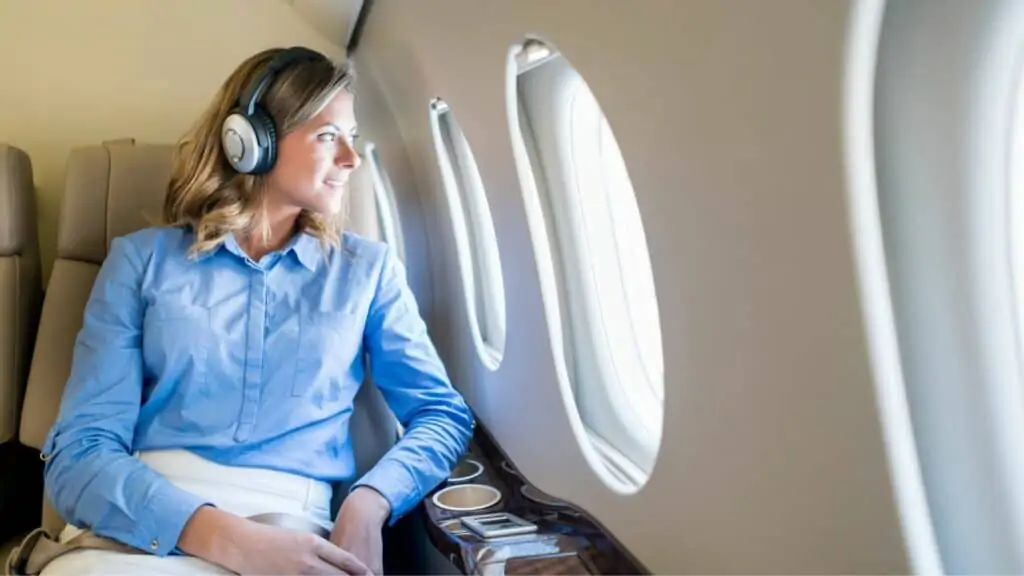 Can you take Bluetooth headphones through airport security?
According to the TSA rules Bluetooth headphones are allowed to be carried through airport security in your carry on baggage.
Bluetooth headphones should be taken out of your carry on bags, along with any other Bluetooth devices, and be placed in a separate bin at the security checkpoint to be screened by x-ray.
This is a passenger asking the TSA via Twitter whether or not Bluetooth headphones are allowed in their carry on bag: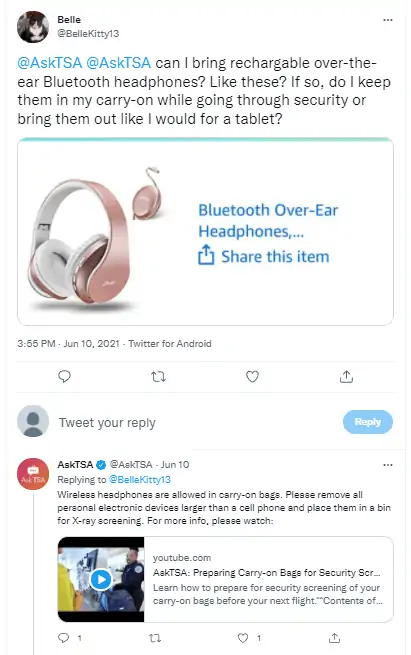 The same regulations apply to noise-canceling headphones too:
Can I use bluetooth headphones on a plane?
Can you use Bluetooth on an airplane is a question that crops up quite frequently.
You can use Bluetooth headphones, Bluetooth earbuds and Bluetooth headsets to connect to your own portable devices with Bluetooth connectivity such as a cell phone, tablet, laptop or iPod.
You can also use them to connect to the inflight entertainment systems on those aircraft where Bluetooth connections are available.
You cannot use them during takeoff and landing though. If you do then one of the flight attendants will soon spot you and ask you to remove them.
Can I take wired headphones on a plane?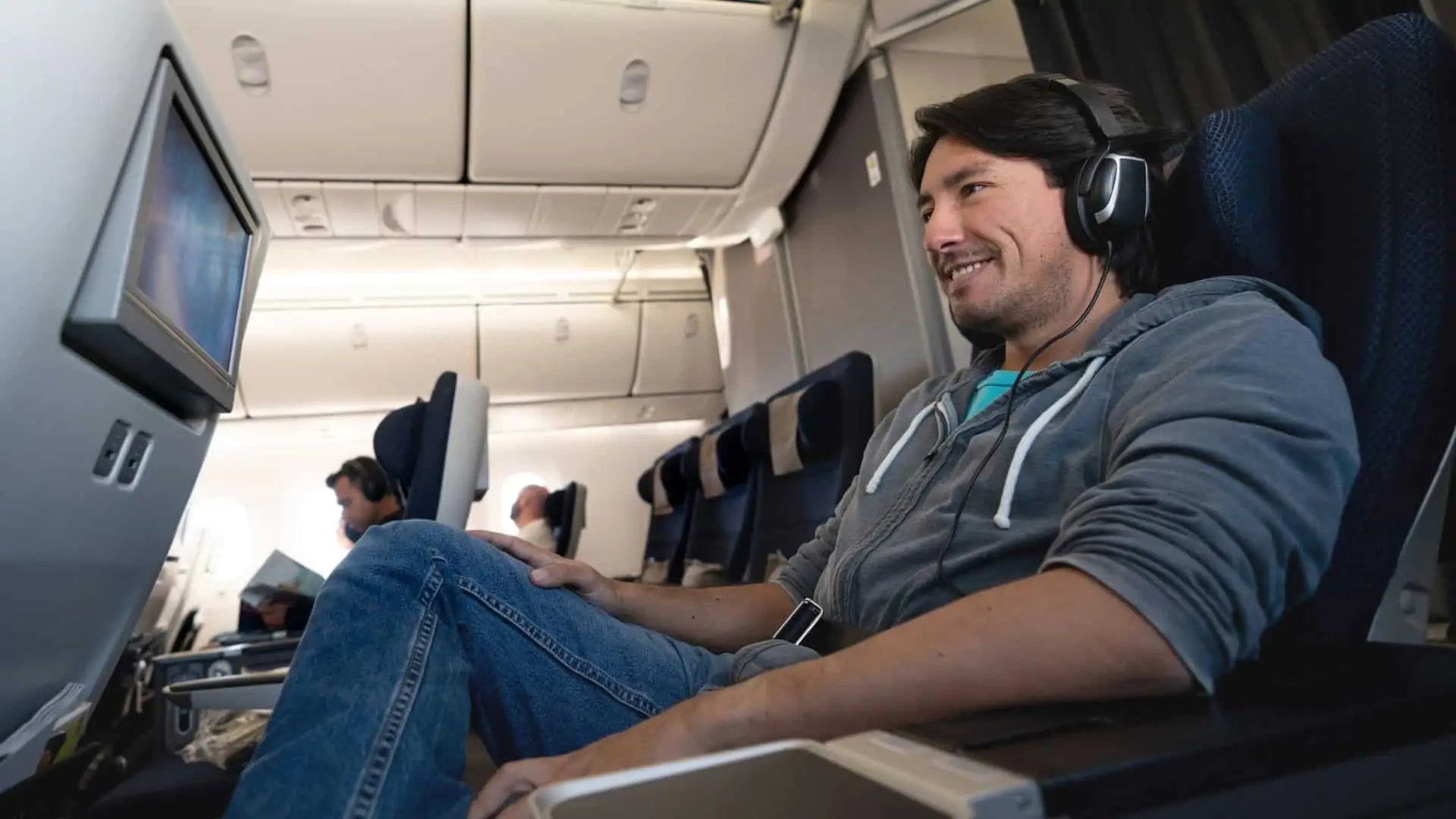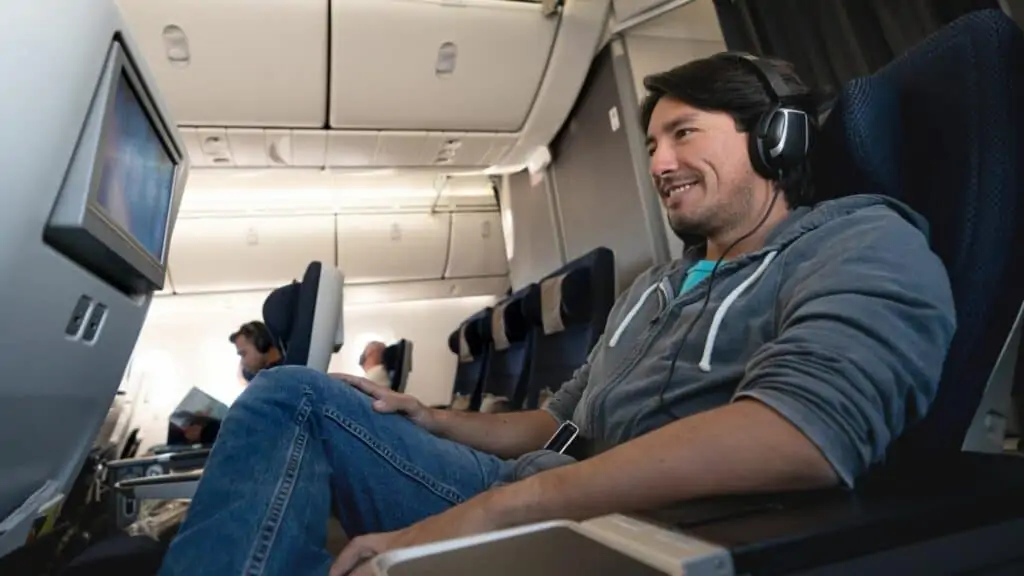 Any form of wired headphones can be taken on board in your hand luggage (or in your checked luggage but they are not of much use to you there).
In order to use them with the in-flight entertainment system, you may need to have an adapter to plug the headset cables into the socket by your seat, as many in-flight systems use a two-pin socket (which is a relic from the past really).
These two pin adapters can be bought incredibly cheaply on Amazon.
Can you use AirPods on a plane?
Yes, you can use Apple Airpods safely in flight to listen to music on your iPhone, iPod or iPad (in airplane mode), play games, watch downloaded movies etc.
The one thing you will not be able to do is to use them with the inflight entertainment system as they only operate on Bluetooth so do not come with a plug adapter. That is if the airline you are flying with has not yet rolled out the Bluetooth link to their inflight entertainment system.
There is an airline headphone adapter best buy called an Airfly. You can purchase one and it will allow you to listen to the in-flight entertainment system on your Airpods. Airfly does this by being plugged into the in-flight system and then you connect your Airpods to it via Bluetooth. Purchase Airfly on Amazon.
Can you use noise-cancelling headphones on a plane?
Yes you certainly can use noise-canceling headphones on a plane and I would definitely recommend investing in a pair for a long flight if you don't have any, particularly if you want to listen to music that is quiet, such as classical music, without having to turn the sound up too high.
They are my number one item on my list to take with me when flying on long flights as they can help make the flight much less tiring.
There are two types of noise-canceling headphones – active and non active. Active noise-canceling headphones use electronics to actually cancel out certain noises whereas non active are just basically insulated headphones that block out noise (a bit like ear defenders for building work). Personally I would only invest in active types of noise-canceling headphones.
Noise cancelling headphones
They can range in price from as little as $35 to almost $1000 so there is quite a range. You get what you pay for to some extent but only up to a certain level I think.
The ones I currently use are the Paww WaveSound 3 Bluetooth Headphones. I am really impressed with them as they work really well yet cost less than $100. They are designed for air travel with a carry case and an aircraft in-flight entertainment adapter.
If you feel like treating yourself then you can check out one of the best – Sony Wireless Noise Cancelling Headphones.
Noise cancelling earbuds
As well as noise-canceling headphones you can also buy noise-canceling earbuds. Personally I don't like having things sticking in my ears. I am not sure why, I just don't.
If you are ok with it then these TOZO Active Noise Cancelling Earbuds are very popular on Amazon.
The difference between wireless headphones and Bluetooth headphones
Both types are actually wireless headphones so do not connect to a device using any form of cord or wire and both use radio waves to transmit the signal.
However, standard wireless headphones have a stronger signal with a longer range (up to 100 feet) while the Bluetooth technology of wireless Bluetooth headphones work at a much shorter range of up to 30 feet.
How to connect bluetooth headphones to the airline entertainment system
Can you connect to the inflight entertainment system using Bluetooth?
Until mid-way through 2021 the only way of connecting your own headphones to the inflight entertainment system (IES) was by physically plugging them into the socket on the IES system.
But from mid-2021 United Airlines started to add Bluetooth capability to connect to the IES wirelessly via Bluetooth to its aircraft. Many other airlines have been adding the facility for Bluetooth connection to their IES too.
So you may be able to connect via Bluetooth on your flight if this has been implemented on the particular aircraft you are flying on. You can ask your airline beforehand to check via their website or help facilities.
How to use Bluetooth headphones on a plane
You can use wireless Bluetooth headphones on an airplane with the aircraft entertainment systems however the entertainment system does not deliver the sound via Bluetooth. Therefore you need to plug an adapter into the seat socket that then sends the signal via Bluetooth to your headphones so they can pair with it and pick up the sound signal.
If your Bluetooth headphones do not come with an airline inflight entertainment adapter then you can buy one separately.
The most popular of the devices currently available is the Airplane Bluetooth 5.0 transmitter/Receiver. This device can pair two headphones at once so ideal if traveling with a companion and you both want to listen to the same thing.
They come with the standard 3.5mm audio adapter, which is becoming more common on aircraft. I suggest you also buy one of the older style 2 pin aircraft adapters in case that is the type the aircraft you fly on. They only cost a few dollars – 2 pin adapters.
How to use wired headphones on a plane
As many aircraft still use the 2 pin system, you will probably need an adapter to use your own headphones on a plane. Many good quality headphones come with an aircraft adapter, so you just need to take that with you.
If you don't have an aircraft entertainment system adapter, or have lost it, then you can buy one cheaply here.
So to use the in-flight entertainment system just plug in the two-pin adapter to the socket in your seat and then plug your headphones into that.
Why do many aircraft entertainment systems use two pins?
Although some newer airliners now have a standard headphone socket for plugging in a set of headphones to listen to the in-flight entertainment, many still have the older two-pin socket arrangement.
This is probably because in the early days of in-flight entertainment it was actually a piped system, not electronic, with each channel being piped individually through two separate sockets.
This two-pin mentality seems to have stuck with airlines but may still exist to try and stop passengers from stealing the free headphones they hand out as they are of no use outside an aircraft.
Does Bluetooth work in airplane mode?
What is airplane mode?
Basically airplane mode (flight mode) disables a device's cellphone capabilities so that it cannot make or receive phone calls, texts or use the phone's cellular data. When you put a phone in airplane mode it also normally switches off the Bluetooth and wifi connection of the device.
With the Bluetooth switched off then it would not be possible to use your Bluetooth headphones or earbuds. But once you have switched mobile phones/cell phones to flight mode you can then switch Bluetooth back on and then connect wireless headphones using it.
The instructions on how to do this on a cell phone are below.
Can you use Bluetooth headphones in airplane mode?
Fortunately, on most Android and Apple iPhones you can go to your settings and switch the Bluetooth back on with the phone still in airplane mode.
The images below are from my Huawei phone: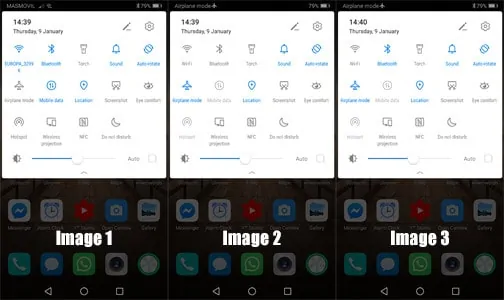 Image 1 – Phone in normal mode with wifi and Bluetooth on
Image 2 – Phone in standard airplane mode (no wifi or Bluetooth)
Image 3 – Phone in airplane mode but with Bluetooth switched back on
Airlines Bluetooth headphones policies
British Airways Bluetooth headphones
British Airways state "Bluetooth devices, e.g. Bluetooth wireless keyboards or Bluetooth headphones, can be used during the flight but must be switched off for taxi, take off and landing." The same applies to using AirPods on a British Airways flight.
Virgin Atlantic Bluetooth headphones
"Bluetooth headphones can be used with your own devices during the flight, you'll just need to switch them off during take off and landing. And if you are using your headphones, make sure you still listen to the safety briefing before taking off." The same applies to using AirPods on a Virgin Atlantic flight.
Alaska Airlines Bluetooth headphones
"The following electronic items are considered small portable electronic devices (PEDs). They are permitted on board our aircraft.
Noise-cancelling/reduction Bluetooth headphones*
Short-range Bluetooth devices (eg wireless mouse/keyboard) *
* Due to foreign government regulations, small electronic devices and short-range Bluetooth accessories (e.g., wireless mouse/keyboard) are prohibited from use below 10,000 feet, and must be turned off and stowed on descent into and on takeoff from Mexico.
United Airlines Bluetooth headphones
"Yes, you can use your Bluetooth headphones on our flight." – quote from United Airlines on Twitter
American Airlines Bluetooth headphones
You can use Bluetooth headphones and airpods on an American Airlines flight. This is a passenger asking can I use Bluetooth headphones on American Airlines on Twitter and confirmation that you can.
Southwest Airlines Bluetooth headphones
"Our inflight entertainment options are totally free to you, so you don't need to purchase WiFi to access them. Bring your favorite viewing device and headphones to take advantage of all the free entertainment options–the hardest part will be deciding what to watch!"
Air Canada Bluetooth headphones
You can use them but note below that strangely they say that Bluetooth headphones can only be used on flights that have wifi – which is rather unusual.
"Air Canada is happy to announce that, beginning on April 1, 2018, passengers on our flights will be able to use their personal headphones (of any kind) on our inflight entertainment system or their personal mobile devices. This service is available from gate to gate at any time, except, of course, while the safety video is being played. Please note that wireless or Bluetooth headphones may be used only on flights with WiFi, because of their technology."
Can you take Bluetooth speakers on a plane?
Many people ask the TSA if Bluetooth speakers and other Bluetooth devices are permitted through the airport security checkpoint and the good news is that they are. They must be removed from your carry on bag and placed in a separate tray at the security checkpoint.
Obviously, you would not be allowed to actually use the speakers during the flight as that would be very annoying and anti-social to other passengers. But every week cabin crew members have to ask inconsiderate passengers to switch theirs off. Probably the same people who drive their cars with the windows down and their music playing full blast through towns.
Why can you not use headphones during takeoff and landing?
The reason you cannot use Bluetooth headphones or any other type of headphones or earbuds during takeoff and landing is for reasons of safety.
If you were wearing wireless Bluetooth headphones with particularly loud music being played then there is a good chance that you may not hear an important safety notice given by the flight crew or a flight attendant.
Can you charge Bluetooth headphones during a flight?
Many headphones have quite a long battery life and may well last for your entire flight, even on a very long flight, but others have a much shorter lifespan before they need recharging.
Increasingly on newer aircraft, you will find USB charging points at each seat, sometimes only in first and business class but even in coach too sometimes. American Airlines is at the forefront of this.
Sources
The Federal Aviation Administration rules regarding the use of Bluetooth devices on aircraft which came into force in 2013 – Portable Electronic Devices
The Civil Aviation Administration has a post that details most of the policies regarding using electronic devices on a flight. Flying with gadgets – The dos and don'ts of using mobile phones and electronic devices on board aircraft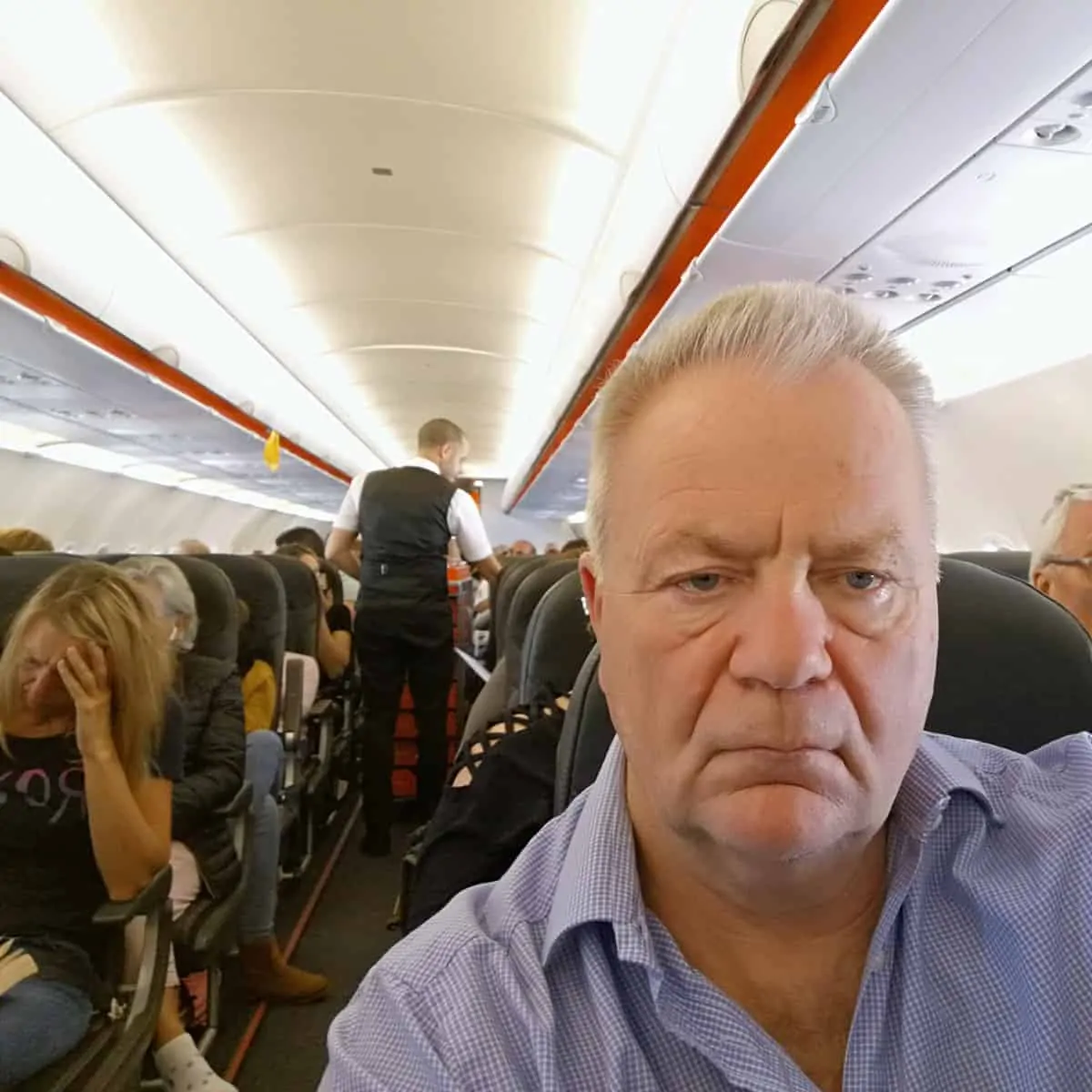 I have been traveling around the world by air since the early 70s and living overseas too. I worked for British Airways for a number of years and I am also a private pilot. About Me