There are a lot of things to consider when choosing luggage for international travel. It needs to withstand handling, has good capacity, be easy to maneuver and of course, be lightweight.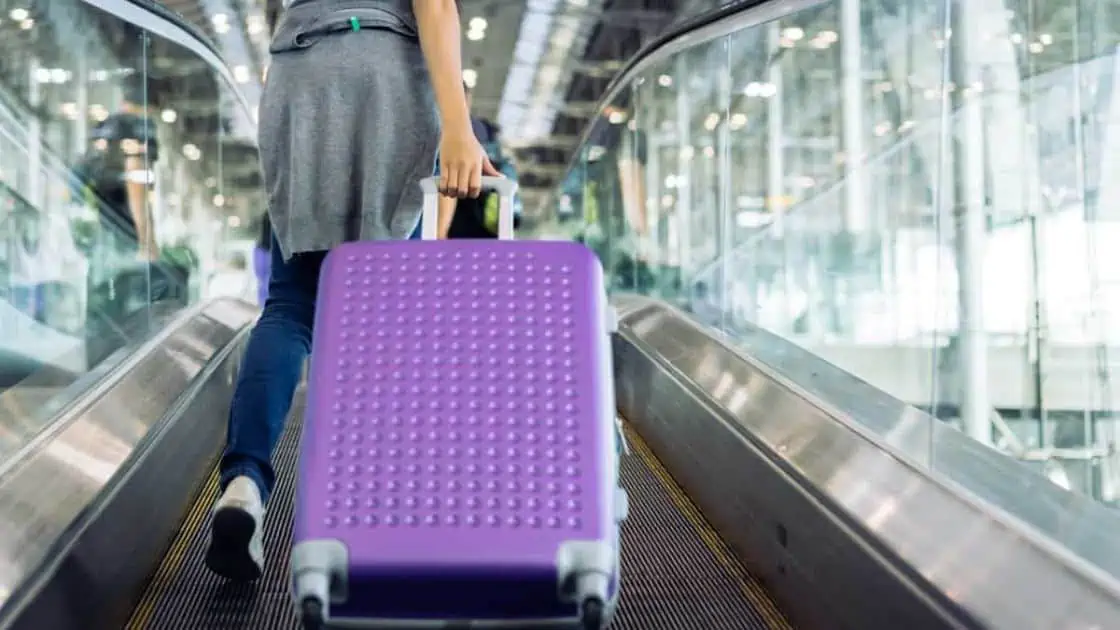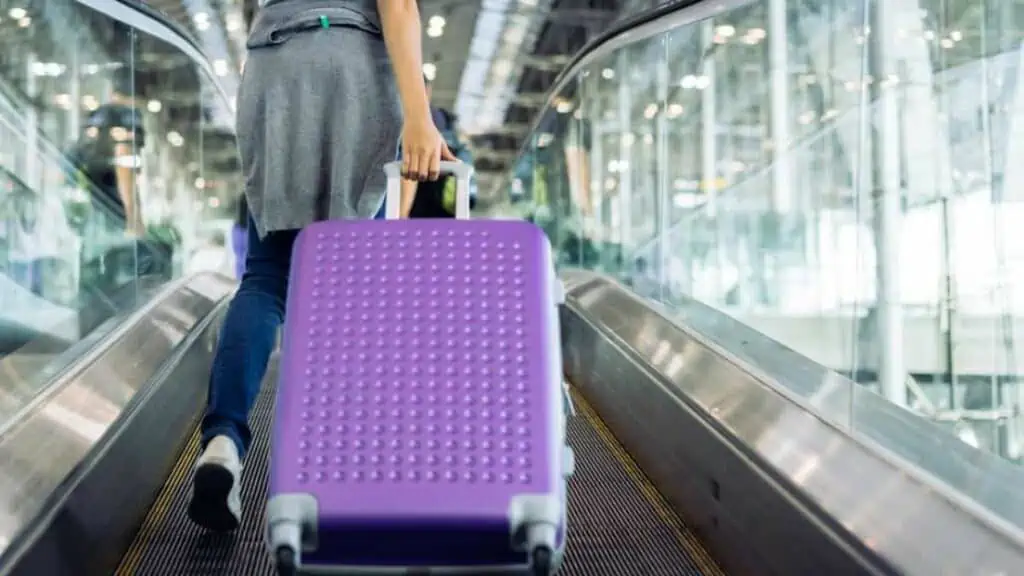 You will also want luggage that is practical, stylish, and with useful features. So how do you choose the best lightweight luggage for international travel?
Well, that's why we're here. To help you sort through the range of options available to you, we've taken a look at five of the best lightweight pieces of luggage.
We examine the features that make them stand out and what is important for international travelers.
We'll break down the things you should be looking for in lightweight luggage such as material, capacity, durability, weight, maneuverability, and style.
Travelpro is known for its excellent lightweight luggage, originally designed for professional pilots and flight attendants. In fact, the company designed the first upright rolling luggage.
The Maxlite 5 weighs just 5.4 pounds and is made from high-quality nylon. The expandable zipper has a high tensile strength and allows for an extra two inches of luggage space.
A Duraguard coating protects the case from water and stains keeping it looking good and protecting your belongings.
Spinner wheels on the base of the luggage allow greater maneuverability when you are navigating busy airports.
With a capacity of 46 liters, you will be able to fit everything you need into the Travelpro Maxlite 5.
Several internal zipped compartments and a full-sized internal lid pocket mean there is plenty of space and the case has dimensions of 21 inches x 14 inches x 9 inches.
Travelpro offers a limited lifetime warranty on the Maxlite 5. You can choose from more than ten different colors and there is the option to have matching luggage in this range.
Pros
Weighs only 5.4 pounds
Made from high-quality materials
Lots of zippered sections
Durable spinner wheels for all surfaces
Water and stain resistant
Cons
Reviewers report a tendency for this case to tip over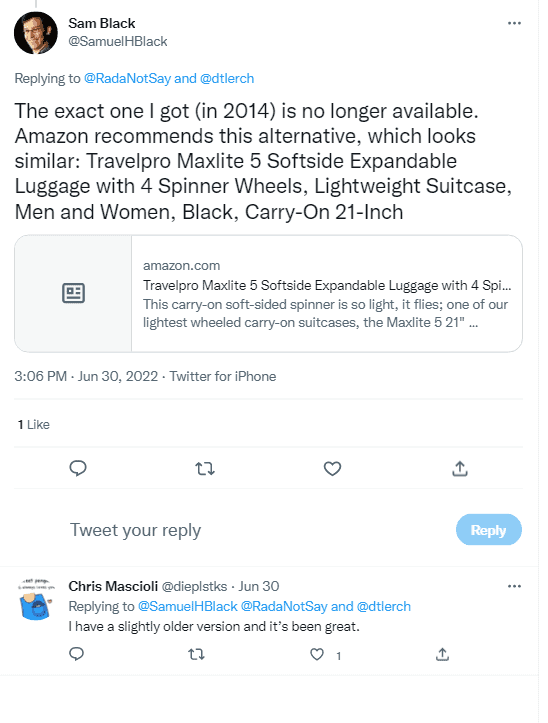 The Briggs & Riley Torq is made from the strongest thermoplastic in the world. So you don't have to worry about the contents of your case getting damaged.
With three layers of top-quality polycarbonate, not much will get through this tough exterior.
But it is also a very lightweight case, weighing just 6.9 pounds. Dimensions are 22 inches x 14 inches x 9 inches.
This is the perfect case for international business trips as it has an integral padded sleeve for storing your laptop and another padded slip pocket for a tablet.
The front compartment has a patented hinged opening for ease of access as well as an RFID protector for your wallet and passport.
There are also lots of storage compartments including a folder for your suit.
All of the zippers are YKK which are known to be among the strongest in the world, so you can rest assured that there will be no broken or difficult-to-operate zippers.
The base of the Briggs & Riley Torq is wide and so resistant to tipping over. It has spinner wheels for excellent maneuverability and ease of movement.
You also have the convenience of an external USB port within this case.
If you do have any issues with damage to the case Briggs & Riley has a limited lifetime warranty that covers airline damage and luggage defects.
Pros
Strong polycarbonate shell
Top quality zippers
Lots of padded compartments
External USB port
Cons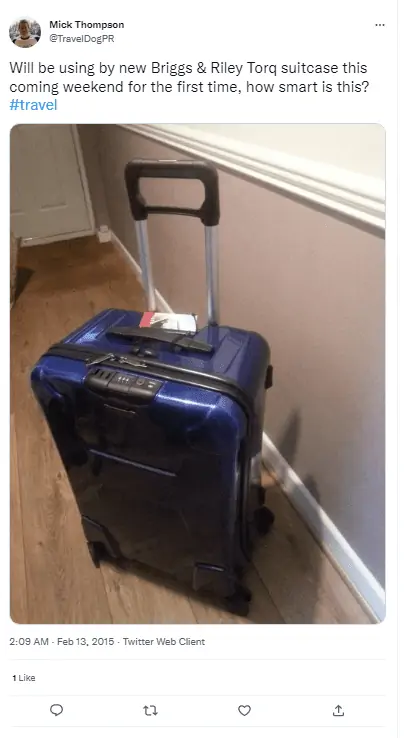 This case prides itself on being the lightest double-wheeled carry-on. It weighs just 3.9 pounds, so it will be really easy to put in the overhead bins on your flight.
Don't be fooled by that lightweight fact, this is a serious piece of luggage. It has an impressive 31 liters of capacity, so you can carry more without weighing yourself down.
July made their SilentMove series of wheels to facilitate ease of movement along with reducing the chances of the case tipping over.
The result is an extremely maneuverable case that is strong but light.
The extendable handle is a twin bar with three stop positions, so you can find the most comfortable for you.
Externally the shell of the case is made from strong polycarbonate while the zippers are high quality and robust YKK. Inside the lining is made from water and stainproof nylon.
The July Carry-On Light comes with a lifetime warranty as well as a 100-day returns policy for any un-personalized pieces of luggage.
It is a stylish and robust case and the lightest in its class.
Pros
Weighs just 3.9 pounds making it the lightest carry-on
Double spinner wheels for stability
Made from strong polycarbonate
Smooth operation on any surface
Cons
Preset heights for handle
Samsonite is world-renowned for its luggage, particularly how hard-wearing and durable it is. The Advance Eco is no exception.
Weighing 7.2 pounds you will find this a lightweight and easy to maneuvering piece of luggage.
The dimensions of 22 inches x 14 inches x 9 inches are perfect for negotiating narrow aircraft aisles.
For the environmentally conscious traveler, the material that the case is made from is 100% RPET bottles, even the interior lining.
The frame is a unique wraparound style that is both lightweight and stylish and the spinner wheels allow 360 degrees of effortless movement.
There is a USB port for charging your devices on the go, although the battery is not included in the price.
An adjustable handle on the Advance Eco allows you to increase the height in one-inch increments for ultimate comfort and compatibility.
Inside there is plenty of room for all your travel needs with many storage compartments.
A Smart-Top pocket allows you to access toiletries, your phone, or your wallet with ease and without unpacking the entire case.
Pros
Lightweight and durable case, perfect as carry-on luggage
Includes 100% recycled materials
Top and side handles for lifting
USB port for charging your phone
Cons
For the budget-conscious traveler, the Amazon Basics Softside carry-on case is ideal. It has the capacity to hold 31 liters of your travel essentials and still be maneuverable.
The soft shell means that you can squeeze this case into places no hard shell piece of luggage will ever go.
The dimensions of 21 inches x 14 inches x 9 inches mean you can get this case into overhead bins with ease. And it weighs only 5.5 pounds.
There is an interior organizer with three zippered compartments for packing smaller items confidently. And if there's not enough space the case expands by up to 25%.
The inside has a fabric lining and the zippers are strong and solid.
With spinner wheels, you will have 360-degree movement allowing you to navigate your way safely and quickly through busy airport terminals. The wheels have a soft feel and are multi-directional.
The telescopic handle is extendable to make transporting your luggage as comfortable as possible. However, the handle will only go to the preset heights.
This carry-on case is part of a range by Amazon, so you have the option of a set of matching luggage.
Pros
Softshell for tight spaces
Lightweight case
Budget-friendly option
Cons
Handle only extends to preset heights
Buyer's Guide
There are many things to consider when choosing lightweight luggage for international travel. Let's take a look at a few of them.
Material
The material that your luggage is made from affects most aspects of its use.
A hard shell case will potentially be more protective of the contents, but they can be less forgiving when trying to squeeze into tight spaces.
On the other hand, a softer material has more give and allows you some wiggle room but may not protect your belongings as effectively.
Luggage that is put in the hold of an aircraft can be subject to a lot of impacts so a strong material such as polycarbonate is a good choice.
With soft shell cases however there is less likelihood of penetrating damage caused by hard impact.
Carry-on luggage benefits from being more supple to allow fitting into tight overhead bins and as you take this luggage with you there is less chance of it being damaged.
Water and stain-resistant materials such as nylon are good options to preserve the look and condition of your luggage.
Choose a material that will best suit the use to which your luggage will be put.
Capacity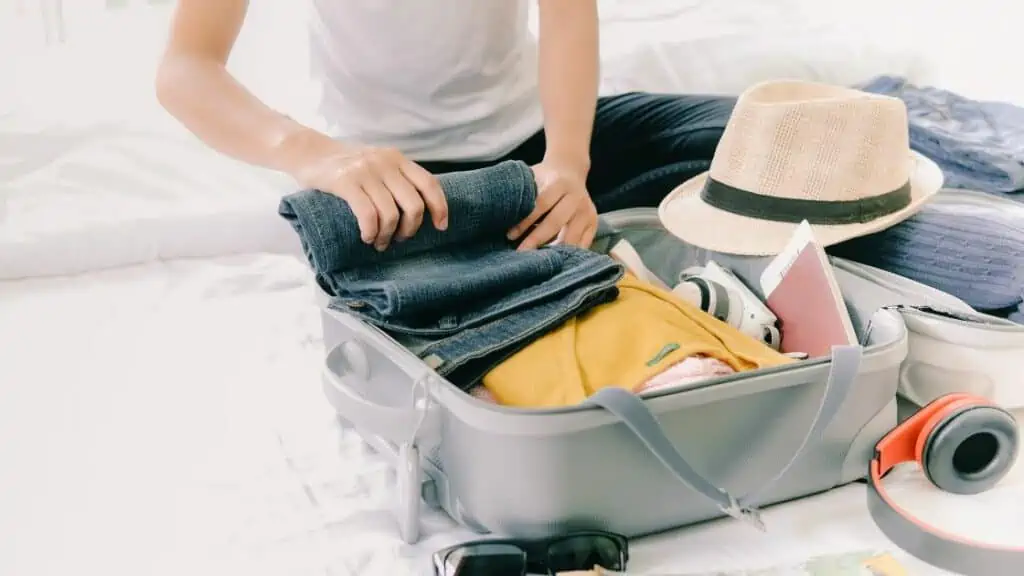 The capacity of your luggage is normally noted in liters and this refers to the amount of internal space.
Good capacity along with lightweight materials means you can get a lot of packing into your case without exceeding weight limits on luggage.
For international travel, chances are you will need to take a lot of personal belongings with you, so capacity is a top priority.
Many cases offer an extra room with optional expansion and while soft side cases allow you to potentially pack more you need to ensure you are not exceeding permitted carry-on dimensions by overstuffing your case.
The size of carry-on and checked luggage varies depending on individual airlines, so this is another consideration when buying cases or bags.
Make sure you know the height, width, and depth of all your luggage, so you don't end up paying for oversized luggage.
Most pieces of luggage come with multiple pockets, storage compartments, and sleeves for specific items such as laptops, tablets, or phones.
Durability
International travel can be grueling for you and for your luggage, so you need to think about the durability of your suitcase.
Most quality luggage these days are made from tough, resilient materials. However, this needs to be balanced with the weight of your suitcase.
You want your luggage to last, but you also need to be able to handle it without straining anything. A good compromise between durability and weight is therefore important.
There are many parts of your luggage that need to be tough enough to withstand long-distance travel, being tossed about in an airplane's hold and wheeled over all kinds of surfaces.
Apart from the shell of your luggage, either soft or hard, you also need to consider the telescopic handle, the wheels, and the zippers.
All of these elements of your case will be used frequently and under various conditions so think about the quality of these parts.
Having confidence in the durability of your luggage will give you peace of mind as you travel.
Weight
The weight of your luggage is not just a question of how easy it is to carry but also how much you can pack.
If there is a weight restriction on your checked luggage having a lighter suitcase gives you more allowance for contents.
Although for carry-on luggage lower weight makes it much easier to carry and lift over your head to put in the overhead storage compartments.
There is generally no weight limit for carry-on luggage, and it is more important to get the correct dimensions for these cases.
Weight should always be considered in conjunction with durability and the material that the luggage is made from.
Lightweight suitcases that are not made from high-quality materials and with robust construction will not last, and you may end up losing some of your contents.
The size of different pieces of luggage will affect their weight so try and compare weights across similar-sized suitcases to find what is suitable for your specific needs.
Maneuverability
Being able to handle and maneuver your luggage safely is very important, for yourself and for others around you.
Choose a style and make of suitcase that is suitable for your travels as well as for your ability to manage it.
Many cases have spinner wheels which make moving your luggage very easy.
While these make a suitcase more comfortable to move some can become unstable if heavy items are packed on top.
The telescopic handle is fundamental to the maneuverability of a rolling suitcase. It should be at the right level for your height so that you don't have to bend down to use it.
Some handles have preset positions only while others can be set at whatever level you desire.
The wheels on your luggage should also be able to cope with different surfaces, carpets, tiles, or concrete without difficulty.
There are various options such as double spinner wheels, double 'tire' construction or non-spinner wheeled rolling luggage.
You should choose the kind of luggage that will be the easiest for you to maneuver without too much difficulty.
Style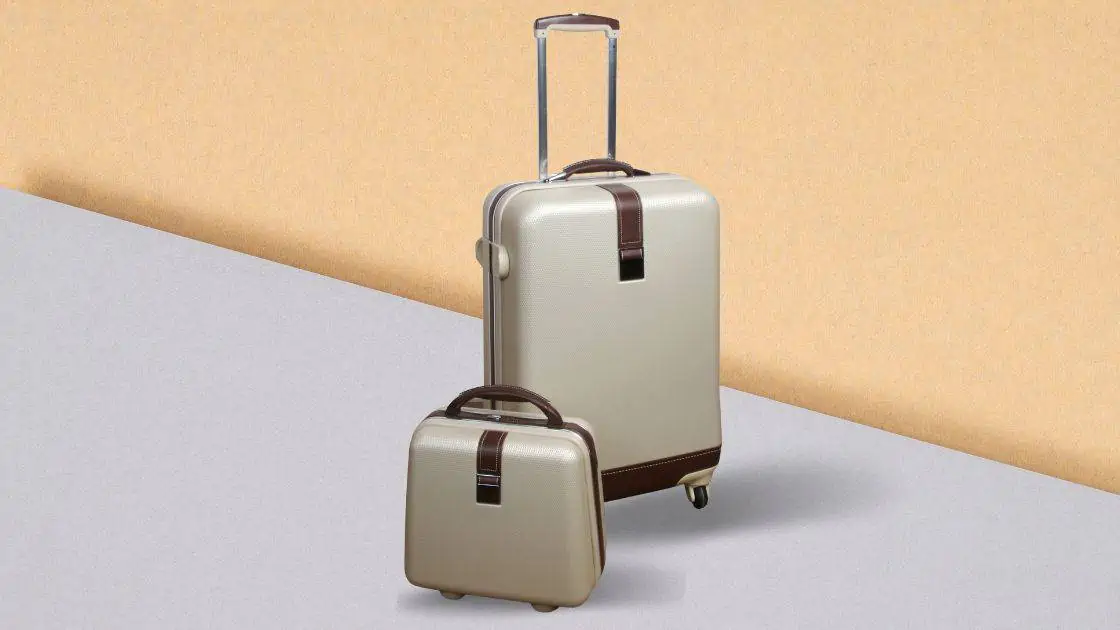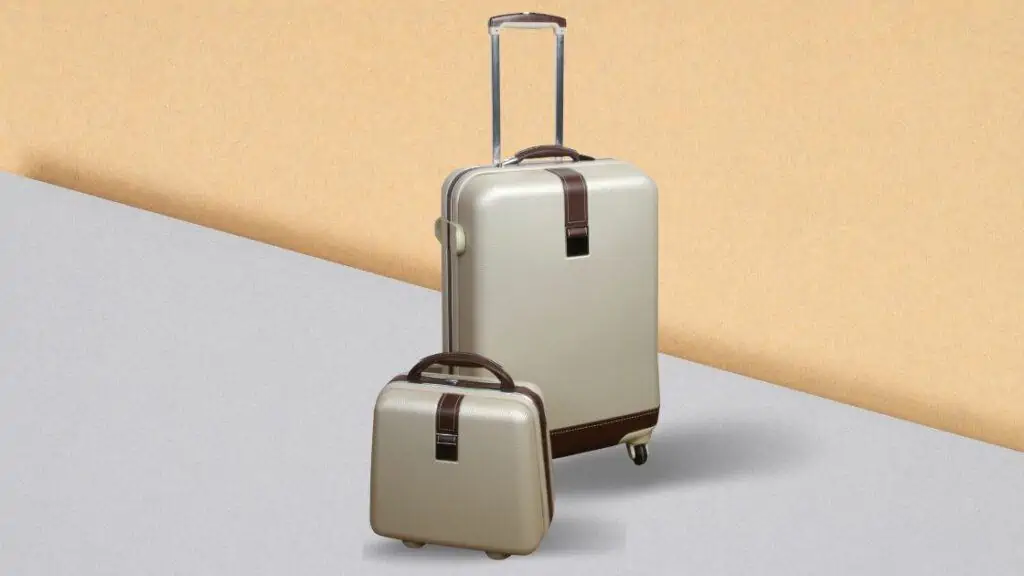 Of course, the more practical side of luggage is very important, but we all consider the style of our luggage too, even down to matching different-sized suitcases.
Many cases come in a variety of colors from dark to light as well as in patterns.
There are also various types of luggage such as wheeled duffels, rolled luggage, spinner wheel luggage, wheeled backpacks, and carry-on luggage.
While making sure that you choose the right capacity, durability, and weight for your luggage also consider the style.
Ask yourself if it is the right type of luggage for your trip, if is it a good color if it's going in the hold and likely to get knocked about, and if it is the right size.
Frequently Asked Questions
Who Makes The Most Lightweight Luggage?
The lightest luggage in our review is made by July whose carry-on weighs just 3.9 pounds.
The Travelpro Maxlite 5 is also very lightweight at only 5.4 pounds. Although not featured in our review Osprey make a wheeled duffel that holds 40 liters but is only 4.9 pounds.
What Is The Lightest Suitcase In The World?
For the lightest suitcase in the world, you don't need to look any further than Samsonite.
Their Curv collection features their iconic design but new lighter materials. A Curv carry-on weighs just 3.7 pounds.
Is Hard Or Soft Luggage Better?
There are pros and cons to having either hard or soft luggage. The question is what are you going to be packing and where is your luggage stored during travel?
Hard-side luggage gives better protection to fragile contents as long as they are well cushioned inside.
Soft luggage is easier to fit into tight storage spaces as it has more give than hard luggage but doesn't offer the same level of protection.
Does Hard Luggage Break More Easily?
Some hard side suitcases can crack if they are subjected to rough treatment, particularly impact from being thrown around. Higher quality hard luggage shouldn't crack easily.
Which Type Of Luggage Is The Most Durable?
Polycarbonate is one of the strongest and most durable materials that luggage can be made from.
For more frequent travelers aluminum may be the best choice as it is strong and durable but also lightweight.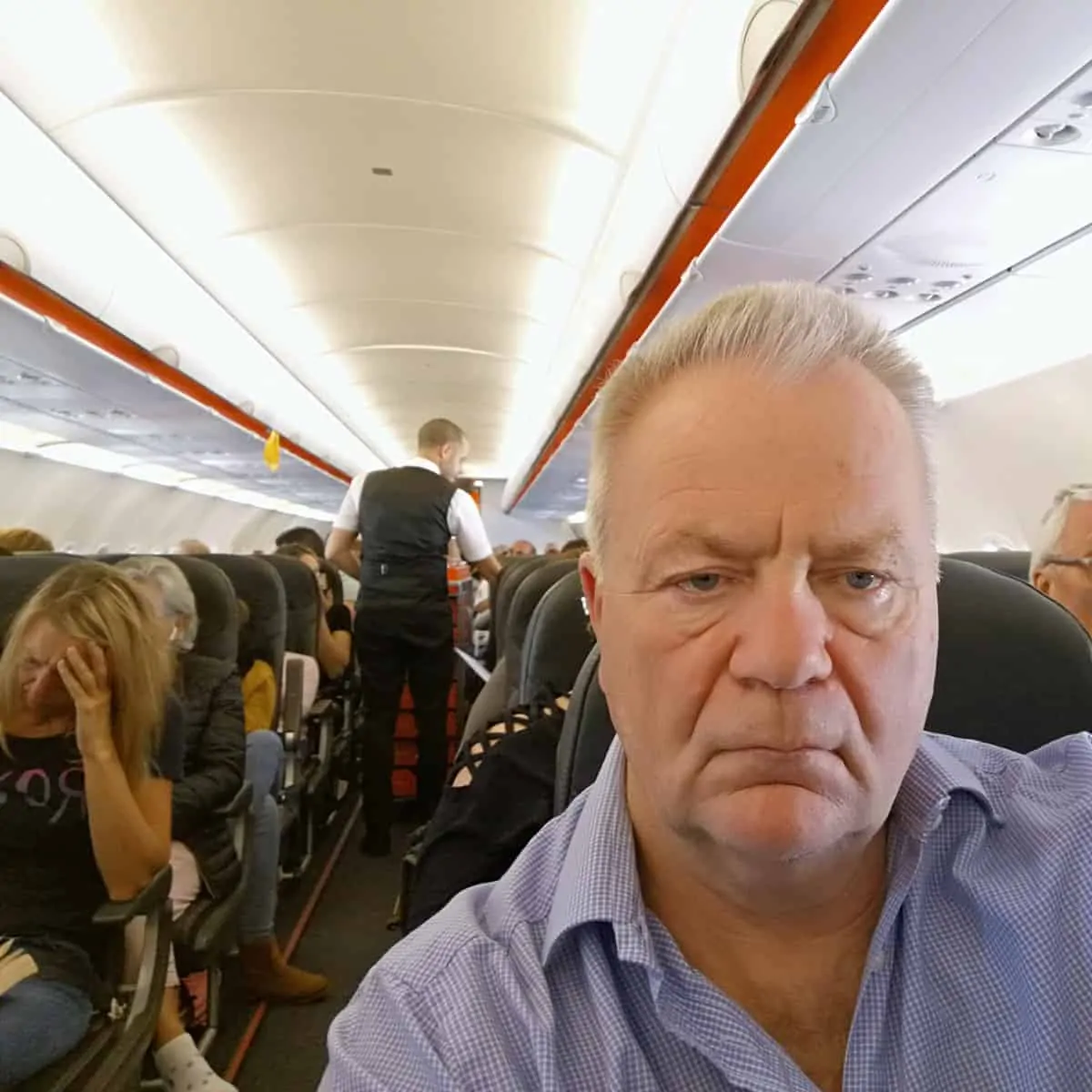 I have been traveling around the world by air since the early 70s and living overseas too. I worked for British Airways for a number of years and I am also a private pilot. About Me