Every year airlines worldwide seem to make the restrictions regarding what size luggage you can take on a plane with you more and more complicated.
In most cases, this is to try and extract yet more money from you as they make taking checked bags even more expensive.
But this has the effect of making people try to do without checking in a suitcase and to take as much carry on luggage as they possibly can into the cabin with them, in the form of personal items and carry on bags such as backpacks.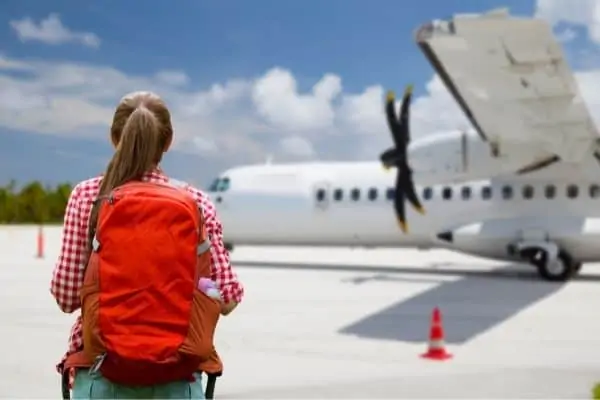 Can you bring a backpack on a plane?
As a general rule, whether backpacks are counted as a personal item, a carry on item or must go in the hold as a checked item, depends on their size (and the dimensions vary slightly by airline):
If no larger than 18x14x8 it can be a personal item
If no larger than 22x14x9 it can be a carry on item
If larger than 22x14x9 it will normally have to go in the baggage hold as a checked bag
Although many airlines allow a separate personal item, some airlines only allow one bag per passenger in the cabin. I will try to explain the rules below so you can decide if carrying a backpack in the cabin will be allowed on your airline.
Is a backpack a personal item?
Does a backpack count as a personal item? The fact that it is a backpack makes no difference. The small personal item restrictions do not only apply to backpacks but also to other smaller items you may wish to take in addition to your carry on such as:
purse
laptop bag
briefcase
duffel bag
handbag
a box
It is the size that determines whether backpacks are a personal item or not. If it is small enough to fit under the seat in front of you (so it does not exceed 18 inches x 14 inches x 8 inches) then a backpack can normally be considered a personal item.
If the backpack is any larger, for example, a hiker's backpack that would carry everything needed to camp with, then that will either have to be your carry on bag allowance and if there is space in the overhead bin go in there. Otherwise it will have to go as checked baggage if too large to be considered as carry on.
Before you attempt to take a backpack or duffel bag as a personal item you should check that your airline, or, if flying multiple legs with different carriers, your airlines allow a personal item, in addition, to carry on bags and, if so, to confirm the maximum dimensions they permit for personal items.
Can you bring a carry on and a backpack?
As a general rule, when it comes to deciding does a backpack count as a personal item, most airlines have the policy that if a backpack can fit under the seat in front then they will allow it as a personal item. If that is the case with your backpack then, in addition, you can also take a carry on bag on board with you.
If it is not small enough to fit under the seat in front then the backpack will be counted as carry on luggage and the item must go in any available space in the overhead bin. Obviously, if this is the case, then you cannot have another carry on bag too.
If you discover that your backpack is too large to fit under the seat in front once on board then you may have one of the bags taken from you by the crew. It will then be placed into the aircraft's baggage hold so you may be charged extra for that.
Can you take a backpack as carry on luggage?
You can take a backpack as carry on provided that you do not also have a separate carry on bag too. This is because most airlines will not allow a passenger to take two full-size carry on bags.
In order to decide is a backpack a full-size carry-on the backpack will have to fit into one of the carry on measuring frames, called a "bag sizer" I believe, such as the one below which are normally situated both at check-in and at the gate.
In this example the backpack cannot be larger than 22x14x9 inches to be classed as a carry on item. If it will not fit in then it will have to go in the hold as checked luggage so it will probably be charged extra.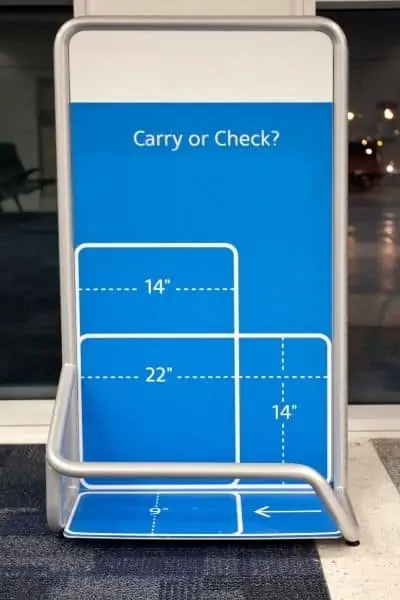 Taking a backpack through airport security
You should have no problems taking a backpack with you through the airport security but there are a few things to consider if you will be:
You will need to remove any liquids (which should be in a one quart liquids bag) and any electronic devices you may have to go through the x-ray machine. Make sure these are easiliy accessable wheb¡n you get to the checkpoint..
If you have anything in your back pack that shows up on the x-ray machine that the security agent wants to take a closer look at them and carry out a search, you may have to take everything else out of the backpack to get to it, which can be very inconvenient.
How big can a bag be to fit under the seat in front
The general rule of thumb with most airlines is that the amount of room under the seat in front is enough to accommodate an 18×14×8 inch bag.
Don't forget though, if you are taking a backpack that will fit under the seat in front of you that this will severely limit the amount of legroom you have. If you are tall (like me) and you are on a long flight, then it may prove to be a very uncomfortable experience – even worse than a normal long flight.
If you are planning to put your backpack under the seat in front on a long-haul flight then, if any are available, I would suggest you consider paying the extra for a seat with more legroom.
Can you bring a purse and a backpack on a plane?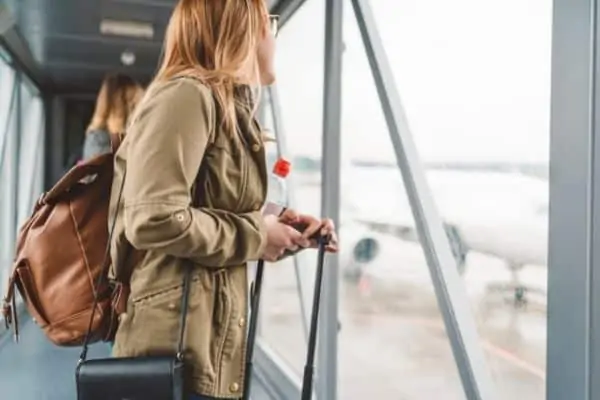 In most cases, the rules will allow you to take a purse and a backpack in the cabin with you. This assumes that one bag, probably the purse, is small enough to go under the seat of the row in front while the other bag goes in the overhead bin.
If you also have a carry on then this should mean that you cannot take both a purse and a backpack too, but, just like the woman in the photo above, in my experience, most airline cabin crew seem to overlook small purses.
Can you bring two backpacks on a plane?
You can bring two backpacks into the cabin with you provided that:
any airlines you are flying with permit both hand luggage and one personal item as a carry on allowance.
at least one of your two backpacks fits under the seat in front and the other will fit in the overhead compartment.
Can you take a backpack as checked luggage?
A backpack can be taken on a flight as checked luggage but of course you will probably have to pay an additional fee unless you are on a particular class of ticket that includes a checked bag allowance.
Just make sure that your backpack is well protected. Consider putting it in a strong plastic bag and seal it with a zip tie or something similar.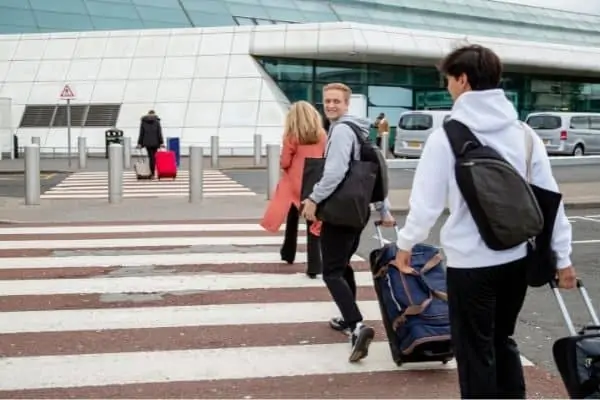 Can you put personal items in the overhead bin?
If you only have one personal item and no separate carry on baggage, then you can put it in one of the overhead bins, even if it is a backpack, duffel bag, briefcase, handbag, purse or laptop bag.
Just because it may be small enough to go under the seat doesn't mean that it has to go there and cannot fit in the overhead bin.
Are the backpack rules the same if flying business class?
Most carriers have similar size rules for both carry on and personal items, however, many allow business class passengers to take an additional personal item and even more than one carry on.
You should check with your airline to see what the rules are with regard to carrying
Where to store personal items if you are in a bulkhead seat?
If you are seated in a bulkhead seat ie. instead of having a seat in front of you there is a bulkhead or wall then, obviously, there will not be a seat in front of you to put your personal item under. In this case, passengers will normally be pèrmitted to place their personal items in the overhead bin.
In most cases you can take the personal item down during the flight and keep it near your feet and replace it before landing.
If the personal item you are taking on board is a pet in a small carrier then you are not permitted to book a bulkhead seat since the pet carrier must go under the seat in front.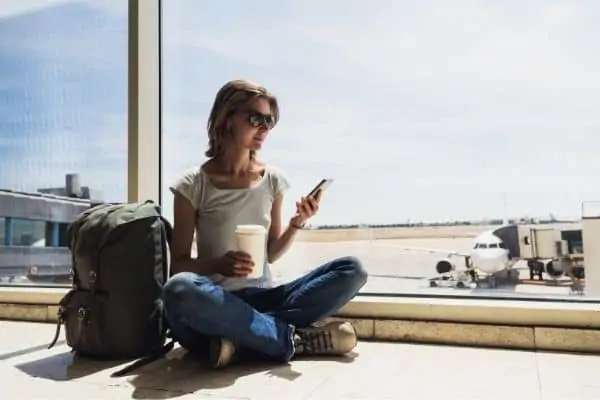 Airline backpack/personal item and carry on rules
Airline
Carry On Maximum Dimensions
Personal Item Maximum Size
American Airlines
22 x 14 x 9 inches
18 x 14 x 8 inches
United Airlines
22 x 14 x 9 inches
17 x 10 x 9 inches
Delta
22 x 14 x 9 inches
Must fit beneath seat
Alaska Airlines
22 x 14 x 9 inches
Must fit beneath seat
Southwest Airlines
10 x 16 x 24 inches
18.5 x 8.5 x 13.5 inches
Hawaiian Airlines
22 x 14 x 9 inches
Weight cannot exceed 25lbs
Must fit beneath seat
Jet Blue Airways
22 x 14 x 9 inches
17 x 13 x 8 inches
Frontier Airlines
24 x 16 x 10 inches
Weight cannot exceed 35lbs
18 x 14 x 8 inches
Spirit Airlines
22 x 18 x 10 inches
18 x 14 x 8 inches
Air Canada
21.5 x 15.5 x 9 inches
17 x 13 x 6 inches
American Airlines
Diaper bags (1 per child), soft-sided cooler bags with breast milk, child safety seats, strollers and medical or mobility devices don't count as a personal item or carry-on baggage
United Airlines
If you are flying with United on a "Basic Economy" ticket you are only permitted a personal item – not a full-size carry on bag.
In addition to your one carry-on and personal item, you can bring a jacket, child seat, umbrella, diaper bag, breast pump, reading material, food etc bought at the airport, a camera bag, mobility devices or a pet carrier.
Delta
These items are free to take on your Delta flight, in addition to your usual carry-on and personal items:
A jacket and/or umbrella
Food or drink purchased after the airport security checkpoint
Duty-free goods
Special items like strollers, wheelchairs, child safety seats or assistive devices like crutches
Alaska Airlines
These items may be brought onboard without counting toward your carry-on limit – coat, jacket, umbrella, pillow, food, reading material, child seats, strollers, service animals and mobility aids.
Southwest Airlines
Interestingly, the Southwest website states "A friendly reminder: If your personal item does not fit under your seat, you will be asked to place it in an overhead bin." which effectively means it can be larger without a problem.
Hawaiian Airlines
Jet Blue Airways
Note: Blue Basic fares passengers are allowed one personal item (handbag, small backpack, briefcase, laptop, etc.) that fits under the seat in the row front of you. Carry-on bags are not allowed and cannot be brought on board.
Frontier Airlines
Frontier personal item example on their website states "Think purses, totes, computer bags, briefcases, diaper bags and kids backpacks!"
Spirit Airlines
Spirit charge extra for carry on luggage "One personal item that fits entirely in the smaller sizer box (like a handbag, small backpack, laptop bag etc.) is included with your ticket. Another personal item or anything larger like a standard carry-on or checked bag will need to be paid for."
Air Canada
Air Canada's website rules also states:
If you're travelling with an infant on your lap, you can bring 1 additional standard article for your child's belongings.
Important: All carry-on baggage rules are strictly enforced. All bags that do not respect maximum sizes will need to be checked, and additional checked baggage charges may apply.
FAQs
How strict are airlines on personal item size?
This really does vary. I have been on some flights where everyone has to put their bags in the bag sizer and I have been on other flights where other passengers have extra-large carry on luggage as well as a number of other personal items with them.
Can I put shoes and clothes in my personal item bag?
Yes, you can put anything in your personal item bag that will fit.
How do I fit everything in my personal item?
Well you probably can't, unless you are going on a vacation to a naturist resort! Consider buying some cheap clothes etc at your destination to save space.
Can I bring a box as a personal item?
You can take a box on board in the cabin as a personal item provided it meets the personal item size regulations of the airline and it will sit under the seat in front.
How strict is TSA on carry-on size?
Generally it is not the TSA that enforces carry on luggage size rules, it is the airlines themselves. At the gate you may have to put your carry on in a container to prove that your carry meets the size restriction.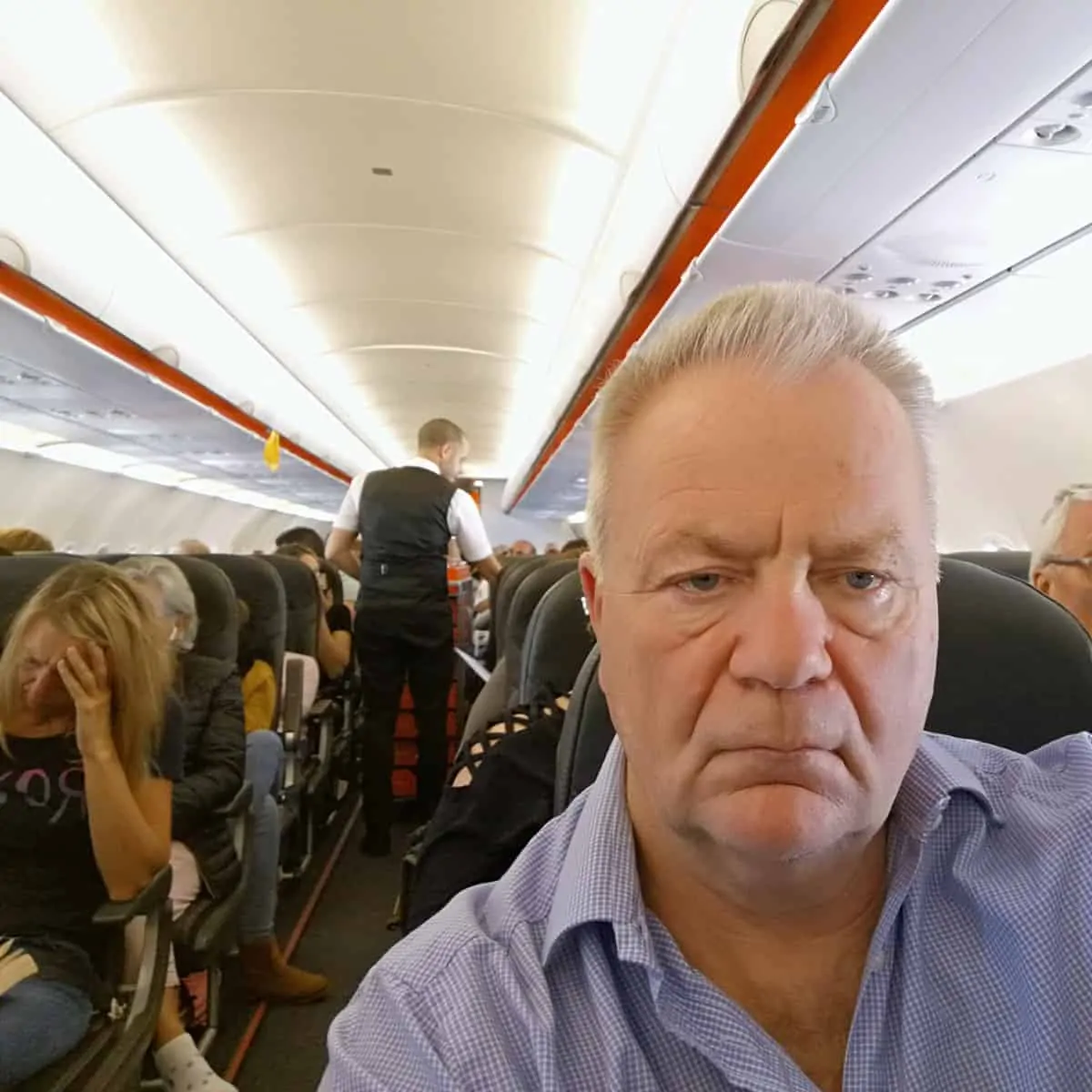 I have been traveling around the world by air since the early 70s and living overseas too. I worked for British Airways for a number of years and I am also a private pilot. About Me