Swiss Airlines is known for its amazing service, region-inspired cuisine, and beautiful cabin design.
As a member of the Star Alliance, travelers also have the opportunity to earn and redeem miles when flying with Swiss.
With a good reputation, Swiss Airlines is a first choice for many flying internationally.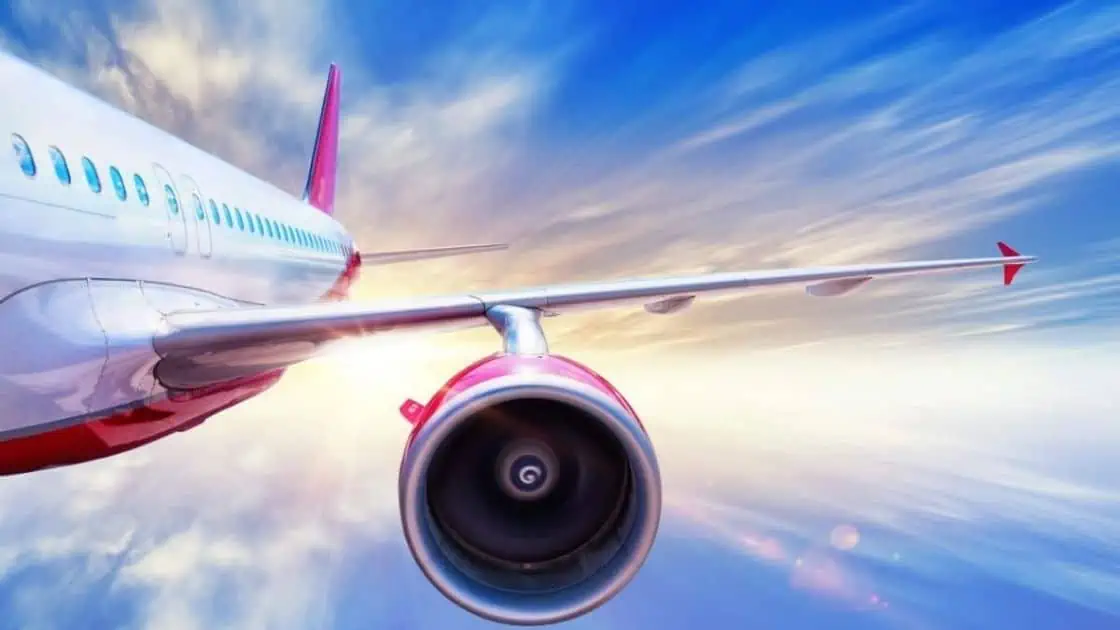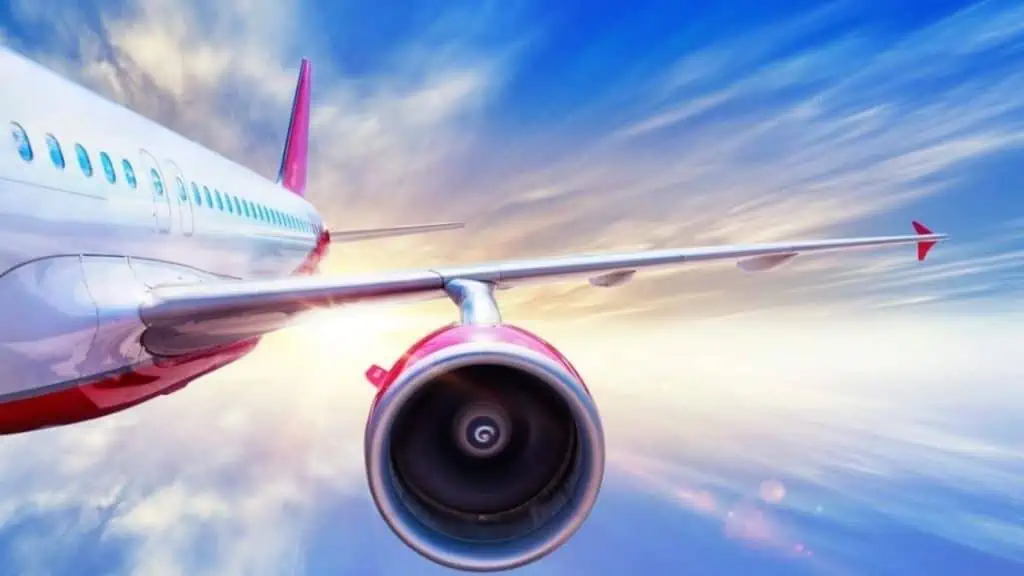 To help you decide whether Swiss Airlines is right for you, we've reviewed our experience in Business Class on a typical long-haul flight.
Airport
The airport experience is less stressful when there are priority check-in queues. The majority of airports have fast-track security, so you may quickly make your way to the lounge.
Only one New York route leaves from Swiss's smaller Geneva hub, where the majority of its long-haul flights are operated.
Both airports boast beautiful lounges that have recently undergone renovations and offer distinct spaces for travelers traveling in business class and Miles & More Senator-level cardholders.
Swiss lounges are accessible to Star Alliance Gold members who participate in other airlines' frequent flier programs.
The Business Class Lounge and Senator Lounge are the two sections of Zurich's terminal E's flagship lounge, which is frequented by long-distance travelers.
Access to the Senator lounge is available to Miles & More Senator members and Star Alliance Gold members in any cabin.
The lounges offer an amazing buffet and meals produced in an exhibition kitchen, an open bar, Mövenpick ice cream-filled freezers, and individual leisure rooms split by sheer curtains.
For individuals who want to continue working while waiting for a flight, there are daybeds and workstations available.
The Whisky Club 28/10 provides 200 different whisky brands from across the world in the Senator Lounge.
Arriving travelers from Swiss Business Class at Zurich Airport also have access to the Arrivals Lounge, which is situated in the arrivals hall following customs.
The facility offers 20 showers, a free pressing service, three-day rooms, a quiet area, and a large buffet for those who want to eat breakfast after arriving.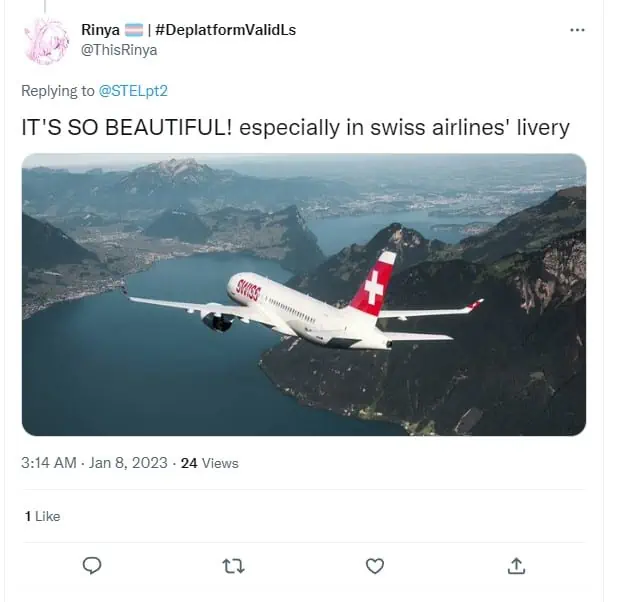 Cabin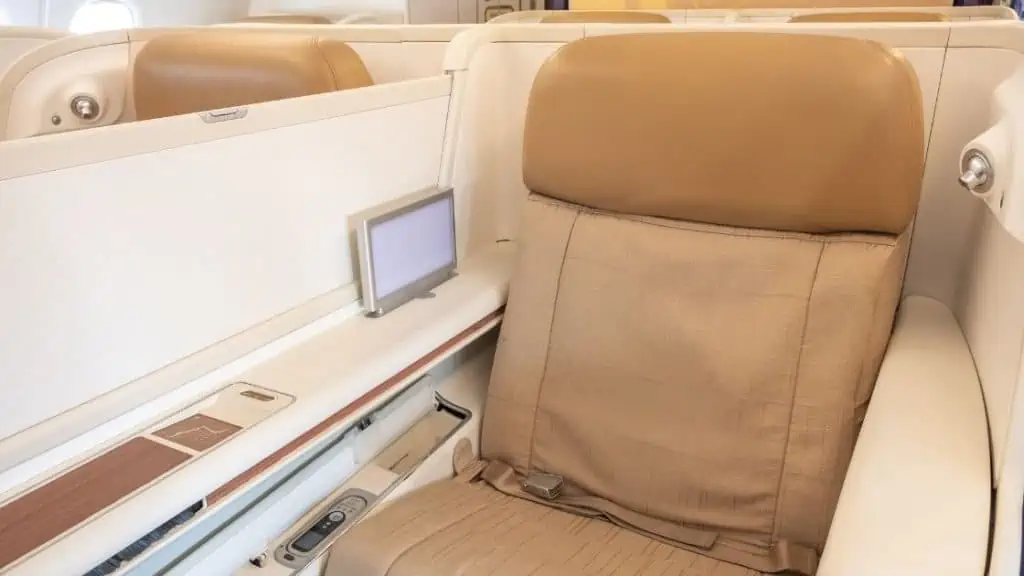 The cabins in Swiss Business Class have a stylish design with wood highlights, corporate branding, seats made of dark cloth, and beautiful lighting.
Many passengers appreciate the staggered, forward-facing 1-2-1 and 2-2-1 seats, but it is advisable to choose the best seat in advance for your preferences.
For maximum privacy, solo travelers should choose one of the single seats; couples should choose one of the pairs of seats.
The arrangement can vary based on the type of aircraft, although all of the airline's widebody Airbus and Boeing fleets have the same type of seat.
Many aircraft have smaller "mini cabins," which can feel much more private, located between First Class and the Business Class galley.
The seats, which have excellent storage spaces on the sides, are highlighted by wide side tables and intelligent design elements.
Noise-canceling headphones, water bottles, and other small objects can all be stored conveniently in this way. A power outlet and USB ports are within reach for a quick charge.
If you want to watch the latest movies or catch up on work rather than sleep, Business Class seats recline into a totally flat, 6.5-foot-long bed with numerous configurations for relaxing or lounging.
Additionally, the seats include built-in massage features that, at the touch of a button, can offer mild vibration or stronger lumbar support.
A plush pillow and a covered duvet blanket are also provided in each seat for the comfort of the passengers.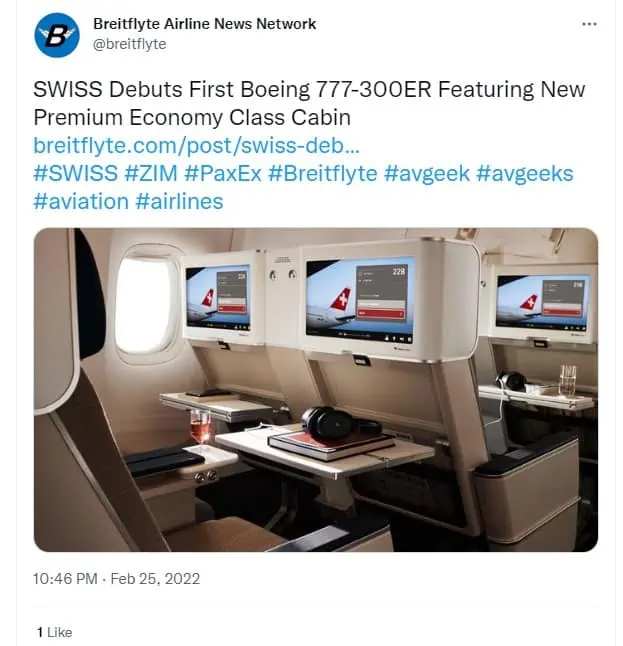 Food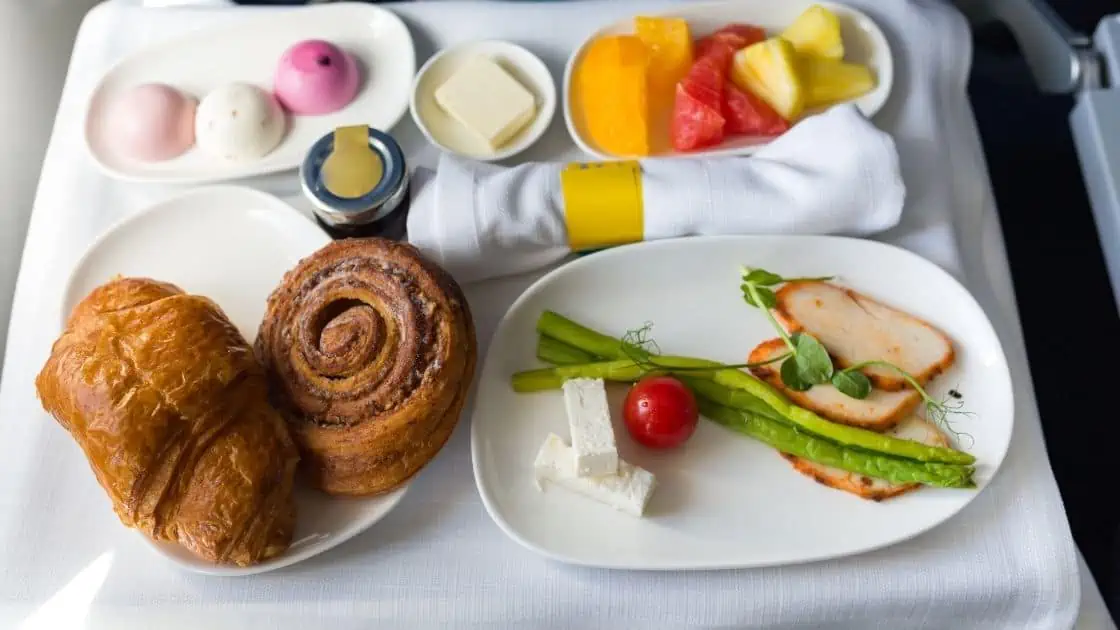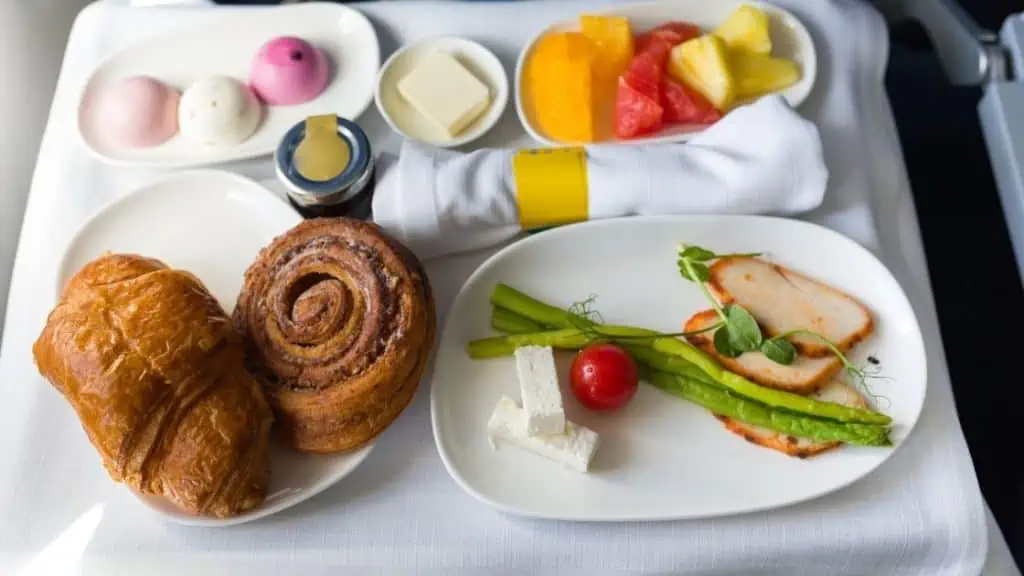 Foodies won't be let down because the airline is renowned for honoring all of the Swiss culinary regions.
Only the best ingredients are used, and meals are served on trays on tables covered with linen.
The menu, which is referred to as the SWISS Taste of Switzerland program, features top Swiss chefs like Alexandra Müller and Florian Trento, who create seasonal regional specialties.
Additionally, several aircraft provide gourmet dishes created by a Swiss chef in collaboration with Peninsula Hotels, including many flights leaving Asia.
An appetizer and salad are served with warm bread rolls to start the meal in Swiss Business Class.
The following course consists of a choice of three main courses, usually consisting of preheated meat, poultry, fish, or pasta dishes.
You may also anticipate typical Swiss side dishes like potato rösti and knoepfle, as well as a selection of regional cheeses.
Timely, by-the-clock service is provided with pride and efficiency, and the meal is typically ended with exquisite Swiss chocolate for that extra touch of sweetness.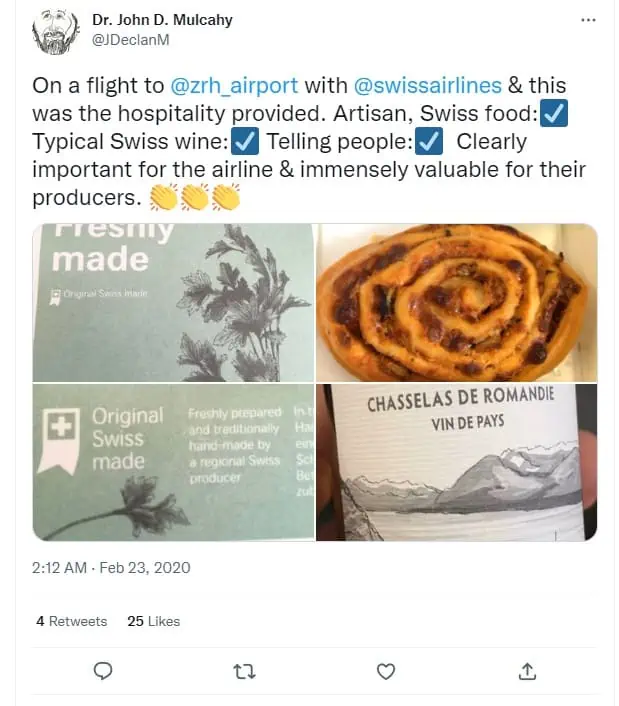 Drink
Without a wonderful welcome tray of Duval-Leroy Brut Champagne or a glass of water to set the tone, no long-haul flight in Swiss Business Class takes off.
This joyous welcome serves as a preview of the customized experience to come.
The extensive list of beverages on the printed menus includes a number of delectable Swiss wines in addition to beer, spirits, soft drinks, and juices.
The same Swiss regions that are highlighted on the meal menu are frequently represented on the wine list.
On the menu, there are usually two white wines, three red wines, and one Champagne. Beer lovers have three options, one of which is a unique beer that changes with the seasons.
Business Class passengers receive a bottle of water in addition to drinks whenever they want them throughout the journey.
Service
The airline's cabin crew members are formal but personable, and they know when to be professional and when to strike up a conversation.
Given Switzerland's linguistic heritage, Zurich crews speak German and English, among other languages, whereas Geneva crews speak French and English, among other languages.
It is uncommon to board an airline flight where the international staff does not speak various languages, and a flight's destination language is always spoken by a number of crew members.
The coat hanging that welcomes each long-distance passenger as they take their seat is a lovely touch from Switzerland.
Facilities and Amenities
Among other useful items, a collectible Victorinox amenity kit includes socks, eye masks, and lip balm.
Small tubes of cosmetics from Swiss manufacturers like Soeder, including face and hand cream, are also stocked in restrooms. Before the meal service, hot towels are also available.
No matter how long the flight, families flying with young children can request a bassinet, which is offered in some business class seats.
The flight staff frequently carries modest gifts for young passengers, like coloring books, toy animals, and even baby bibs.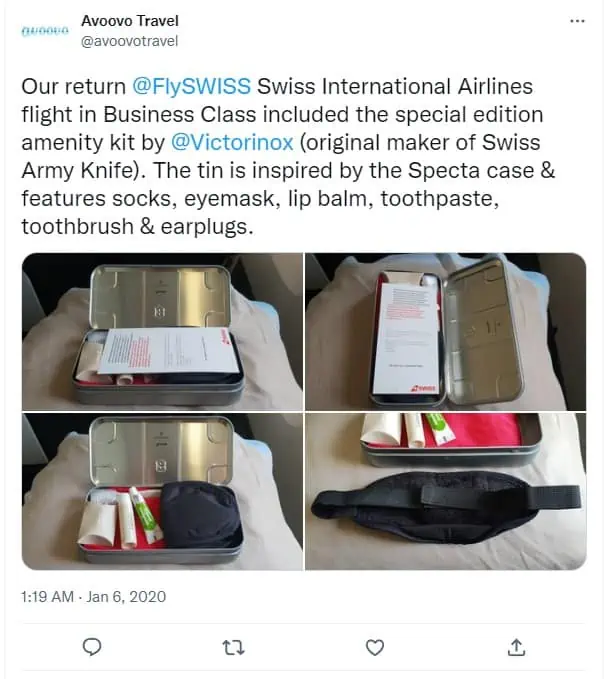 Entertainment
Each seat has access to wide, high-resolution displays that offer a variety of movies, TV shows, and music that will appeal to most tastes.
While remote controls allow you to quickly modify the entertainment while seated or fully reclined, touch screens are quick and sensitive.
In-flight Wi-Fi is available on Swiss long-haul aircraft; users are charged according to the amount of data they use.
A selection of international newspapers and magazines welcomes passengers as they board the aircraft.
For those who would want to explore more reading material in flight, these publications are also available on library racks throughout the cabin.
Short and Medium Haul Experience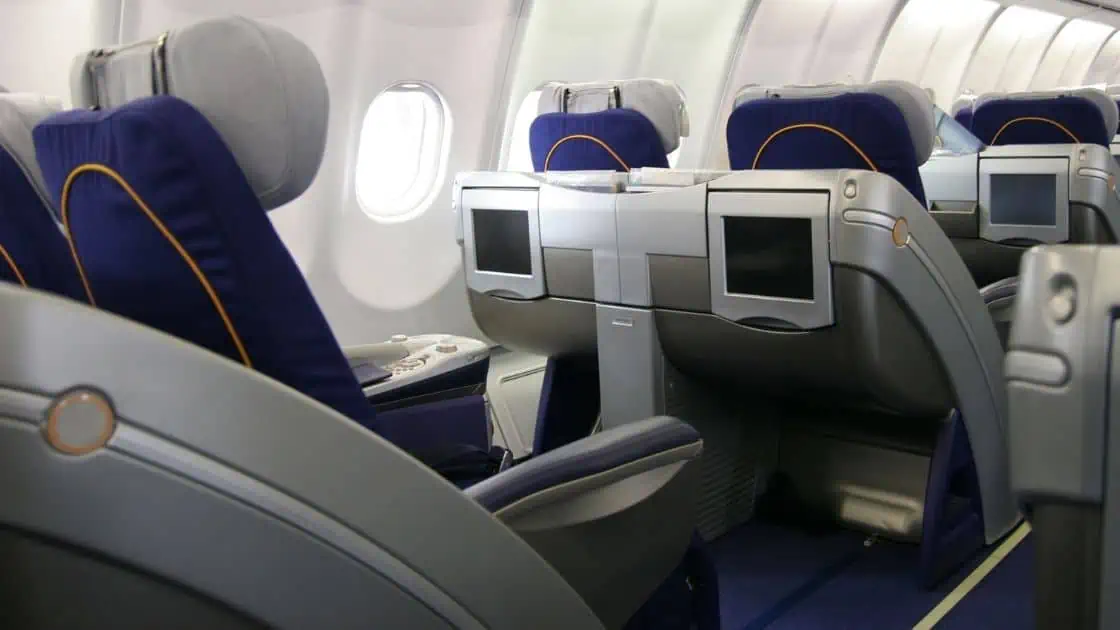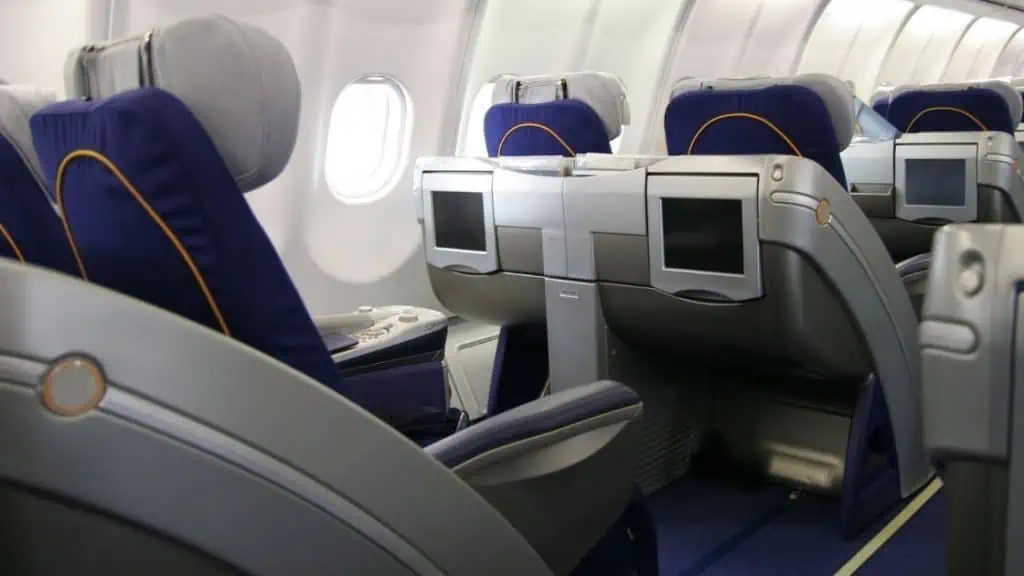 On shorter flights inside Europe, depending on the distance, the Swiss also offer lunches and beverages.
On short-haul flights, Swiss Business Class seats are identical to Economy Class seats, with the exception that the neighboring seat is blocked, giving a little bit of extra room.
Despite the fact that the seats do not recline into flat beds as they do on long-haul flights, the food and beverage service is outstanding, with many flights serving hot meals.
Excellent Champagne is also served, which is something that not many European airlines do on short flights. A full bar service is also available.
Steps Toward Sustainability
Swiss pays close attention to operating sustainably. Through modern fleet renewal and more effective resource management, it has decreased fuel usage by 29% since 2003.
Swiss are attempting to use alternative fuels and have the aim of becoming carbon-neutral.
The carrier may reduce emissions even further by making better use of airport facilities and flight paths.
By donating a portion of the cost of their ticket to help offset the carbon emissions of their travel, customers may also assist organizations that work to protect the environment.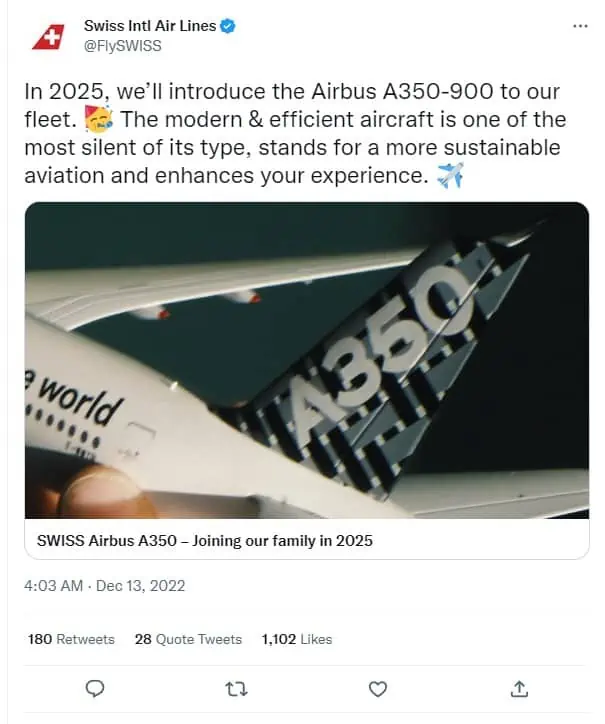 Final Verdict
Flying in Swiss Airlines' Business Class truly is an experience. It offers an experience that is dependable, regardless of the length of your flight.
As well as attentive service from professional flight attendants who serve delicious food and beverages that focus on the highlights of Swiss cuisine.
Overall, the experience is second to none, and we definitely recommend Business Class with Swiss if it is within your means and especially for a long-haul flight to maximize your comfort and enjoyment of your journey.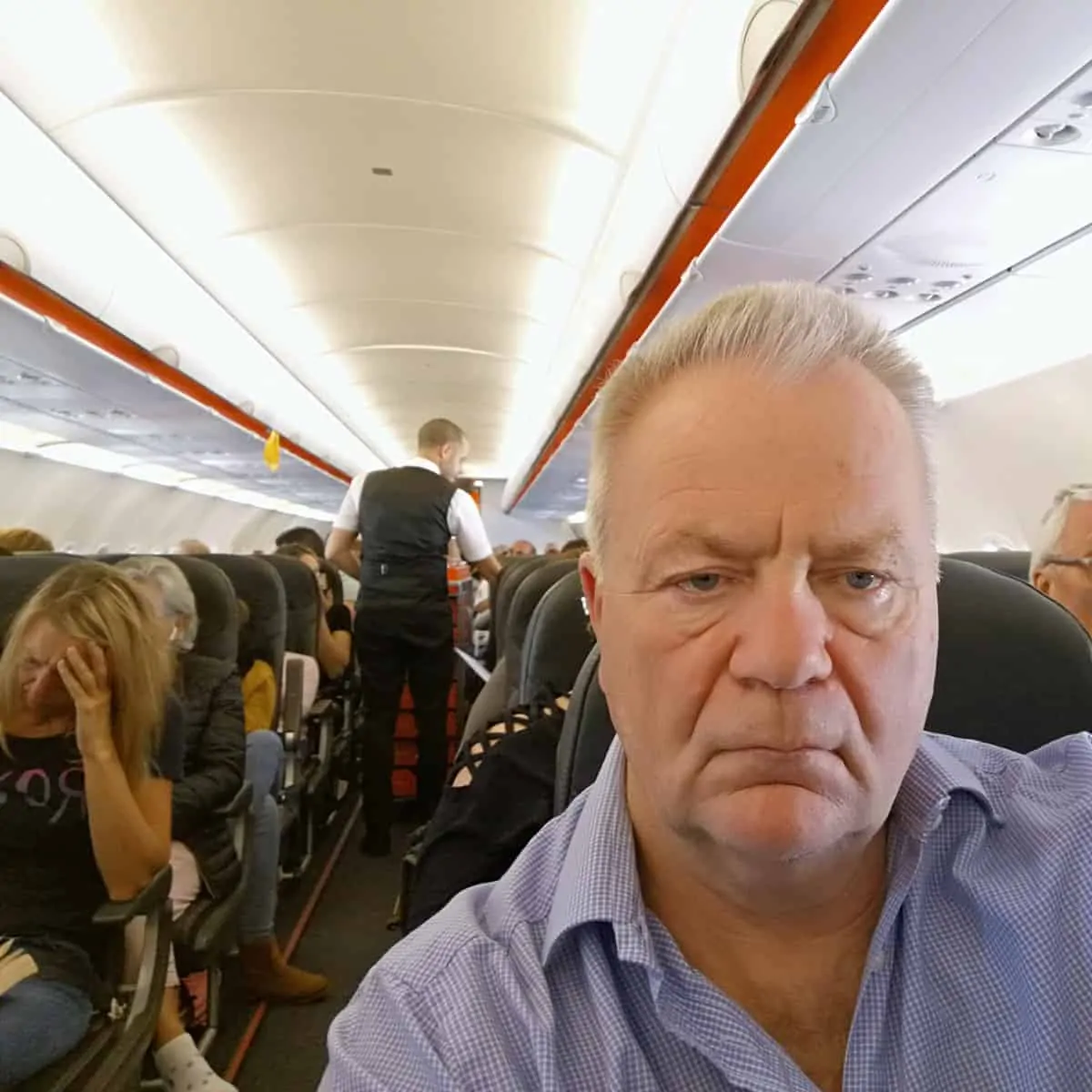 I have been traveling around the world by air since the early 70s and living overseas too. I worked for British Airways for a number of years and I am also a private pilot. About Me