If you are going to fly with American Airlines and want to work while you fly or want internet access for entertainment then you will want to know does American Airlines have wifi and what it costs.
The quality of internet access and onboard wifi in most airlines is either hit or miss and the same is true for American Airlines. Like all airlines, American Airlines is constantly working to upgrade the availability and quality of the wifi service (it can be very lucrative for them after all).
In the rest of the article, you will find full details of the wifi service, costs and how to use it.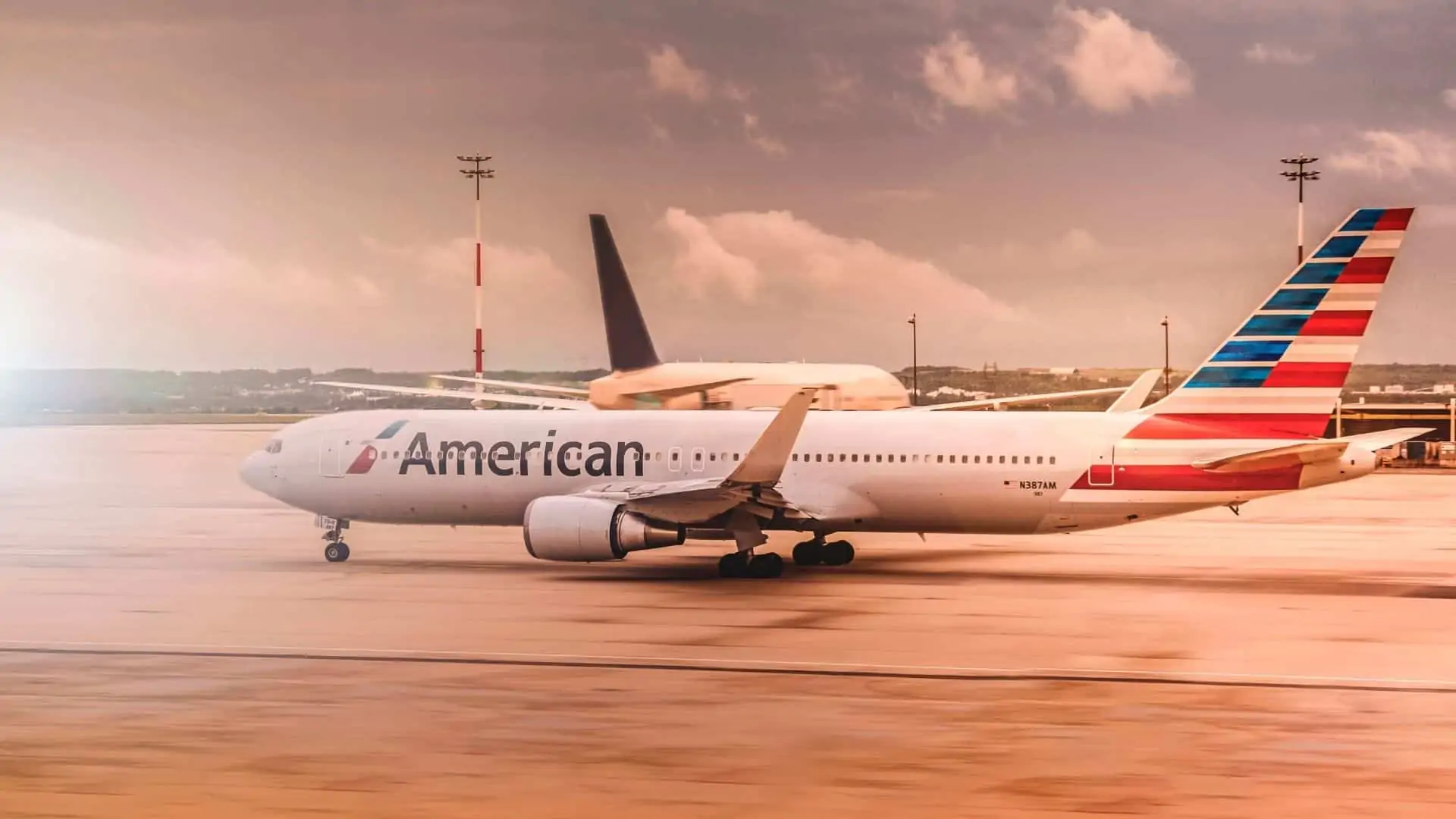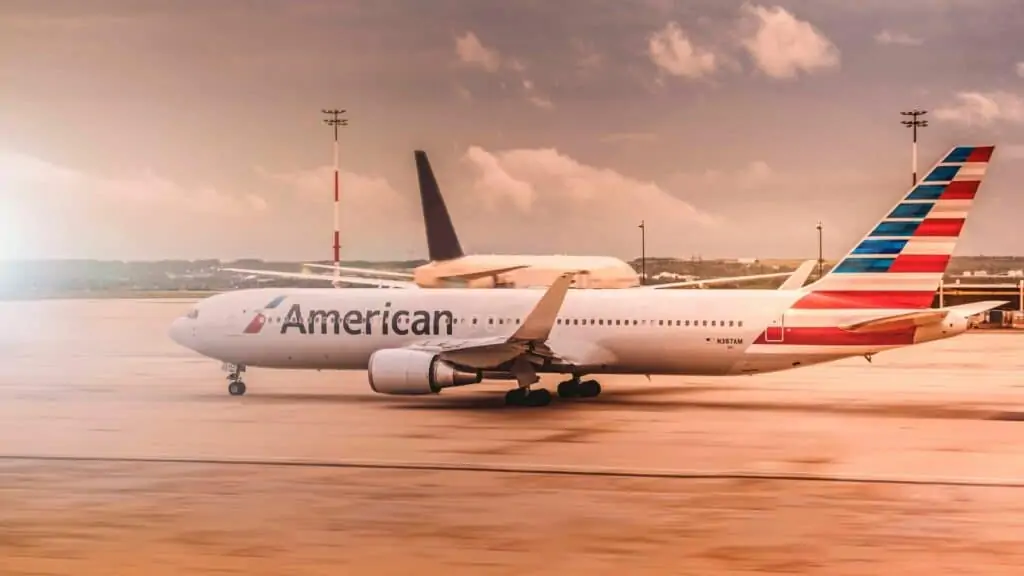 Does American Airlines have wifi?
American Airlines state the following on its website:
Domestic Wi-Fi is now available on nearly all of our U.S. flights. Wi-Fi may be purchased prior to your flight by visiting aa.com/wifi or you may purchase once on board.

International Wi-Fi is available on all Boeing 777-300ER flights. Wi-Fi can be purchased once on board; currently there is not a pre-purchase option for international Wi-Fi.
How can I tell if my American Airlines flight has wifi?
To find out if your flight will have wifi available you can check the Flight Status as follows:
Go to the following link – https://www.aa.com/travelInformation/flights/status
Enter your flight details – either flight number and date or from/to airports plus the date
Click on your flight
The status of your flight will be shown
If wifi will be available you will see the little wifi dial symbol after the flight number and American Airlines (see example below).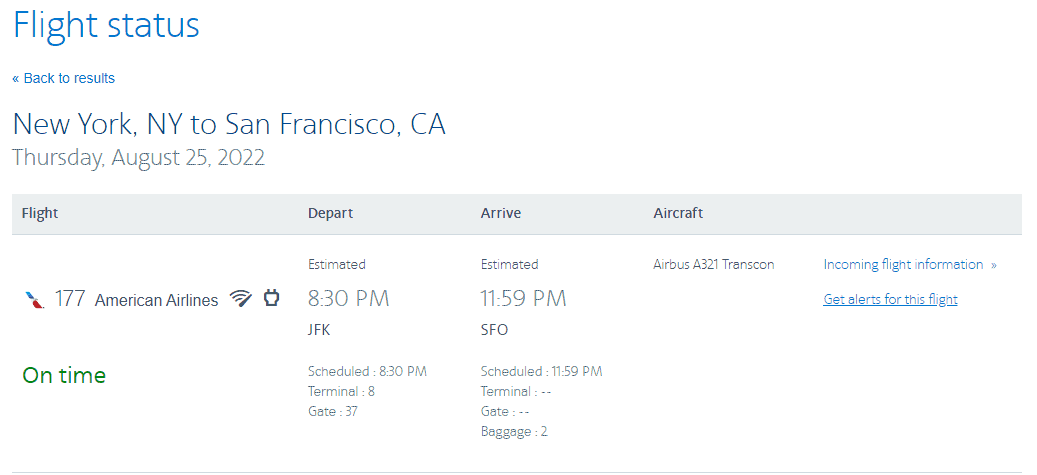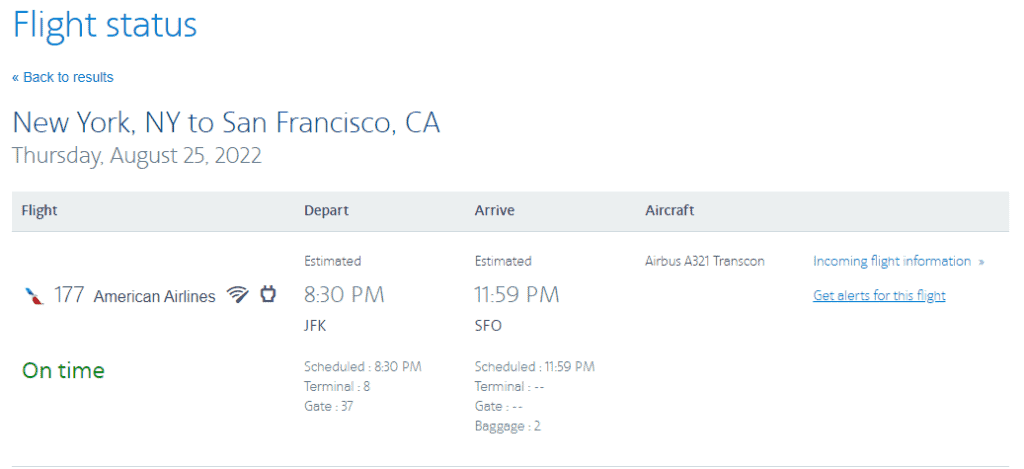 In addition, it should show you on your boarding pass and the cabin crew should inform passengers about the availability and type of wi-fi service at the beginning of the flight.
American Airlines wifi cost?
North American flights
There are two options if flying on an American Airlines flight within North America (within USA, USA to/from Canada, Mexico, the Caribbean and Central America):
Monthly plan. You can purchase a plan which will allow access to inflight wifi for a month. This costs $49.95 for one device or $59.95 for two devices.
Pay as you go. You can purchase wifi access for the duration of the flight. It seems the cost depends on the duration of the flight and starts at $10.
International flights
You can only purchase wifi once you are onboard and there is no monthly plan available so it is on a flight-by-flight basis. The cost varies depending on the route, flight duration and the internet provider so you will have to log in to see what it will cost you to connect.
How good is American Airlines AAinflight wifi?
Many regular passengers give reviews that they always enjoy an excellent wifi connection on American Airlines flights. However, the speed and strength of wifi signals may change during the flight because they use GX satellites to connect to the internet, and satellite signal varies with location.
This passenger was very satisfied with American Airlines' wifi: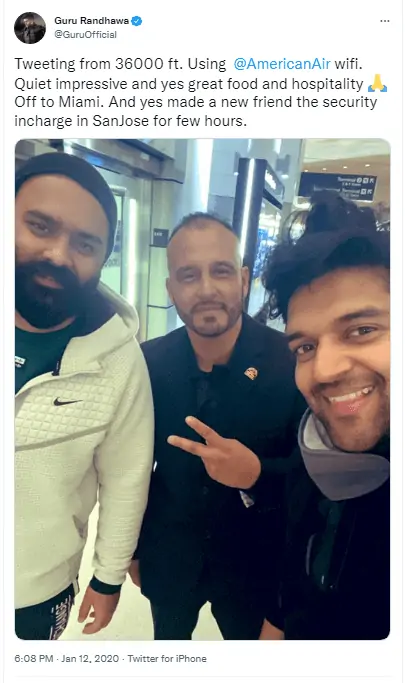 This passenger was definitely not impressed at all with aainflight wifi as they told American Airlines on Twitter:
This passenger also wasn't happy with his $10 wifi purchase:

Does American Airlines have free wifi?
American Airlines proudly boasts that "You can always access aa.com for free during your flight." How generous of them to allow you to book and pay for another of their flights for free.
If you download the American Airlines App you can access the inflight entertainment using the wifi for free.
Incredibly, it seems that even first class passengers have to pay extra for wifi.
How to get wifi on American Airlines
If you are traveling with American Airlines and want to connect to their wifi, you should follow these steps.
Ideally you should download the American Airlines wifi app before boarding. This can be downloaded from the App Store or Google Play Store.
Once on board, if connecting on a cellphone, you should enable airplane mode/flight mode first. The in setting switch wifi on.
Connect to the "AA-Inflight" wifi signal
You should automatically be taken to the aainflight.com page. If not, open a browser and enter aainflight.com in the URL box.
Either log in if you have a monthly access plan or have pre-paid for your flight. Otherwise, purchase wifi access.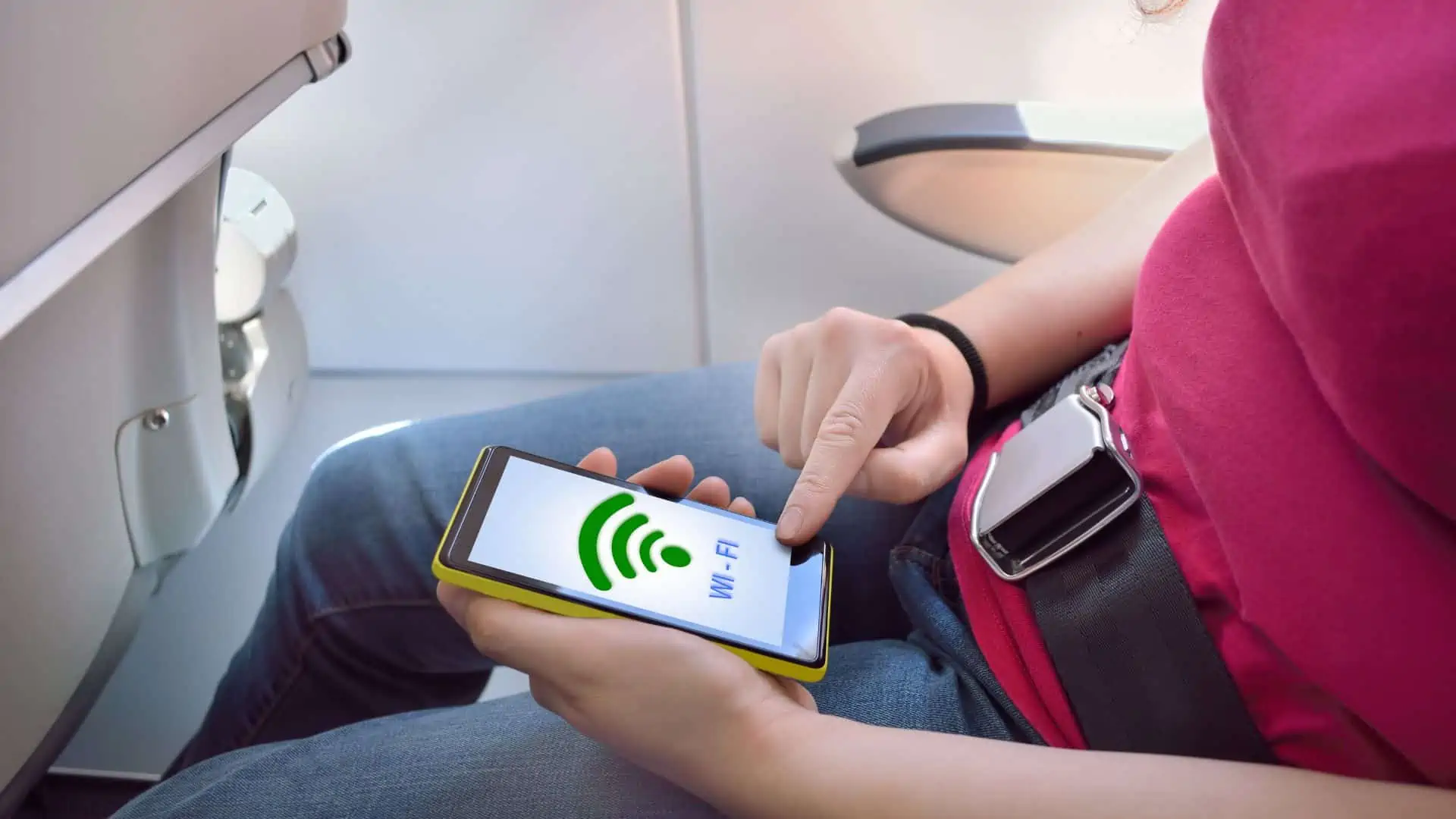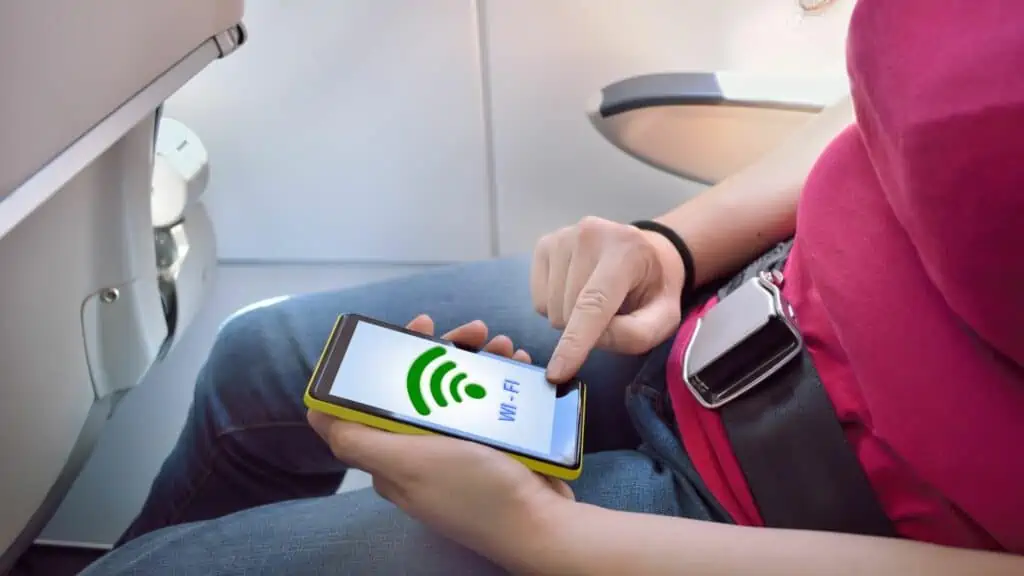 Can you make voice calls or texts using American Airlines wifi?
You cannot make voice calls through your mobile phone or through voice services such as Whatsapp or Skype using AA inflight wifi.
American Airlines does not provide an SMS text service like some other airlines do so you cannot send or receive normal texts.
You can of course send text messages using apps such as Whatsapp using the AAinflight wifi service if available.
Can I watch Netflix on American Airlines wifi?
You can access Netflix if the wifi is fast enough to stream. American Airlines does state "Browse the internet, check emails and stream video services like Netflix, Hulu and HBO."
How to get an American Airlines wi-fi refund?
If you purchase the wifi service on American Airlines and it is not working well, you can speak to a flight attendant and ask them if they can do anything to improve the network speed.
If it is still not available or useable then you can request a refund from American Airlines via their customer services giving details of the flight and the complaint.
Other airlines
United Airlines wifi | American Airlines wifi | JetBlue wifi | British Airways wifi | Icelandair wifi | Qatar Airways wifi | Aer Lingus wifi | Hawaiian Airlines wifi | Frontier Airlines wifi | Turkish Airlines wifi | Southwest wifi | Delta Airlines wifi
Related articles
Can you use a cellphone on a plane
Can you use WhatsApp on a plane
Can you listen to Spotify on a plane
Can you listen to an audiobook on a plane
AA FAQs
Is Wi-Fi in American Airlines free?
Wifi is not free on any American Airlines flights. All passengers ned to pay for wifi either for the particular flight or by purchasing a monthly wifi plan.
Does American have free Wi-Fi for texting?
There is no free SMS texting on American Airlines flights and neither can SMS text messages be sent using the wifo service.
Can you use iMessage on American Airlines?
If you are connected to the inflight wifi then you can use iMessage to send and receive text messages.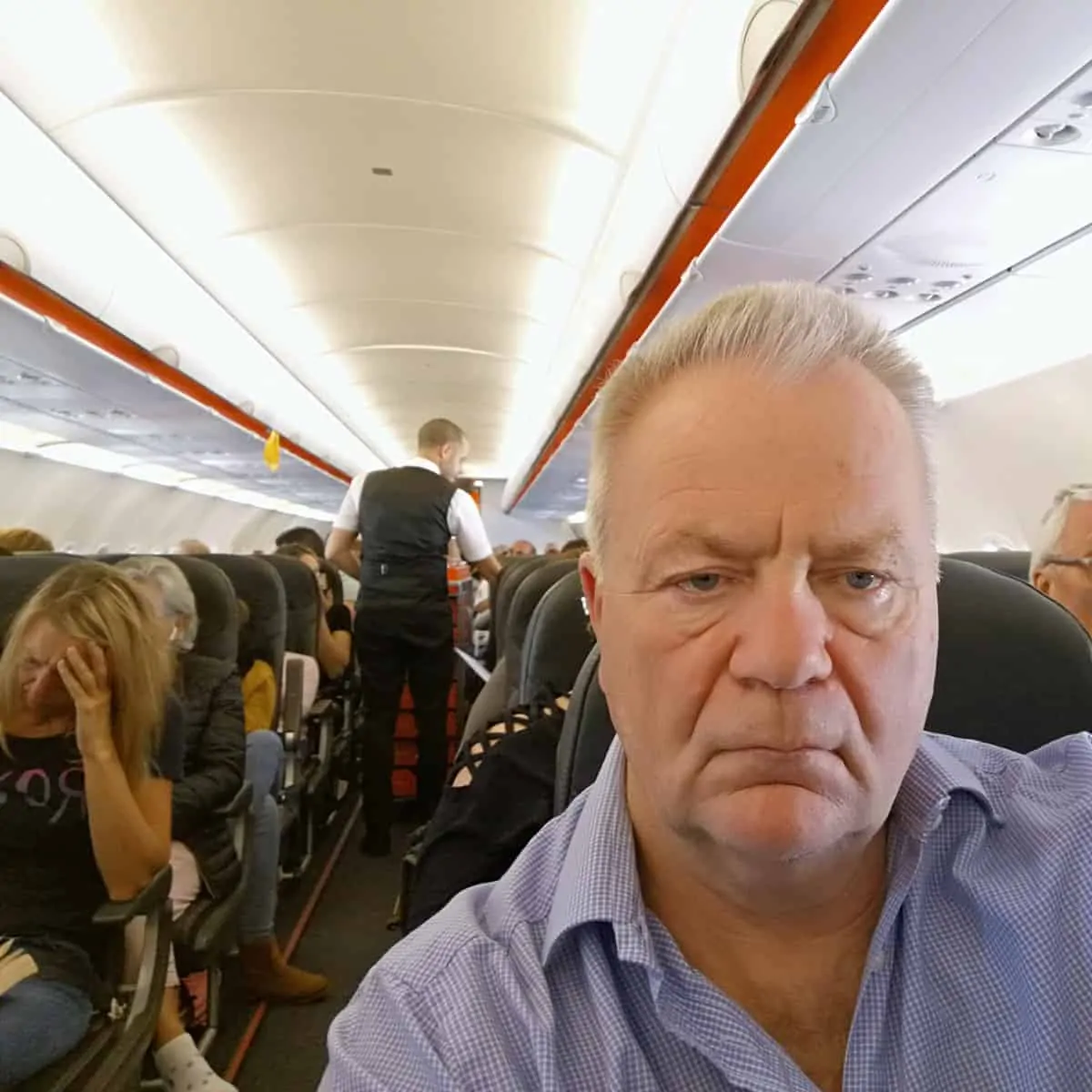 I have been traveling around the world by air since the early 70s and living overseas too. I worked for British Airways for a number of years and I am also a private pilot. About Me