If you are going to fly with Turkish Airlines and want to work while you fly or want internet access for entertainment then you will want to know does Turkish Airlines have wifi and what it costs.
The quality of internet access and onboard wifi in most airlines is either hit or miss and the same is true for Turkish Airlines. Like all airlines, Turkish Airlines is working to upgrade the availability and quality of the wifi service.
In the rest of the article, you will find full details of the Turkish Airlines wifi service, costs and how to use it.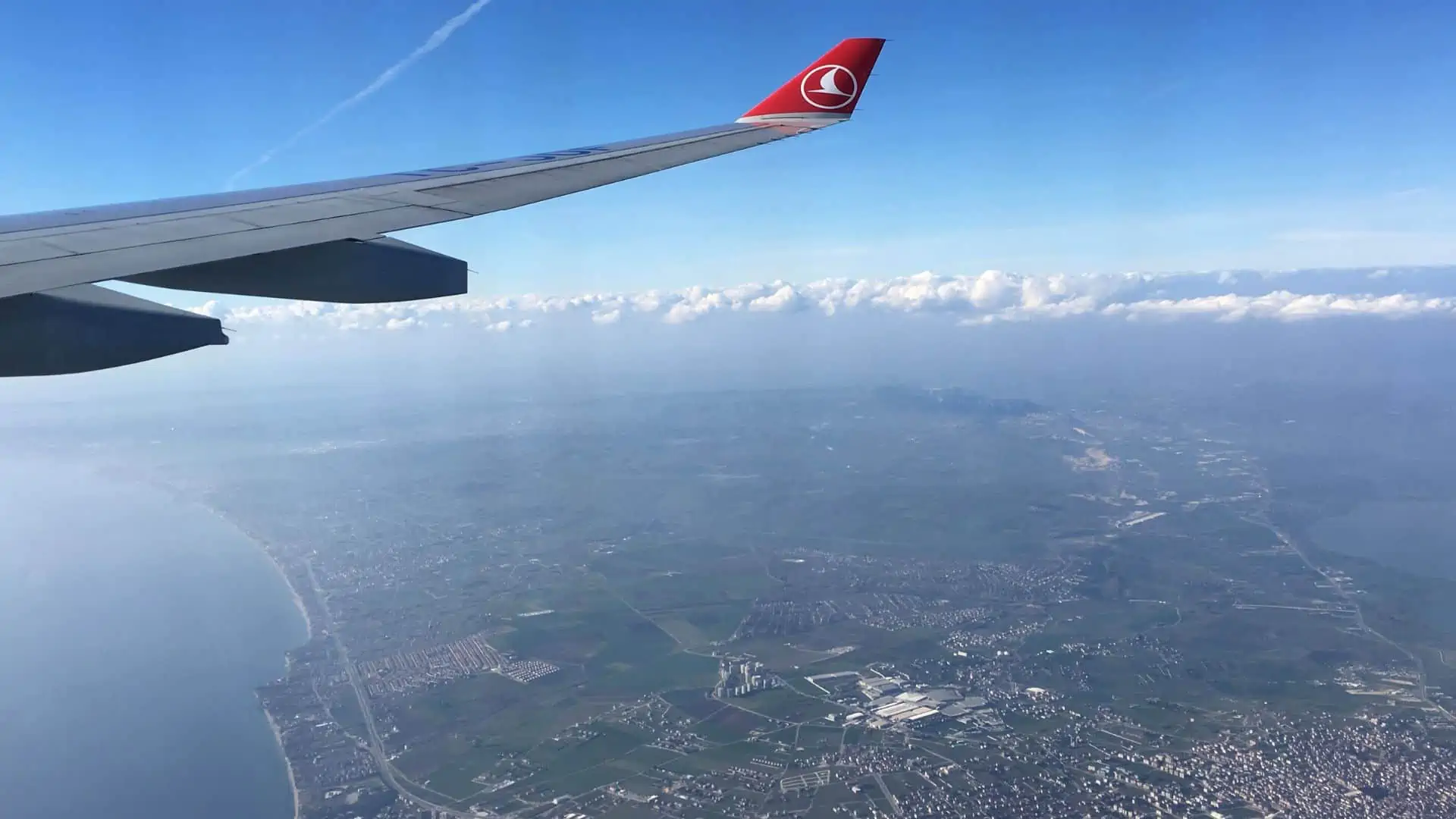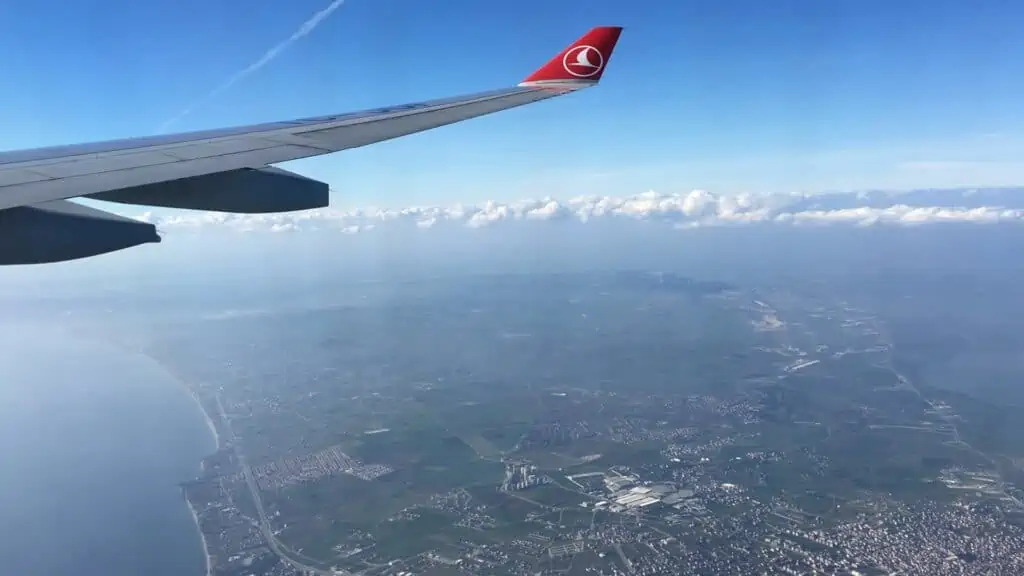 Does Turkish Airlines have wifi?
Inflight wifi is available on over 170 aircraft in the Turkish Airlines fleet. This includes:
Boeing 777-300
Boeing 787-9
Airbus A350-900
In addition, some Airbus A330-300, Airbus A321 and Boeing 737 aircraft have an in-flight internet connection.
How much does Turkish Airlines wifi cost?
Complimentary inflight wifi access is provided to the following passengers:
Business Class Passengers who are Miles and Smiles Elite or Elite Plus Card Holders can use unlimited wifi on board.
Business Class passengers can use free wifi up to 1 GB.
Miles and Smiles Elite and Elite Plus Card Holders can use 400 MB of the internet for free.
Miles and Smiles Classic and Classic Plus Card Holders can use 10 MB for free.
Passengers traveling in economy class, who are not members of their Miles and Smiles program, in addition to passengers who have used up their free quota, can continue to use the wifi by purchasing one of the packages listed below.
Turkish Airlines wifi price:
20 MB for 2,99 USD
50 MB for 4,99 USD
100 MB for 7,99 USD
250 MB for 14,99 USD
500 MB for 24,99 USD
How good is Turkish Airlines wifi on board?
Türk Telekom infrastructure is the inflight wifi service provider for Turkish Airlines which is a pretty good option when it comes to providing internet connectivity.
Your laptop, tablet, or phone can be connected to their broadband internet service, which has no issues running high-bandwidth programs.
As with most airline wifi services, some passengers praise it while others have nothing good to say.
These two passengers in Business Class were very happy with the wifi:
But some users on Twitter were certainly not happy, as was the case with the following two passengers: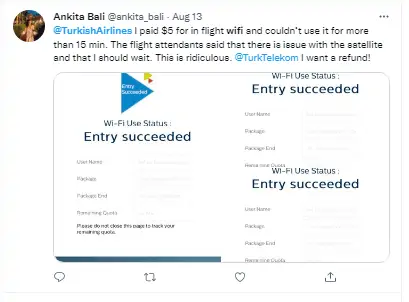 You can use your own data service on Turkish Airlines
Turkish Airlines has an onboard service provided by AeroMobile network which allows passengers to log on and use their own data packages provided by their mobile network. The cost varies by network but when you log on you should receive a message informing you of the charges.
This service is available on the following types of aircraft in their fleet from their Istambul hub to/from various long-haul destinations:
B777 Aircraft
B787 Aircraft
A330 Aircraft
A350 Aircraft
This cannot be used to make voice calls, only SMS texts and data usage.
How to connect to the Aeromobile network:
Switch on your mobile when you're told it's safe to do so by the cabin crew, keeping it in silent or vibrate mode.
Wait for the 'AeroMobile' network to appear or select it manually from network settings.
You'll get a welcome SMS from AeroMobile, then you can email, text and browse the internet.
How to connect to Turkish Airlines wifi?
It's easy to connect to Turkish airlines wifi once you board your flight.
You will find a Turkish Airlines (TK) magazine in your seat pocket when you board.
You can learn all about Turkish Airlines' wifi service and how to connect it in the magazine.
Simply follow the instruction, and you will be able to properly connect to the wifi with ease.
To connect to the wifi, use the TK wireless app and password.
In addition, passengers can access the help video, which includes the steps to connect to the internet service, on the PLANET entertainment platform during the flight.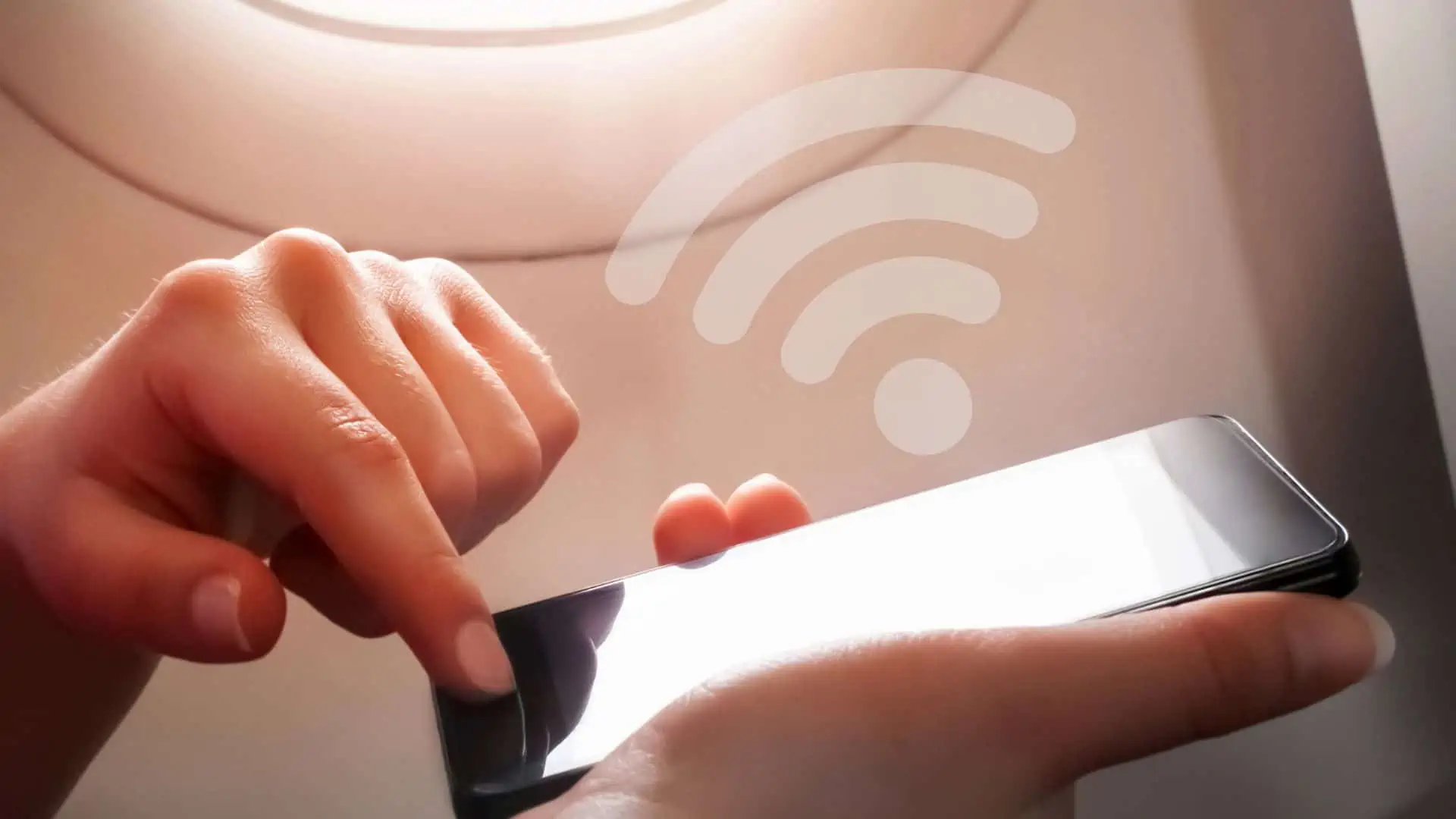 Can you make voice calls or texts using Turkish Airlines wifi?
You can send and receive SMS texts using Turkish Airlines wifi!
Cellphone and VoiP calls (as well as video conferencing such as Skype or Zoom) are not permitted on board the aircraft.
Does Turkish airlines have free wifi?
The free wifi facility is only for business class passengers and for Miles and Smiles card holders. Not for everyone.
Even the business class passengers and miles and smiles card holders have to buy the package after they have used the free limit.
While for economy class passengers it's a completely paid option.
Can I watch Netflix on Turkish airlines?
A simple answer can be Yes! Pick the plan that can allow you to consume that much data on wifi.
Also, there are other features on Turkish Airlines that can help you stream other online services. These services include safe internet access, short message (SMS) exchange with mobile devices, and live streaming of TRT World, CNN, BBC, CNBC, Sport24, and Sport24 Extra channels throughout flights.
Can I get a Turkish Airlines wifi refund?
You have to fill out the refund form to claim the wifi refund or contact the helplines as they can guide you better.
Visit the airline's website.
Fill out the contact form
Submit your request.
Your Turkish Airlines flight number and ticket number must be entered to receive a refund.
This passenger was advised to call a number in Turkey to get a wifi refund: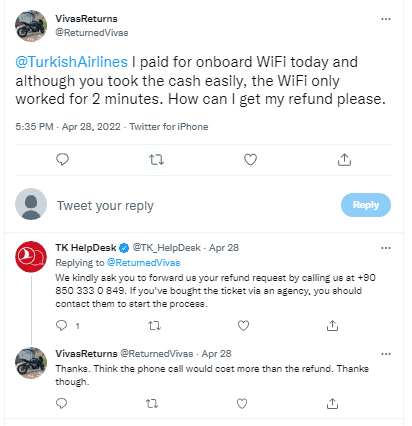 Other airlines
United Airlines wifi | American Airlines wifi | JetBlue wifi | British Airways wifi | Icelandair wifi | Qatar Airways wifi | Aer Lingus wifi | Hawaiian Airlines wifi | Frontier Airlines wifi | Turkish Airlines wifi | Southwest wifi | Delta Airlines wifi
Related articles
Can you use a cellphone on a plane
Can you use WhatsApp on a plane
Can you listen to Spotify on a plane
Can you listen to an audiobook on a plane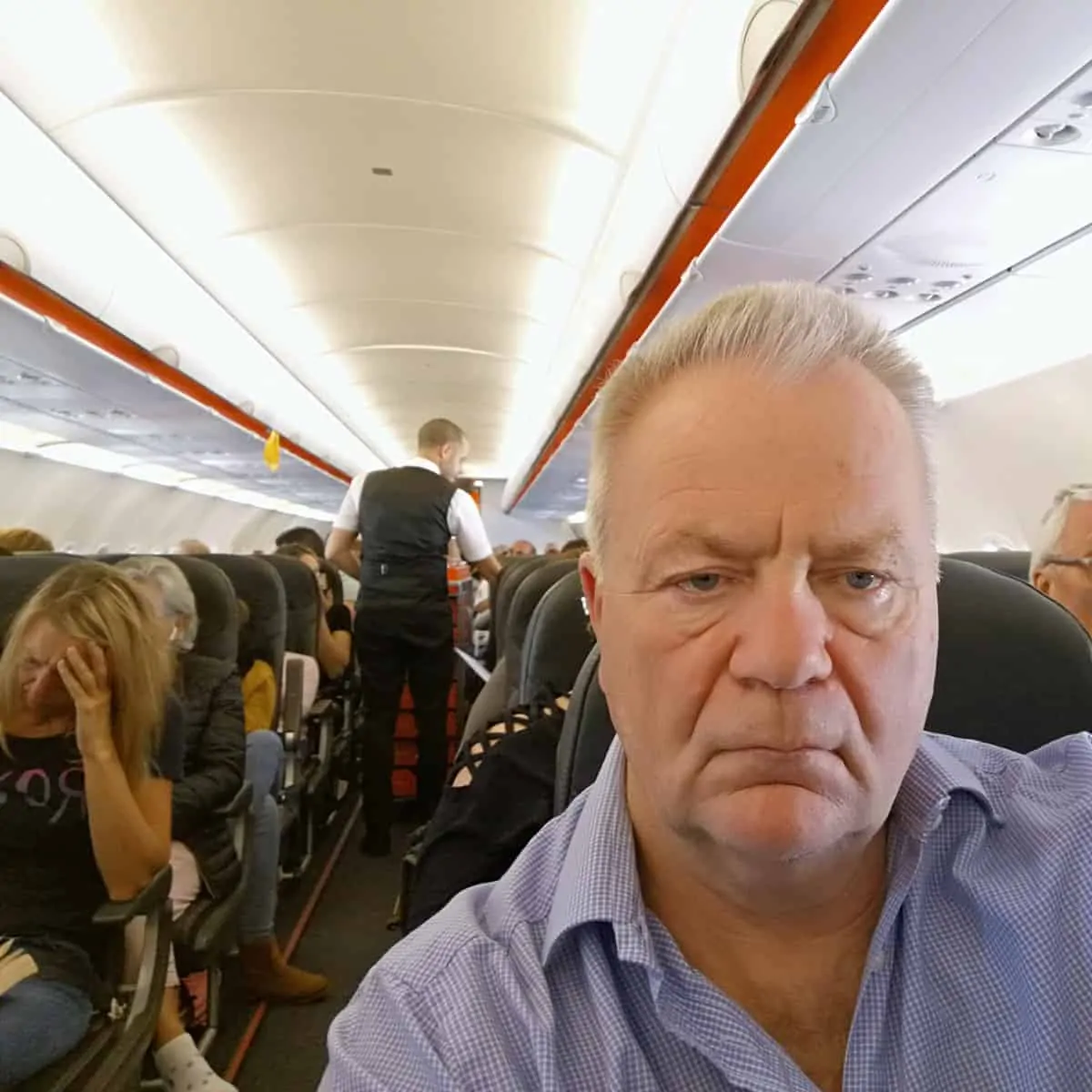 I have been traveling around the world by air since the early 70s and living overseas too. I worked for British Airways for a number of years and I am also a private pilot. About Me