If you are going to fly with Aer Lingus and want to work while you fly or want internet access for entertainment then you will want to know does Aer Lingus have wifi and what it costs.
The quality of internet access and onboard wifi in most airlines is either hit or miss and the same is true for Aer Lingus. Like all airlines, Aer Lingus is working to upgrade the availability and quality of the wifi service.
In the rest of the article, you will find full details of the Aer Lingus wifi service, costs and how to use it.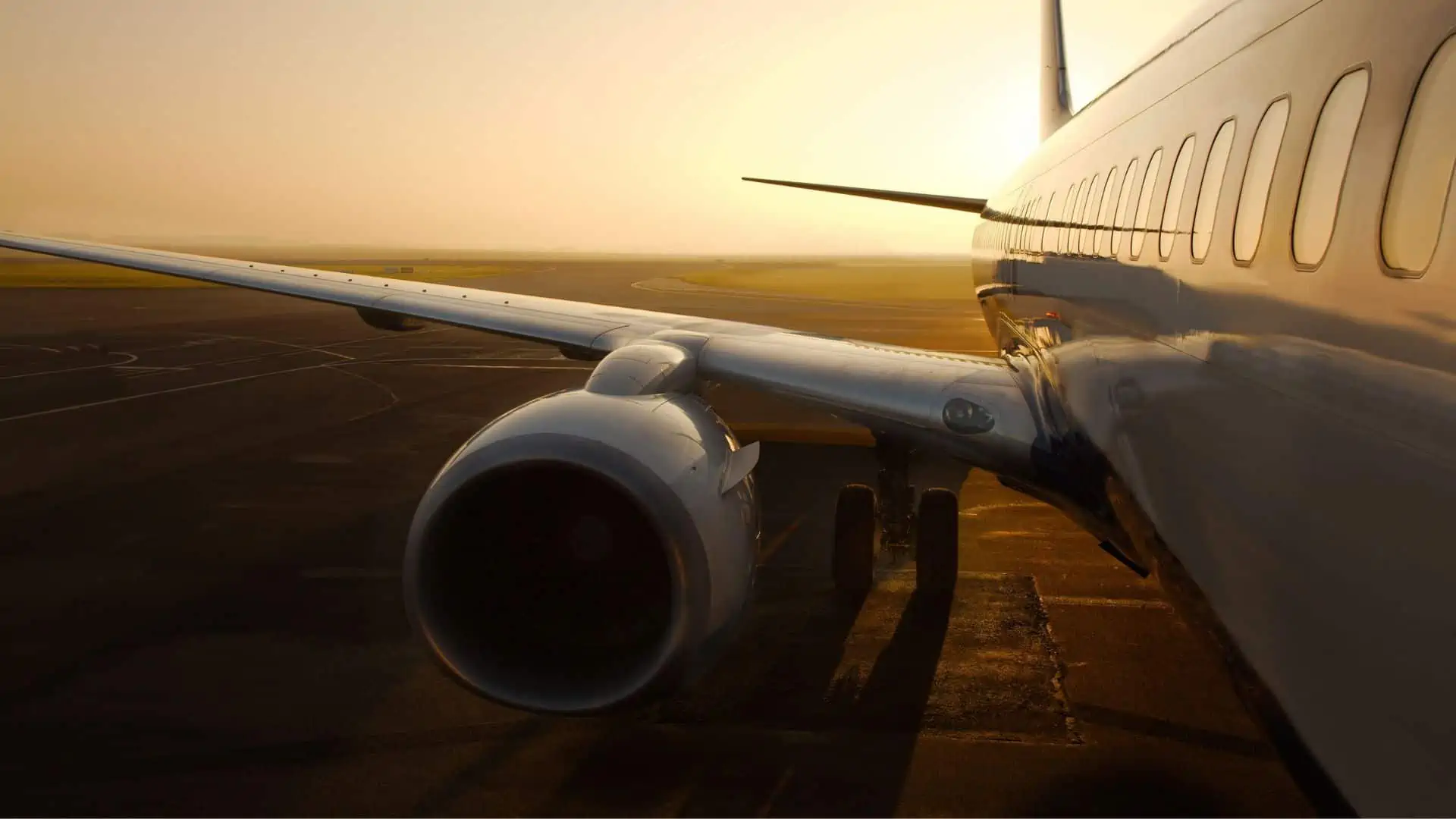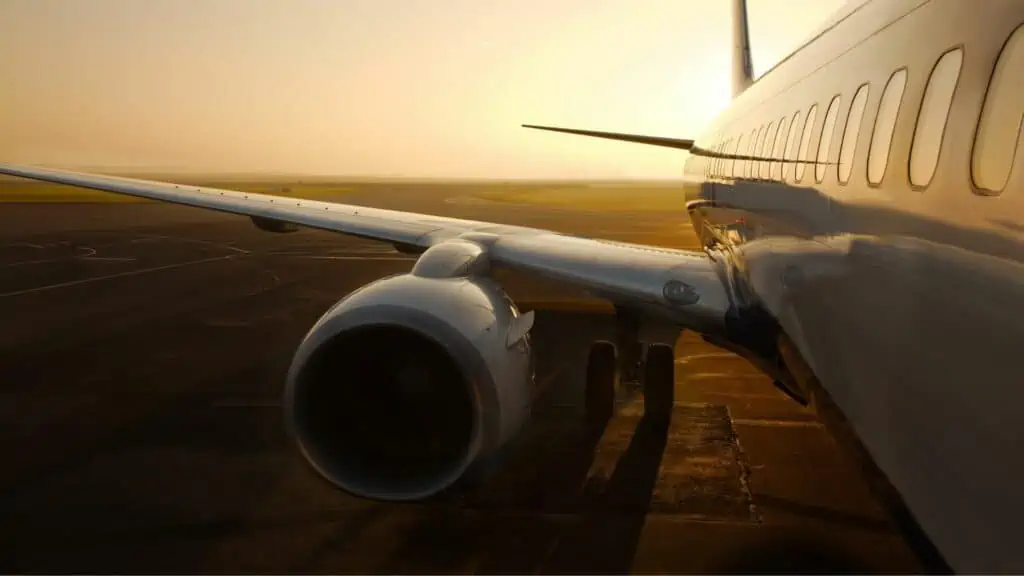 Does Aer Lingus have wifi?
Not every aircraft operated by Aer Lingus has wi-fi right now although the airline is working to roll out internet access on its entire fleet.
Currently, only their A330 & A321neoLR Aircraft provide passengers with wi-fi.
How good is Aer Lingus wifi?
Aerlingus wifi is a hit for some people and a miss for some. If you know technology and have the basic know-how, you will find it easy and reliable.
The wifi in the Aer Lingus quality is above average. It will not work as well as your home internet access naturally but it is not terrible. So if you are considering paying extra for it, I would say give it a try.
The Aerlingus wifi is deactivated before landing and is activated after around 20 minutes of flight.
Some passengers are happy with the wifi, when it is available, on Aer Lingus flights, such as the passengers below. But to be honest, it took me a long time to find any positive tweets from someone amongst the many complaints about the service or the lack of wifi at all.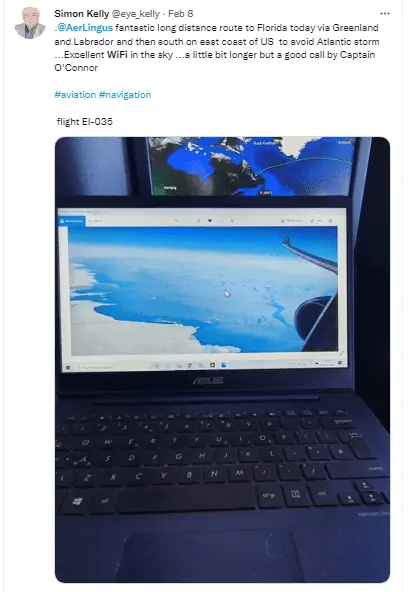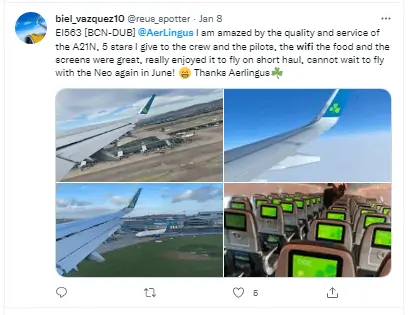 These are just a small selection of passengers' tweets who were either unhappy with the inflight wifi on Aer Lingus or were complaining that the aircraft they were on didn't have wifi fitted: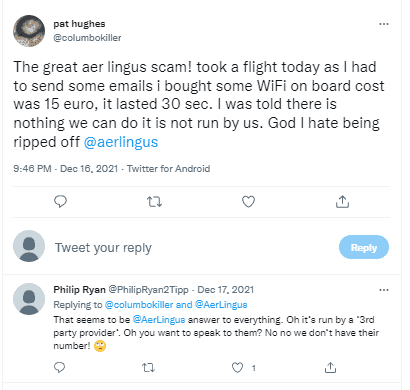 How much is wifi on Aer Lingus?
For business class, it is free! But, for economy class, there are different packages that you can choose according to your usage.
These are the wifi plans that Aer Lingus offers:
From US$3.99 (€3.49)
Allows you to use messaging apps for one hour
From US$6.99 (€5.99)
Allows you to use messaging apps throught the flight
From US$16.49 (€13.49)
Allows you to browse, use social media and send emails for one hour
From US$24.99 (€20.49)
Allows you to browse, use social media and send emails for the entire flight
You can only use the Aer Lingus wifi access on one device at a time. You will need to log off from one device and then log on again on the other device.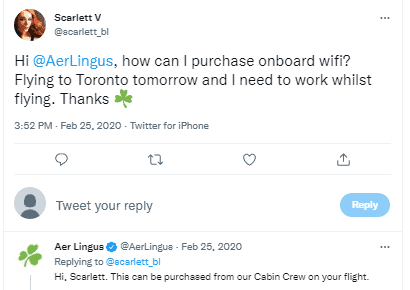 You can use your own data service on Aer Lingus
Aer Lingus has an onboard facility provided by AeroMobile network on its A330 fleet only which allows passengers to log on and use their own data packages provided by their mobile network. How much this costs can vary by network but when you log on you should receive a message informing you of the charges.
This cannot be used to make voice calls, only SMS texts and data usage.
How to connect to the Aeromobile network:
Switch on your mobile when you're told it's safe to do so by the cabin crew, keeping it in silent or vibrate mode.
Wait for the 'AeroMobile' network to appear or select it manually from network settings.
You'll get a welcome SMS from AeroMobile, then you can email, text and browse the internet.
Turkish Airlines also has this service on its aircraft.
How can I tell if my Aer Lingus flight has wifi?
Not all AerLingus flights have wi-fi and are available on A330 and A321neoLR aircraft only.
How to connect to Aer Lingus wifi?
It's actually very easy to connect to Aer Lingus wifi. You only need to have a wifi-capable device to connect.
Ensure that flight mode is on your device.
Adjust parameters.
In the Wi-Fi and network settings, enable Wi-Fi.
Choose "Aer Lingus WiFi" from the list of available wifi networks.
Join the "Aer Lingus WiFi" network.
Open a new tab in your web browser.
You ought to be taken to the Aer Lingus Wi-Fi page.
Purchase a bundle that suits your needs.
Have fun browsing!
Does Aer Lingus have free wifi?
Aer Lingus flights have free wifi only for business class passengers.
Other passengers have to pay for it after boarding the flight. You can check the plans available above or on the AerLingus website and choose the best for you.
Can you make voice calls or text using Aer Lingus wifi?
Both mobile phone calls and voice calls made via internet services like Skype or VoIP are prohibited on Aer Lingus flights.
Can I Watch Netflix on Aer Lingus wifi?
Yes, you can stream videos on your preferred services such as Netflix and Amazon Prime using Aer Lingus WiFi. You just need to choose the plan that allows you to stream.
Can I get an Aer Lingus wifi refund?
You can request an Aer Lingus Wifi refund by sending an email to the wifi supplier ([email protected]) giving your Aer Lingus flight number and ticket number to receive a refund.
Personally, I think that is wrong. Aer Lingus are just passing the buck. They should arrange this for you.
Other airlines
United Airlines wifi | American Airlines wifi | JetBlue wifi | British Airways wifi | Icelandair wifi | Qatar Airways wifi | Aer Lingus wifi | Hawaiian Airlines wifi | Frontier Airlines wifi | Turkish Airlines wifi | Southwest wifi | Delta Airlines wifi
Related articles
Can you use a cellphone on a plane
Can you use WhatsApp on a plane
Can you listen to Spotify on a plane
Can you listen to an audiobook on a plane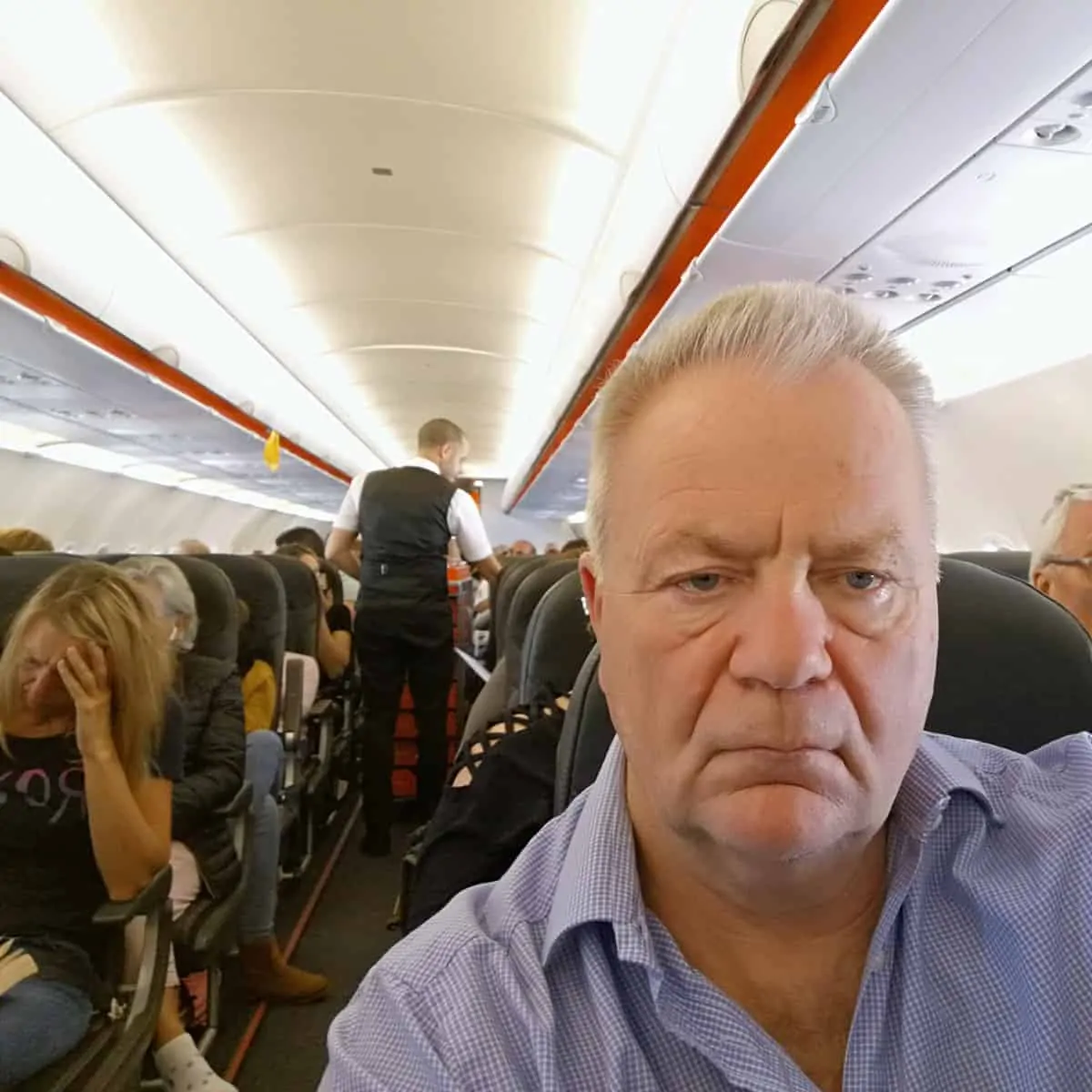 I have been traveling around the world by air since the early 70s and living overseas too. I worked for British Airways for a number of years and I am also a private pilot. About Me